My collection of "Special Flights"
Over the years, I've had opportunities to join some special flights and aviation events in Malaysia. While most of the stories are available on AzuanZahdi.com collection of My Aviation Stories, I thought it would be nice to be able to share a directory of stories here. From inaugural flights, airlines celebrating new aircraft and proving flights, all the stories are below.
The Airbus A220-300 Demo Tour in Kuala Lumpur
Back in 2019, Airbus brought their Airbus A220 to Kuala Lumpur to showcase the efficiency and excellent customer experience on this beautiful regional jet. I was invited to not only have a look at the Airbus A220 but to experience a short flight around Malaysia's airspace and I was somewhat convince that this regional jet could be a game changer here in Malaysia.
Full story here: https://www.azuanzahdi.com/index.php/2019/12/12/the-airbus-a220-300-demo-tour-in-kuala-lumpur/
---
Being the only passenger in a Firefly ATR72 flight to Subang!
In 2011, I discovered that Firefly Airlines operated a commercial sector between Subang and Melaka to allow positioning of it's aircraft to serve the charter route between Melaka and Medan. I bought the tickets and was lucky enough on the flight back to Subang was the only passenger in the flight. 2 pilots, 2 cabin crew and me as a pax. A short flight but definitely a memorable one and an item checked on my aviation checklist!
Full story here: https://www.azuanzahdi.com/index.php/2021/02/07/being-the-only-passenger-in-a-flight-2/
---
To Jakarta and Back on Airbus A330neo Route Proving Flight
Sometime in 2018, as part of the process to introduce commercial service of the brand new (at that time) Airbus A330neo and as part of a promotional tour, an A330neo of TAP Air Portugal went across a few continents as part of the route proving exercise. Kuala Lumpur was one of the stops and AzuanZahdi.com was invited to be the only blogger to join a small group of media on the actual proving flight from Kuala Lumpur to Jakarta and back. It was definitely a "money can't buy" experience being on a new plane, flying on al almost empty cabin and seeing the pilots in the cockpit and the engineers in the action evaluating the performance of the plane in real time.
Full story here: https://www.azuanzahdi.com/index.php/2018/08/13/powering-into-the-future-with-airbus-a330neo-a330neotour/
---
Welcoming Malaysia Airlines 1st Airbus A350
November 2017 was a special time for Malaysia Airlines with the arrival of their first of six Airbus A350 planes that takes over the role of serving flagship KUL-LHR long-haul route from the Airbus A380. I got the chance to be among the invitees witnessing the historical moment in KLIA before flying on the plane to Bangkok the following week.
Full story here: https://www.azuanzahdi.com/index.php/2017/11/30/selamat-datang-malaysia-airlines-airbus-a350-xwb-photos-and-review/
---
First to Fly IN THE WORLD on a Boeing 737 MAX 8 Commercial Flight with Malindo
In 2017, the first commercial flight for Boeing 737 MAX 8 took place in good old Kuala Lumpur International Airport on a Malindo's brand new aircraft and I was the first group of passengers that get to fly on this flight from KL to Singapore. The aircraft type now making a comeback to Malaysia in 2022 after the necessary safety requirements have been addressed and cleared by the regulators.
Full story here: https://www.azuanzahdi.com/index.php/2017/05/22/first-boeing-737-max-8-commercial-flight-took-off-with-malindo-air-firsttofly-maxoutwithmalindo/
---
Welcoming Antonov AN-225 Mriya, the World's Largest Plane to Kuala Lumpur
This is a story of the day in 2016 that I came face to face with Mriya. She is a superstar of aviation. Hundreds if not thousands Malaysians waited to see a glimpse of her in KLIA and I was fortunate to be invited with a few more aviation enthusiasts to see the plane up close and witness its graceful arrival into KLIA.
Full story here: https://www.azuanzahdi.com/index.php/2016/05/14/selamat-datang-mriya-kuala-lumpur-welcomes-the-antonov-an-225-mriya-the-worlds-largest-plane/
---
Malindo Air's Inaugural Flight to Taipei
Back in September 2016, Malindo Air started its direct flight service from Kuala Lumpur. Celebrating this milestone, a group of media and this aviation blogger was invited to be part of the inaugural flight celebration.
Full story here: https://www.azuanzahdi.com/index.php/2016/09/25/od632-malindo-airs-inaugural-flight-to-taipei-funtaipei/
---
Rayani Air Inaugural Flight to Langkawi. A short-lived "Shariah Compliance" Airline
In December 2015, I purchased a ticket on Rayani Air's first flight to Langkawi to experience the hype and uniqueness of a Shariah Compliance airline. It was different to some extend but honestly more of a marketing positioning. Too bad the airline went south only after a short span of time else consumers in Malaysia would have more airlines to choose from.
Full story here: https://www.azuanzahdi.com/index.php/2015/12/21/review-rn600-rayani-air-inaugural-flight-to-langkawi-lets-fly/
---
Obama and Air Force One in Subang
Seeing the Air Force One in action is a common "KPI" for many aviation enthusiasts. I finally had the chance to witness this beautiful bird taking off at Subang in 2015.
Full story here: https://www.azuanzahdi.com/index.php/2015/11/22/selamat-jalan-obama-air-force-one-departing-from-subang-airport-obamainkl/
---
Flying to the Top of the World – Longyearbyen, Svalbard.
To fly to the world's northernmost airport with public scheduled flights — checked! On 17th Feb 2015, I flew to Longyearbyen airport which is located really up north and not too far from the north pole. A unique experience both an aviation fan as well as a tourist.
Full story here: https://www.azuanzahdi.com/index.php/2015/03/25/part-4-flying-to-the-top-of-the-world-destination-longyearbyen-svalbard-kehujungdunia/
---
Malaysia Airlines Final Boeing 737-400 Flight, One Last Ride.
I did not only fly on the first/inaugural flights but also the final flights like this one. In 2014, the airlines fully migrated its Boeing 737 into the newer -800 series discontinuing the ever famous -400 planes with the colourful smarties seats. I redeemed most of my Enrich miles to hitch a ride on-board this last 737-400 flight.
Full story here: https://www.azuanzahdi.com/index.php/2014/06/19/malaysia-airlines-mh1165-14-june-2014-one-last-ride-on-mas-boeing-737-400-thankyou734-my734story/
---
The First Flight Into klia2.
I was the 3rd passenger to fly into klia2. Flew on Malindo Air flight from Kota Kinabalu in 2014 on day 1 operation of klia2.
Full story here: https://www.azuanzahdi.com/index.php/2014/06/15/malindo-airs-business-class-experience-luxury-meets-comfort-part-2/
---
Malaysia Airlines Joyride on Airbus A380
In 2012, Malaysia Airlines received their Airbus A380 taking over the long-haul routes from the Boeing 747 and Boeing 777. Celebrating the A380's arrival, a special 150 minutes A380 joyride flight was organised for VIPs, media and invitees. Known as The Big Fligh, I was able to join the joyride and it was a fun experience.
Full story here: https://www.azuanzahdi.com/index.php/2012/06/07/mybigflight-mas-a380-story-love-at-first-flight/
---
From Subang to Ipoh with Berjaya Air and Fly2Ipoh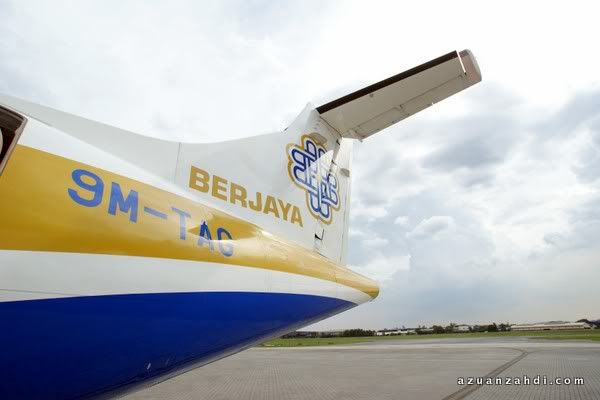 In 2011, a travel agent attempted to run charter services connecting Subang to Ipoh. Working with Berjaya Air, Fly2Ipoh was another short-lived arrangement and stopped its operation sooner than expected. Not before I get to chance to try it of course.
Full story here: https://www.azuanzahdi.com/index.php/2011/03/14/fly2ipoh_the_first_impression/
---
Firefly Jet 1.0 – Kuala Lumpur to Kota Kinabalu,
You might know that Firefly is currently serving some destinations out of Penang with its jet operations. In 2011, they have actually started doing that and even flying out of Kuala Lumpur offering great alternatives to passengers besides MAS and AirAsia. I flew on their first week of operations to Kota Kinabalu to review Firefly jet back then.
Full story here: https://www.azuanzahdi.com/index.php/2011/01/18/firefly-first-flight-to-kota-kinabalu/
---
Sensational Saturday: Ride on Harley, Fly on Jumbo
Simply one of my favourite aviation events that AzuanZahdi.com covers. A charity event with an aviation twist by Malaysia Airlines charter services giving the chance to hundreds of kids to experience the beauty of air travel. Hats off to Capt Nik Huzlan and his team. A true aviation legend.
Oh yeah, the event made unexpected headlines too. Not everyday you get to see a Boeing 747-400 fly that low in KL city!
Full story here: https://www.azuanzahdi.com/index.php/2010/05/17/sensational-saturday-ride-on-harley-fly-on-jumbo-part-2/
---
---