Malaysia Airlines Boeing 737-400, reliable workhorse for the airline serving local and regional destinations. Flying millions of passengers throughout its 22 years' service. If you have flown on a domestic route with Malaysia Airlines sometime in the last 22 years, you most likely have flown on one of many Malaysia Airlines Boeing 737-400.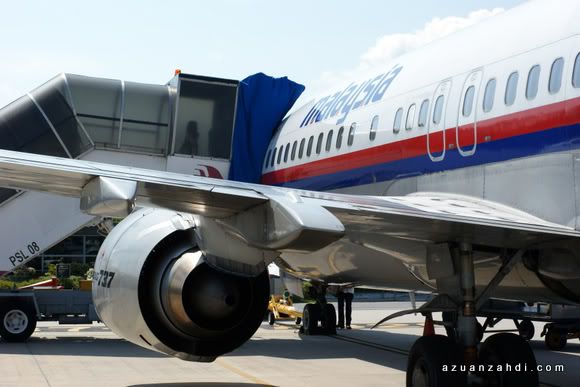 For me personally, Boeing 737-400 is the most frequent aircraft type that I fly on. I still remember the fun memories of being a "Young Passenger Travelling Alone" for many trips from Subang to Alor Star on this aircraft. Those were the days that flying is still perceived as luxury and glamourous and the 737-400 is considered a "premium" jet aircraft. Even when I first started travelling for work, this same aircraft type used to be the "shuttle" for me from KL to Johor Bharu before Firefly Airlines came into the picture. These are just some of the sweet memories that I had with this bird, many more that I don't think it is suitable to be shared here 🙂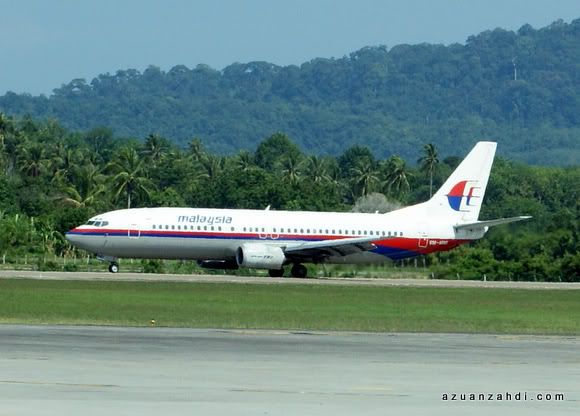 "Last Flight before Retirement"
The rumours about B737-400 being phased out has been around for quite some time and last Wednesday when I heard it from reliable sources, I knew that it is finally time for it to bid farewell.
With more than 100 flights on this -400 variant alone, I made it a point to be on its final flight. Thanks to friends at the airline and after almost an hour of search on its website, I got to know that MH1165 from Penang to Kuala Lumpur was scheduled as the last flight before "retirement".
Seeing that the airfare for the flight was on the pricier side, RM220 (all inclusive one way per person), I had to use my back-up plan which was to buy the ticket for my wife and redeem my Enrich miles for my ticket. About 10,000 points for a short 55 minutes hop which in reality during Enrich promotion, I could fly to a much further and sexier destination. But then, this is my passion, I feel that it is a MUST for me to be on this flight and before I have any second (or third) thoughts about the idea, I hit that "purchase" button on the website.
"Penang International Airport"
We were at the airport 3 hours before our flight. Told my wife that we might as well have our dinner at the airport's Nasi Kandar Line Clear joint but in actual reality I just want to be there early as I was too excited for the flight.
Flight is on-time!
I've actually checked-in online and printed the A4-size boarding pass but since this is a special flight I wanted to keep a normal boarding pass as a memorabilia. Glad that the staff was able to accommodate my request.
For many years whenever I travel alone on a Boeing 737-400, I always opt for my favourite seat 26C. It is only right for me to go for that aisle seat on the second last row (last row seats cannot be reclined IIRC) once again.
As the sun sets at the Pearl of the Orient, I had a 30-minutes of confusing and nervous moments. I was patiently waiting for the Boeing 737-400 to arrive at our gate B3 when I saw a MAS Boeing 737-400 aircraft approaching the terminal.
I was excited initially but the excitement became anxiety as the aircraft taxied straight to gate B1 instead of B3. Change of gate? False alarm? How many B737-400 are still flying? Have they swap the flights or equipment? Lots of questions were in my mind.
I immediately clarified with the ground staff and I was told that this 9M-MMK has been assigned to operate an earlier flight to Kuala Lumpur. When asked about the aircraft for MH1165, despite the system showing "B734", they cannot 100% confirm that it is indeed that aircraft.
As there were still seats available, I was then offered to take this earlier flight. By doing this I will be guaranteed to experience this aircraft variant one last time but it is not the very last flight. In the end, we took the risk and politely declined the offer and kept waiting for our aircraft to arrive.
20 minutes later I can finally breathe a sigh of relief seeing this beautiful sight.
The "sports car" at Gate B3. 9M-MQA was given the honour.
I had a short chat with the ground staff as they processed my boarding pass and they were quick to say that they will miss the B734. Again subject of reliability came into our conversation as they kept saying that the newer planes are a bit more "manja". Surely the B737-400 has a strong reputation.
I thanked them and walk straight to the Boeing 737-400 plane one last time.
MH1165: The Flight
With only 90+ passengers (correct me if I'm wrong), boarding was relatively fast.
The Business Class seats. Spacious indeed.
The whole row 27 was empty so I shifted to the last row giving both of us 3 seats each 😛
The "smarties", "M&Ms", "United Colour of Benneton", "Kek Lapis", "colour blind" economy class seats. All kinds of names given by the passengers to reflect these seat covers that were introduced not so long ago to give the aircraft a fresher look. In the end it became synonymous with this variant.
The old-fashioned overhead compartment. Witness to many battles of overhead compartment between passengers.
Pushback was on-time and for the last time the aircraft waved goodbye to Penang International Airport. The cheerful cabin crew began their manual safety demo, a feature that has been taken over by videos and screens on newer variant of the Boeing 737. There goes my excuse to usually gaze at a flight stewardess for a couple of minutes.
The roar of the two engines during take-off is another unique feature of the Boeing 737-400. I'm not sure how best to describe it but it is just that exciting few seconds of loud engine sound coming from the thrusts that catapults the jetliner to air. Captured it on a video that I will share later.
In-flight service was started immediately once the seat-belts sign were turned off.
Juice and peanuts, routine.
What was not routine is a special announcement from one of the three Captains in the cockpit informing the passengers about the flight being the last B737-400 flight and that the aircraft will be honoured with a water cannon salute at the gate in KLIA.
I had a chat with the stewardesses and they were pleased to know that we flew to Penang just to be on this MH1165 flight. They were also quite down to learn about the decommissioning of the aircraft as this aircraft type has been the "playground" for many newly trained crew as they build up their hours. Come to think of it, many of great Malaysian Hospitality crew now serving airlines worldwide gained their experience through in-flight service in this Boeing 737-400.
In between chatting, I got the chance to snap some more photos of the cabin.
Despite it being an awesome aircraft, it was definitely showing its age with worn interior.
With no in-flight entertainment, no power-supply feature, no fancy mood lighting, it makes business sense to upgrade the passenger experience to what the newer Boeing 737-800s are able to offer. More importantly, the fuel efficiency of the newer planes is more "P&L friendly" in comparison with these 737-400 fuel-guzzling aircrafts.
Putrajaya at night as we approached KLIA.
Night shots from a moving plane are very tricky! A view of the wing/flaps in action.
Water cannon salute 🙂
As most of the passengers rushed to leave the plane, we stayed on for a few minutes.
Last few shots before we say good bye for the last time to 9M-MQA.
AzuanZahdi.com was here!
Being the last passenger to leave Malaysia Airlines last Boeing 737-400 flight… checked!
Thank you to Malaysia Airlines for all the great memories with the Boeing 737-400 including this memorable MH1165 flight. Terima kasih Boeing 737-400.
What are your sweetest memories with the Boeing 737-400. Share it through the comment form below. 🙂