In my previous blogpost, I shared about the beauty of Miniland, a unique feature of LEGOLAND Malaysia that makes it stand out above other theme parks in the country. Click here to read about it.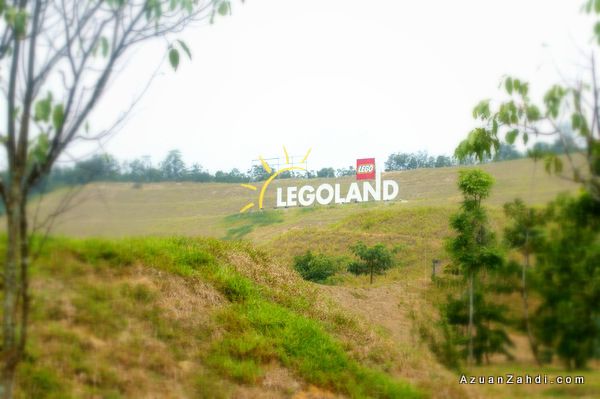 Besides the Miniland, my family and I spent some time exploring the other parks within LEGOLAND Malaysia. Since we are all annual pass holders, we decided to just walk-around and try a couple of rides and put aside those attractions with long queues for future visits.
First up, Imagination Zone.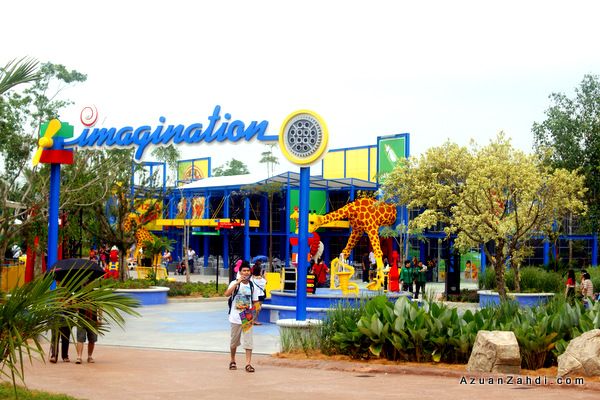 Designed for LEGO® fans of all ages, IMAGINATION is where creativity knows no bounds. Inventors big and small can bring their imaginings to life, while young children will marvel at the life size DUPLO® Express.
"Build & Test" – basically an indoor area with playable LEGO bricks where kids are encouraged to build cars and use the cars to race against each other on the track provided inside the area.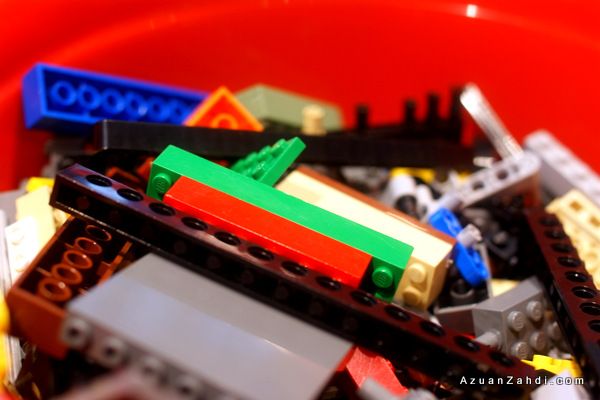 I like this place because it brings back childhood memories and gives the young generation an idea of the basic concept of LEGO!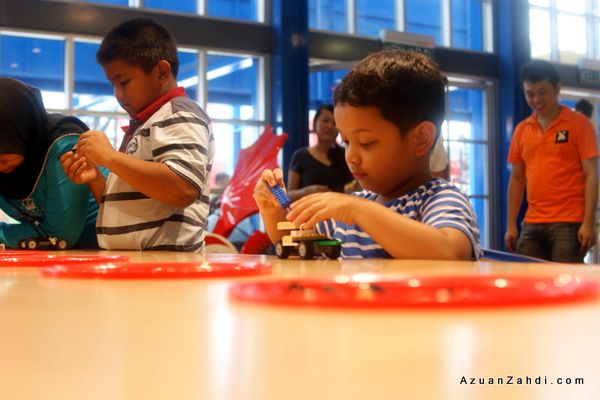 This is also the perfect place for those wanting to take a break from the hot sun.Race away!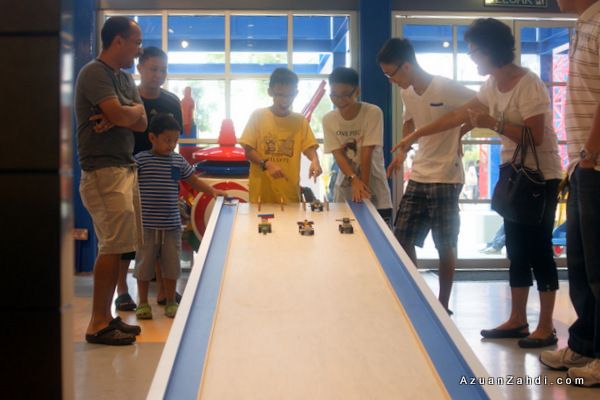 Just outside the "Build & Test" room is Kids Power Tower. We tried this out as it has a short queuing line. Basically this ride uses the riders' strength to pull them up the tower to enjoy an aerial view of the park.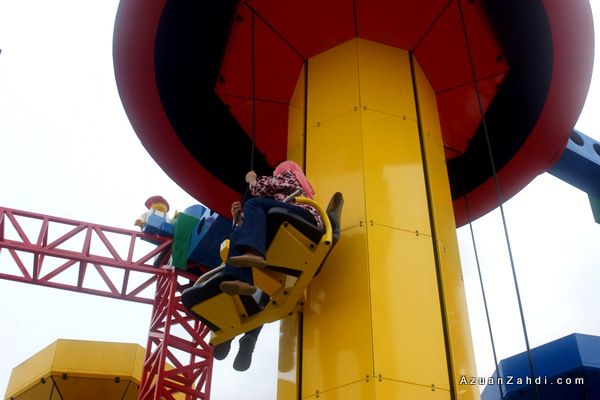 I didn't know that this ride is actually meant for adults+kids until I read about it on the website few days after the visit. . The staff manning the ride should have let us know so that the rides can be enjoyed in the right manner.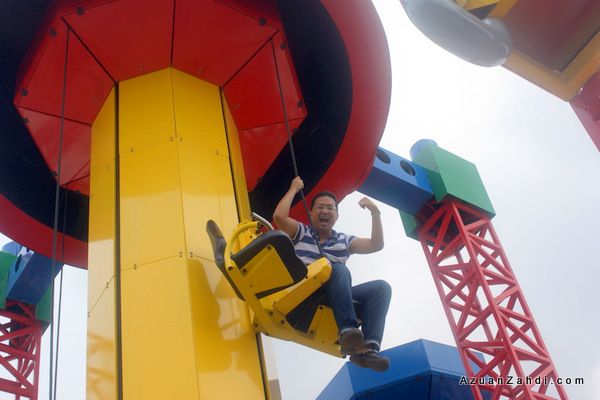 Anyway it was still a "penat la!" moment – a friendly reminder of how heavy I am!
Also at the imagination section is the 4D cinema.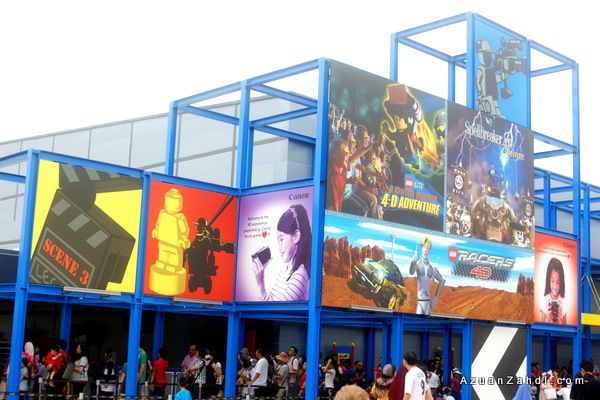 A good thing about LEGOLAND Malaysia's 4D Cinema is that it has different shows showing on the same day, so you can drop by at this cinema multiple times in one visit. However the queue was too long on that day so me and my better half skipped it and went straight to the playground next to it.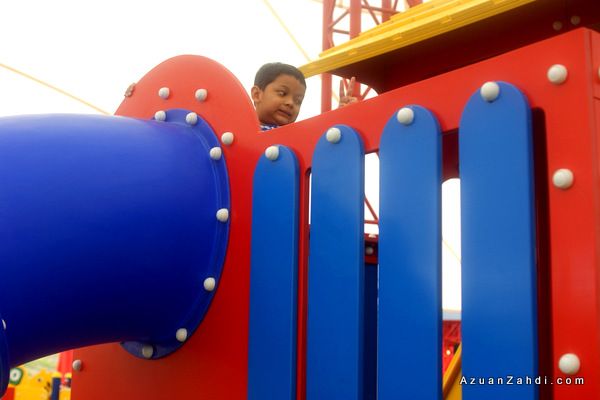 DUPLO Playtown is a play area with the theme of a child size city for the youngest to explore.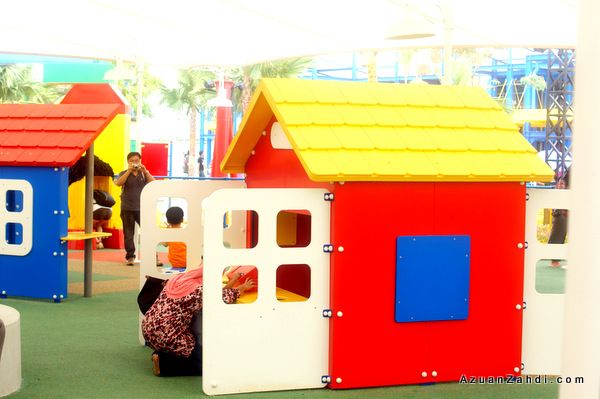 We had lunch at Imagination's Pizza Mania.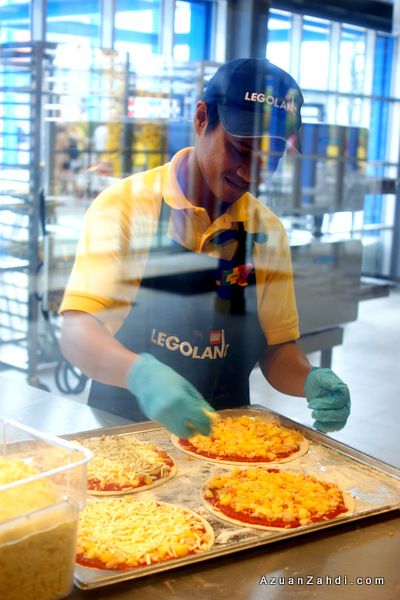 "Theme-park" price for the food but at least it was quite a tasty lunch.
Looking for the "Surau"? Try locating this cute localized LEGO figure.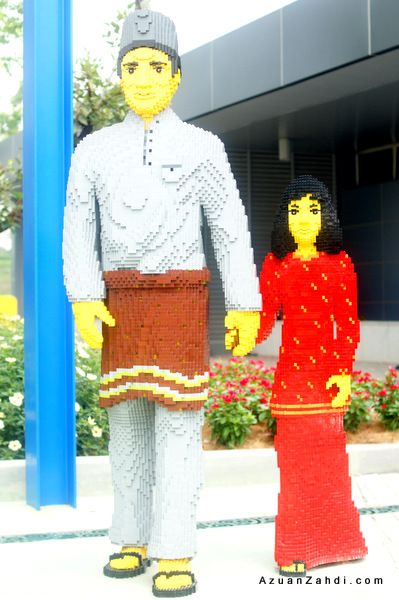 Next up, the Land of Adventure Zone.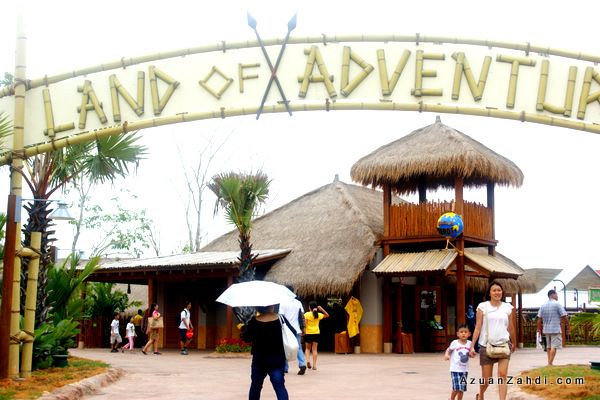 Transporting visitors into the past, the 'main dish' of this zone is the Dino Island, a thrilling journey to the peak of a forgotten volcano.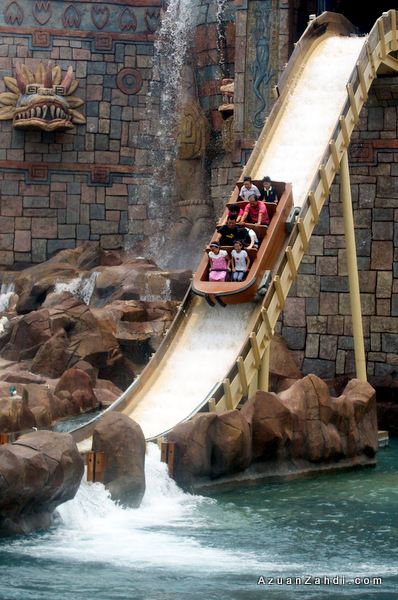 For this ride, getting wet is a must but raincoats and dry pods are available for a small fee.
Or skip the wet rides and just enjoy some adventure games.
After a quick tour at Land of Adventure, we made our way to the age of myth and legend in LEGO Kingdoms.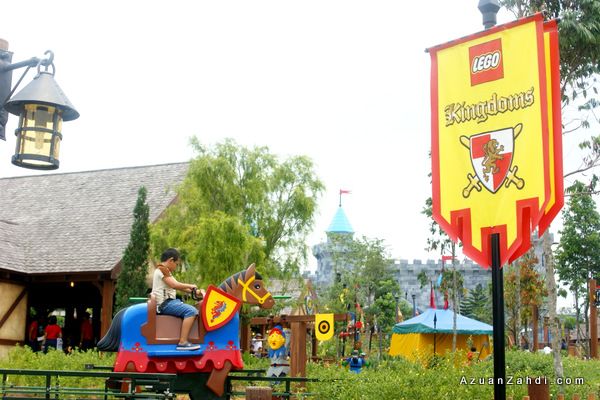 Twist and turn with the Dragon roller-coaster, the star attraction of LEGO Kingdoms.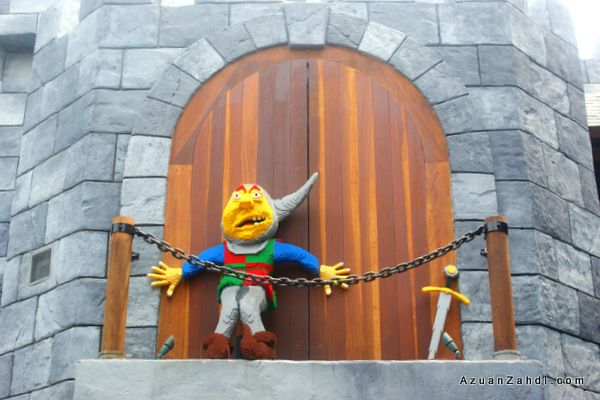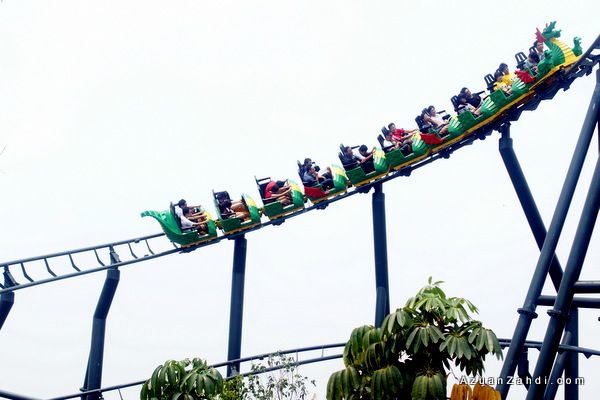 Not that scary but thrilling enough for adults and young teenagers.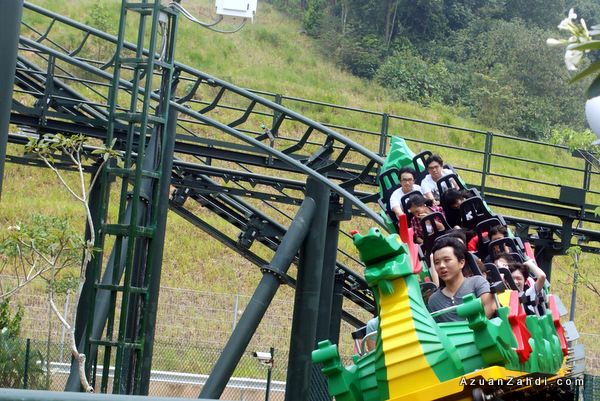 Not up for The Dragon's challenge? Try this instead – The Dragon's Apprentice.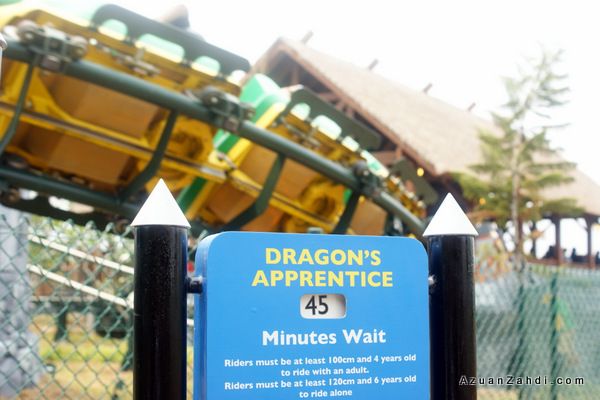 The Forestmen's Hideout is another play area within LEGOLAND MAlaysia. It is open for both kids and accompanying adults.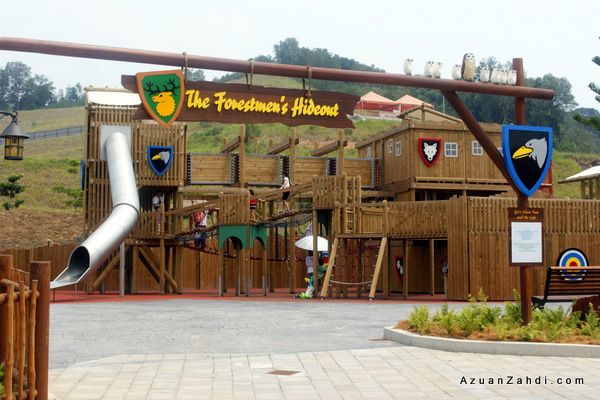 A castle's guard caught snoring away.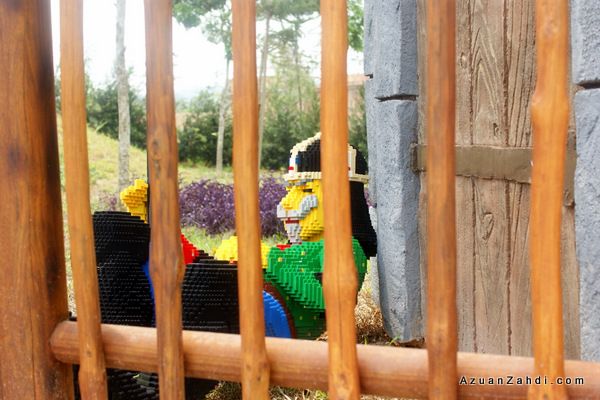 We did not have time to explore LEGO Technic zone which has quite a number of rides. Even for LEGO City, I only managed to make a quick stop checking out the cute driving school.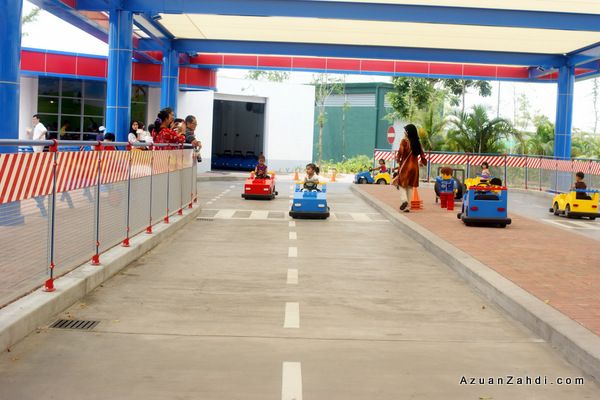 And the Boating School.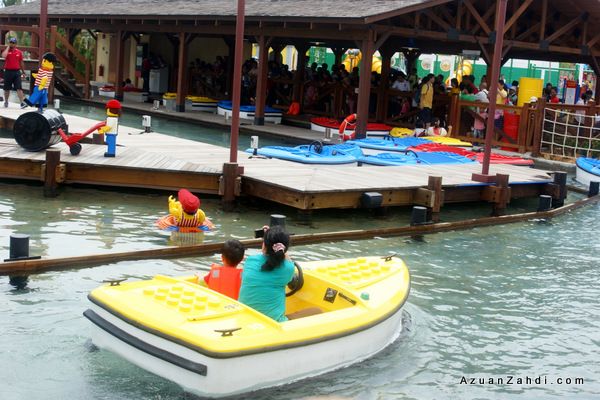 A reporter wanted to know my views on LEGOLAND 😛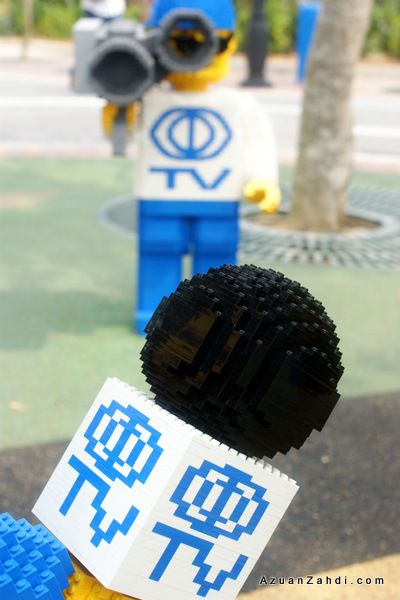 No theme park experience is complete without a visit to its souvenir shop.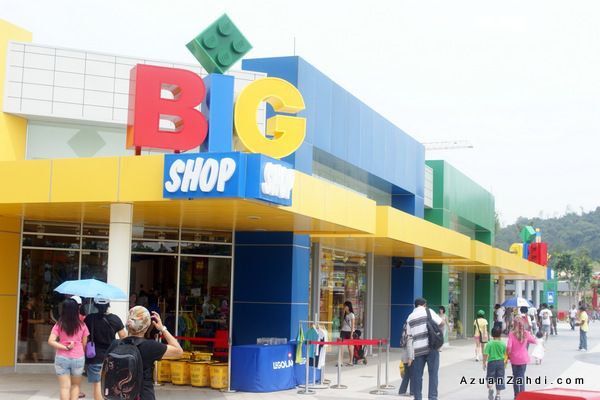 Overall LEGOLAND Malaysia is something different that provides a family edutainment experience for the visitors. I would highly recommend to spend one full weekday to experience every attractions. If you can afford it, buy an annual pass that allows you to take your own sweet time and spread the rides to at least two days.
Going to Legoland Malaysia but not sure where to stay? Plenty of small hotels nearby but I would recommend the M-Suite Hotel which offers great value and comfort plus it is only 10-15 minutes drive to Legoland. Click on the banner below to check out this hotel on AGODA for the best price!

I look forward to my next LEGOLAND Malaysia visit! Please do leave a comment below if you have any feedback/questions. Thank you.
Saved: :: All Posts ::, Blog Posts, Featured Articles, REVIEWS, TRAVEL
Tagged: KLCC Legoland, LAND, LEGO, LEGOLAND, LEGOLAND Malaysia, Rollercoaster, The Dragon