On my recent trip to JB, I had the chance to make a quick visit to the newly opened theme park in Nusajaya, the LEGOLAND Malaysia. On its third day of operations, my family and I braved the massive crowd to be one of the earliest visitors of LEGOLAND Malaysia.
We were at the park as early as 10am. We thought we would be among the early birds but we were wrong. By the time we reached the main entrance around 10:15am, the queue was already quite long with about 30 people in front of us. Apparently "being early" on a weekend/public holiday means at least being there at the entrance by 9:30am!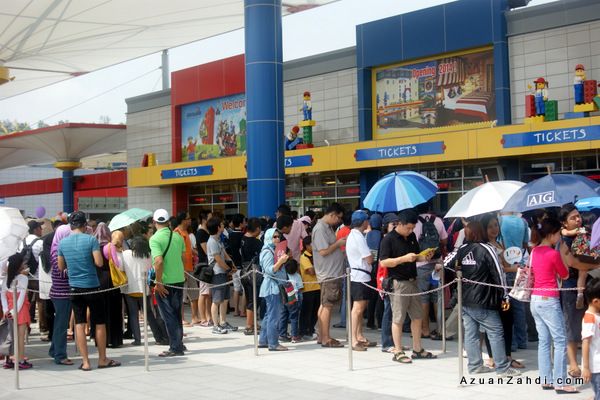 Despite the queue, more than 13 ticket windows were opened and after about 30-minutes of queuing we were all set with our annual passes.
I would highly encourage Malaysians and Singaporeans to buy the annual pass as you would want to come to this park more than once and it's pretty tiring to cover the whole park in one day especially on weekends when queuing time is longer 🙂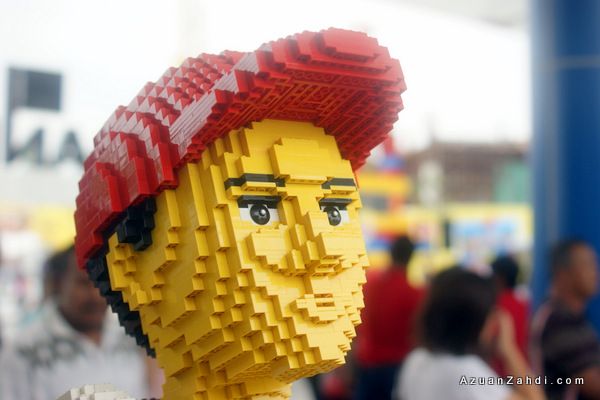 Happy faces, we are among the earliest visitors of LEGOLAND Malaysia!
For this part 1 of my blog post, I would zoom in to just one area of LEGOLAND Malaysia, which I think is the most unique area of the park, the Miniland.
From LEGOLAND's website:
See the world in an amazing new way in MINILAND, the centrepiece of every LEGOLAND® Park. It took three years and more than 30 million LEGO® bricks to recreate some of Asia's best known landmarks in detailed miniature. Stroll through famous scenes from 17 Asian countries, including the Petronas Twin Towers, the Merlion Statue and the Taj Mahal.The whole of MINILAND is animated, and guests – big and small – can bring the models to life at the touch of a button.
Signature attraction of Miniland and LEGOLAND Malaysia is none other than the stunning KLCC Petronas Twin Towers. The modelling is so detailed and very impressive. Suria KLCC is also part of the building.
Tourists at KLCC or are those Petronas staff or foreign workers enjoying a day-off? 😛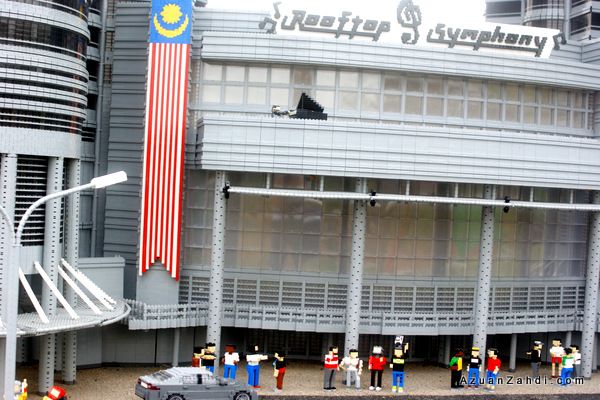 Equally accurate are the other buildings in KL & Putrajaya.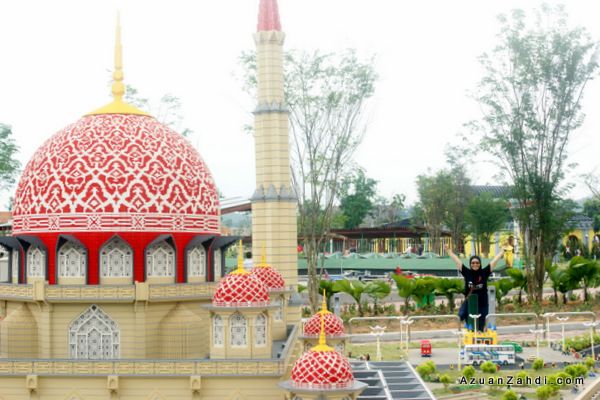 Along in LEGOLAND? Hehehe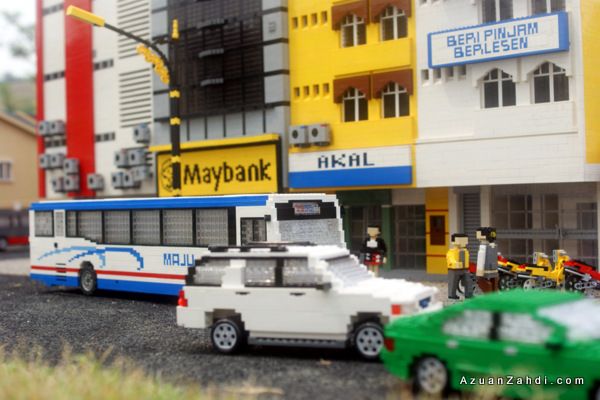 A random guy talking on the phone at an overhead pedestrian walkway.
Mat Motor KL! 😛
BSN Building
KL Railway Station is a must see! Beautifully constructed.
KTM Komuter serving the Miniland buildings 🙂 yes it's a moving train.
Yes, all these built using LEGO bricks!
Right in the middle of "KL" is the monorail system, also complete with moving trains and stations.
Besides KL's landmarks, LEGOLAND Malaysia's Miniland also features iconic buildings in JB including one on a full concert mode!
Port Tanjung Pelepas.
Iconic buildings of our neighbours. Singapore's Merlion.
Brunei's Masjid Sultan Omar Ali Saifuddin
So accurate that it even comes with these cute little food sellers outside the mosque.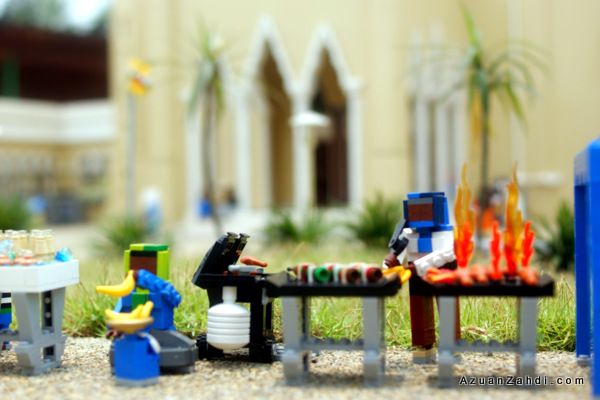 My favourite Miniland landmark is of course the KL international Airport.
I see these buildings at the airport almost every day and I can safely say that LEGOLAND model builders have done a great job.
Of course, KLIA do not have any turboprops plane, but it's nice anyway.
Luggage?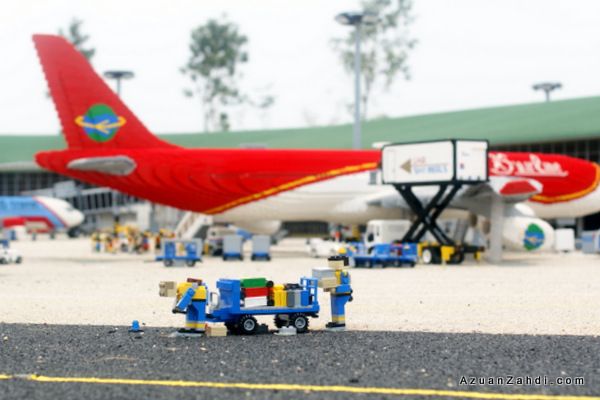 Even the support buildings are there. Notice how accurate these buildings are? Up to the detail level of the air-con compressor outside the building.
A rough idea of how small the model (or how big the person) is hahaha
We spent about an hour just at Miniland and it was fun for both adults and kids. This is a fun way to learn about various landmarks in the Asian region providing edutainment values to the visitors.
What else are there in Legoland besides the Miniland? Check out my next blog post soon…. 🙂
Going to Legoland Malaysia but not sure where to stay? Plenty of small hotels nearby but I would recommend the M-Suite Hotel which offers great value and comfort plus it is only 10-15 minutes drive to Legoland. Click on the banner below to check out this hotel on AGODA for the best price!

Saved: :: All Posts ::, Blog Posts, Featured Articles, REVIEWS, TRAVEL
Tagged: JB, KLA, KLCC, KLCC Legoland, klia, KLIA Legoland, LAND, LEGO, LEGOLAND, LEGOLAND Malaysia, malaysia, Miniland, Nusajaya