Selamat Hari Malaysia to everyone.
I was down in Johor Bahru throughout the 3-day Hari Malaysia weekend for a family wedding reception. Initially I had no special plans to celebrate Hari Malaysia but on Saturday morning while browsing my Facebook friends' timeline, I got to know about a Harimau Muda game happening just across the border. Perfect timing as I always feel that I'm most patriotic when I'm out there supporting for a Malaysian football team (technically Harimau Muda is the Malaysian u-23 Football Team).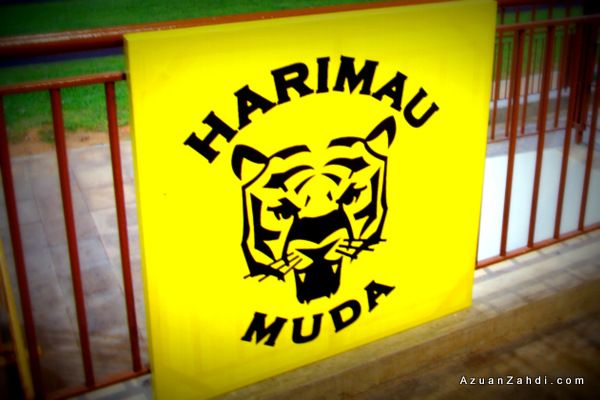 After a few exchange of messages with a friend across the border who is also a Harimau Muda fan, I was all set for a quick hop across Selat Tebrau to catch the game between Harimau Muda and Home United FC. I have met a few of the fans during the first match that I attended a few months back (click here to read about that experience) so it was nice to catch up with some of them during this impromptu trip.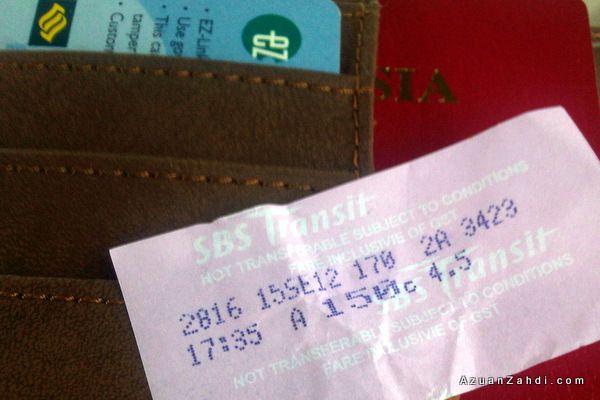 Pre-game meal at a McDonalds in Woodlands right after I cross the border.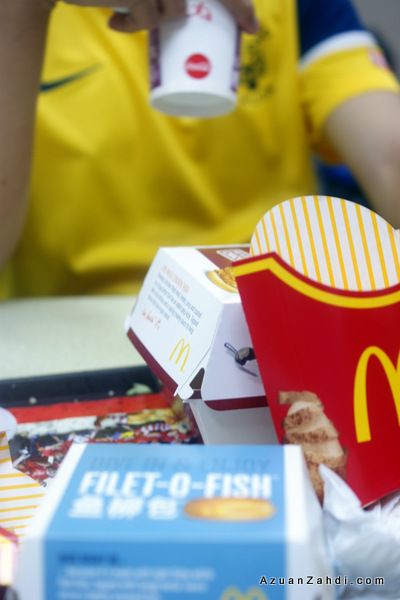 While enjoying the meal, I was told that these Harimau Malaya/Muda fans have formed an online fan club on Facebook, known as the Harimau Malaya in Singapore. It is nice to know that the tigers have a loyal fan base in this football arch rival nation.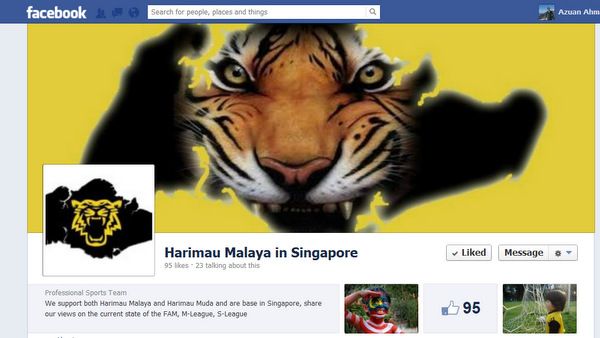 A short 15-minutes ride to Yishun Stadium. Thanks Bro Yap and Bro Huszairy for the arrangement and the ride to the stadium.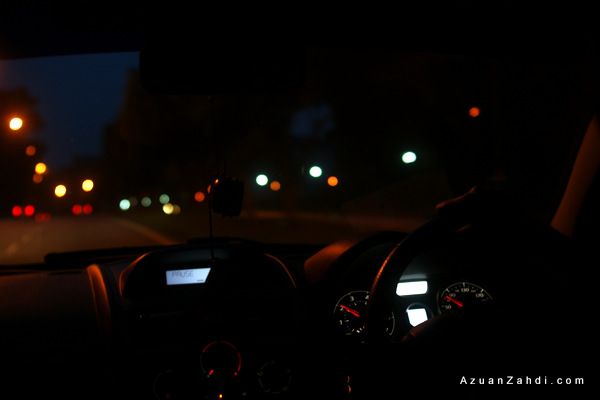 After a bus ride across the border, a bit of walking at the checkpoints and a car ride, I have finally reached the Home of Harimau Muda for the first time 🙂 Home away from Home but kudos to S-League organizer for making this stadium as homey as possible for the team and fans.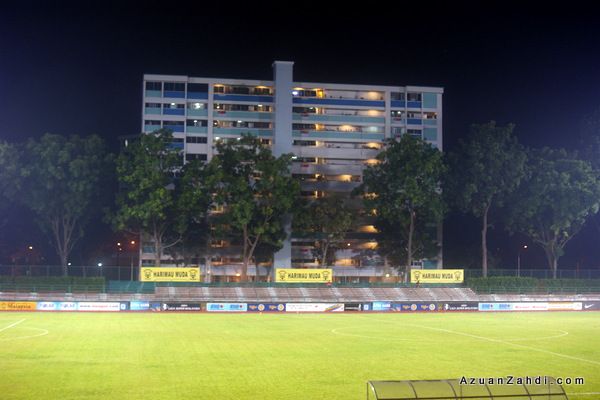 I shook hand with almost everyone seating at the Home fans stand. It was nice to see some of them still remembers me from the game that I attended last time. I got a couple of "hey Azuan, you're here again" and "eh.. youthe blogger that blogged about the game last time right?". Thank you for the Malaysian hospitality. 🙂
Familiar faces.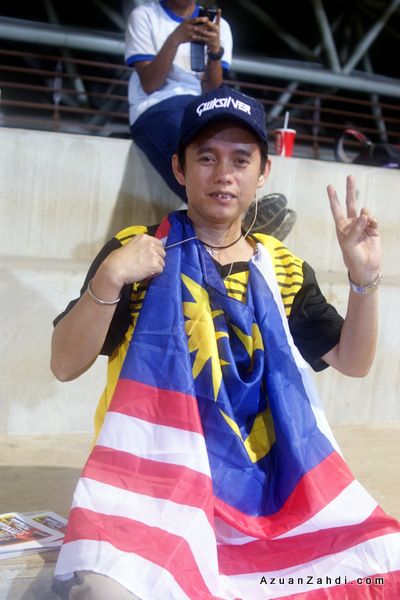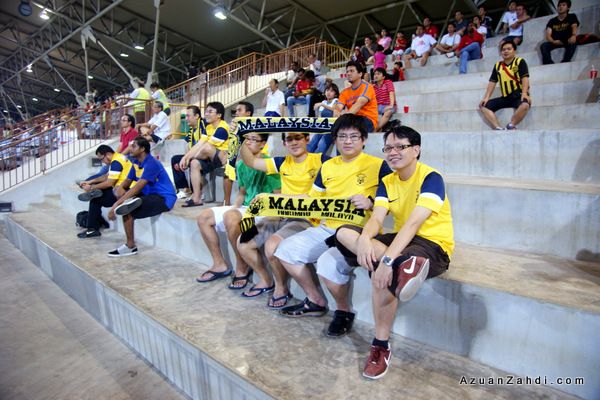 The highlight of the pre-game for the night was when Bro Ebby the unofficial joint-president of the fan club (together with Bro Huszairy ) revealed for the first time two DIY banners showing their support to Harimau Muda and Coach Ong Kim Swee.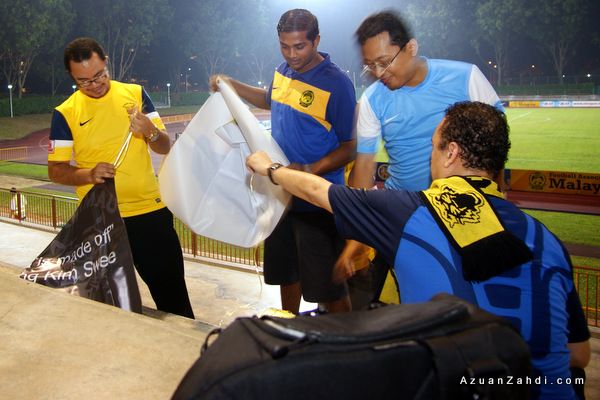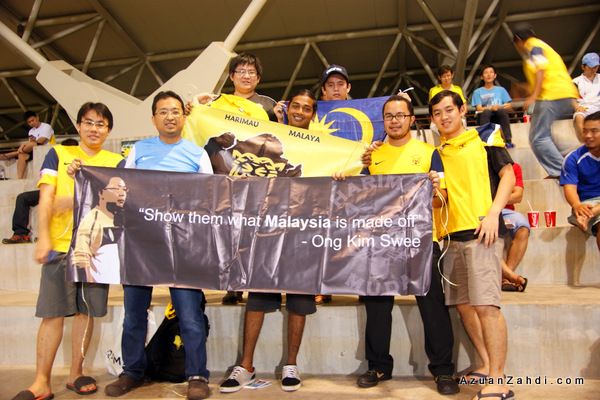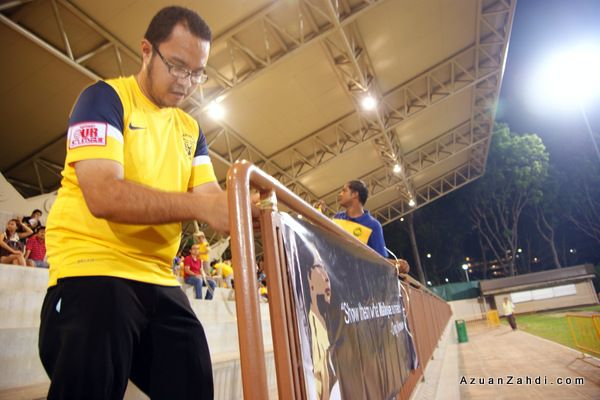 Players ready to roar.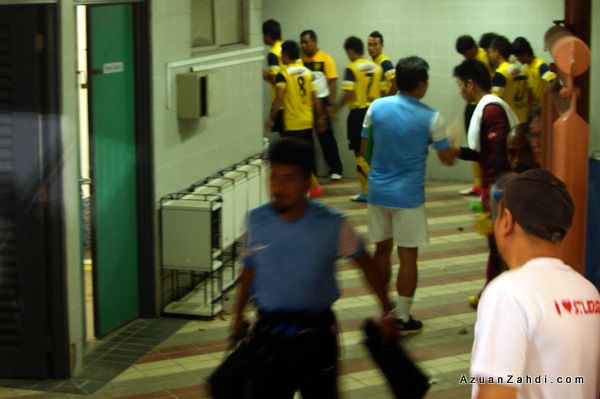 Solid starting 11 with most of the key players back in action. Wan Zack Haikal, Hazwan and Thamil up front, Gary Robbart, Mahali, Irfan, Kechik in midfield and Fadhli Sas commanding the backline and consistent Izham Tarmizi as goalie.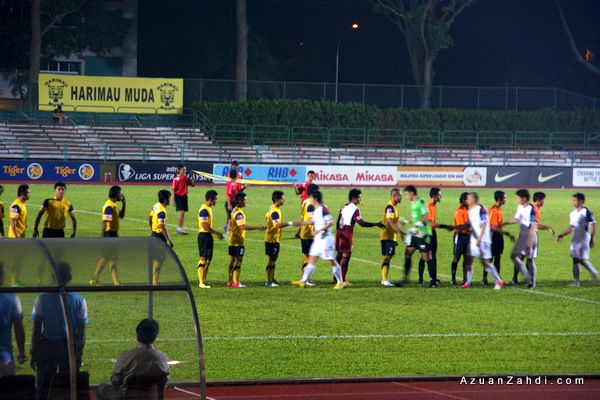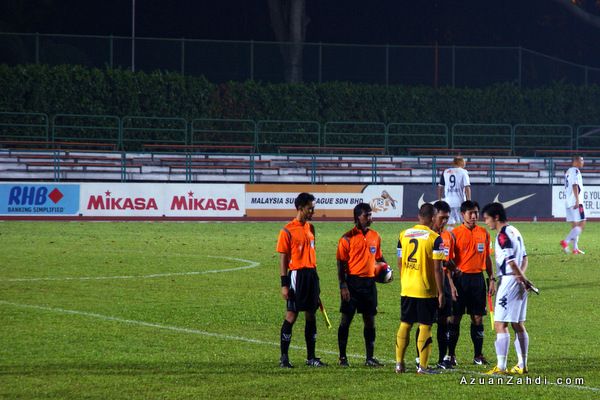 Game started well for Harimau Muda.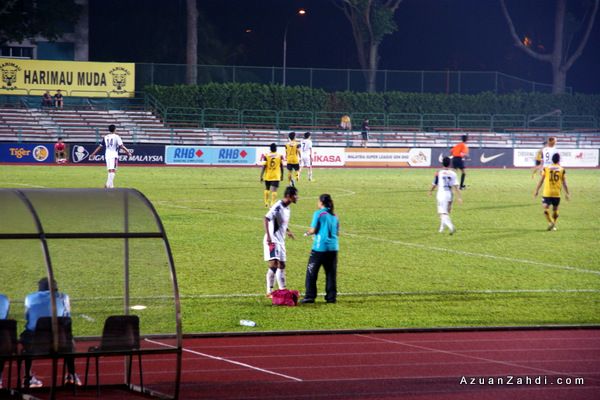 After a few of good chances mainly created through plays by Mahali and Wan Zack, Home United FC players started to settle down and through the great combination of Qiu Li and the towering Frédéric Mendy, Home United got their first goal.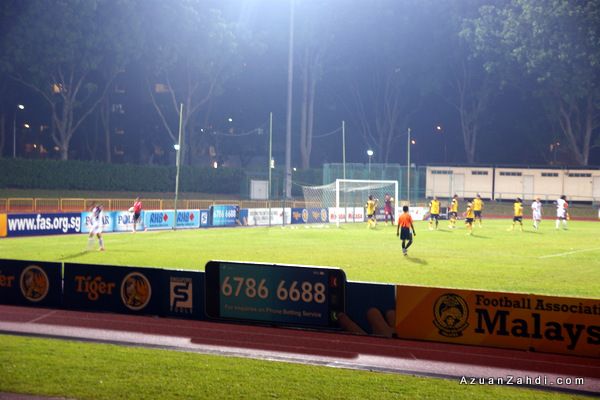 Harimau Muda tried to come back but it got tougher from the starting of second half onwards. Coach Ong Kim Swee and the other coaches at the bench weren't at all happy.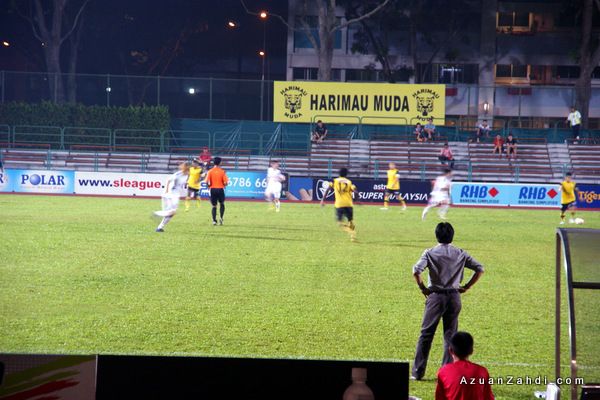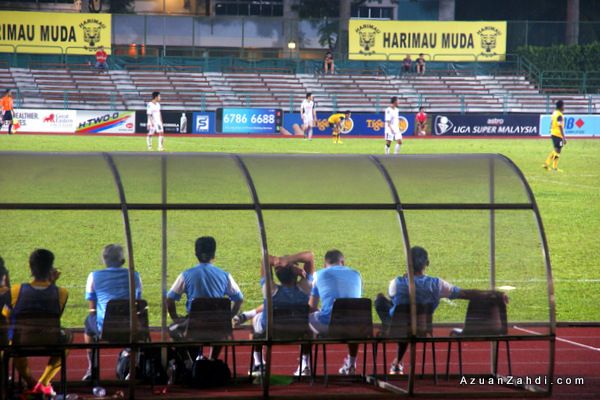 Home United fast breaks eventually killed the tigers. Final score line Harimau Muda 0 – Home United 3.
While we lost the game, the fans were not 100% disappointed. I salute the fans for cheering (and once in a while 'provoking' the opponents and officials – but that's part of the fun of cheering) throughout the game.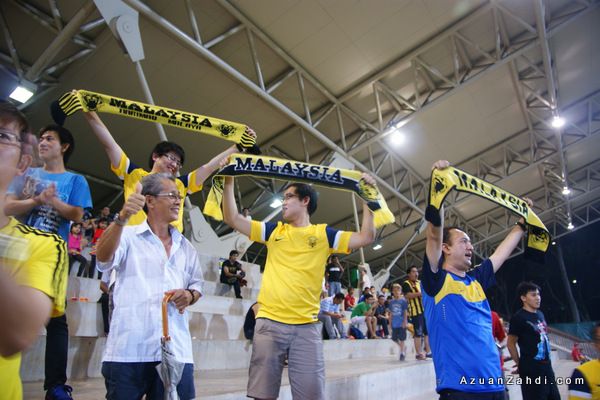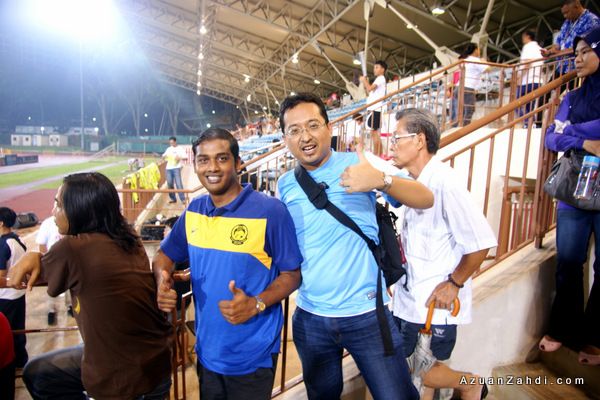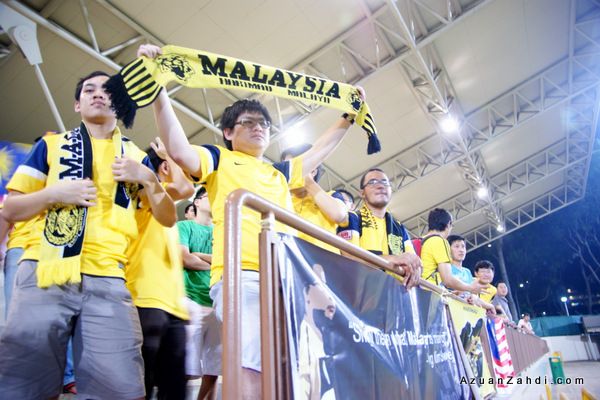 We even stayed on till all the players and coaches left the field to the dressing room.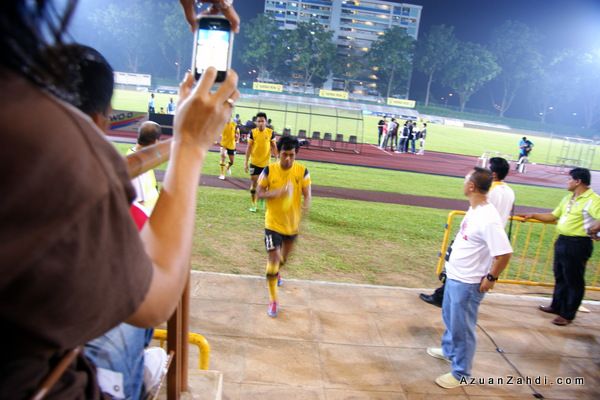 Coach Ong Kim Swee with Aysha of ESPNstar.my, Thanks for all your tweets at every game of Harimau Muda!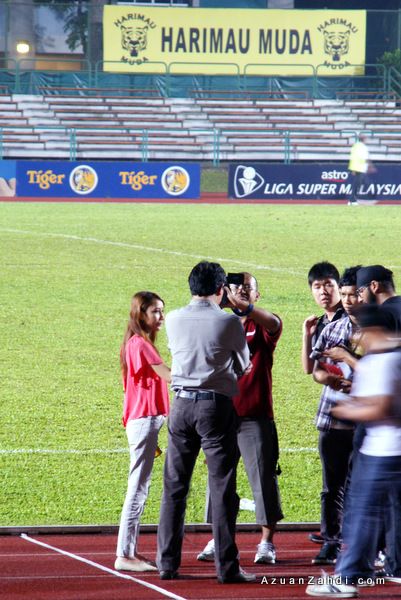 Coach OKS was very humble and as always met the fans and apologized for the defeat. Nothing to apologize for Coach, you did your best.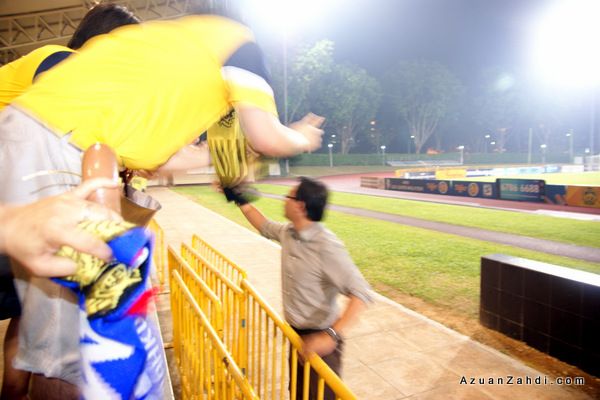 Of course the guys had fun saying that I'm the jinx as both matches that I attended in Singapore ended with defeat! :p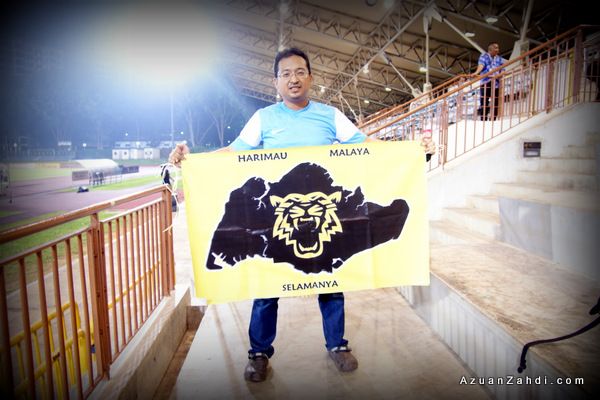 An awesome experience despite being in Singapore for only about 5 hours. It's great to see the fan base are getting more established and players are getting more matured in particular Mahali and Wan Zack. One thing that I'm a bit concern is whether talents can be continuously developed as more players are graduating from Harimau Muda due to age factor. Looking at the current performance of Harimau Muda B, this need to be looked into urgently in my opinion.
Thank you to all the buddies and fans in Singapore for hosting me for the game and see you guys in the near future. Harimau Malaya Selamanya! A best way to celebrate Hari Malaysia for me 🙂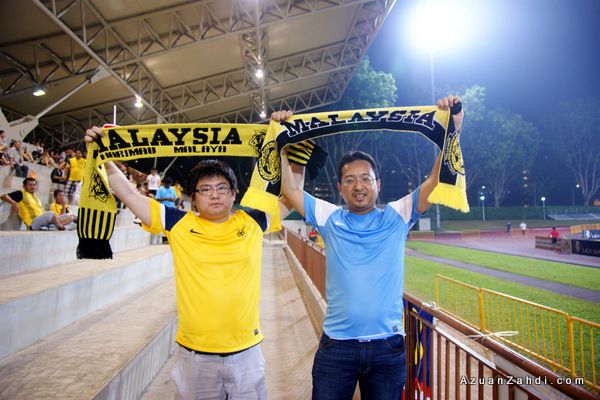 Malaysia Tanah TumpahNya Darahku.