Thanks to #selangorlicious food campaign I am able to share some of my favourite places to eat in Selangor and in particular my hometown Shah Alam. Within the last 2 weeks I've shared on AzuanZahdi.com five interesting places to eat in Shah Alam. Click on the links below to check it out:
Part 1 – Nasi Lemak and Roti Tampal @ Restoran Ceria – Click here
Part 2 – Cendol Tapai @ Cendol Pak Akob Seksyen 16 – Click here
Part 3 & 4 – Mee Ketam & Laksa Utara at Seksyen 7 Shah Alam – Click here
Part 5 All about Food @ Pasar Tani Mega Seksyen 13 Shah Alam – Click here

The #Selangorlicious campaign is back for the second year and this time it's more delicious with three parts of the campaign – Selangorlicious Foodster Blogging Competition, Selangorlicious EatOut and 'Selangorlicious Good Food Guide' & 'Selangorlicious Ramadhan Promotion Guide'. Click here for more info.
This time I'm going to share this one place that is so famous in Shah Alam among the university students for its delicious Ais Kacang or ABC. Ask any of 10 UiTM Shah Alam students about Fradoo ABC and I'm quite sure at least 8 would say that they have tried it!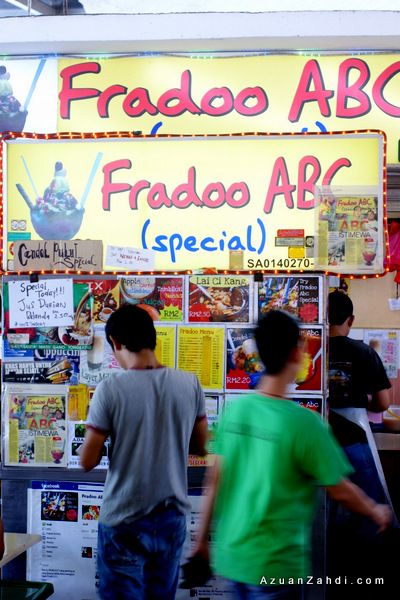 Located in the refurbished Medan Selera Sect 2 Shah Alam, Gerai #14 is where Fradoo ABC can be found. It is in the center of Section 2 Shah Alam, a well-known university student area (hint: "awek ramai ooo! Hahaa" – azuan version zaman muda dulu)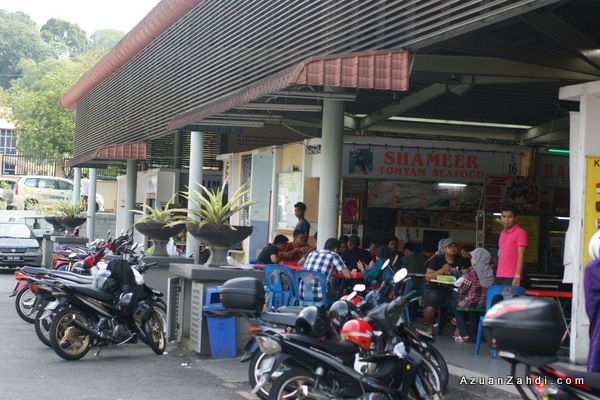 Let me warn you that there are plenty of other stalls selling ABC or Ais Kacang but according to many of my Shah Alam friends, Fradoo is the one on top of the list. Not to say that the others are not as delicious but Fradoo ABC is more established. 🙂 So lookout for this #14 sign. If you miss it, go get your eyes check! 😛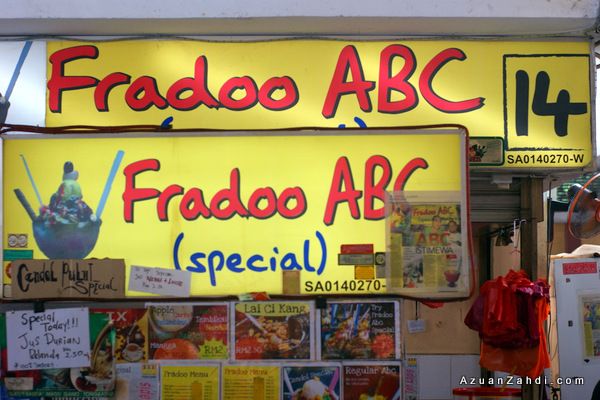 For the benefit of my foreign blog readers, ABC or Ais Kacang is a famous dessert and thirst quencher for the hot days in the form of shaved ice with toppings such as red beans, creamy sweet corn, grass jelly, nuts and syrup.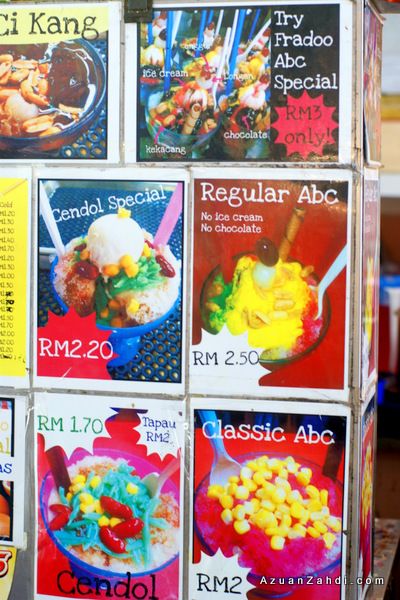 I'm a fan of Fradoos' original classic ABC but this time since I'm featuring it on AzuanZahdi.com I decided to order the Fradoo ABC Special.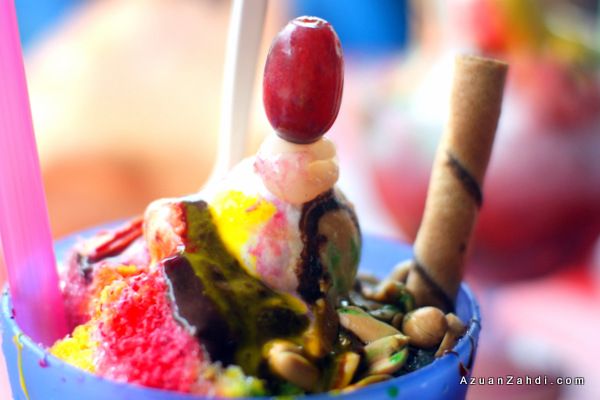 At only RM3, it comes with all the normal ABC stuff + additional toppings such as orange-flavoured ice cream, grape, longan and chocolate syrup.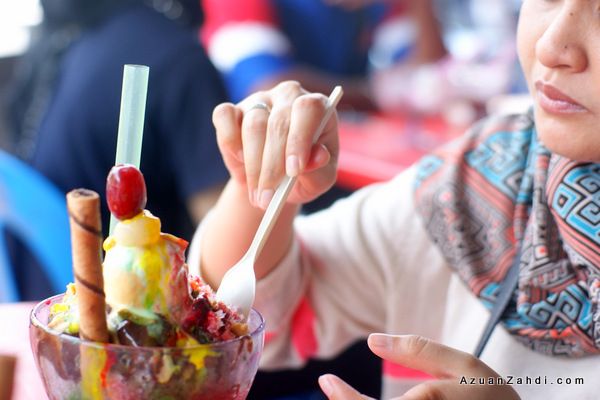 A straw is also provided so don't create a scene by trying to drink your ABC using the love-letter biscuit. Yes Fradoo ABC comes with a love-letter biscuit.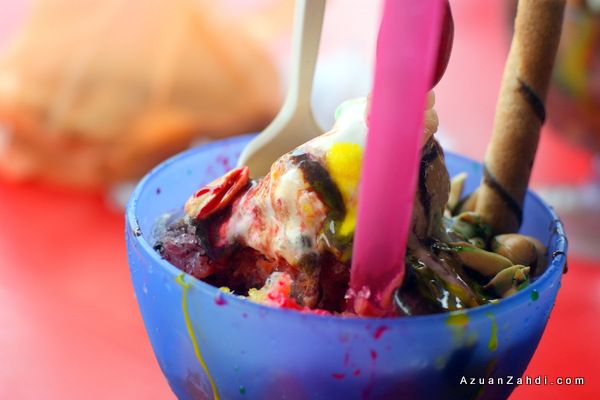 On a hot day, the shaved ice melt quite easily so its best to enjoy the ABC at the shop although quite a number of people I saw that was ordering the ABC for take-away.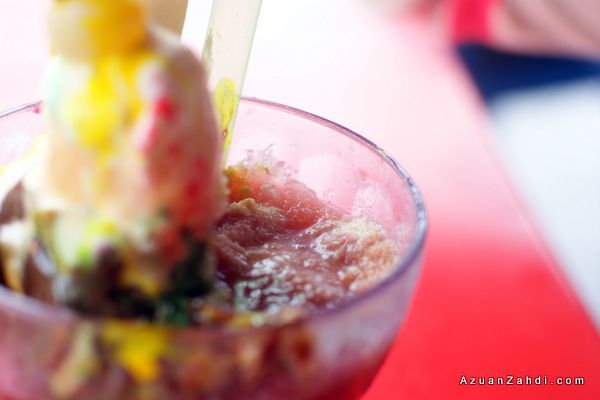 My only complaint is the amount of syrup/colouring used on this ABC special made it a bit artificial and overpowering the original taste of an ABC. Maybe because I'm a traditional person so next time I'll stick with the regular classic ABC 🙂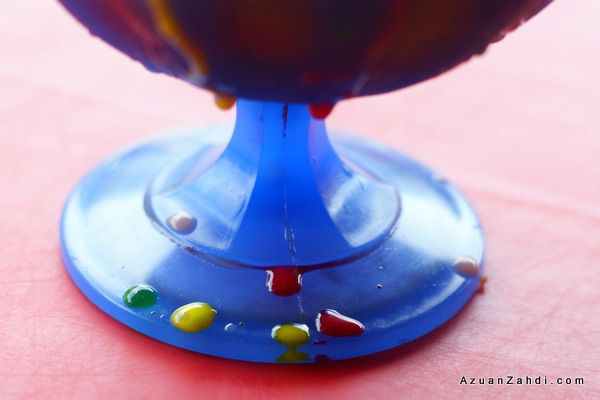 Whatever it is, I still think Fradoo ABC is a must-try especially for those living/working/visiting Shah Alam.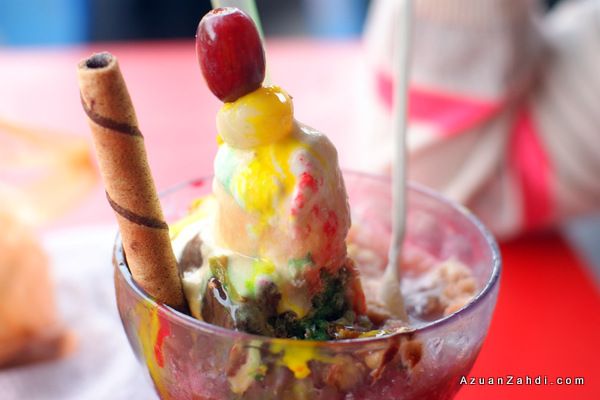 Fradoo ABC, Medan Selera Section2 Shah Alam
My overall rating:
Cleanliness: 3/5
Ambience: 4/5
Food Quality: 4/5
Service Quality: 3/5
Value for money: 5/5
Overall: 4/5
You have any suggestions on places to eat? Why not share it at Selangorlicious' website and win great prizes worth RM36,000.00. Yes, that's right! Eat, Write and you might actually Win something. Hurry… 2 more days to go! Only at Selangorlicious. 🙂

Share this delicious post on your FB and Twitter:
[facebook]http://www.azuanzahdi.com/index.php/2012/07/13/ais-kacang-special-fradoo-abc-selangorlicious/[/facebook]
[retweet]http://www.azuanzahdi.com/index.php/2012/07/13/ais-kacang-special-fradoo-abc-selangorlicious/[/retweet]