#MyBigFlight MAS A380 Story: Love at First Flight
As an aviation fan, flying on an Airbus A380 has always been an item on my "aviation to-do checklist". I'm lucky enough to have flown on many types of passenger aircraft from the tiny Twin Otter to the Queen of The Skies – the Boeing 747, but there is something unique about the A380 that makes it so sexy and attractive. From the time that I first saw the A380 back in 2005, I've been telling myself that one day I would get the experience to fly on one.
2005…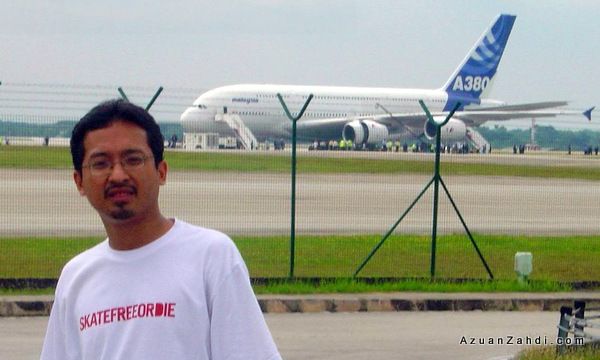 7 years after I stood outside the perimeter fence of KLIA watching the A380 for the first time, I finally managed to turn my dream into a reality and fly on an Airbus A380 thanks to the Malaysia Airlines 'The Big Flight' contest. I was chosen as one of the four winning bloggers that were selected to join a special 150 minutes A380 joyride flight and this blog post shares my experience being on The Big Flight.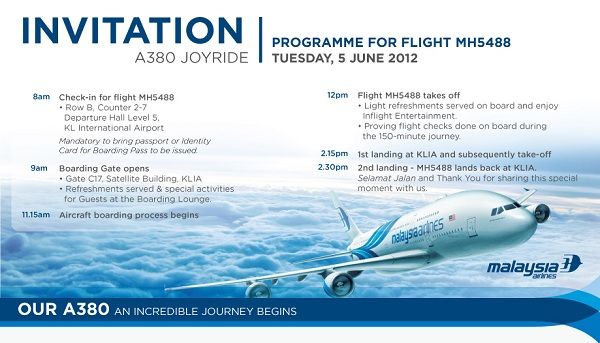 It might not be an actual inaugural flight, but to be one of the earliest people to fly on this brand new airplane is something that I would consider as an accomplishment. Alhamdulillah I would personally categorise this event as a significant milestone in my 5-years blogging journey. The best part is getting the chance to share it with my better half as the bloggers are allowed to bring an additional guest to the flight.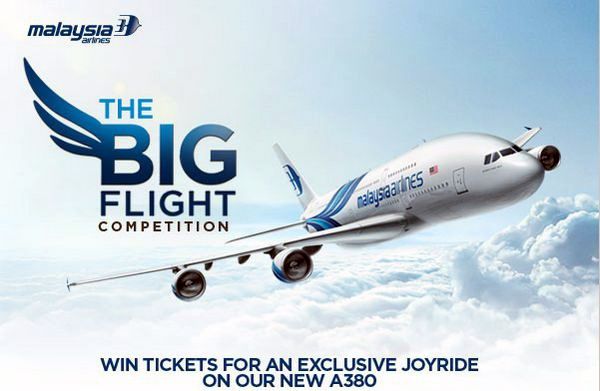 (note: this blog post has a lot of photos to best describe the event. Please be patient to allow the photos to load fully, I would recommend a fast internet/wi-fi connection over 3G/Mobile internet for this post)
5th June 2012 – The wait is over – The Big Day has finally arrived. Both my wife and I took annual leave from work and we showed up on-time for check-in.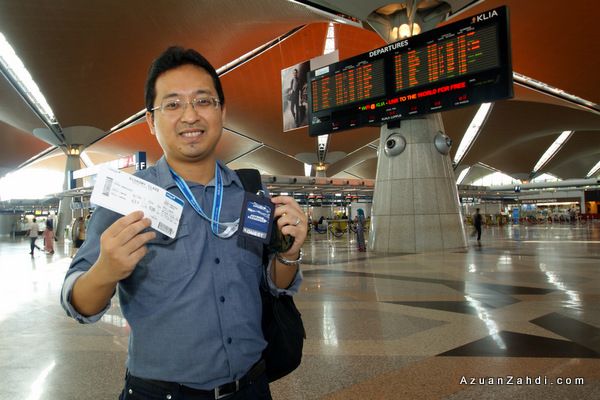 The "collector's item" boarding pass.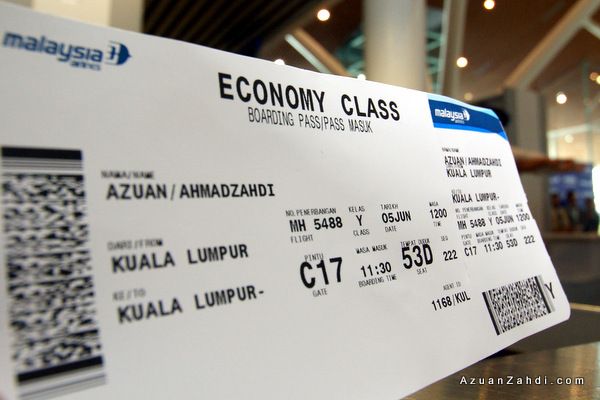 MH5488 from Kuala Lumpur to Kuala Lumpur.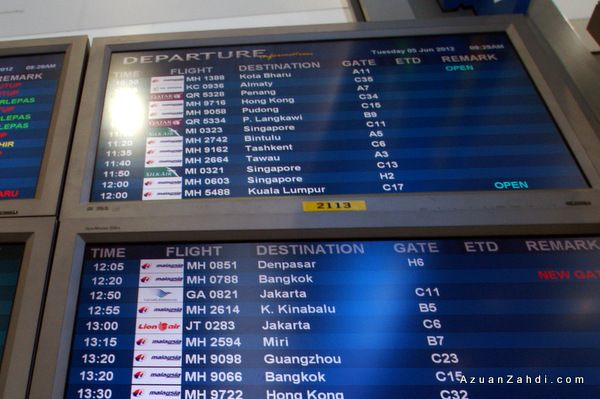 Towards C17, the gate assigned for MH5488 for that day.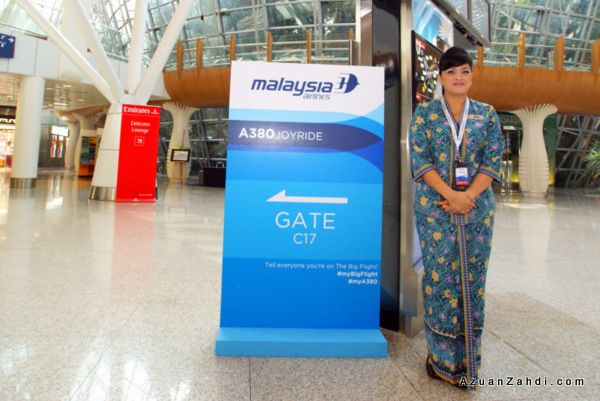 VIP treatment for everyone attending the Joyride including a polaroid photo-shoot with stewardess.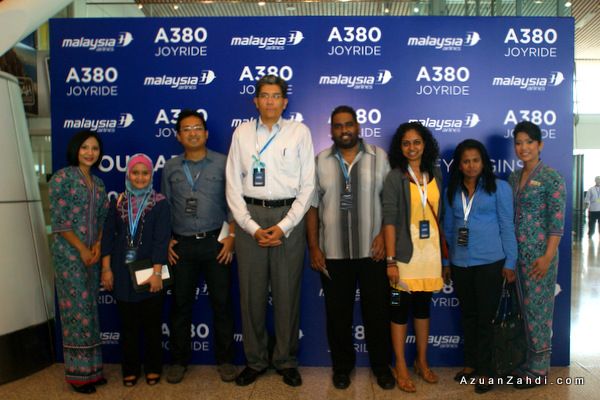 At the Gate C17 waiting lounge, passengers were hosted to a pre-boarding reception where we were entertained with good food, entertainment provided by the winning talents (winners of #TheBigFlight unique talent contest), a short introduction on A380 and LCD monitors showing the MAS A380 video loop. Everyone was in a happy mood celebrating the new A380 and its significance as a game-changer in Malaysia Airlines new business journey.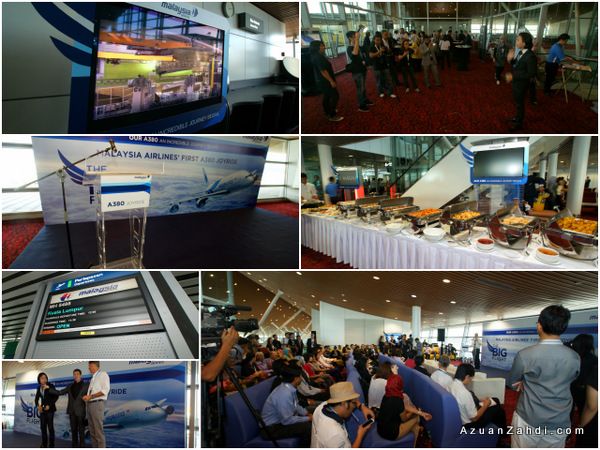 I enjoyed the entertainment provided by the organiser but my eyes were glued towards only one thing – the "main dish" for the day.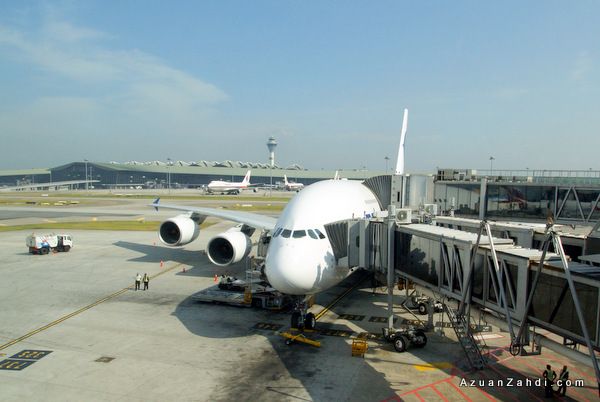 The MAS A380! 9M-MNA.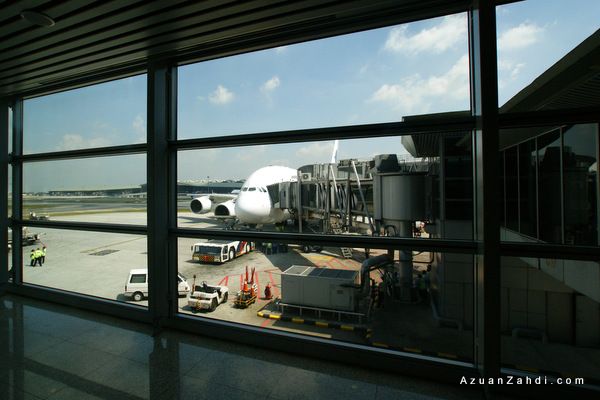 The A380 is the world's largest passenger aircraft flying today and it is unique for being the only aircraft type having two full-length passenger levels with true wide body dimensions: a main deck and an upper deck which are conveniently linked by fixed stairs forward and aft.
A few of the 21 lucky cabin crew that got the chance to fly on this unique flight.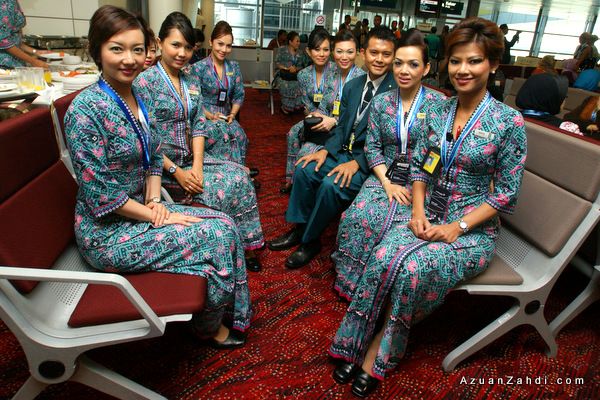 Despite it being a joyride, procedures of a normal flight were tested as if it was an actual schedule flight. MH5488 was also a proven flight where various tests were carried out to satisfy the requirements of the statutory and certifying authorities for the aircraft's readiness to operate commercial flights. I was ensured by one of the cabin crew that despite it being a joyride + proving flight, it was perfectly safe to fly as a passenger!
The award-winning cabin crew of Malaysia Airlines were the first to board the A380.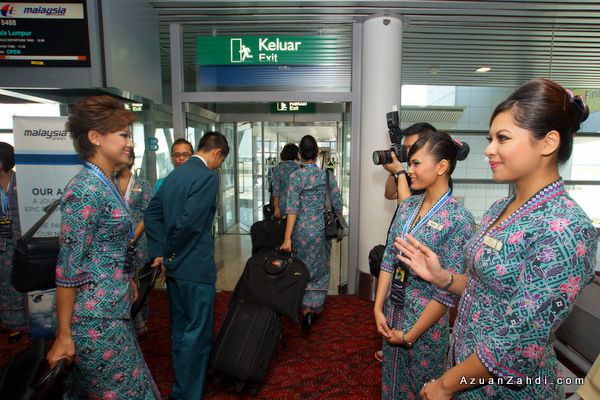 Boarding announcement for the passengers was made 30-minutes before scheduled departure time and passengers were gracefully ushered to the plane by the ground crew. Boarding was done by rows with first and business class passengers given priority.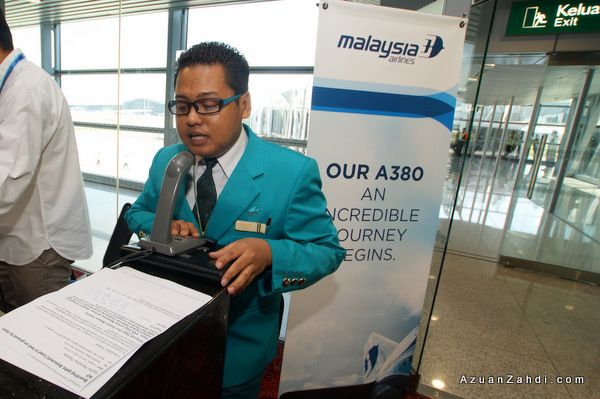 I had seat 53D which is located in the first section of the economy class cabin, so I was in the last group that was allowed to enter the plane. I waited 7 years for this moment, so I was OK to wait for an additional 10 minutes.
A bit more time to snap photos for my personal A380 album!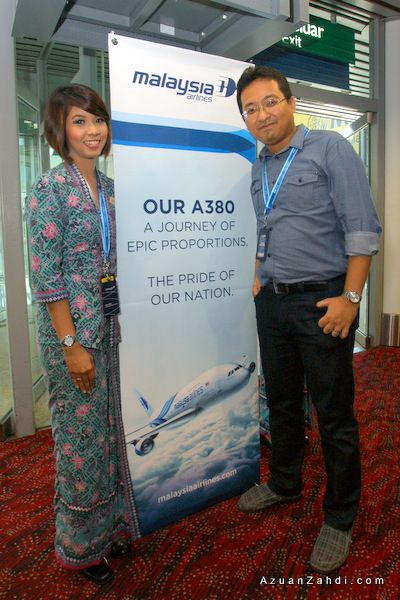 It was finally time to board the plane. Surprisingly boarding process was smooth despite having 454 passengers seated throughout both decks. Thanks to good coordination between all parties and the fact that the gate is equipped with A380-ready aerobridge facilities. Well done!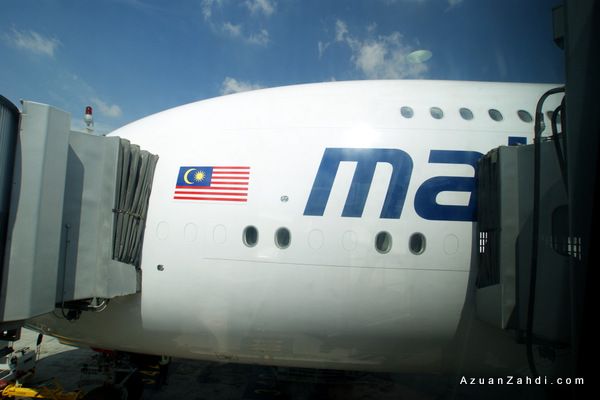 Finally!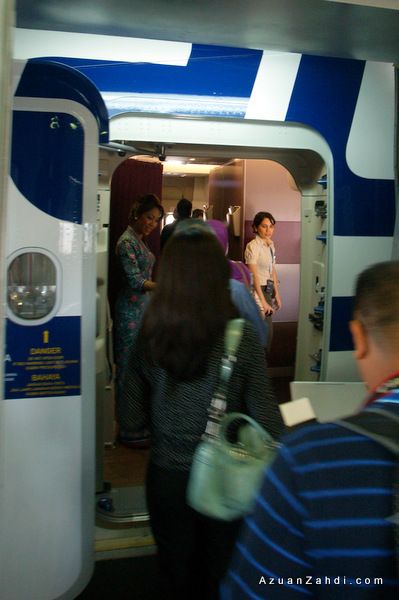 Economy Class. It is very similar to MAS A330 economy class section except the layout for the lower deck is 3-4-3 and upper deck 2-4-2. Click here to read my review on the MAS A330. The Economy class seats with an 18-inch seat width and recline of 6 inches, have a seat pitch of 32 inches.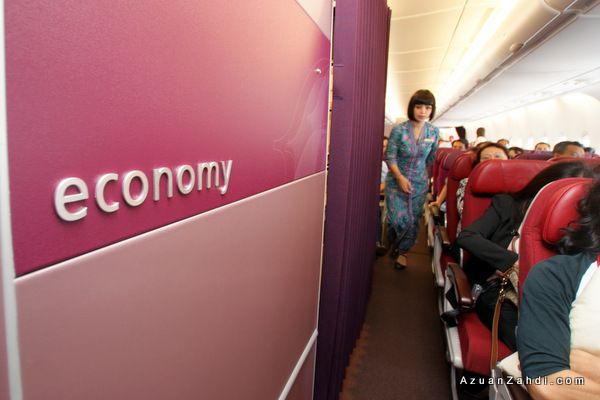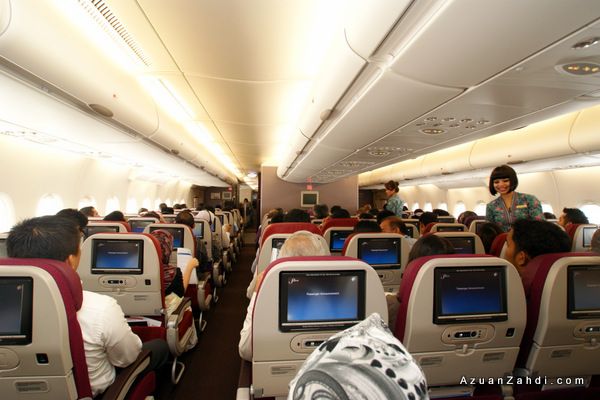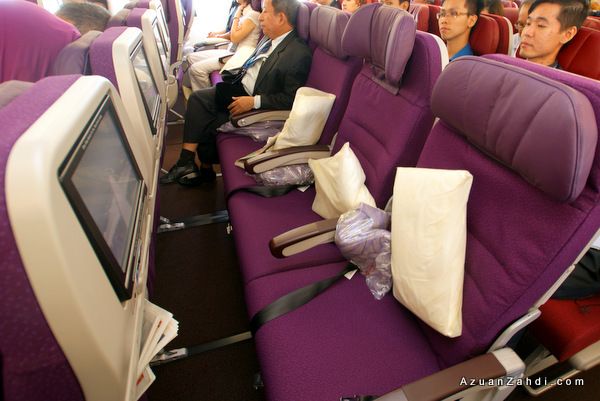 The aircraft is fitted with the Thales entertainment system. For economy class, the In-Flight Entertainment (IFE) screens measures up to 10.6 inches and all seats are equipped with USB port and satellite telephone facility.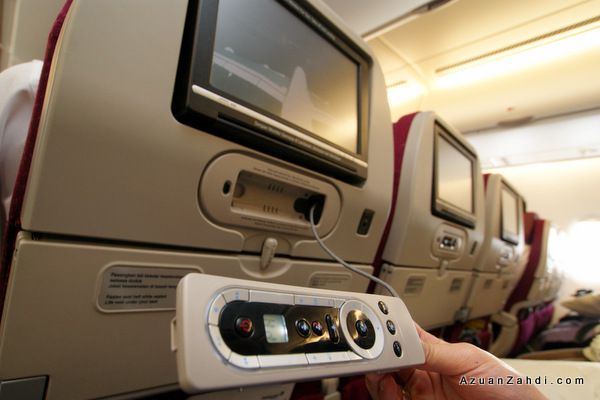 I'm happy to see that MAS has finally decided to have the external camera view as part of the A380 features. It's cool to view the aircraft from that angle especially during take-off and landing (not during turbulence though!).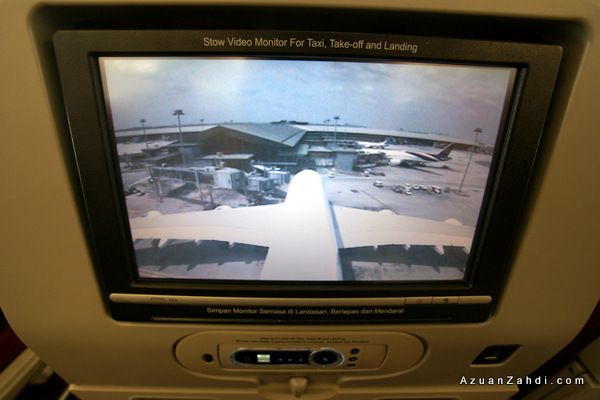 The aircraft was pushed back at about 1230pm and despite the size it was a smooth short taxi to Runway 32R for take-off.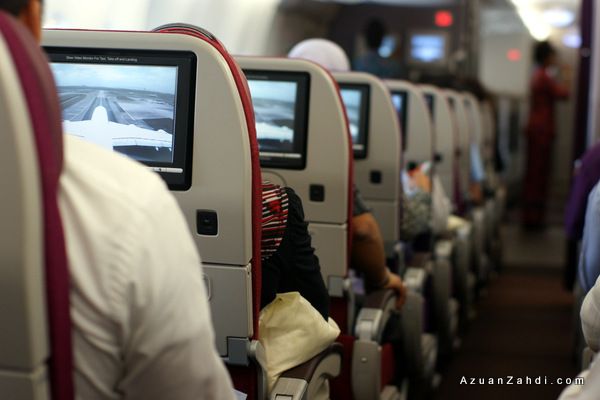 While taxiing, a manual safety demo was conducted by the crew as the new safety video for the A380 has yet to be installed into the system.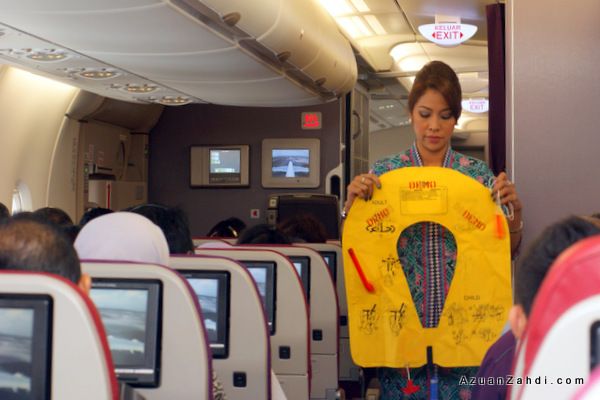 It might be optical illusion but the frame of the windows makes the windows seem larger compared to other Airbus planes. Seen here a Boeing 747-400 a once upon a time the biggest plane in MAS fleet.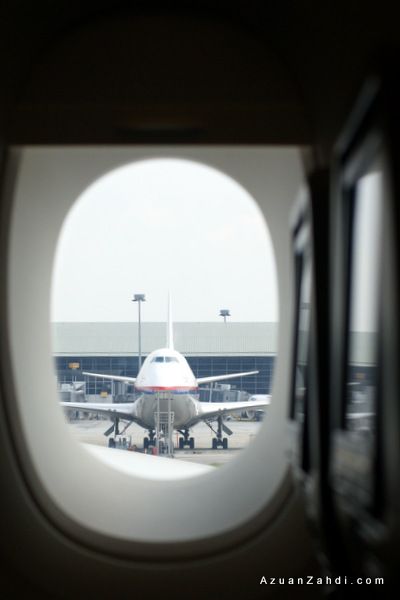 "Malaysian 5488, runway 32R, cleared for take-off"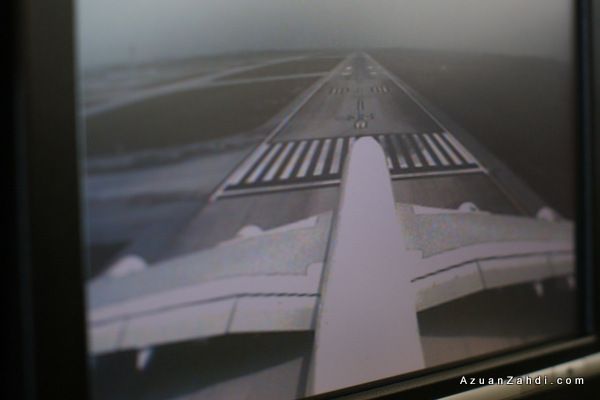 It might be because of the light load in terms of fuel but the take-off run was quite smooth with only about 70% of the runway length used.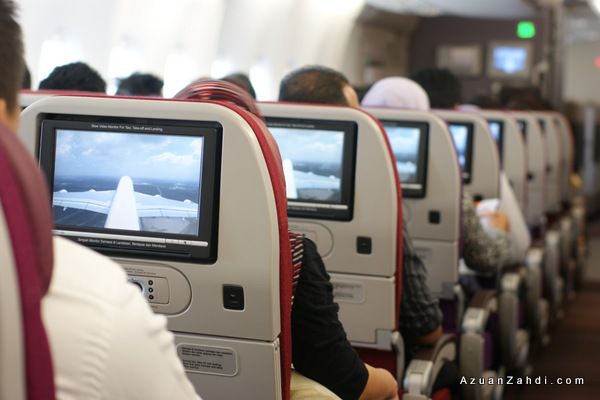 Clouds! Now passengers can see it coming thanks to the tail-cam.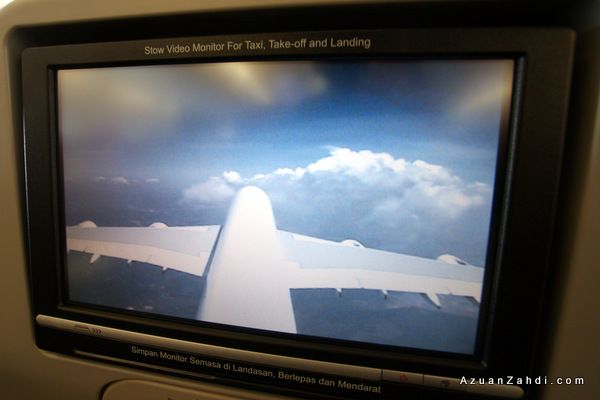 Normal flight service started after take-off.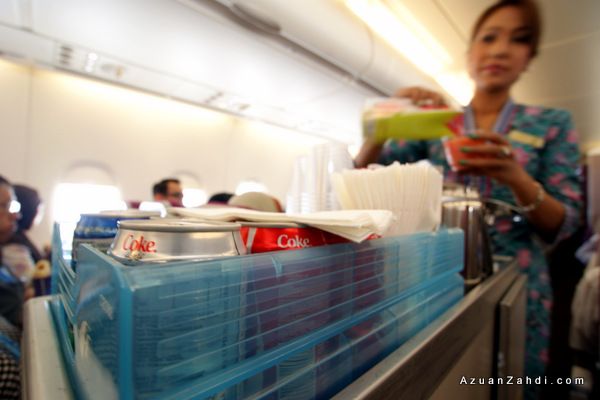 Most passengers enjoyed the IFE including my other half who actually finished watching one full-length movie!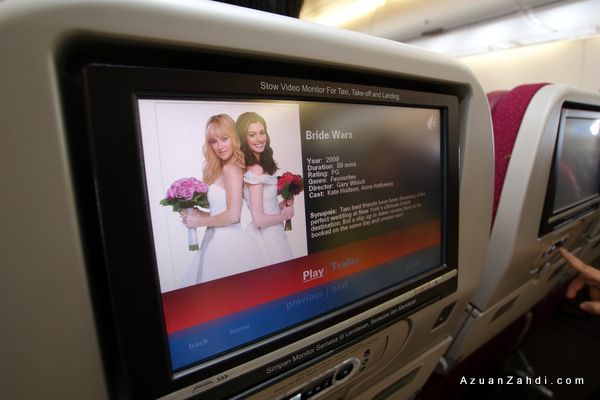 I was glued towards the flight stats page. It's not every day that you can see a flight from KUL to KUL!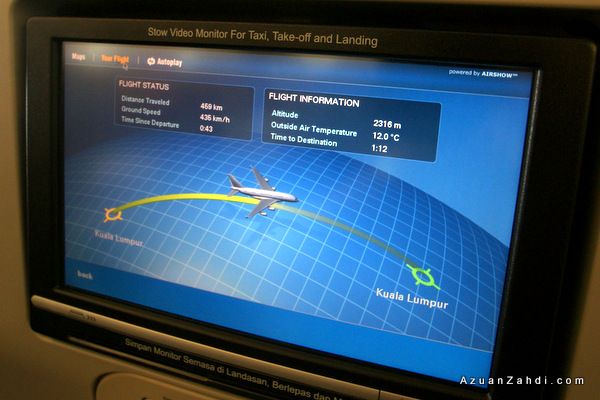 MH5488 took off from KLIA, flew to Langkawi, circled the island twice at 3,000 feet, flew back to KLIA, landed at KLIA, took off once again, circled KL City at 3,000 feet, flew low pass at Subang Airport and landed at KLIA. Total time about 2.5 hours!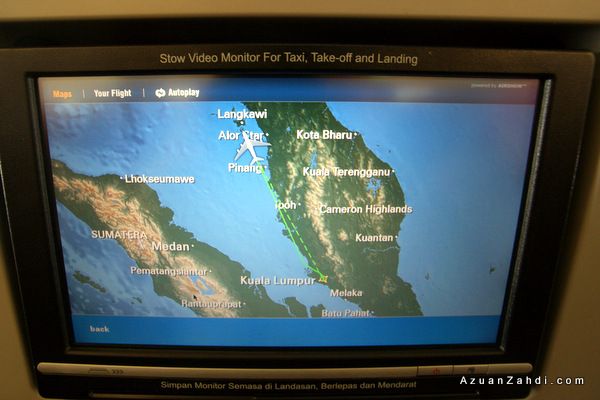 As I was not seating at a window seat, it was quite tricky to take shots of Langkawi and KL City.
This was taken above Langkawi.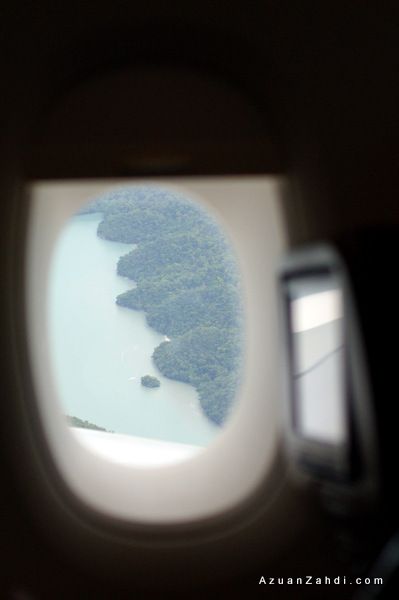 On the way back to KLIA.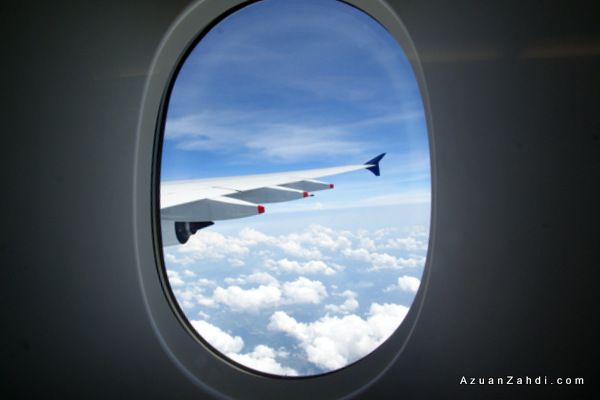 I got bored and went to check out the other sections of the plane. Unfortunately I was not allowed to go to the first and business class or the upper level sections so my experience is limited to lower deck economy class section.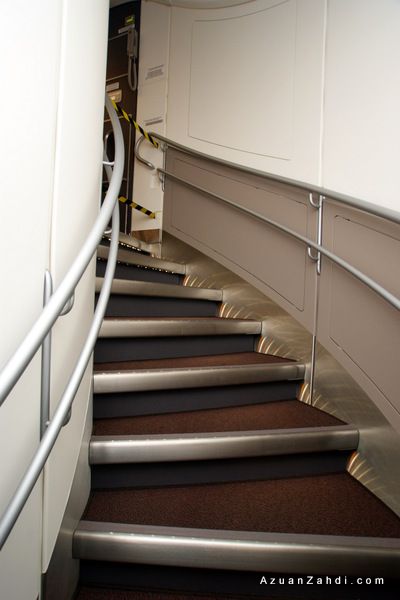 Aircraft lavatory. Similar to other MAS fleet.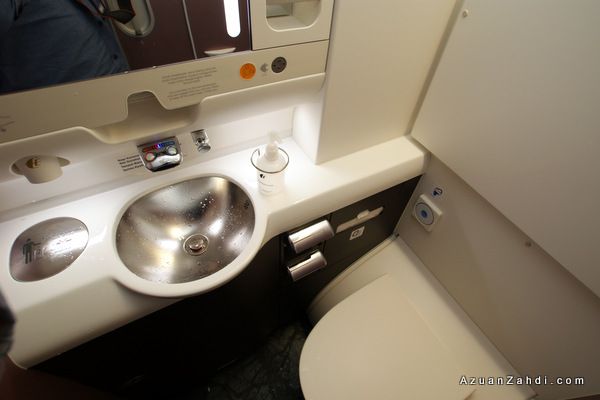 Passengers enjoying the flight.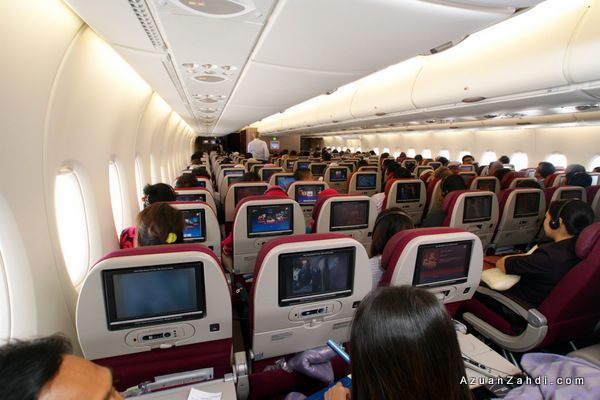 Chatted with the crew for a while and good to know they were also excited to work on-board the new plane.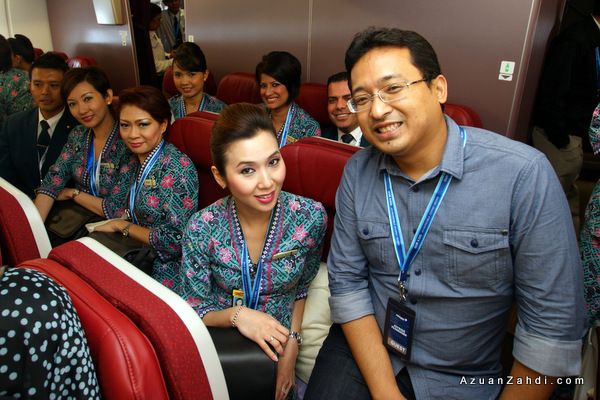 Even had a chance to meet up with En Ahmad Jauhari, the MD of Malaysia Airlines.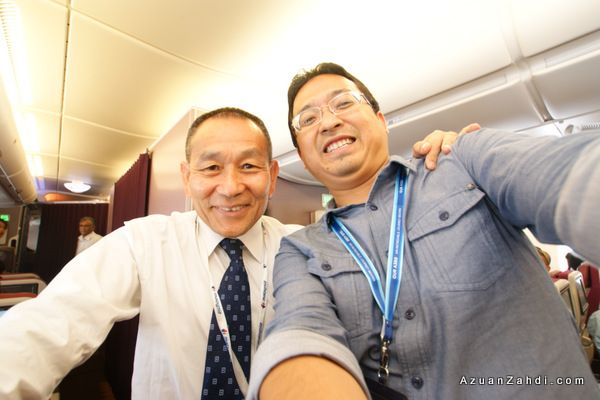 Tun Mahathir as the VVIP of the flight made his round and it was such an honour to be able to shake hand with him.
We landed in KLIA with a nice smooth touchdown. Great work by the cockpit/tech crew led by Capt Norshid Ali.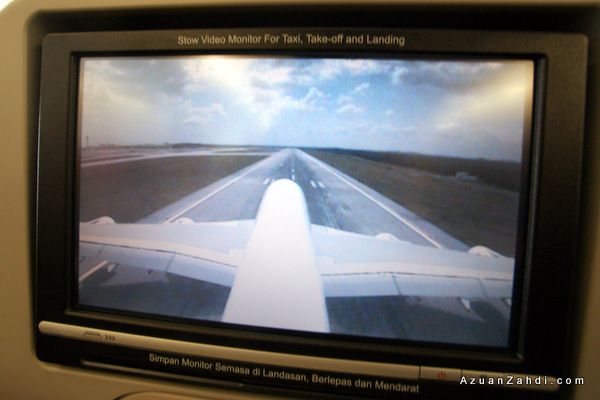 After 20-minutes being on the ground, we took-off once again for a short tour around KL City.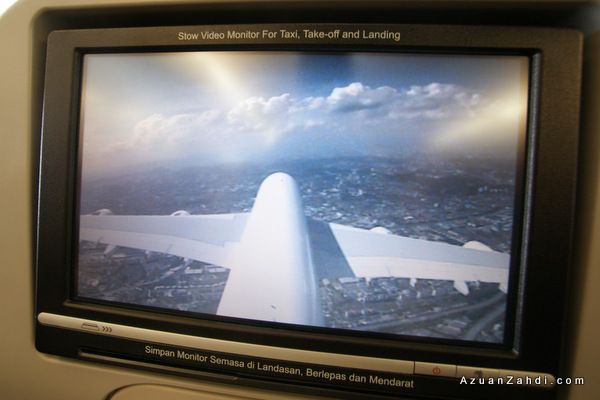 The low-flying above KL reminded me of the joyride charity flight that I joined a couple of years back (click here to read) and the KL City Tour that I had with JFK (Click here to read).
Above Subang Airport. Nice experience to be that low but not coming in for landing
I even saw quite a number of tweets of people in KL and Subang that was amazed by the low-flying A380!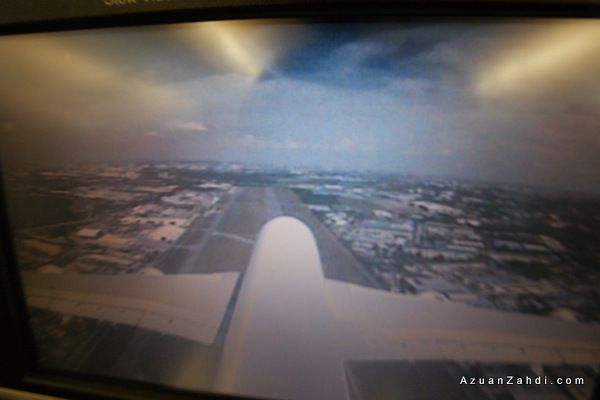 And finally back to KLIA for the end of MH5388.
I was the last few to leave the aircraft with the hope of visiting the business and first class sections but I was denied entry due to time constraint as they are preparing to tow the plane back to the hangar right after the flight. Next time, perhaps.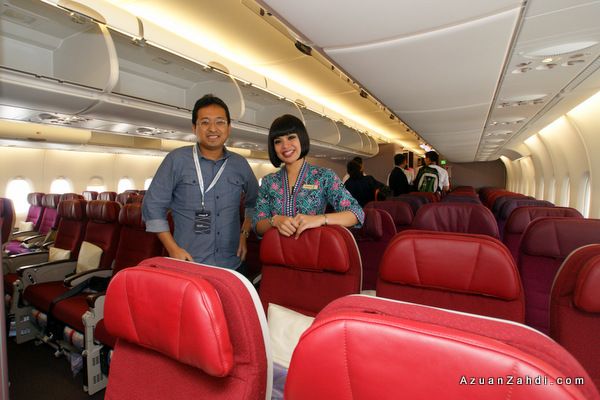 A certificate to commemorate our participation in the joyride.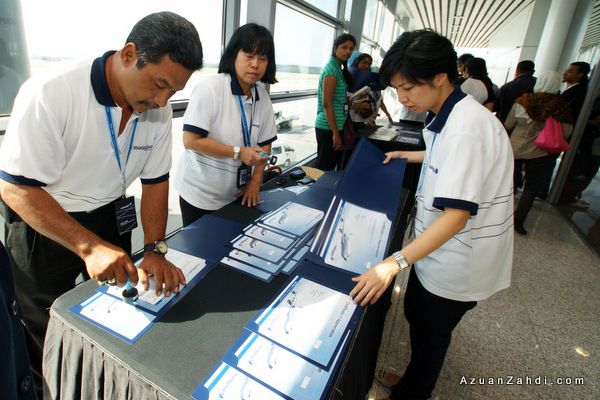 Thank you 9M-MNA and have a safe flight back to Toulouse where hopefully you'll find a bucket of red paint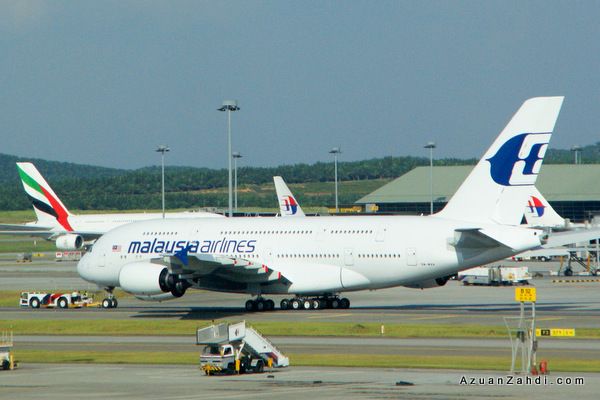 I would rate my short experience being in the economy class as 8.5/10. While it is comfortable in terms of legroom, seat dimensions, pitch, etc. I was a bit disappointed with the fact that the aircraft doesn't offer something 'wow' in terms of new feature except for the external view cam. Other than that it seems to be similar product as MAS newer A330s. It is good in terms of product offerings consistency but it would be great to have something to wow about when it comes to the A380. A common lounge at the back of the plane or something like that would be nice. (Updated 7th June 2012 – I was told that the MAS A380 has a common area/passenger lounge at the back of the plane's upper deck. Thanks for the info)

With the completion of the joyride, I've flown on MAS A380, A330-200, A330-300, B737-400, B737-800, B747-400, B777-200, Twin Otters and the ATRs. What's next? Let's wait and see. I'll end by saying thank you to everyone in MAS that gave me this opportunity to realise my dream of flying on an Airbus A380. Thank you
and of course thank you for reading this extra long post. It took me 4-hours to write this so I'm happy to hear your feedback through the comment form below.
You can also share this on your Facebook and Twitter:
Share
Tweet