"If you're ashamed to stand by your colours you better seek for another flag"
– Allahyarham Mokhtar Dahari.
Be proud of our colours, even when we are down losing!
Being proud of Harimau Malaya includes coming to the stadium for their games and rooting for the team even though there is no possible way for Malaysia to qualify for the London Olympic games after losing the five earlier matches. This blog post is dedicated to all Harimau Malaya fans out there. We lost 4-0 but we definitely stood strong behind our boys throughout the 90-minutes!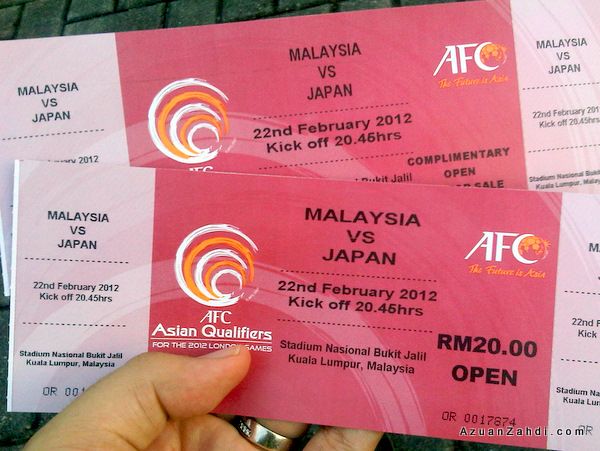 A middle-of-week game is always a challenge, but it did not stop me from planning early and be ready for the day with both sets of attire – work and play!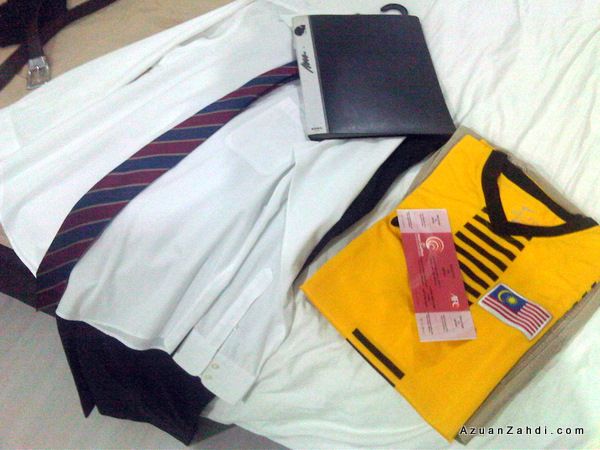 5:30pm, time to change role – from a corporate tiger to a Harimau Malaya!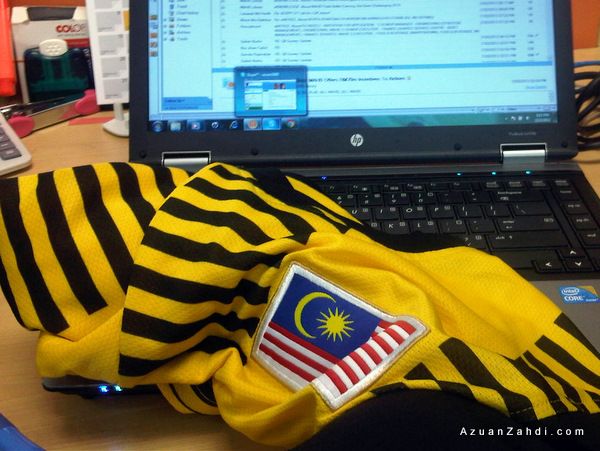 Among the early birds at the Stadium, TM's Team Malaysia fans!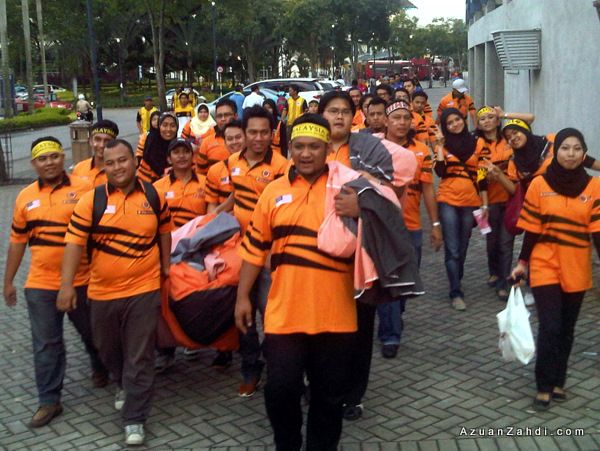 Ticket counter at 6:30pm.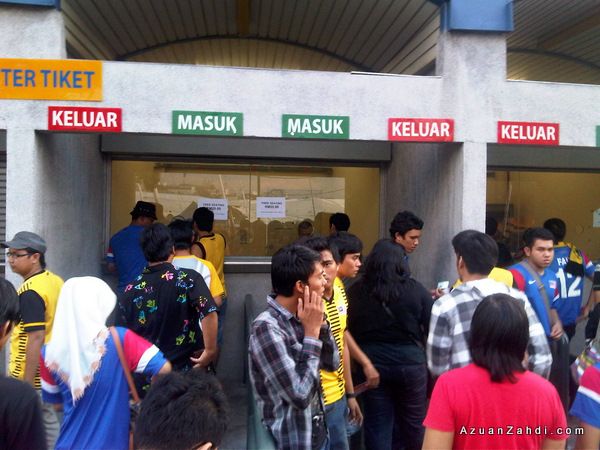 Football is about unity. Even for these merchandise sellers. No harm selling the 'away team' merchandise. Seen in this photo below, a Japanese family being treated with Malaysian hospitality 🙂
While waiting for my friends to arrive, I spent some time enjoying the Ultras jamming away with their various chants.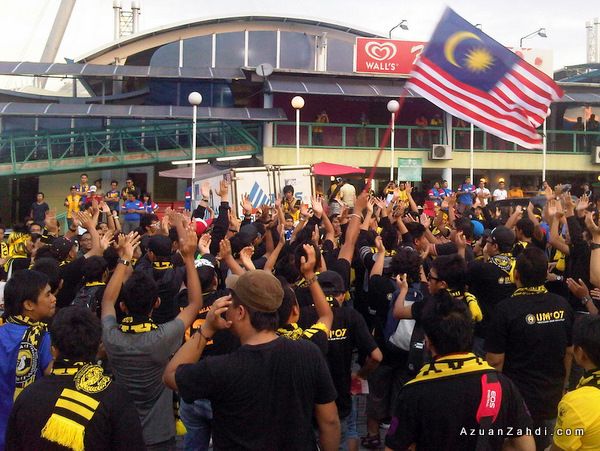 The strong voice of Harimau Malaya support. All unite as one.They were literally seen singing before, during and after the game. Something that I believe not many countries have. Well done Ultras and also not to forget Team Malaysia and other fans in the stadium on that day.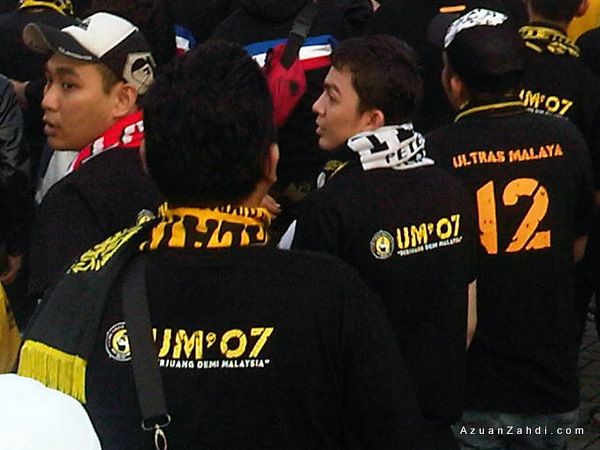 One out of the 15,000 fans that came to the stadium.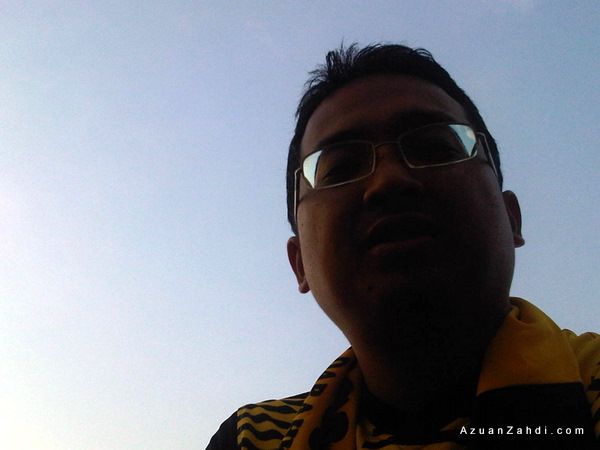 Also this dude. Steady la Wak bro. Lawa seluar.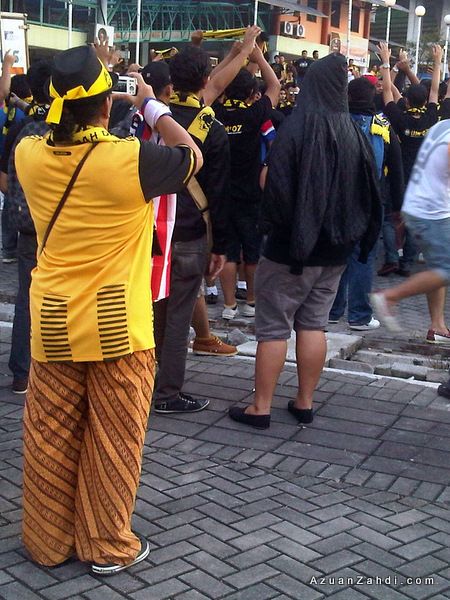 Stadium Bukit Jalil, home of Harimau Malaya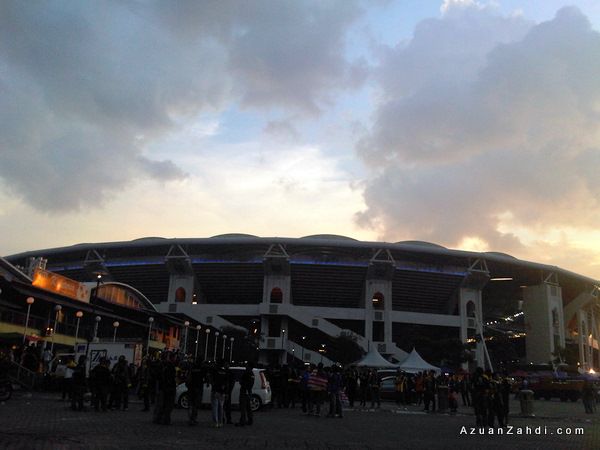 Face painting anyone?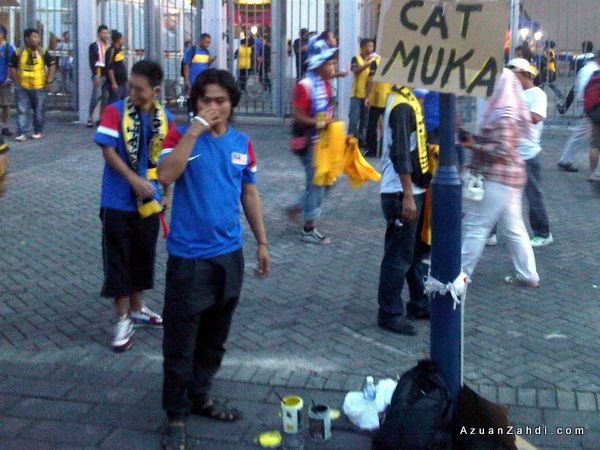 Tigers got hair.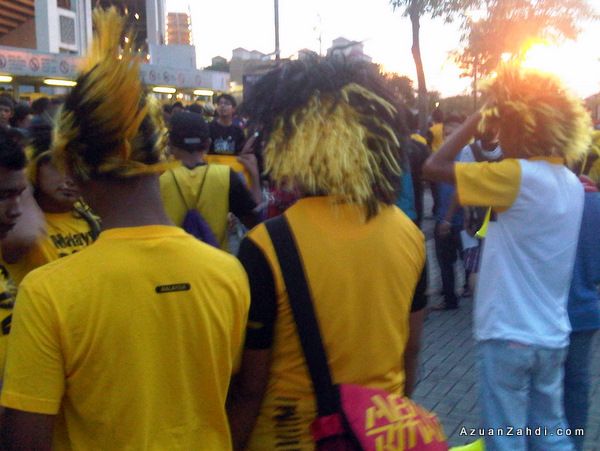 Air horns, use these horns wisely. Go along with the chants and not against them. Air horns create the unique ambience and feel of being in a football stadium.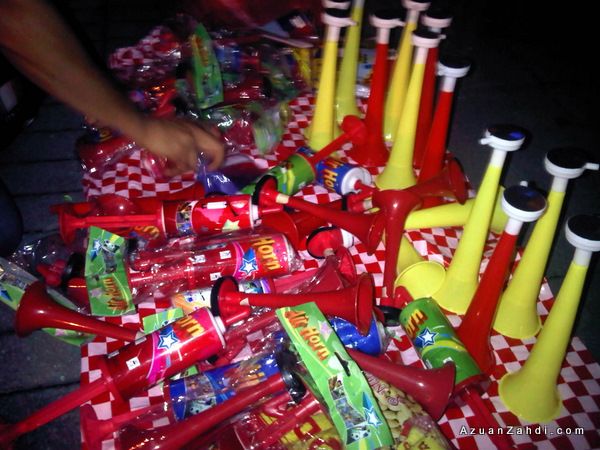 Stadium food = oily, so-so quality, expensive food. Still it's worth a bite since there is no other choice available.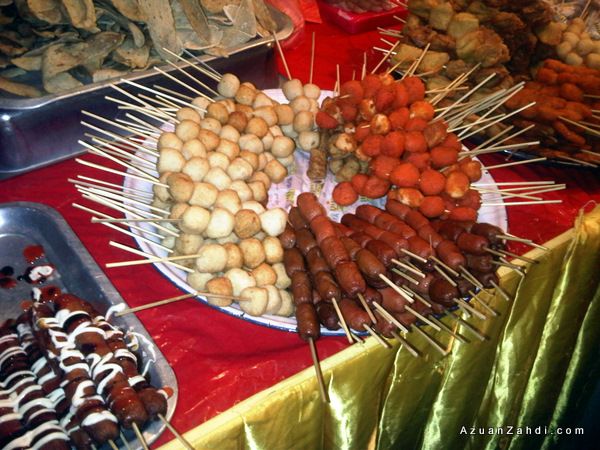 My dinner, chicken kebab.
First thing first, Maghrib prayers. Note to Stadium organiser, throw in some canvas next time for the fans as the prayer hall cannot fit a large crowd!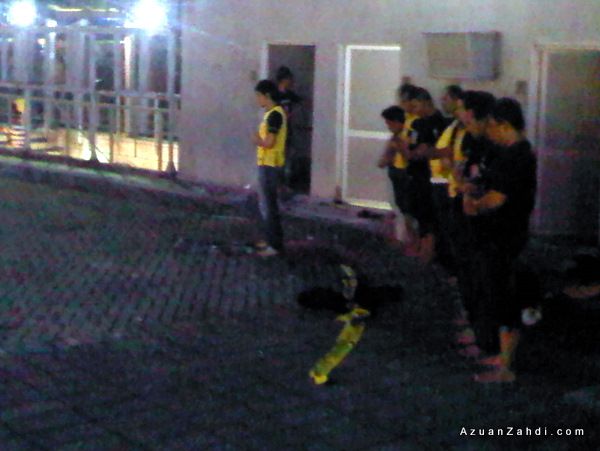 Ultras ready at their 'fort'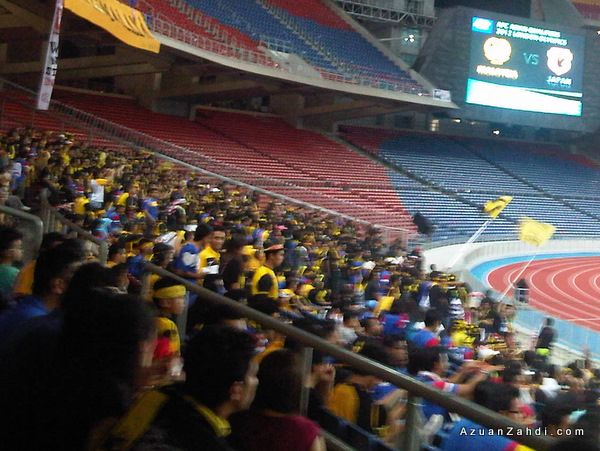 We were seated in between Team Malaysia and Ultras so we got to enjoy the best of both worlds.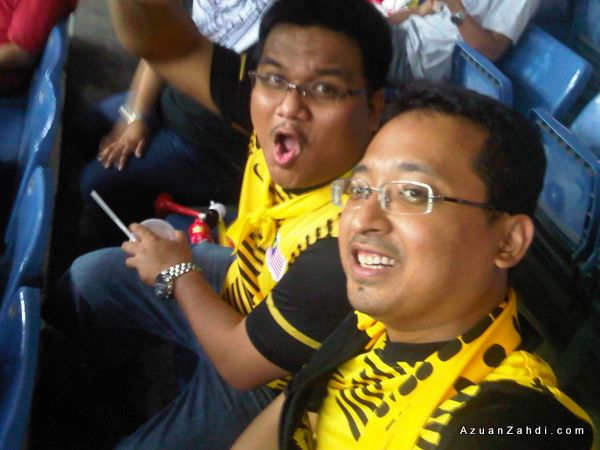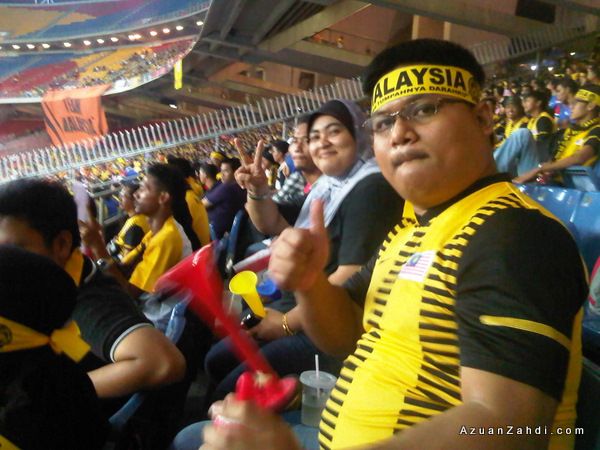 Right behind us, a friendly Japanese couple wearing the Malaysian jersey. My guess is that they are Japanese who has been staying here for quite some time.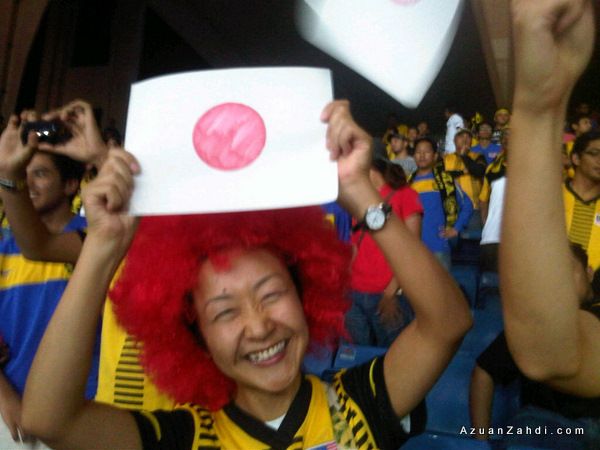 The rest of the Japanese fans. Welcome to Malaysia!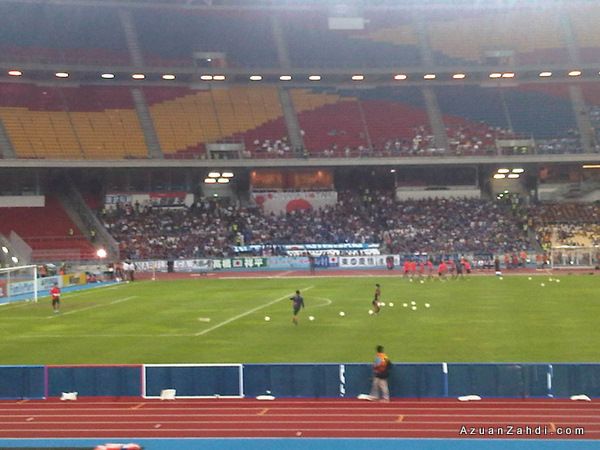 We lost 4-0. But we played well in the first half and occasionally in the second. My view is that we can only go one way from here which is to be a much better team thanks to all these competitive games. With some luck, hopefully players like Nazmi Faiz, Wan Zaharul Nizam (Kechik), Mahali and Fadli Sas will get spotted by scouts and receive a chance to spread their wings outside. Only that way we can ensure that we are developing the future version of Safee Sali for our 'coming soon' version of Harimau Malaya!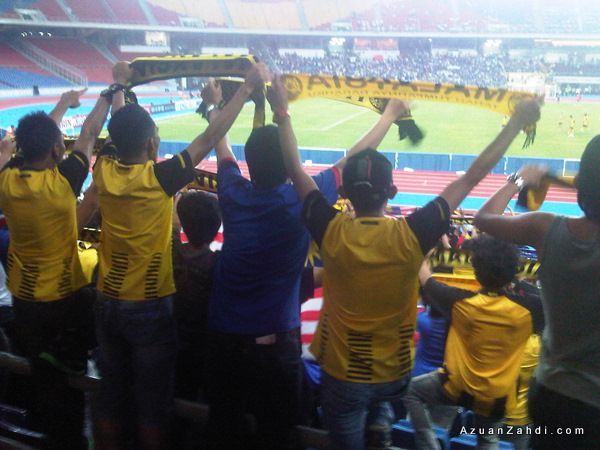 One funny thing about yesterday's experience was the part when I was interviewed by Harian Metro TV (online-based) on my expectation before the game. I t was totally a random moment! Haha Here's a youtube version of it. From 0:38 onwards.
Till next time, Malaysia Boleh!
My other Harimau Malaya blog posts:
Harimau Malaya: Dulu, Kini dan Selamanya! – Click here to read.
Harimau Muda Weekend: Malaysia u23 (4) – Laos u23 (1) – Click here to read.
Malaysia 0 – Arsenal 4: An Interesting Lesson – Click here to read.
Asian Games: Malaysia 0 – China 3 Thanks to Ben Williams Red Cards! – Click Here to read
[retweet]http://www.azuanzahdi.com/index.php/2012/02/23/malaysia-0-japan-4-football-friends-food-fun/[/retweet]
[facebook]http://www.azuanzahdi.com/index.php/2012/02/23/malaysia-0-japan-4-football-friends-food-fun/[/facebook]