"A wise traveller never despises his own country" or state for that matter! With these words in mind, I keep exploring for new attractions within the four corners of my home state, Selangor. Don't get me wrong, I still love visiting new places out there but no place can beat good old Shah Alam and Selangor 🙂
Thanks to efforts by agencies like Tourism Selangor, many new tourism products are discovered on continuous basis and through activities like Tourism Selangor Day out or #TSdayOut in short, these products are shared with the general public. Click here to read about my experience joining the first #TSDayOut in Pulau Ketam.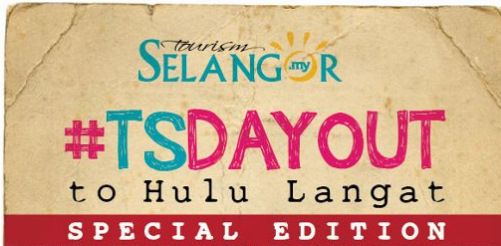 This time #TSDayOut features a unique "Bamboo Rafting" activity, something I never know exist in the district of Hulu Langat.
The day started with all 30 participants being transported by bus to the starting line of the day's activity. We were greeted by this magnificent view of bamboo rafts being prepared for action. From a sleepy bus ride, straight into the action!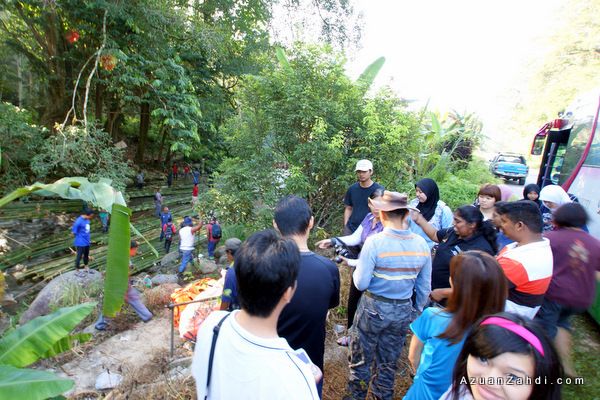 A short safety briefing by the Tok Batin.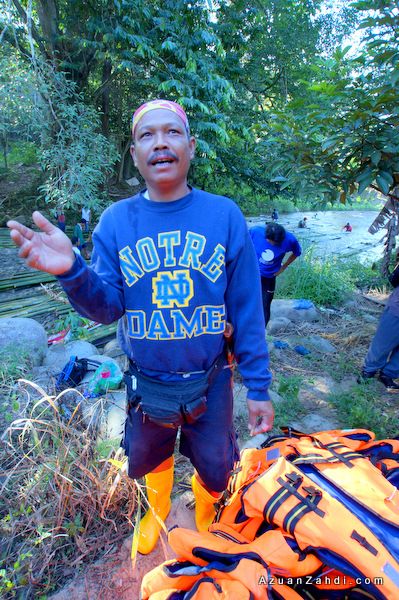 Everyone get into their rafts in pairs.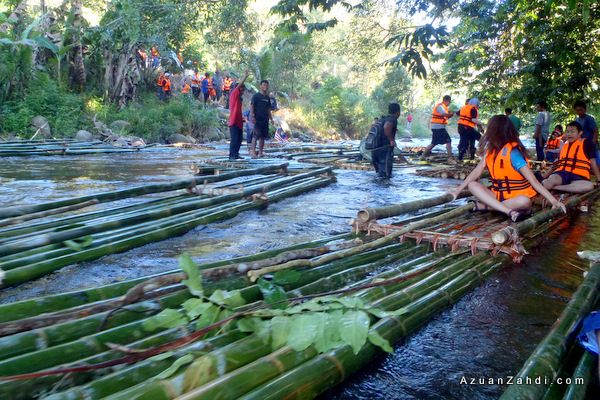 Ready for action!
For safety reasons, we were not allowed to take control and steer the rafts, instead the locals were hard at work for the whole 90 minutes stretch.
We were more of a passenger…
… with a few occasions of getting into the water to push the bamboo raft.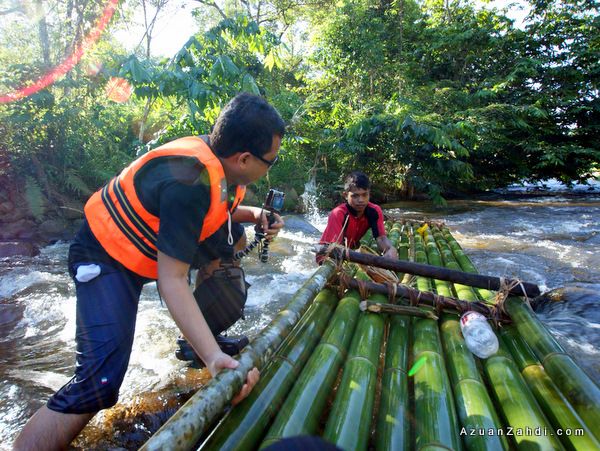 Our bamboo raft got stuck between large rocks for not less than 10 times and we were lucky to be in good hands of this small size but experience guide. Of course I helped in providing 1% of the push forward whenever we got stuck. Yes 1%. LOL
As passengers we also had to manoeuvre passed tree branches which at one occasion I had to let my body get whipped by a rather thick branch pushing me into the water with my hand stretched to the max just to keep a distance between the camera and the water!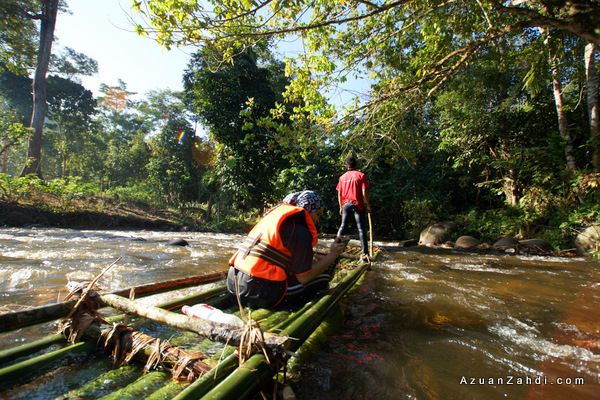 Overall it is generally a nice feeling to just enjoy the calm and occasionally rapid water and the surrounding scenery.
The most challenging part must have been this one sharp turn where almost everyone could not turn in time.
Our raft hit a few large rocks at the side and the guide had to dive into the water to save his flip flops and the steering pole that broke into two during impact.
Stuck as well.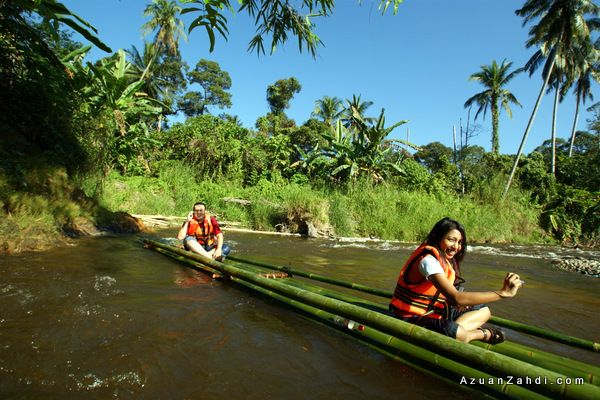 These guys passed the sharp turn flawlessly!
Throughout the 90 minutes journey, it was a challenge to keep the camera dry at the same time snap the photos from the raft. After all #TSDayOut is also a mini-photo competition.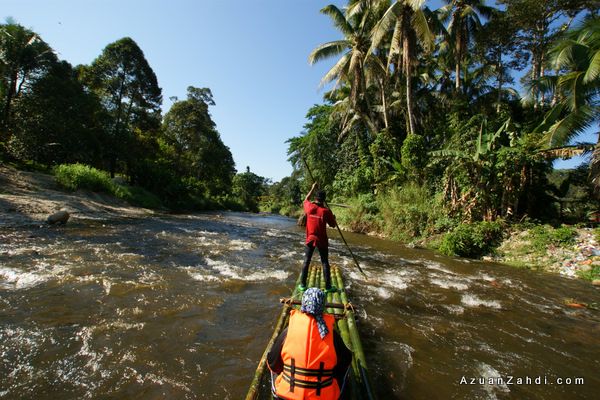 Finishing line.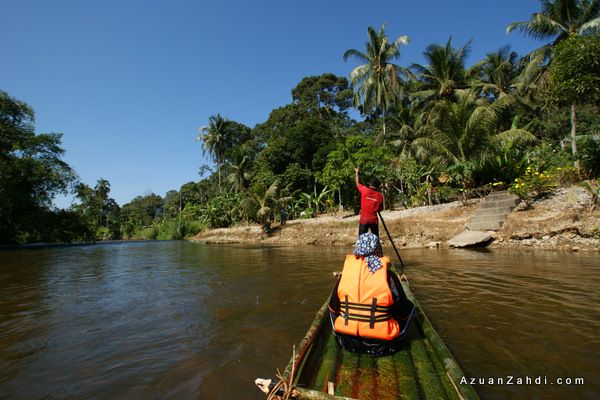 The next part of this edition of #TSDayOut is "kampung style" lunch and blow-pipe demo at Ulu Hati. A hidden gem that is not known to many (which is a good thing!), Ulu Hati is a private farm located in the hills of Ulu Langat. Beginning from a fruit orchard Uluhati has evolved into a site of multiple activities which has made it a place of interest to visitors of all ages, backgrounds and needs.
The owner, En Shaipudin Shah Harun, a former high-rank corporate executive. Now a full-time nature lover and eco-preneur!
While waiting for others to finish their rafting activity, I had some time to shower at Ulu Hati's clean, complete yet kampung style shower facilities.
Also a quick tour of Ulu Hati's Longhouse.
Lunch was served at the resort, menu includes ikan keli masak lemak cili api, ayam kampung, ulam, tempoyak. My kind of food!
Tok Batin and friends from the nearby Orang Asli community started their blow-pipe demo right after lunch.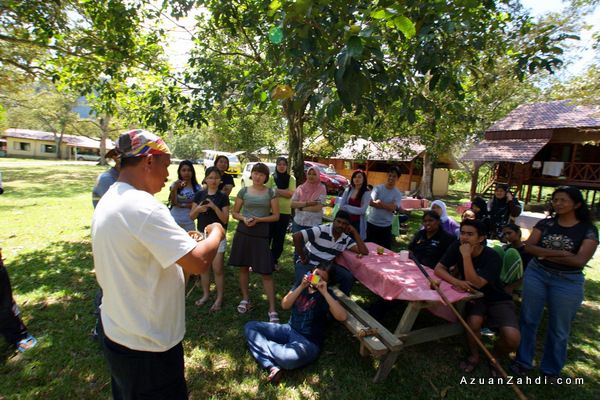 One by one we tried to shoot the bulls-eye.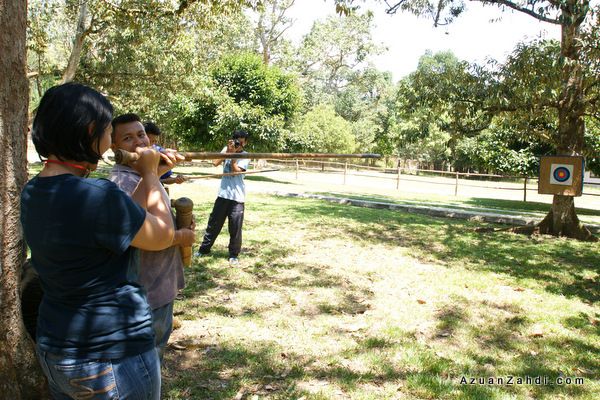 After a quick nap (perfect after a delicious lunch and 'hard work' at rafting) it was time for the closing ceremony.
6 winners were announced and Alhamdulillah one of my photos impressed the judges enough for me to win. 🙂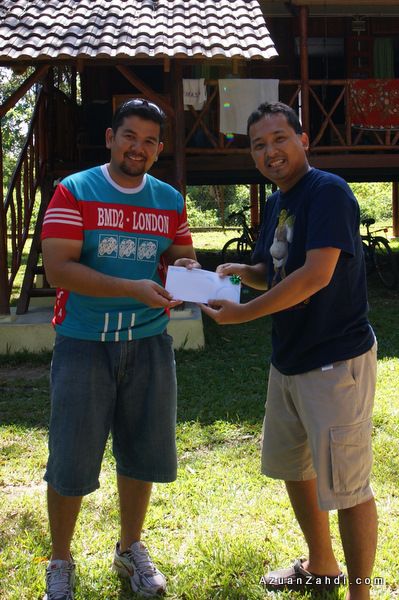 No #TSdayOut is complete without a group photo although I just realised that the cool #TSDayOut banner was not there!
One for the album, with En Shaipudin, the modern days 'cowboy'! 🙂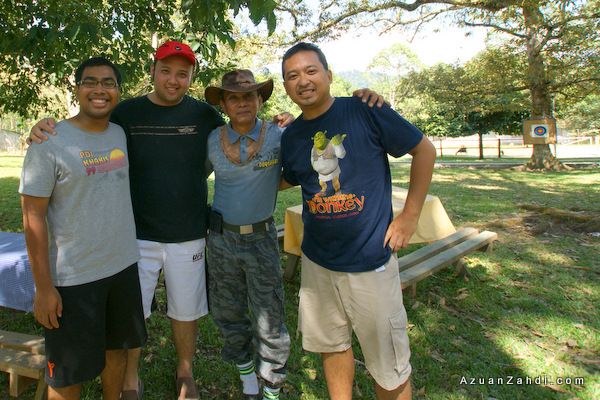 A special thanks to Tourism Selangor crew in particular En Hafeez and Dian for the opportunity to spend my Saturday the way how it should be, relaxing, fun and far away from the stressful work life 🙂
A short video that was taken from Jiji's Olympus camera, need to learn how to use the Gorilla pod for future videos.
Share this blog post on your FB and Twitter. Pretty please.
[facebook]http://www.azuanzahdi.com/index.php/2012/02/12/bamboo-rafting-at-hulu-langat-tsdayout/[/facebook]
[retweet]http://www.azuanzahdi.com/index.php/2012/02/12/bamboo-rafting-at-hulu-langat-tsdayout/[/retweet]
Thinking of going to Hulu Langat? You may check Ulu Hati's website here. Hulu Langat is only an hour drive from the city so your options for accommodation is unlimited. Check out AGODA's website (click the banner below) for a one-stop comparison of all hotels from budget to 5-star. I am personally an AGODA fan and have saved a lot on my accommodation cost for my travels.