"Time flies when you're having fun" were the exact words that came out from me when I woke up to a beautiful sunny weather on the third day of our anniversary trip to Krabi. Day 1 was all about exploring Ao Nang beach (click here) followed by the tiring but awesome Day 2 of Hong Island Tour (click here). With no solid plans in mind, we ended up going for another quick half-day island hopping to start off our final full day in Krabi.
The Four Island Tour is one of the most famous tours available to visitors due to its low price and the location of the 4 islands which are not more than 30 minutes from Ao Nang beach.
Our first stop for the day, Tup Island. Also known as Tub Island, Koh Tap or Koh Thap, it is a small island with a beautiful view.
Unfortunately there seems to be no control of number of visitors on this tiny island and the place gets filled up quite fast on that day.
We were lucky to get a spot to just chill out and do some people watching activity.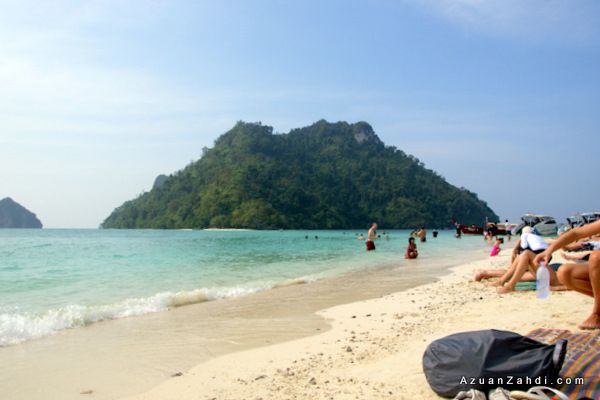 Different tour guide will have different ways to please their customers. One guide threw some bread to the water to attract both fish and tourist!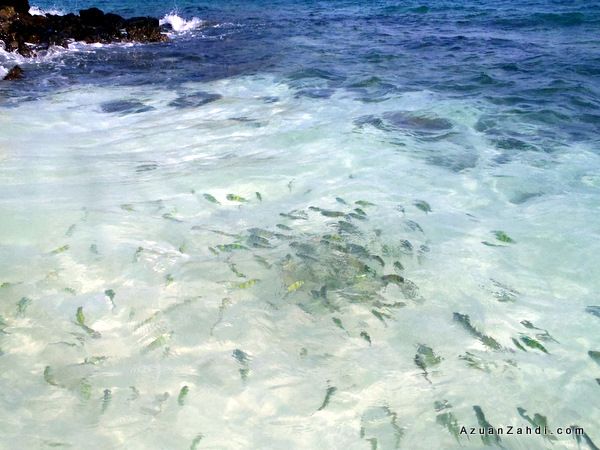 A short video of the 'fish feeding'.
More visitors arrived at Tup Island making the space between sunbathers even smaller than when we first arrived.
One last shot of the sandy beach before our 1-hour allocation in Tup Island expires.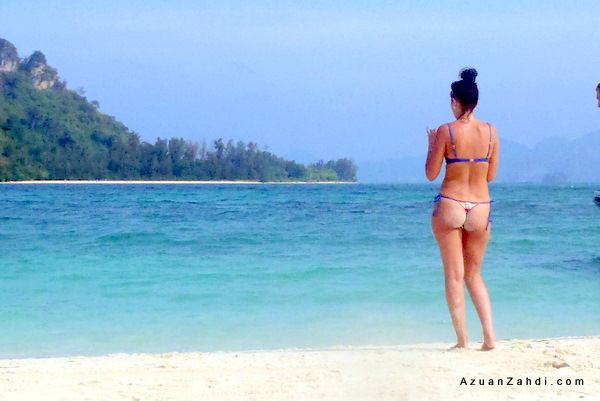 Our next destination was the one I love the most, a short off-the-boat snorkelling stop at an area with clear water nearby Chicken Island.
The clear emerald green seawater was just amazing.
Literally swimming with the fish.
After a wonderful 45-minutes snorkelling fun, the boat sped off to the island, but before that the view of Chicken Island. Can you spot the chicken? 😛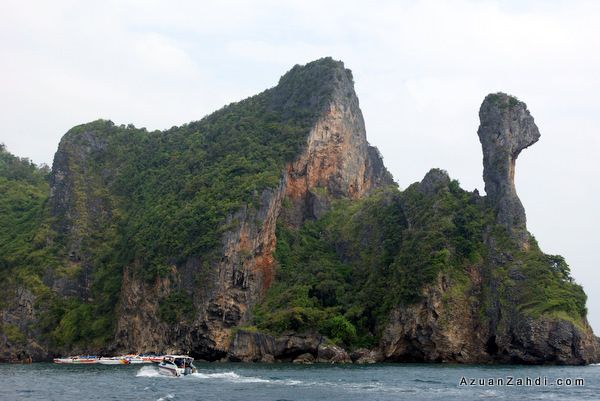 Lunch at Chicken Island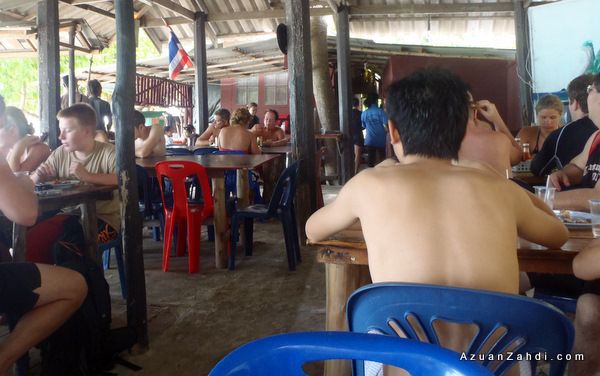 Menu was of course Chicken with rice and vege. We were again unsure of the chicken's halal status so we had a vegetarian lunch! Hehe
After the snorkelling session, even plain rice + mixed vege and Cili Padi tasted awesome!
The short hop to the 3rd island was right after lunch. Poda Island or Koh Poda offers another great setting for sunbathing, photography and snorkelling.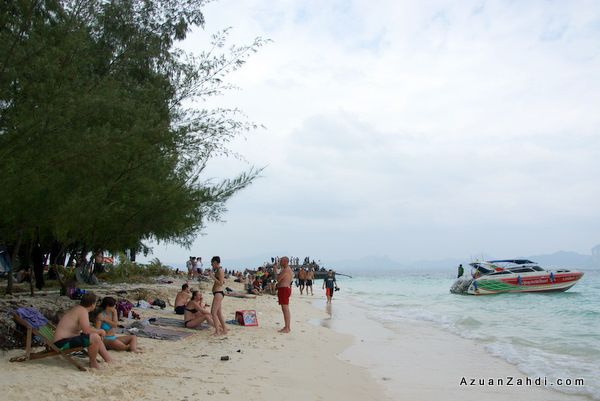 I was told that a coral reef lies quite near from the beach with a variety of sea life. So it was another round of snorkelling despite just having lunch 15 minutes before.
A different kind of fish.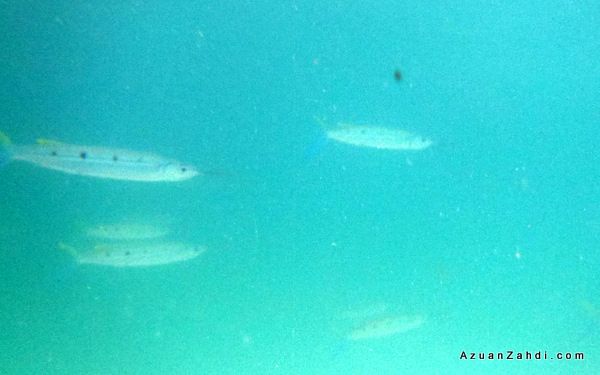 Dessert. 🙂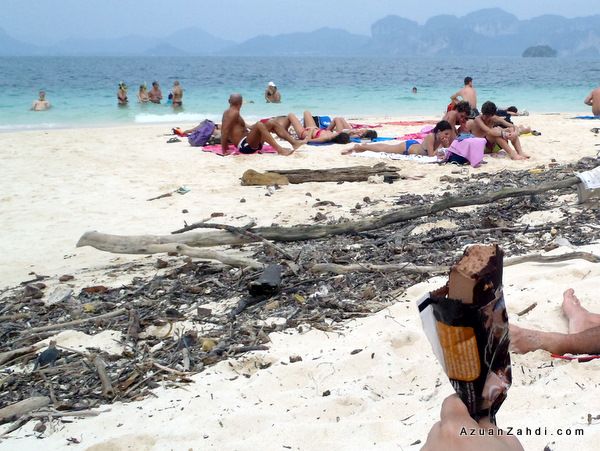 Our last stop for the day was the Railay Beach.
This is a more commercial and full-of-activities kind of beach. A great place for families. I was happy to spot the food-sellers on the boat.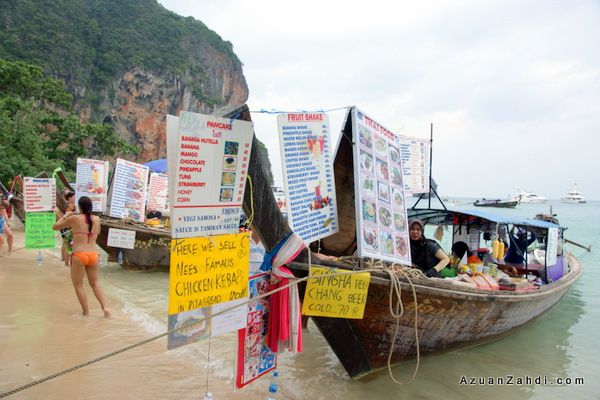 Not only they were friendly, most of them are muslims serving Halal food! Yeay 🙂
Floating kitchen!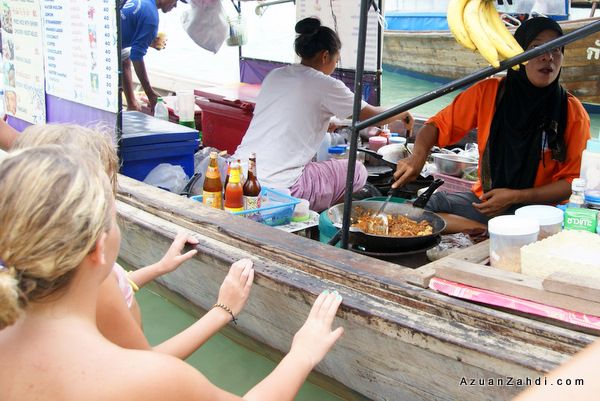 One of the activities, mountain climbing at Phranang Cave
And not to forget the famous "Phallus Shrine"
While the crowd at all 4 stops of the Four Island tour was a bit of a turn-off, we still had a great time together.
After arriving back in Ao Nang we had an awesome 4-hour Thai spa/massage session.
No anniversary celebration is complete without a nice dinner. Thai food in Thai, cannot get any better than that 🙂 🙂
…and a relaxing (and somehow quite romantic!) ride on a tuk-tuk around Ao Nang.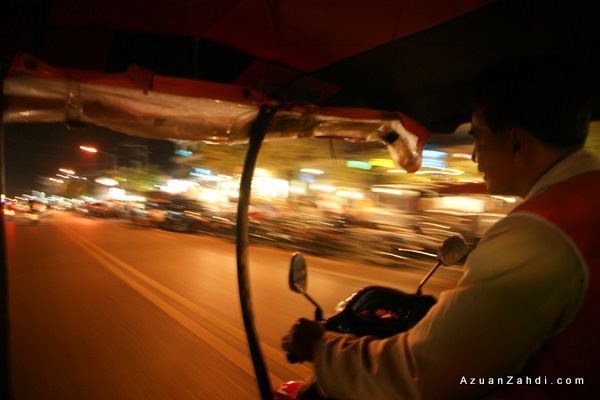 A perfect way to end the day and the trip.
Krabi is definitely in the list for my future travels. InsyaAllah one day I'll be back to explore the other islands as well as visiting Krabi town itself.
Thinking of going to Krabi? I strongly suggest AGODA for your hotel arrangement, you can search multiple hotels at one time and compare the prices to get the best deals. I actually secured a 40% off from the published rate!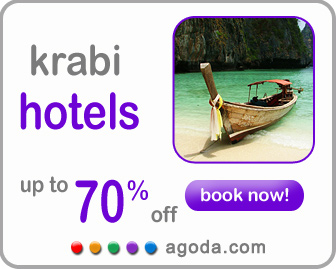 [agoda_hrs]
Share:
[facebook]http://www.azuanzahdi.com/index.php/2012/02/06/krabi-trip-day-3-four-island-tour/[/facebook]
[retweet]http://www.azuanzahdi.com/index.php/2012/02/06/krabi-trip-day-3-four-island-tour/[/retweet]