After a relaxing first day in Ao Nang Krabi, we were set for an adventurous day 2 with "Hong Island" as our main 'dish' for the day. Island hopping is a must to all visitors of Krabi and while there are various types of island hopping services available for tourists like us to choose from, we opted for a more relaxing option which was Hong Island.
Almost all island hopping tours regardless by speedboat or long tail boat include the transfer from hotel to the beach. Just don't expect a limousine to pick you up 🙂
We made arrangement the day before and upon arrival at the beach all we had to do was just to sign some insurance form and we were all set to go with 15 other tourists on the same tour.
Our tour guide not only speaks fluent English, he is also one funny and knowledgeable dude. The 25 minutes boat ride wasn't too bad on the 2-engine speedboat.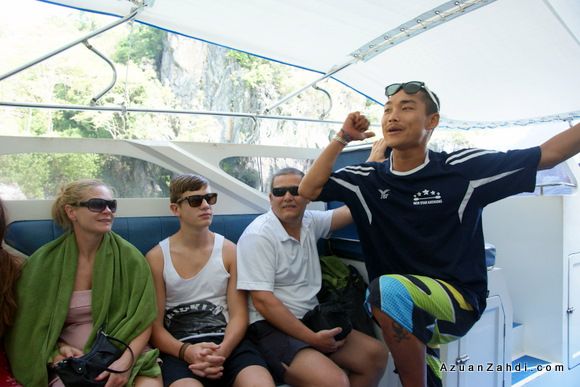 Our 1st stop, Lading Island.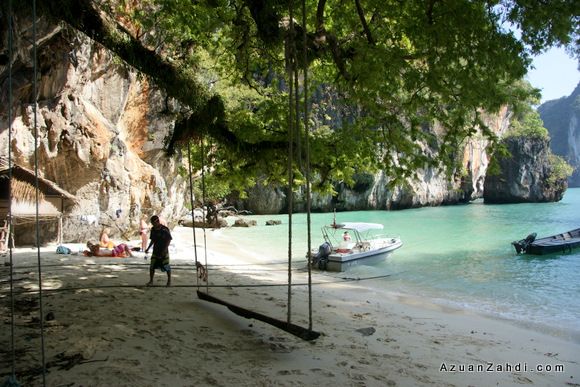 We were lucky to be the second boat to reach Lading Island. Just like what I had in mind, peaceful, clean and beautiful island!
For a good few minutes we could hear camera shutters clicking at every angle. Including my better half, testing her new Olympus Tough camera.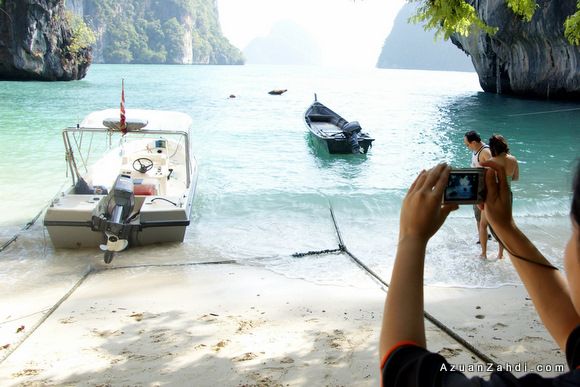 A nice giant swing.
While the others opted for sunbathing, my wife and I decided to do some swimming and snorkelling.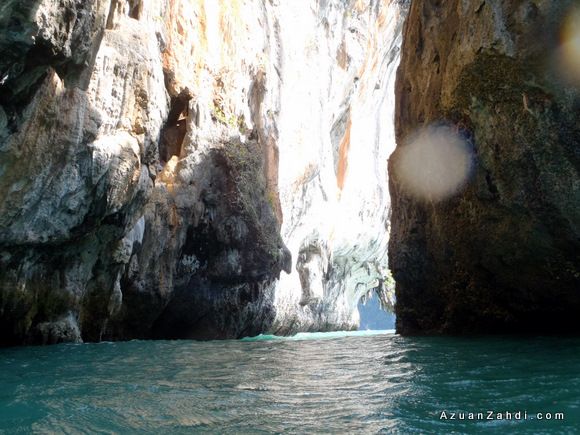 Wonder why she was so excited?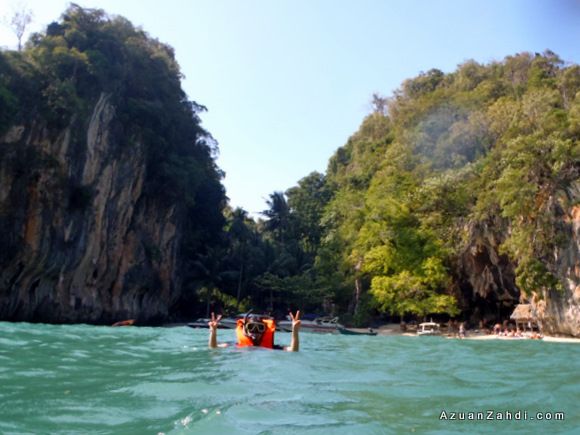 This!
Wow! Beautiful sight.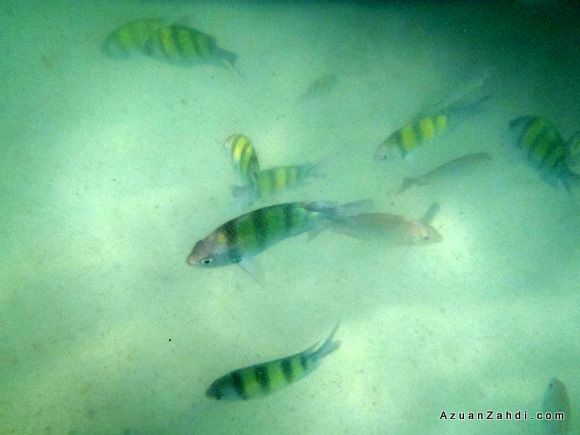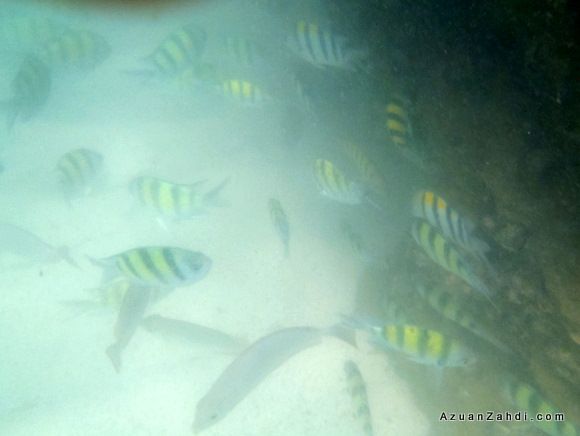 Our tour guide did some wall climbing while waiting for the 60 mins allocated time to expire.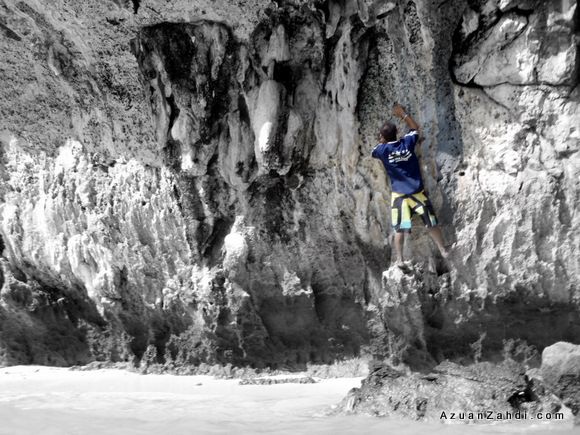 60 minutes is really short when you are having fun! It was time to move on to the next island.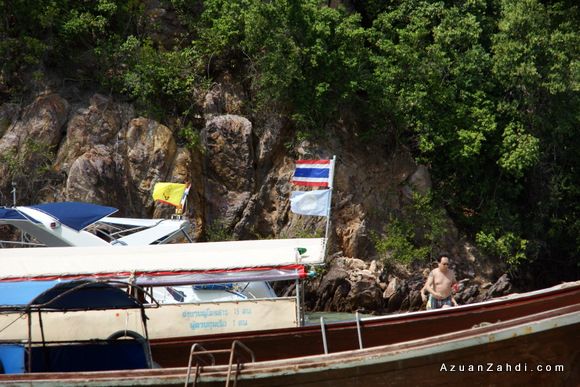 Koh Phak Bia or the Phak Bia Island!
White sand beach and even clearer water!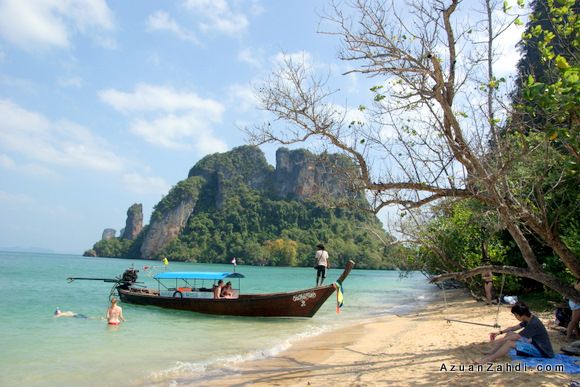 We hit the water with some other tourist who carried some bread. Great to see more types of fish here compared to Lading.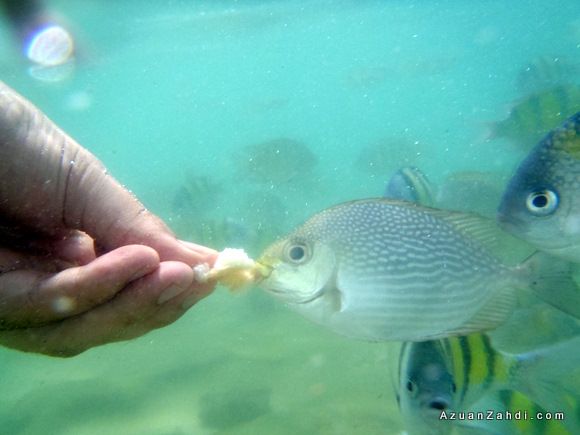 Lunch was served by the beach as part of the package, Unfortunately we were not sure whether the food was Halal so we decided to stick to the trusty, Ayam Brand Tuna and bread! haha
And of course the unlimited fruits!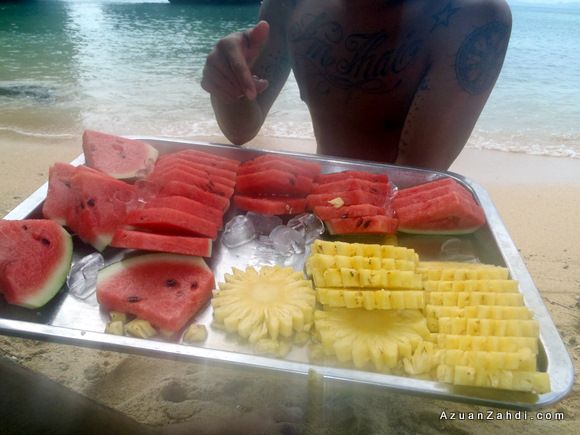 After lunch, we hopped into the boat for our next destination the Hong Lagoon.
Surrounded by beautiful tall cliffs and can only be reached by boat through a narrow gap, Hong Lagoon is very calm and a good place for a relaxing kayaking activity.
Mangrove at Hong Lagoon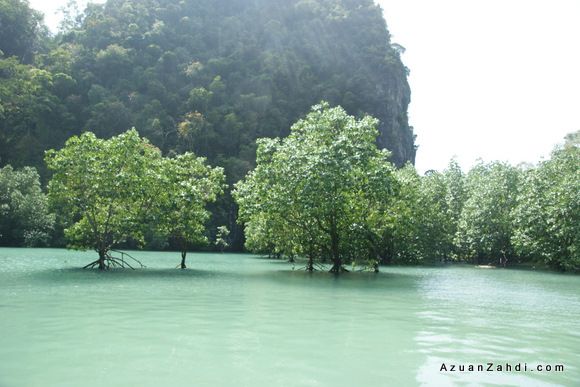 Nature at its best.
We then took another hop to the final island, the Hong Island. Despite the tour being called "Hong Island tour", I think that the Hong Island itself is the least attractive. Still it was nice to just chill out and relax by the beach.
Overall it was a satisfying 6-hour tour of 4 places. I strongly recommend the Hong Island to any visitor to Krabi who don't want to take the hour long boat ride to Phi Phi. You are going to love it!
It felt good to end day 2 with a nice 1-hour foot massage 🙂
We had the "4 island tour" lined up on the next day so the rest of day 2 was spend just chilling out in Ao Nang enjoying good food, good company and good holiday ambience. This is what I call a holiday.
Thinking of going to Krabi? I strongly suggest AGODA for your hotel arrangement, you can search multiple hotels at one time and compare the prices to get the best deals. I actually secured a 40% off from the published rate!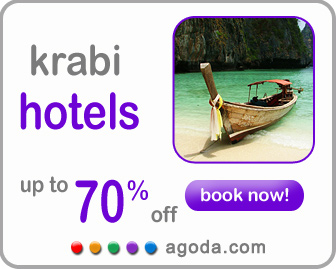 [facebook]http://www.azuanzahdi.com/index.php/2012/01/28/krabi-trip-day-2-hong-island-tour/[/facebook]
[retweet]http://www.azuanzahdi.com/index.php/2012/01/28/krabi-trip-day-2-hong-island-tour/[/retweet]