Subang — Melaka — Subang by Air: A Memorable Flight
"Subang to Malacca by flight? You got to be kidding me! " was the exact reaction of my friends when I told them that I plan to try out this new route from Firefly Airlines.
This new route was introduced since 21st November 2011 as part of the collaboration between Firefly and Melaka Air Sdn Bhd, a Malacca state-government entity. In a nutshell, Melaka Air sees the opportunity of Melaka-Medan-Melaka route and since they chose to collaborate with Firefly, the ATR need to travel between Subang to Malacca v.v to serve the Medan route completing the route as SZB-Malacca-Medan-Malacca-SZB.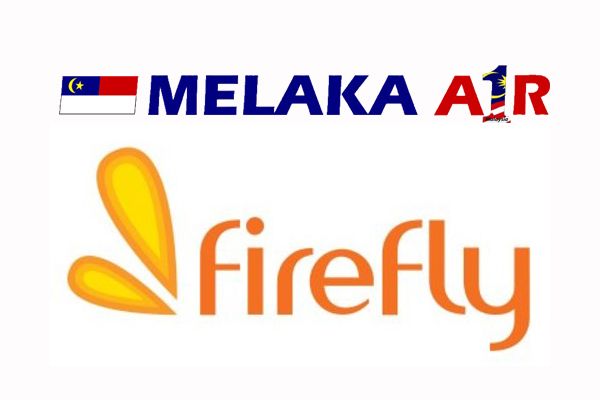 As an aviation fan, it was music to my ears when they announced that they will be selling the seats from Subang to Malaka and back. I see it as an opportunity to fly a route that is quite rare due to the close distance between the 2 airports and a good highway infra. I posted the question on Facebook and here are some responses that I received.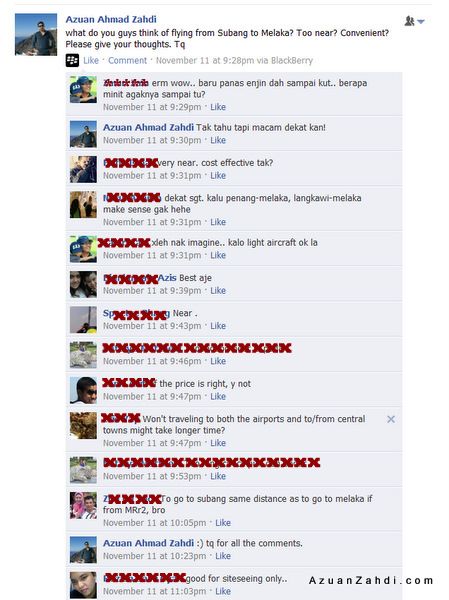 This route is being served twice a week, Monday and Friday. On 12th Dec 2011, a public holiday for Selangor, I walked into Subang SkyPark for my Subang-Malacca-Subang daytrip adventure. A quick glance on the flight information screen, I noticed that there was no indication of a Malacca flight, I got a bit nervous thinking that the flight might got cancelled on a last-minute notice. With a bit of doubt, I walked to the check-in counter.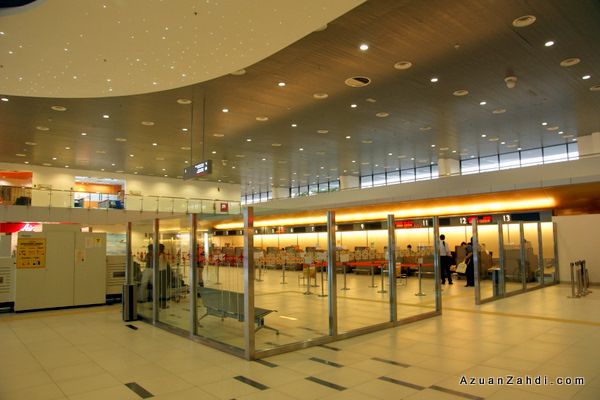 I was greeted by a friendly check-in officer. The moment I said "Malacca", the check in agent just smiled and said "You must be En Azuan". I was quite surprised only to find out that the flight to Malacca has only 2 passengers and the other passenger has checked in.
Check-In Agent: There are only 2 passengers for the flight, you are very lucky!
Me: Wow, this is a pleasant surprise, it would be even cooler if I'm the only one though.
Check-In Agent: Well I have chcekd in for you both ways and good news is that for Malacca-Subang, you will be the only passenger!
Me: Double wow ("senyum sampai ke telinga" haha )
My 'lucky day' boarding passes.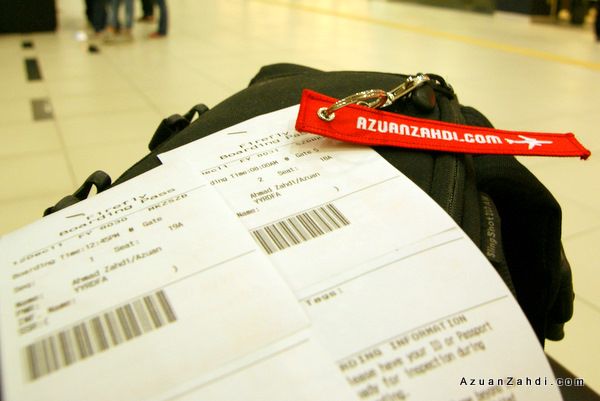 9M-FYJ being assigned for the route today.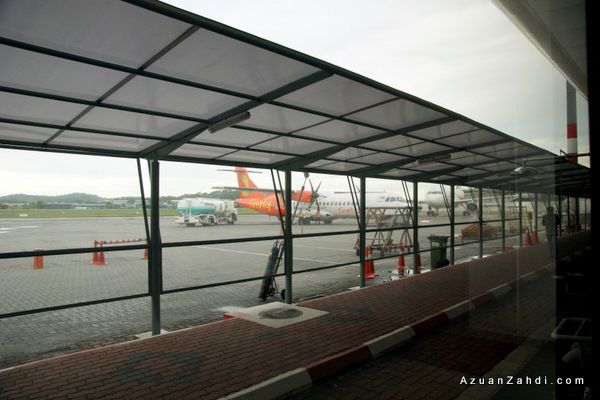 Passengers boarding for flight to Alor Setar at the same time as our departure time. It was funny to have a boarding announcement made for our flight with 2 passengers. Even before the announcement can be finished we were already on our way walking to the plane.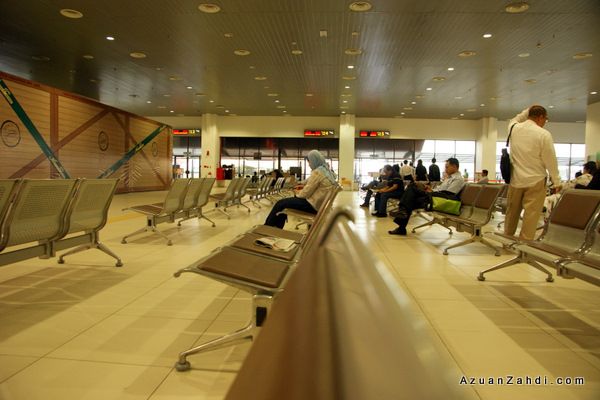 Me and the other passenger were greeted with "Hello gentlemen, please choose any of the seats". Nice!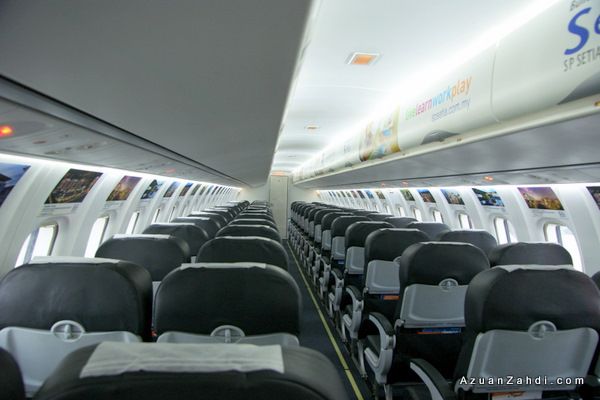 2 pilots, 2 flight attendants and 2 passengers. Awesome feeling. I chose to be at 18C, and chit chat with the friendly crew throughout the flight.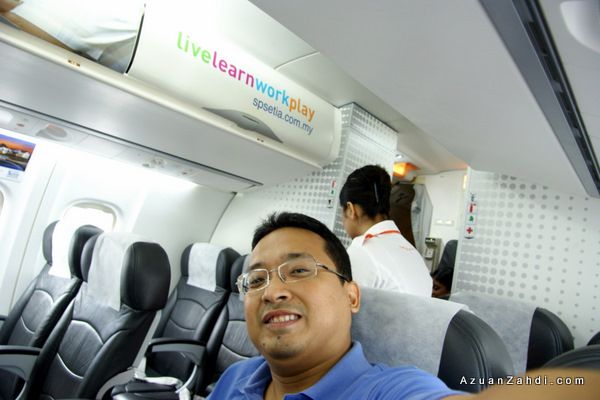 We left ahead of the Alor Setar bound flight.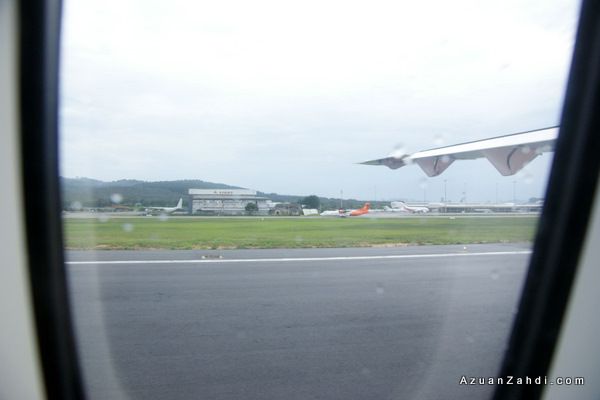 Clear skies, a great day to fly.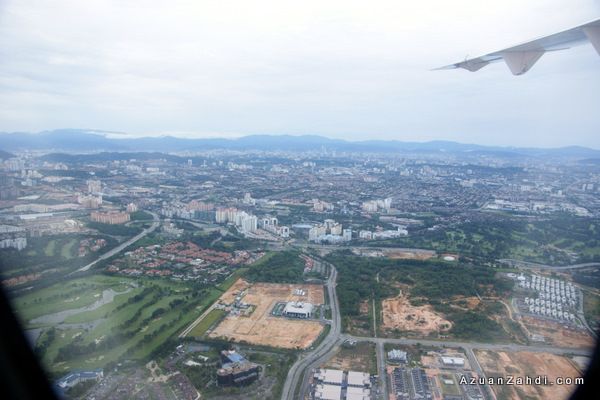 The crew were at their stations for take-off and landing despite the almost empty cabin. Safety is a serious business! Well done Firefly.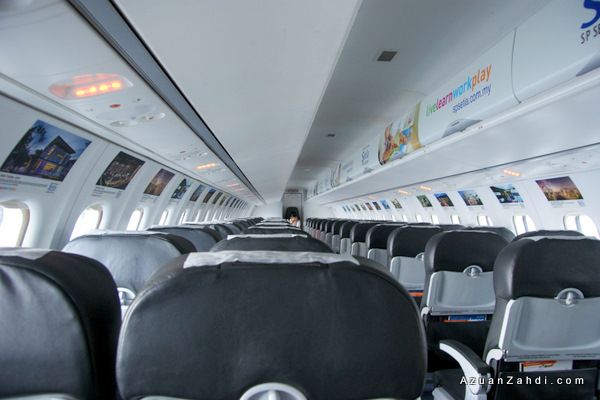 We were cleared to fly above Putrajaya, this flight turns out to be quite a scenic flight. (sorry for the zoom-crop photo).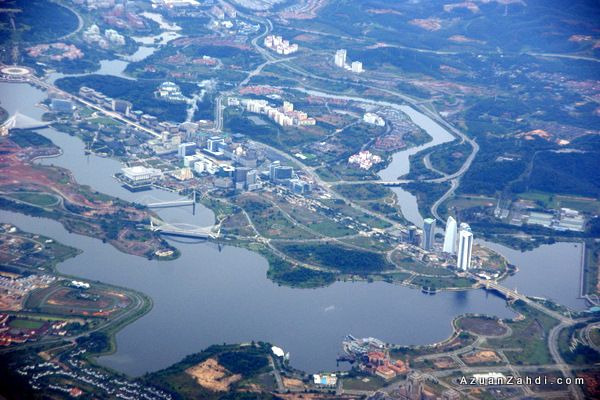 FSS Roshini and FSS Vanessa kept offering hot drinks, juices, muffins and peanuts but I have to politely decline as I was saving it for Malacca food 🙂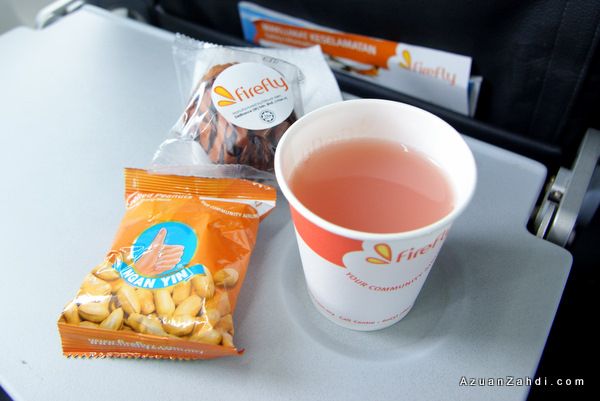 After 25 minutes, we were all set to land in Malacca.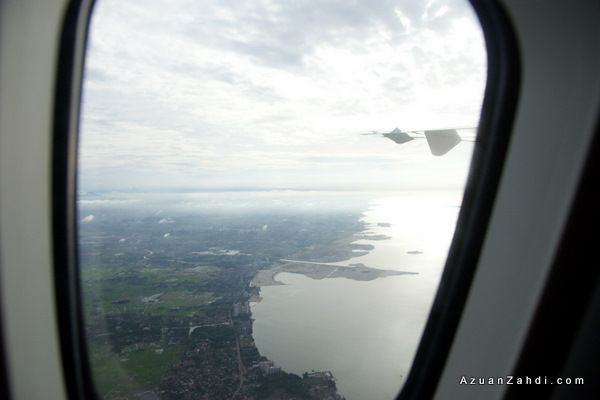 Spotted this submarine museum, one of many tourist attractions in Malacca.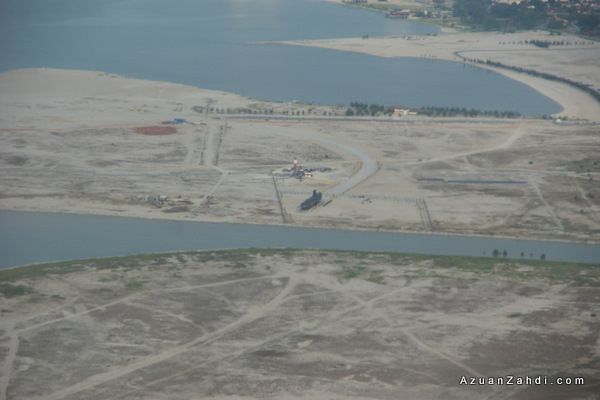 Final Approach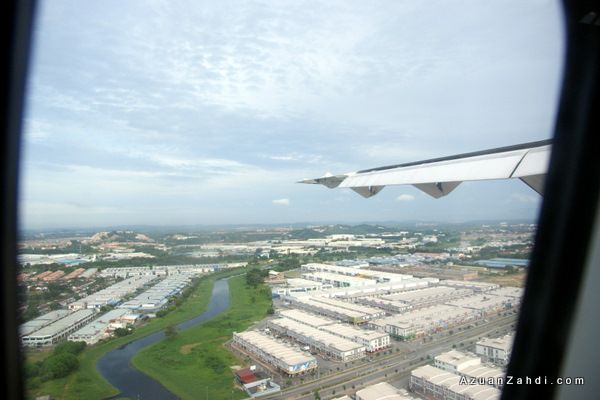 Welcome to Malacca Airport! See you FYJ in 4 hours.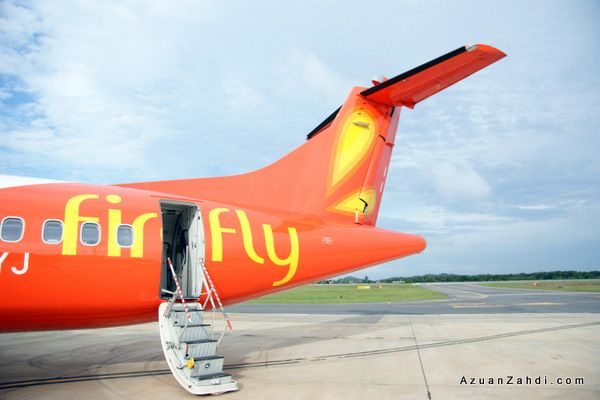 The "VIP"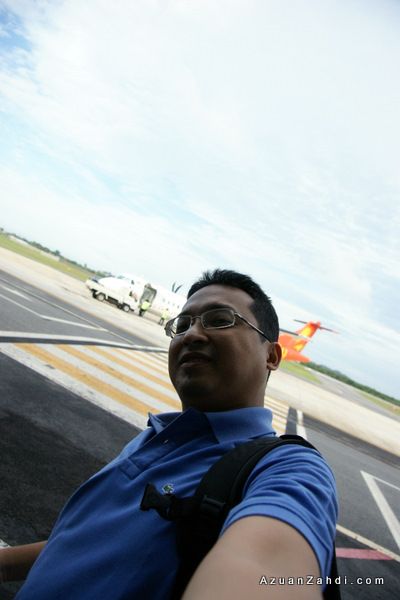 I had a fun time touring Malacca in 4 hours (will share it in my next blog post) before returning to the airport for my flight home.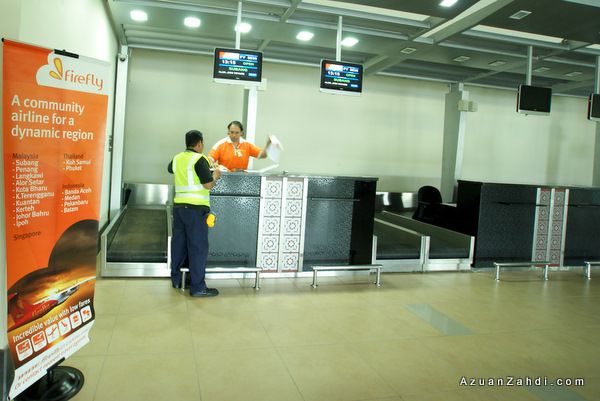 It's cool to have 2 check-in counters for me. They greeted me with "Welcome back En Azuan, your private ATR' will be ready shortly."
Making full use of the timer shutter on my camera. I was really alone after clearing security.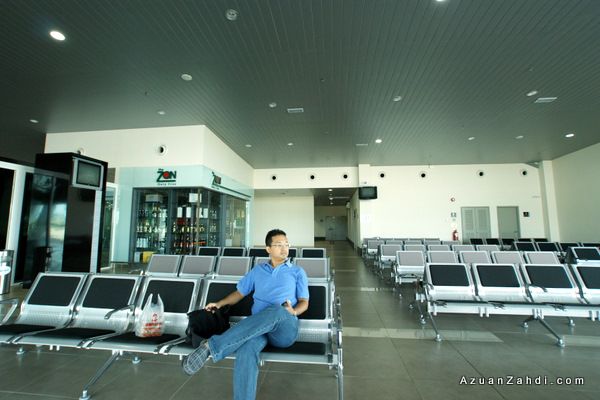 Time to fly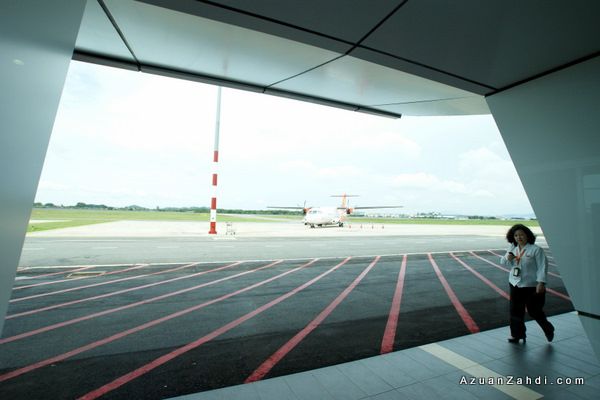 FYJ after serving the Medan sector.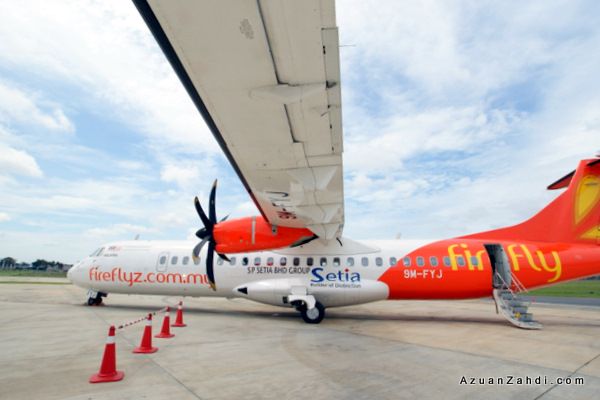 I went inside the cabin, greeted the two stewardess and they cutely said "Ready to go?". I just nodded and the door was closed.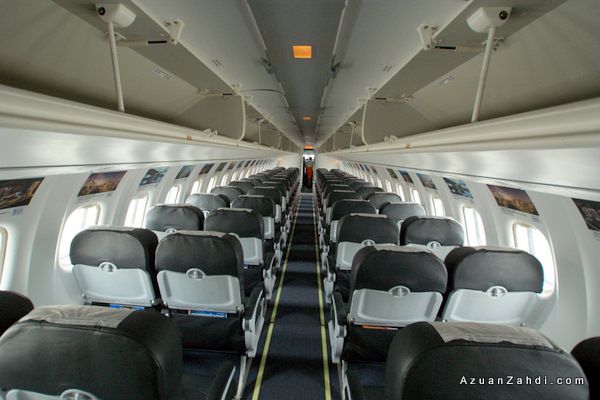 We left Malacca airport earlier than our scheduled time by a few minutes. I took some of this photos. After more than 100 flights with Firefly this is the first time that I got to snap photos freely inside the cabin during flight. Haha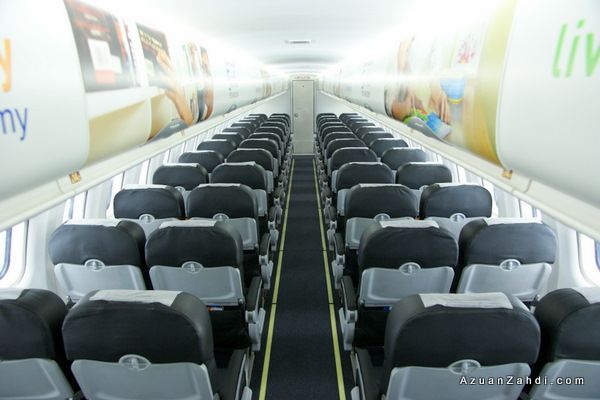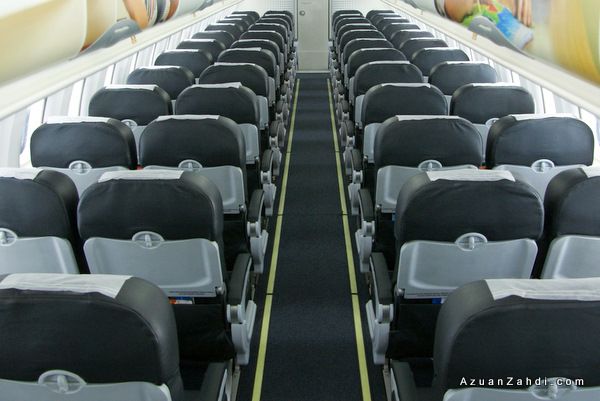 I decided to put my camera away and just hang out with the lovely cabin crew throughout the flight.
The plane arrived in Subang ahead of schedule and after personally thanked the pilots and the cabin crew, I left with lots of good memories of being THE ONLY PERSON IN A 72-SEATER ATR! A flight to remember 🙂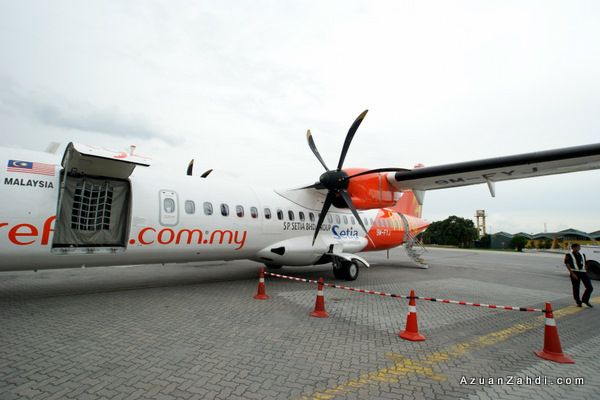 Head on to http://fireflyz.com.my to book your flight to Melaka. There is no way to guarantee that you will get an empty cabin but it's definitely a cooler way to travel to Melaka. I really hope the route will sustain and looking at the almost full Melaka-Medan-Melaka route on that day, I'm quite confident that the arrangement will last for quite some time.
[retweet]https://www.azuanzahdi.com/index.php/2011/12/26/subangmelakasubang-by-air-a-memorable-flight/[/retweet]
[facebook]https://www.azuanzahdi.com/index.php/2011/12/26/subangmelakasubang-by-air-a-memorable-flight/[/facebook]
---