You don't necessarily need a time machine to see into the past.
Sungai Lembing, 42-km North West of Kuantan is one of these destinations that allow visitors to experience the wonders of a small and old town.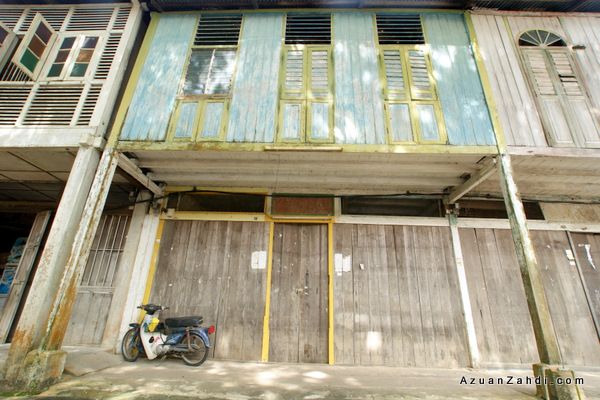 Sungai Lembing was once upon a time the richest tin mining town in Pahang. The area in Sungai Lembing was the second richest tin deposit in the world after Bolivia. In its 100 years of mining since 1888, the Sungai Lembing mines produced approximately 13 million tonnes of ore that was able to produce 150000 metric tonnes of pure tin valued at $2 billion. During its heyday, Sungai Lembing mines brought the town alive with some 15,000 people being employed creating a unique mining community.
Today, long after the end of the glorious mining era, Sungai Lembing has transformed into a sleepy little town while retaining some of its unique sights that have become tourist magnets for the town.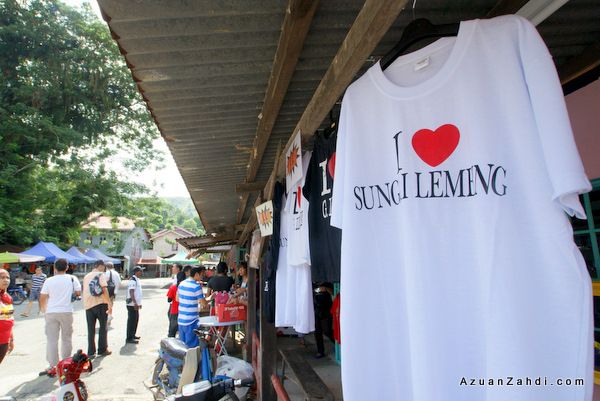 During the recent media familiarization trip, we were given only half a day to cover Sungai Lembing which in reality is not enough. We started off with the Sungai Lembing Museum.
This is the place that any visitor should visit to better understand the stories behind Sg Lembing's glorious days of the tin mining activities. The museum building was formerly a residence of a mine manager before it was converted to the current museum while retaining its British architectural features.
Plenty to see in this museum.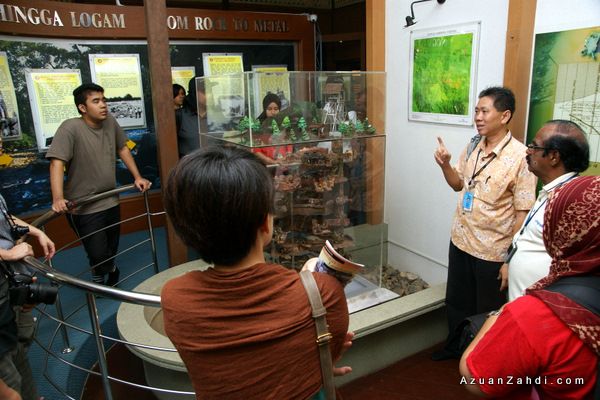 From sample of rocks and minerals,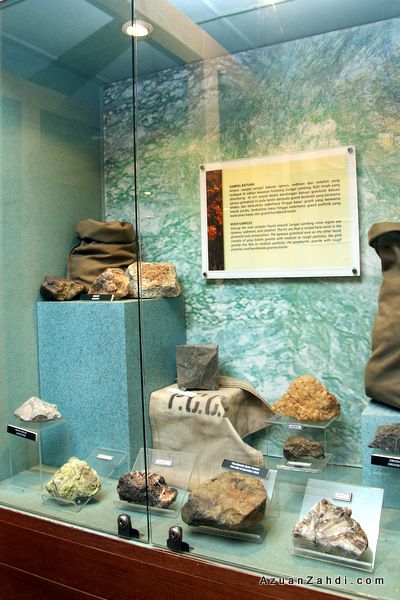 to mining equipments,
to old 'office' equipments.
I find this mining diorama very interesting. It gives first time visitor like me a rough idea how a tin mine looks like.
The old bungalow effect makes it a great place for photographers as well. Plenty of photo-oportunities.
After an interesting visit to the Museum, we went to discover another famous tourist attraction of Sungai Lembing, the suspension bridge.
Blends well with the 'stuck-in-time' image of the town, the Jambatan Gantung Kolong Pahat Bridge is one out of few suspension bridges in Sungai Lembing.
This suspended bridge action is definitely a must try thing to all visitors.
It was quite hard for me to balance my 'not-so-light' body in taking good photos from the bridge.
All of us had fun laughing at each other!
We were supposed to visit the factory of the famous Mee Sungai Lembing. Unfortunately it was close on that day. Oh by the way when I mentioned 'factory', I was referring to this small shop lot kind of factory 🙂
Sungai Lembing is also famous for its Lembing Coconut Biscuits. We stopped by at one of its bakery producing these biscuits. From outside, the house producing the biscuits look like a normal kampong-style residential unit.
Once we entered the compound, four dedicated workers can be seen busy producing the biscuits to meet their orders.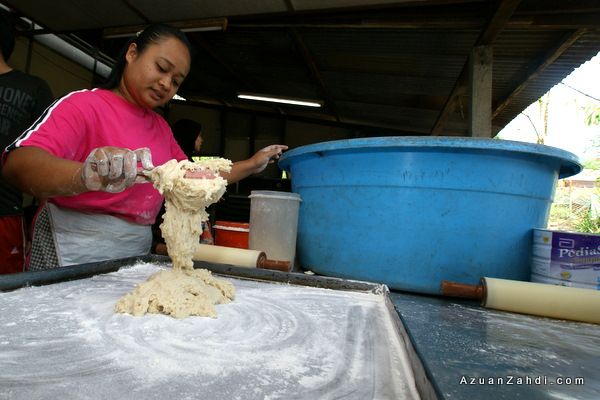 We were given lengthy explanation on the process of producing the biscuits. Check-out the t-shirt!
The end-product.
No visit to Sungai Lembing is complete without spending some time at the town. This is where you can enjoy the 'stuck-in-time' effect of Sungai Lembing.
If you ever get lost in Sungai Lembing, this is a good landmark to refer to. The only petrol pump in the town. Classic.
Which by the way if you ever get lost in Sungai Lembing, be extra careful. This is the location for some scenes of the movie Pontianak Harum Sundal Malam II. It can get a bit scary at night according to some locals 😛
Happy faces!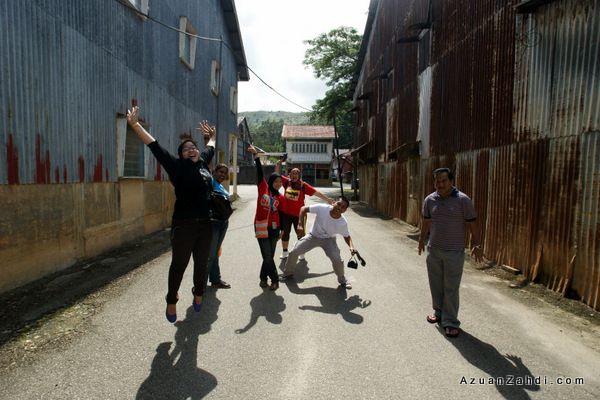 We ended our Sungai Lembing trip with a quick visit to Gua Charas.
After a short 10 minutes walk climbing about 100 steps, we were greeted by this cool sight.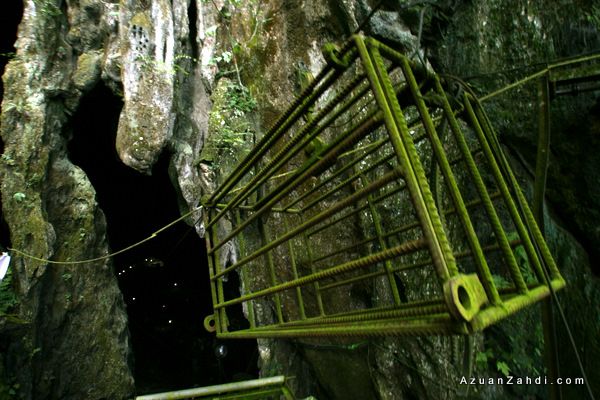 The cave is well equipped with walkways and lighting making it accessible to visitors.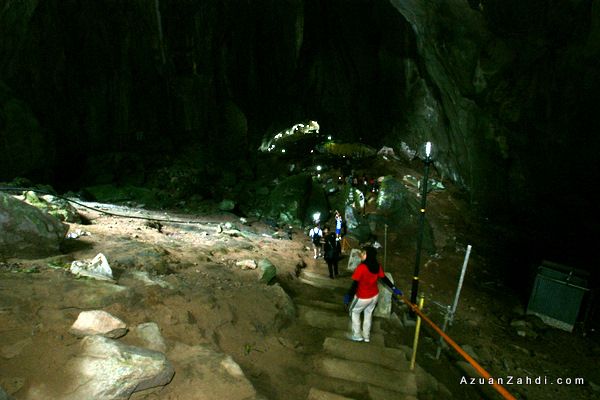 Gua Charas or Charas Cave is famous for its temples and the reclining Buddha.
Besidesthe attractions above, it is also advisable for visitors of Sungai Lembing to stay at least a night to visit the famous Rainbow Waterfall and Panorama Hill which we did not get to experience. After a long day exploring Sungai Lembing, we made our way back to Kuantan to explore other interesting places which will be covered in my next blog post.
Many towns and cities around the world are stuck in a time warp because of lack of funding to catch up with modern times. However in the case of Sungai Lembing, I can imagine that the people simply don't want their hometown to be overwhelmed with modern developments and are perfectly happy with their current way of living. It turns out to be a good decision in my point of view. At least the people of Sungai Lembing can be proud that they still maintain their unique identity of a 'tin mine' town.
Instead of driving all the way to Sungai Lembing, why not fly to Kuantan and take a short taxi/bus ride to Sungai Lembing. Firefly Airlines fly to Kuantan from Penang, Subang and Singapore – Head on to http://www.fireflyz.com.my for more details.
Fancy for a trip to Sg Lembing or any other places in Malaysia but not sure where to stay? Check out AGODA's website (click the banner below) for a one-stop comparison of all hotels from budget to 5-star. I am personally an AGODA fan and have saved a lot on my accommodation cost for my travels.

Share:
[facebook]http://www.azuanzahdi.com/index.php/2011/12/08/sungai-lembing-travel-back-in-time/[/facebook]
[retweet]http://www.azuanzahdi.com/index.php/2011/12/08/sungai-lembing-travel-back-in-time/[/retweet]