Greetings everyone!
This is a special announcement for all. For more than 5 years I've been writing blog posts and sharing my passion on aviation and travel with all of you guys and I'm now proud to announce that I finally reached my initial target of an average 300 visitors per day.
Alhamdulillah I'm thankful that I came to this point and I consider this moment as one of my greatest achievements in my blogging 'career'.
Now, to show my big thanks to all of you guys, I will be having a thank you giveaway at AzuanZahdi.com. I know that this is not an iPad2gGiveaway or any huge kind of giveaway but this is heartily given to you from the bottom of my heart. This giveaway will run throughout October and is open to all visitors.
The "AzuanZahdi.com" Keychain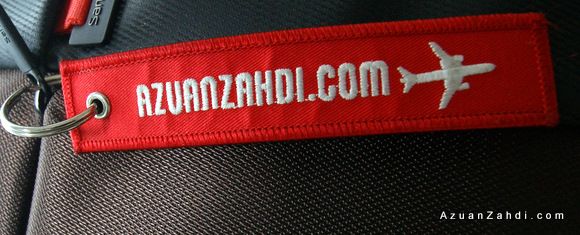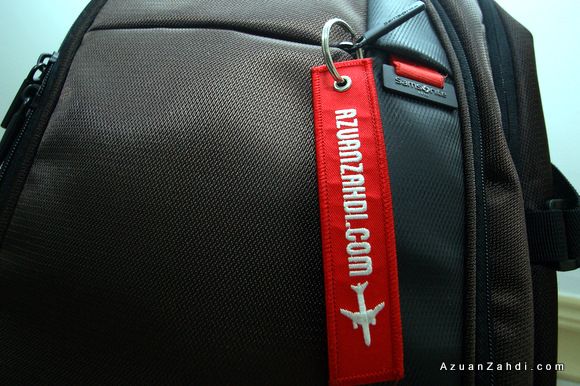 Reverse Side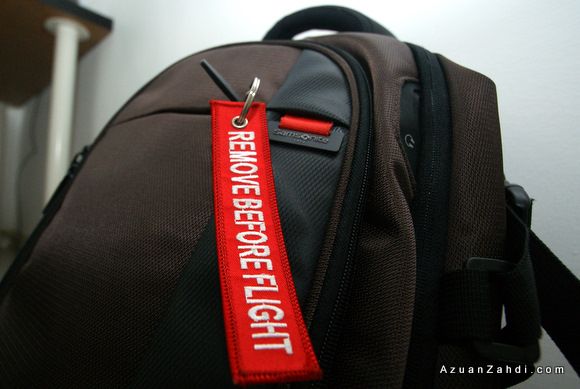 It will be given Free of Charge (while stock last) to anyone that e-mail me at azuan.zahdi@gmail.com their name, contact email and mailing address. Don't worry about the information as it will be handled with highest confidentiality and only to be used for this sole purpose. Alternatively I can pass it to you by hand if you are passing by anywhere near KLIA this month. Just let me know!
It would be great if you can also LIKE AzuanZahdi.com on Facebook by clicking here.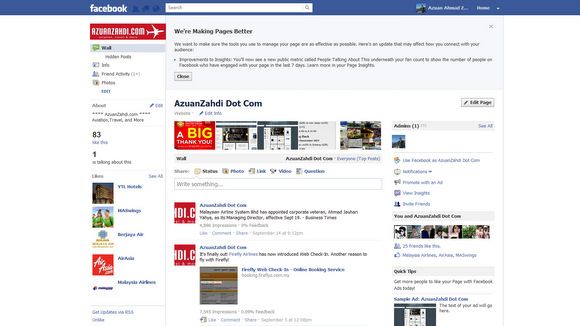 What's the REMOVE BEFORE FLIGHT all about?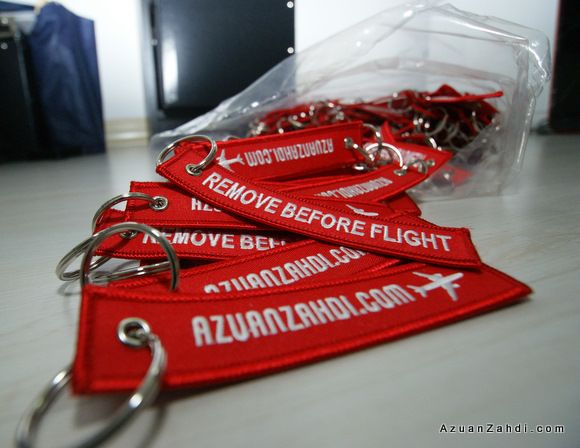 From Wikipedia, Remove Before Flight is a safety warning commonly seen on removable aircraft and components, typically in the form of a red ribbon, to indicate that a device, such as a protective cover or a pin to prevent the movement of mechanical parts, is only used when the aircraft is on the ground (parked or taxiing).
It is common to see key rings or bag tags with this ribbon, especially for people who work in aviation or aviation enthusiasts.
This set of custom made keychains were actually purchased using my earnings from blog advertisement and the best way to enjoy it is by giving it back to you guys, the readers of AzuanZahdi.com.
Look forward to see your favourable response 🙂
Note:
1) While stock last
2) Delivery will either be normal mail or pickup at KLIAr
SHARE this on Facebook!
[facebook]http://www.azuanzahdi.com/index.php/2011/10/12/free-stuff-thank-you-gift-from-azuanzahdi-com/[/facebook]
TWEET about this
[retweet]http://www.azuanzahdi.com/index.php/2011/10/12/free-stuff-thank-you-gift-from-azuanzahdi-com/[/retweet]