It's kind of humiliating to admit that I don't watch the English Premier League. I used to be a strong Liverpool supporter when I was a little boy reading old SHOOT magazine about Bruce Grobellar, Ian Rush and John Barnes. As EPL become more famous and commercialised, I started to lose interest and divert more of my passion towards other things.

(photo from http://www.lfchistory.net)
It is however a totally different story when it comes to the Malaysian football team. I have been a loyal fan since the first game that I watched live in Stadium Merdeka back in 12th June 1991. It was the Malaysia vs England game where we lost 4-2 but it was just satisfying to see Matlan Marjan beating Chris Wood with 2 nice goals.

(photo from http://www.switchimageproject.com/)
Many years have passed and Malaysia football team has suffered a lot of humiliating lost but never a second that I lose hope towards the national team. I saw my friends saying bad things and turning their backs against the national team after many years of losing but I never give up hope and I know that the good era will return.
There were too many games that we lost but once in a while there would be something to celebrate. I remember how K Sambagamaran scored goals against Finland, Akmal Rizal scored a beautiful goal against China, and how our goalkeeper scored a goal all the way from the other end! There were many great moments!
True enough, the team bounced back and won Pestabola Merdeka in 2007 beating Myanmar 3-1 in final (photo below taken at the final in Shah Alam). And of course after that SEA Games Gold medal and the recent AFF win.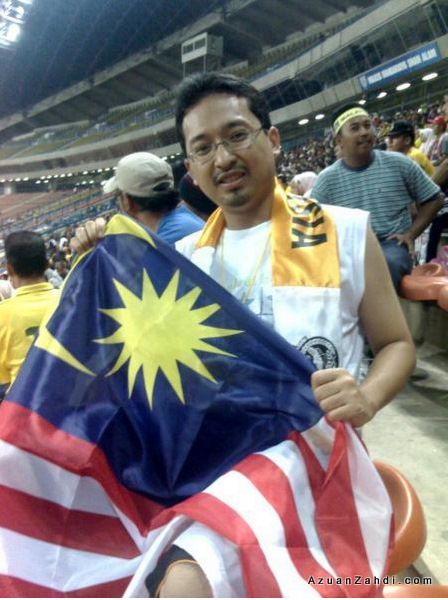 Nothing beat the sensational feeling being at the stadium cheering for the national team. Either it's a friendly or a tournament, I always try my very best to be at the stadium.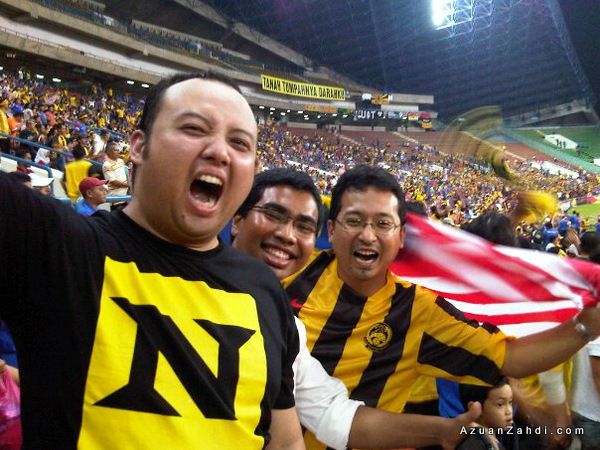 The pride of wearing the national jersey, singing negaraku, waving jalur gemilang and singing the "inilah barisan kita.." song are just experience money can't buy.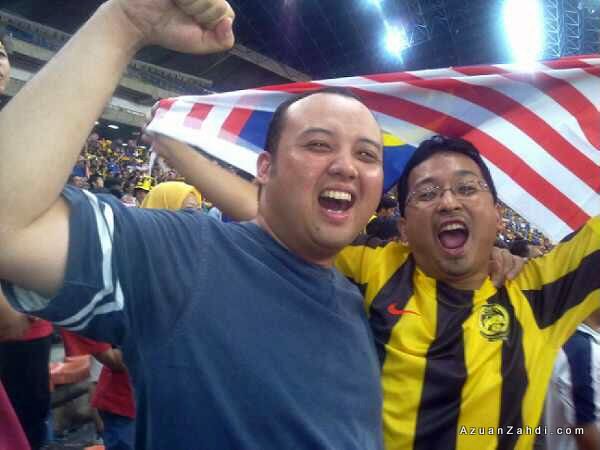 Now that the Malaysian fans are back (please la stay with the team this time, win or lose!), I would love to see a great comeback for future games. We have plenty of games both national and Olympic teams level so the team need each and every one of us to join and support the team.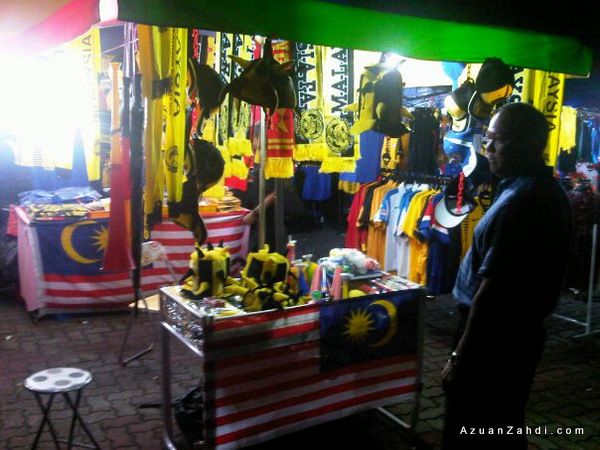 And yes for those fans or Liverpool, Arsenal, Chelsea, they will be our opponents. They are better teams but we have to fight. Please don't let our own stadium being filled by the opponent's jersey. The least you can do is to wear Malaysian jersey along with Chelsea/Liverpool/Arsenal headgear.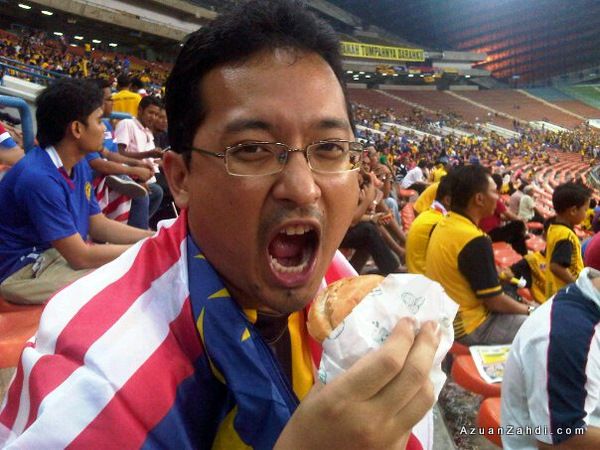 Together let's colour our stadium yellow and black (or kedai mamak for away games)! Harimau Malaya Boleh!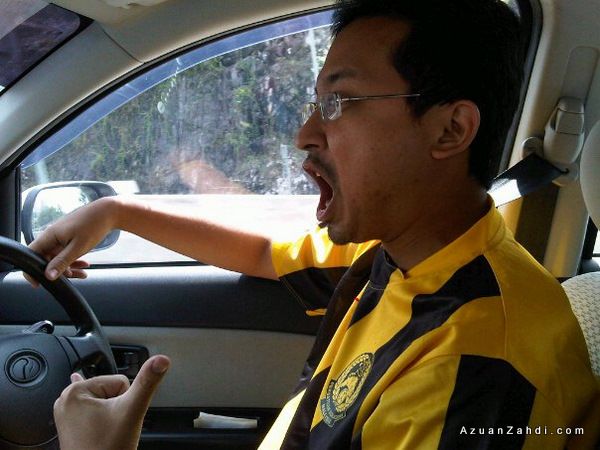 [box type="shadow"]Future Games:
Main MALAYSIA senior team.
Friendly Match Hong Kong vs Malaysia – 3 June 2011 (Away)
Friendly Match Malaysia vs Myanmar – 18 June 2011 (Home)
2014 World Cup Qualifying, Malaysia vs Chinese Taipei (29 June 2011 – Away)
( 3 July 2011 – Home)
Friendly Match Malaysia vs Arsenal- 13 July 2011 (Home)
Friendly Match Malaysia vs Chelsea – 21 July 2011 (Home)
Friendly Match Malaysia vs Liverpool – TBC (Home)
Upcoming National Olympic Team Matches:
Friendly Match Olympic Cambodia vs Olympic Malaysia – 7 June 2011 (Away)
Friendly Match Olympic Qatar vs Olympic Malaysia – 13 June 2011 (Away)
London 2012 Olympic Qualifying Round 2, Malaysia vs Lebanon (19 June 2011 – Home)
(23 June 2011 – Away)[/box]
Dulu, Kini dan Selamanya!
Share this on
[facebook]http://www.azuanzahdi.com/index.php/2011/05/25/harimau-malaya-dulu-kini-dan-selamanya/[/facebook]