One of the 'must-visit' places of Kuching is the Kuching Waterfront. Located at the Main Bazaar along Sarawak River, the 1km-long waterfront is also known by locals as the People Place. This is the happening area of Kuching where you can find almost everything from hotels, restaurants, souvenirs, shopping and entertainment.
We started our Kuching Waterfront tour by checking out none other than the iconic 'family of cats' statue.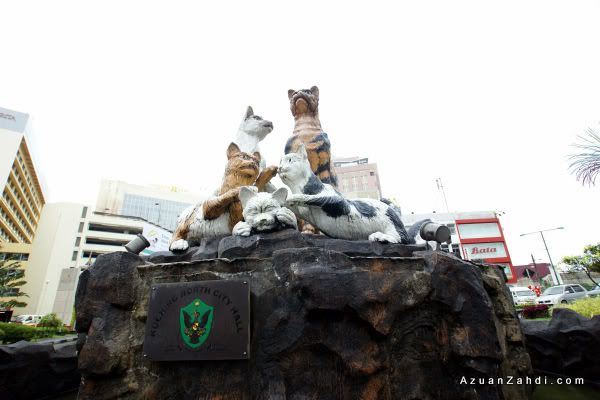 "A mama and papa cat with four kittens, two in front and the other kittens at the back" – these must be the most photographed cat statues in the world. I actually did a quick check on Facebook profiles of 3 different friends that just came back from Kuching and all three of them have these cats in their photo albums!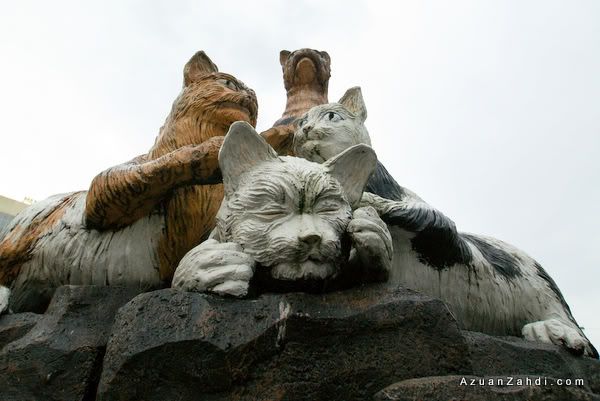 Despite the gloomy weather for the whole day, my wife and I went on with the original plan of walking along the waterfront. Throughout the 1KM walk, quite a number of interesting things can be seen.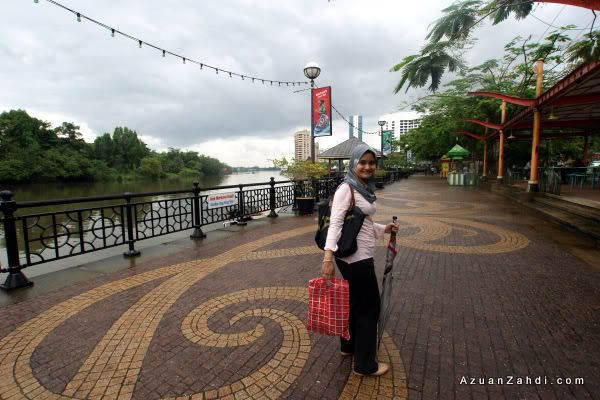 A series of this "Did you know?" facts that is located throughout the stretch. Useful information but I wonder why was it placed at floor level where people actually stepped on it?
The Sarawak State Legislative Assembly building is a breathtaking view. Nevermind who's inside it, it's still a beautiful landmark of Sarawak.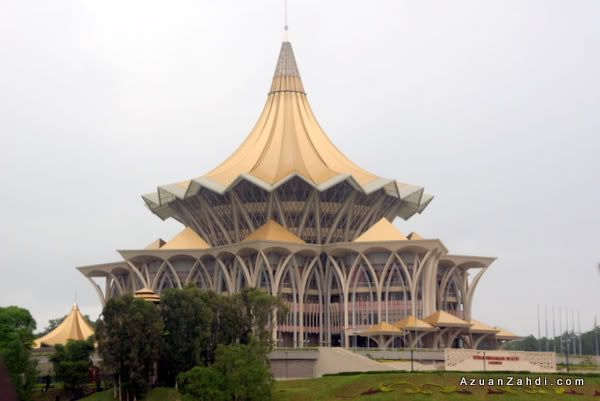 Charles Brooke Monument – built in 1917 as an appreciation for Charles Brooke's great service to Sarawak.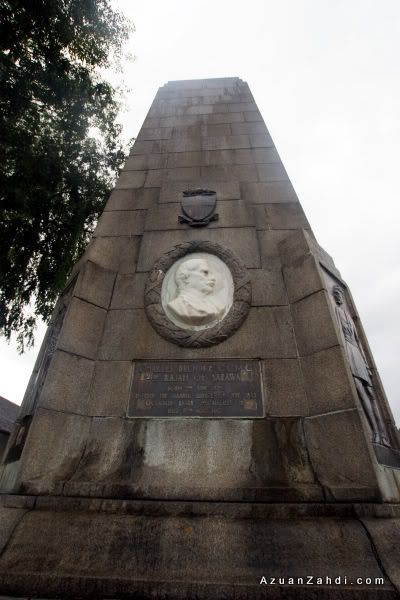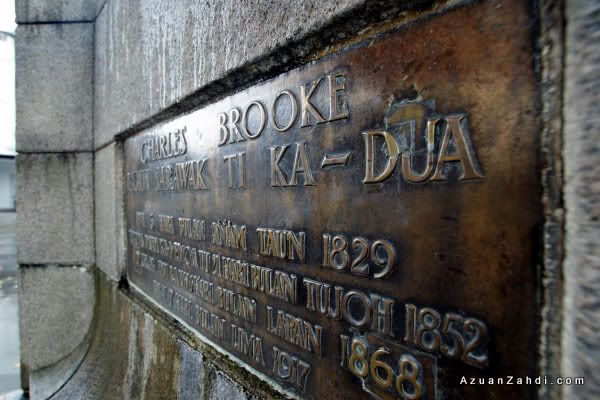 The square tower, another heritage building.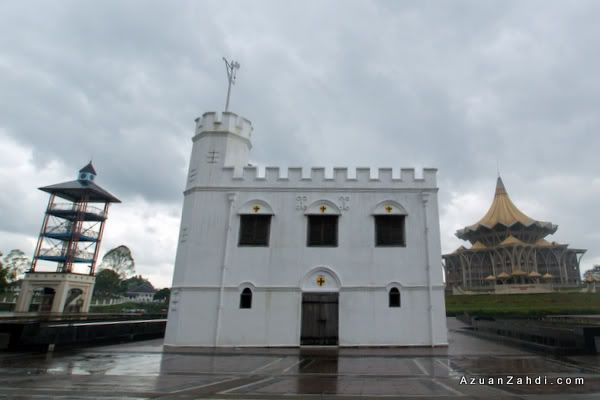 Tua Pek Kong Temple – partly built in 1876, the oldest Chinese temple in Sarawak.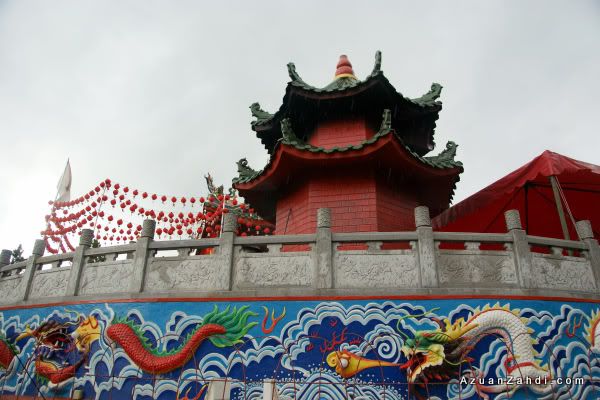 We took a break and took shelter from the heavy rain at Madam Tang's cafe in Chinatown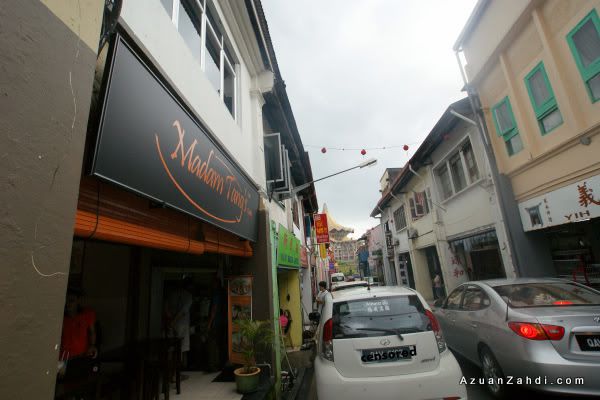 A dose of Laksa Sarawak.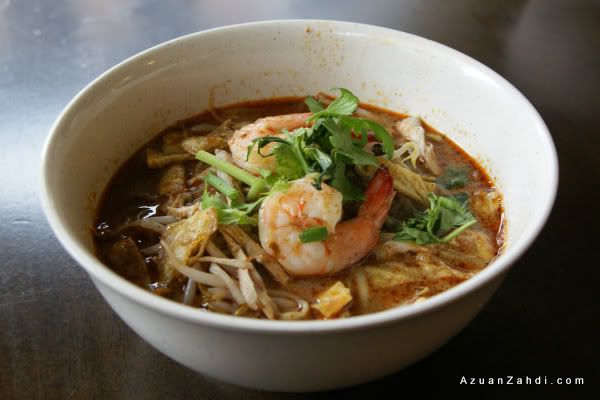 It's nice but I'm just not a noodle person.
After enjoying our lunch, we decided to try another 'must-do' activity in Kuching which is cruising along the Sarawak River. We decided not to go for the typical 'tourist trap' ferry cruise and to instead try the Perahu Penambang.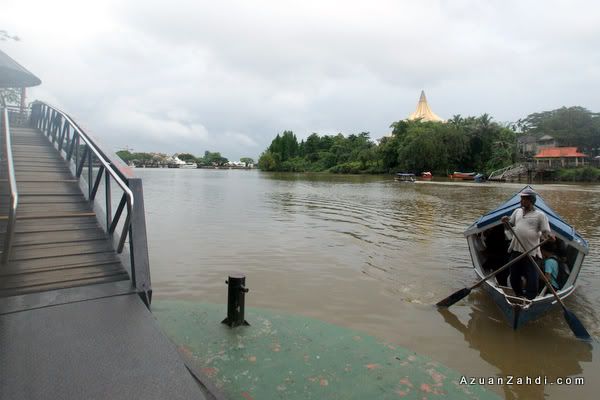 As we walked towards the boat area, we were approached by the operator of a "commercial traditional boat" who offered an attractive deal for a 60-minute ride. The boat can fit as many as 15 tourists but since it was a rainy day, the operator actually agreed for the boat to run with only two of us!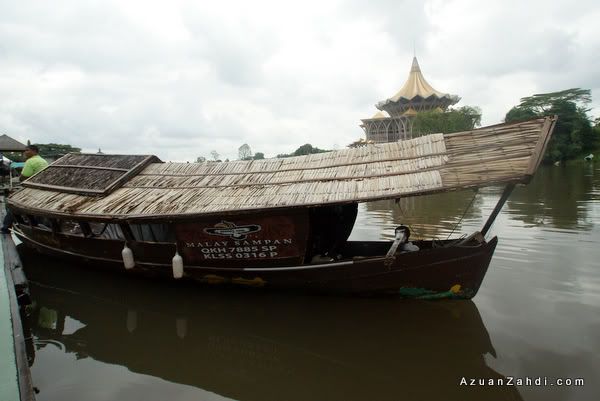 It was a nice feeling to just chill out and enjoy the breeze and beautiful sights at the comfort of a nearly empty sampan.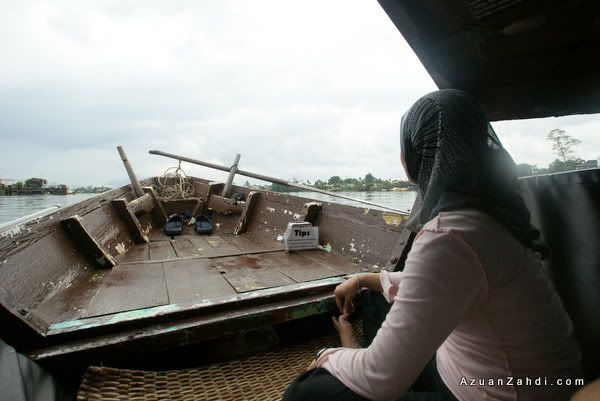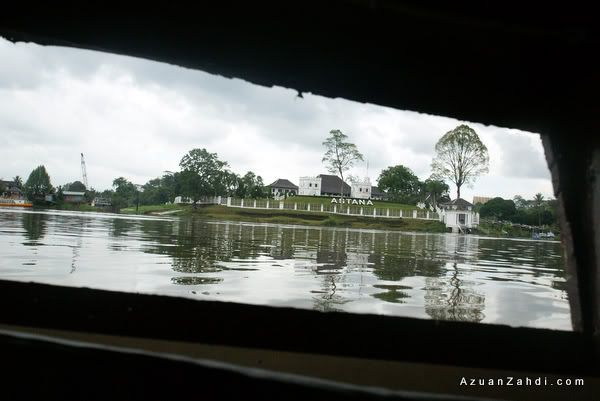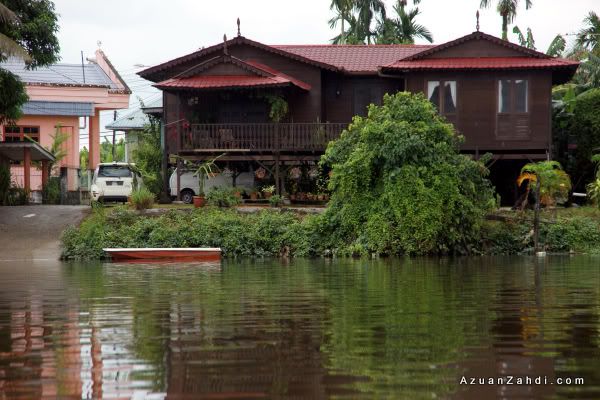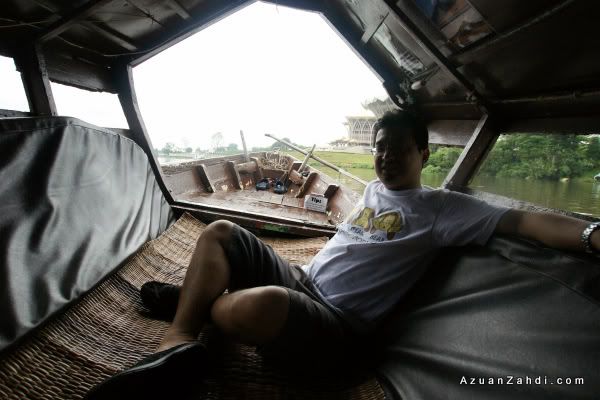 Splash!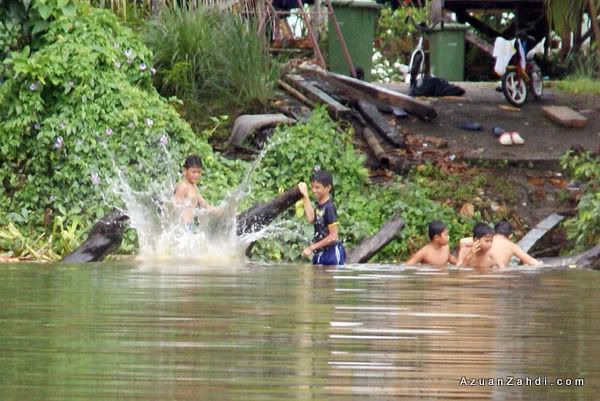 After an hour, the boatman dropped us at the other side of the river.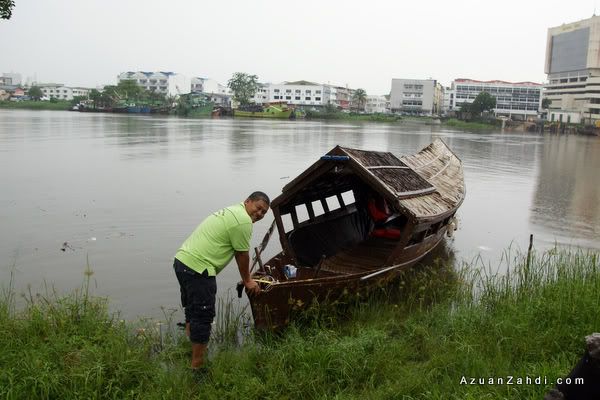 Famous for kek lapis….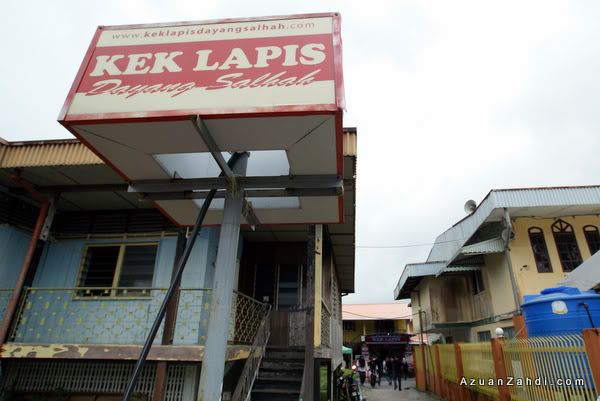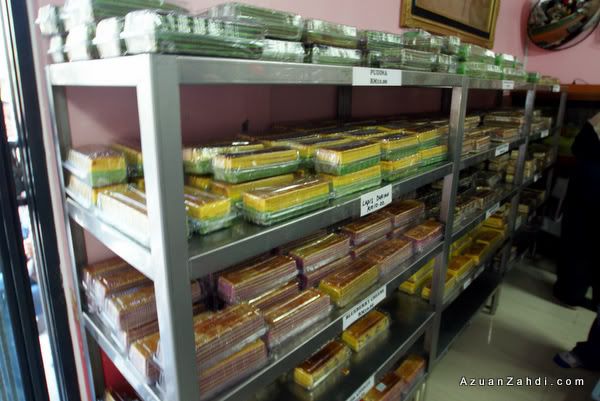 ….. and Terubok salted fish or ikan masin.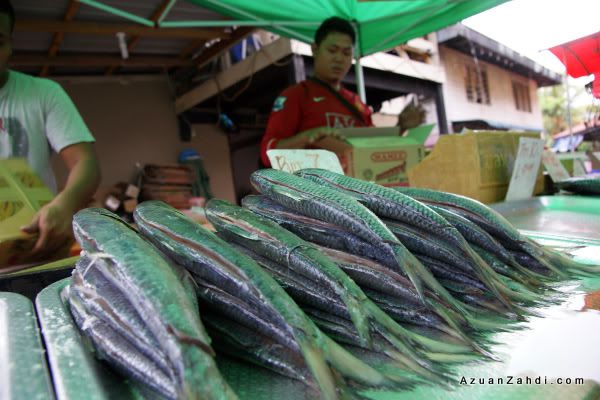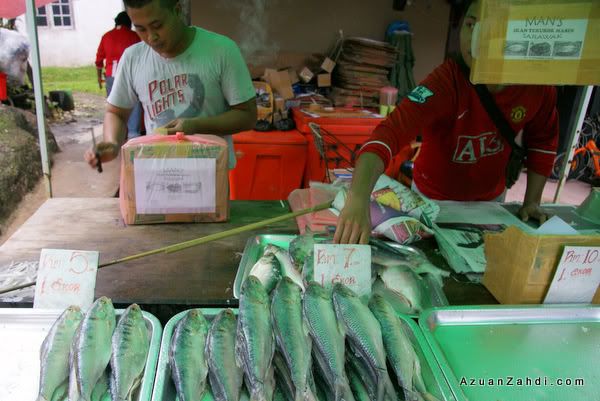 A much cheaper ride back to the other side to reach our hotel.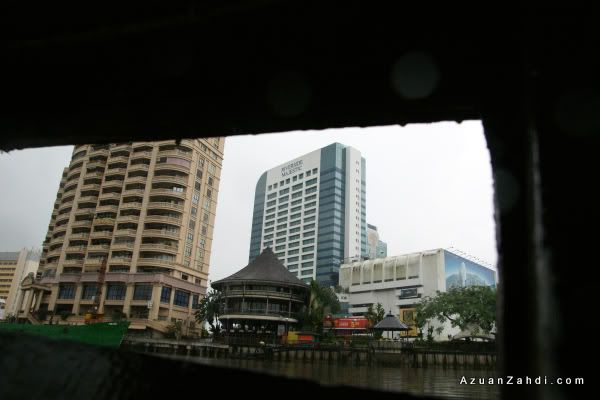 Kuching Waterfront is a place worth spending at least half a day touring especially for first time visitors to Kuching. The beauty of Kuching Waterfront is that it is all located within walking distance and if you are staying in a hotel in Kuching, most likely you'll end up at one of the many hotels in waterfront.
Next up… Kuching Seafood Galore!
Planning for a trip to Kuching? Not sure where to stay? Check out AGODA's website (click the banner below) for a one-stop comparison of all hotels in SKuching and other places in Malaysia from budget to 5-star. I am personally an AGODA fan and have saved a lot on my accommodation cost for my travels.