AzuanZahdi.com was down for 2 days due to some miscommunication with my hosting provider regarding the renewal process. Thankfully it's all has been sorted out and I'm now back in the blogoworld and continuing on with a blogpost on my quick 5-hours Ipoh trip.
Thanks to Fly2Ipoh.com (read my review here), my wife and I had this crazy idea of flying to ipoh, spend few hours food hunting and touring and fly back to Subang. Without any prior arrangements made or knowing anyone in Ipoh, we made our way to the taxi counter upon arrival at Ipoh airport.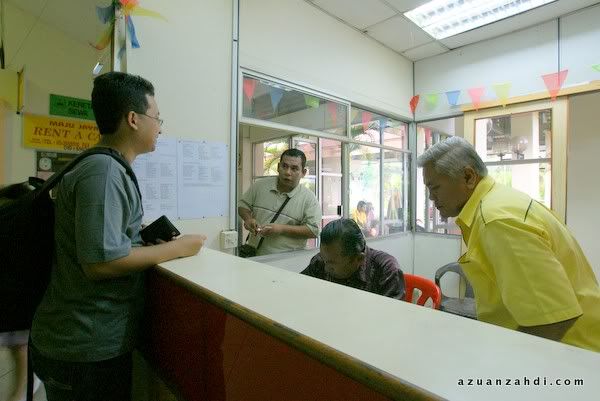 I had a chat with the guys at the counter explaining our "tour Ipoh in a couple of hours" mission. They were quite surprised initially saying that Ipoh can easily be covered in less than 30 minutes. Nevertheless we chartered a taxi for 2.5 hours at the cost of RM50.
The first destination was our main objective. Introducing the famous and ORIGINAL Nasi Kandar Ayam Merah or better known as Nasi Ganja!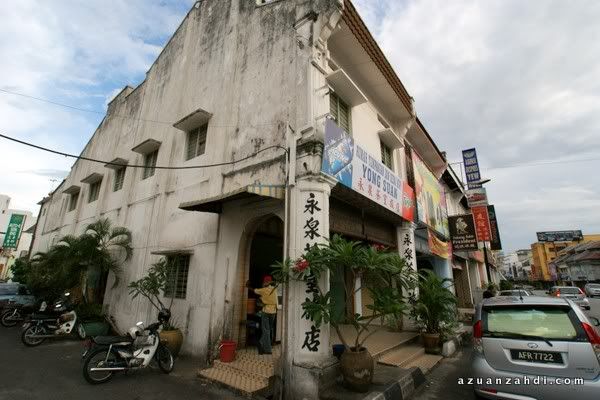 This little Indian Muslim stall located inside Kedai Kopi Yong Suan at Jalan Yang Kalsom has been in business since 1956!
That's 55 years of good Nasi Kandar! It is also known as Nasi Vanggey as the stall owners used to lure customers in by shouting out loud "vanggey! vanggey! vanggey!" Nowadays, long queues are a common sight at this stall during peak hours.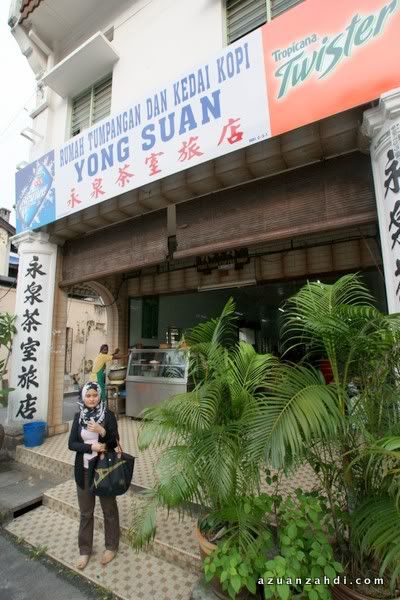 We were quite lucky as the stall was still open when we got there at 5:30pm. However about 70% of the dishes were already finished but the famous ayam merah and multiple kuah campur dishes were still there.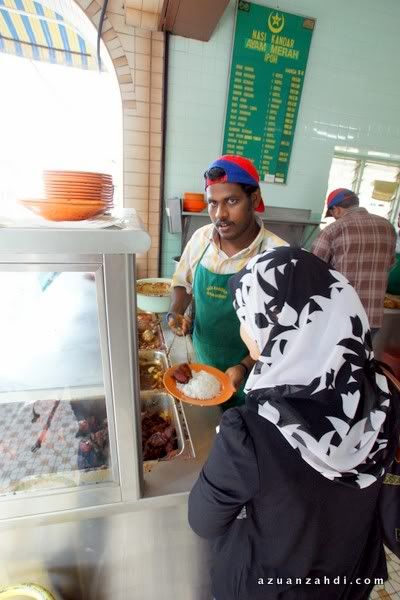 Mission accomplished!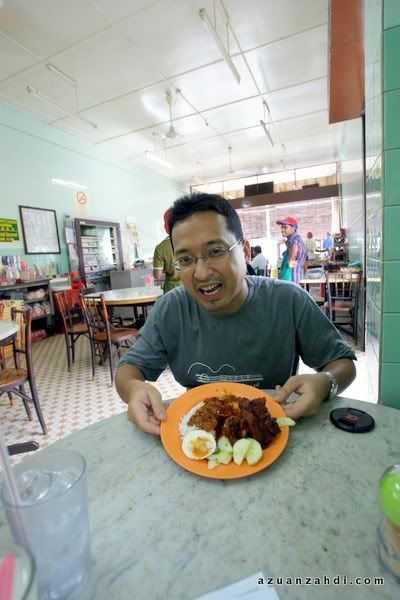 Nasi Ganja/Kandar – mine with chicken, limpa and telur asin with kuah campur.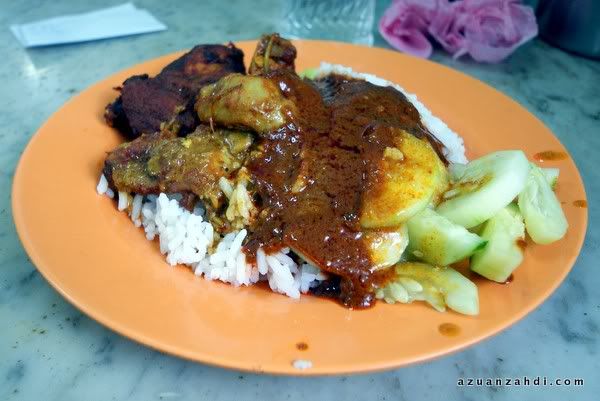 I had three rounds of rice. That itself is enough to describe how good it is. I love the originality, the simplicity and the combination of the kuah campur!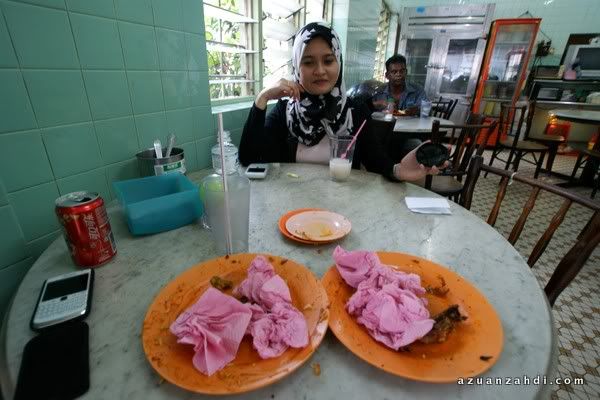 This place is another good landmark of 1Malaysia spirit. You can find all races eating here enjoying Indian style nasi kandar with drinks served by a Chinese kopitiam!
To convince you further that this place is famous, I found this news article on the web about the Nasi Kandar Ayam Merah and Kedai Kopi Yong Suan being visited by government officials from Singapore and Perak State for lunch!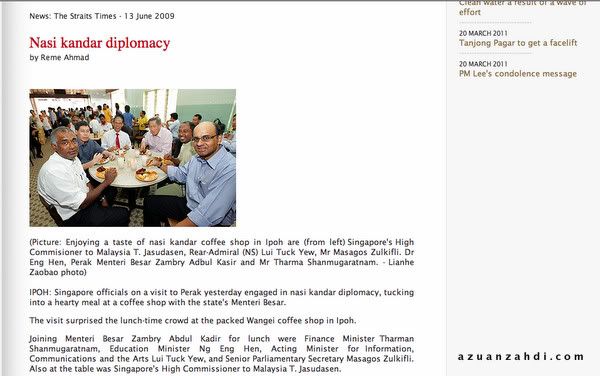 After the super heavy meal, our taxi guide brought us to the state mosque for prayers.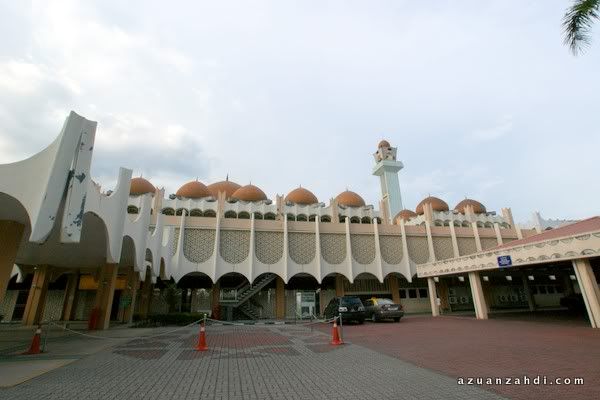 Sultan Idris Shah II Mosque is the state mosque of Perak and its main feature of this architectural masterpiece is its minaret that rises 125′ above its mosaic-tiled domes.
A short hop from the mosque is the famous Ipoh Railway train station,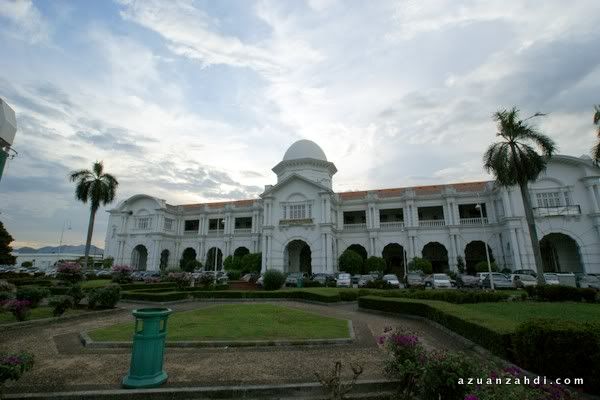 Designed by Arthur Benison Hubback, this unique railway station was first constructed and opened in 1935, making it the second concrete station to be constructed in the town. (Wikipedia)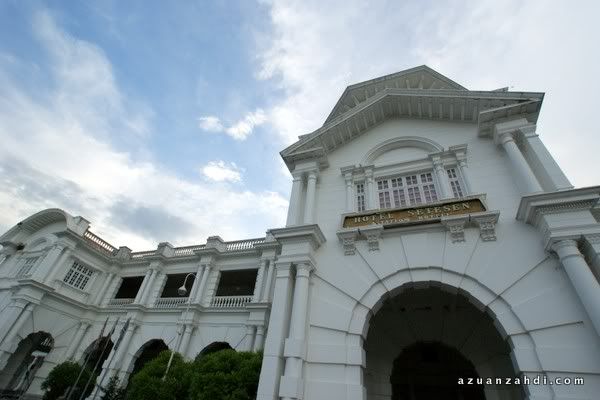 Having served in India, Hubback utilised his knowledge of Anglo-Asian architecture in the region on the station's design. The "Neo-Moorish/Mughal/Indo-Saracenic/Neo-Saracenic" style was not uncommon at the time. (Wikipedia)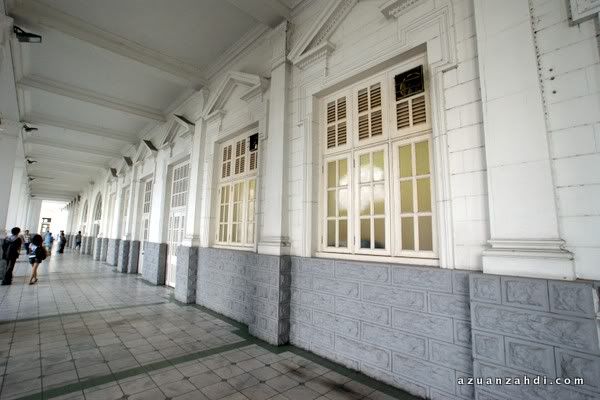 The building also houses the hotel called the Majestic Hotel. Affectionately known as the Taj Mahal of Ipoh by its locals, it closely resembles its Kuala Lumpur sister. (Wikipedia)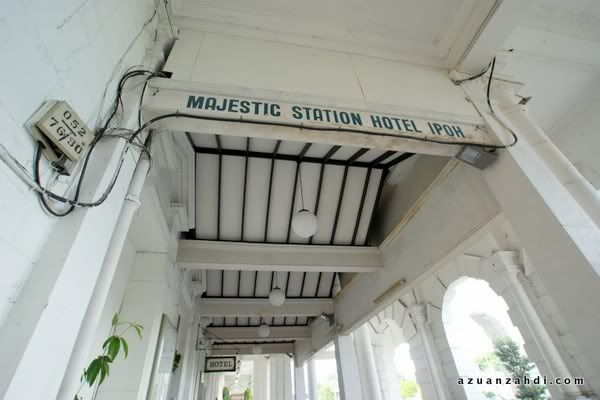 An interesting sign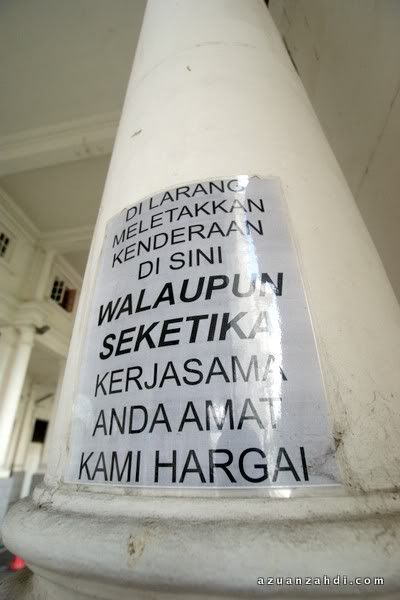 Right across the railway station is the Perak War Memorial Cenotaph.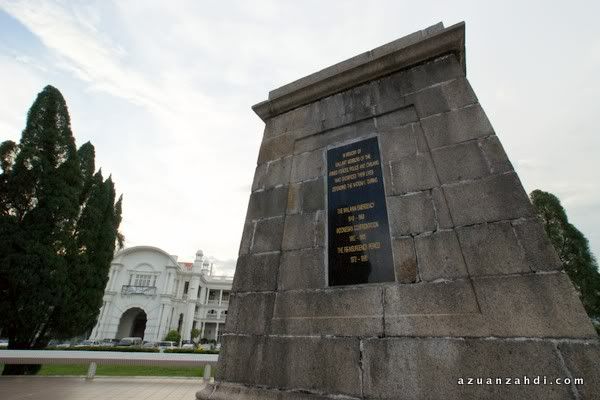 "IN MEMORY OF GALLENT MEMBERS OF
THE ARMED FORCES, POLICE AND CIVILLIANS
WHO SACRIFICED THEIR LIVES
DEFENDING THE NATIONAL DURING
THE MALAYAN EMERGENCY
1948-1965
INDONESIAN CONFRONTATION
1962-1965
THE INSURGENCY PERIOD
1972-1990".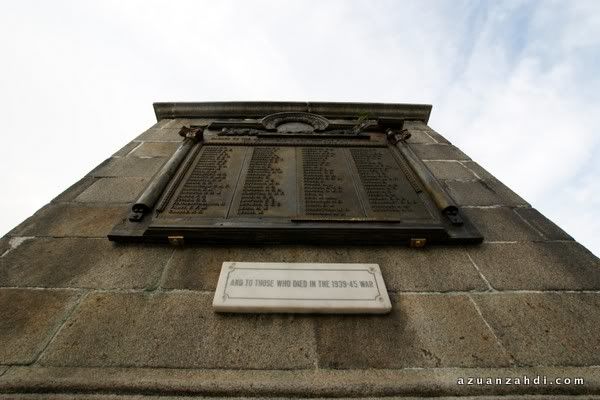 One for the album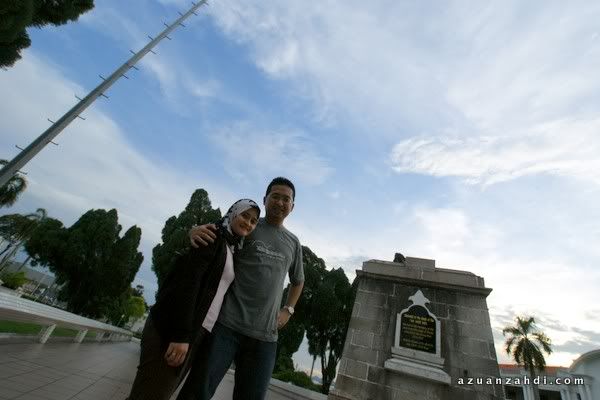 Just opposite the memorial and the railway station is another landmark of Ipoh, the old Ipoh Town Hall.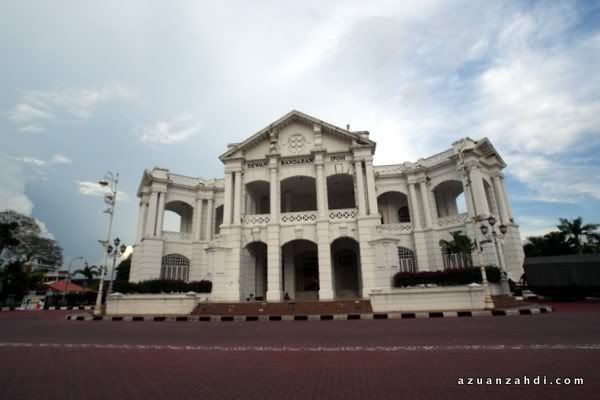 Also designed by A.B Hubback it is a stately colonial building with strong classical elements. From 1948, the Town Hall served as the district police headquarters for some years. This building also served as a Post Office, and was once the District Police headquarters in 1948.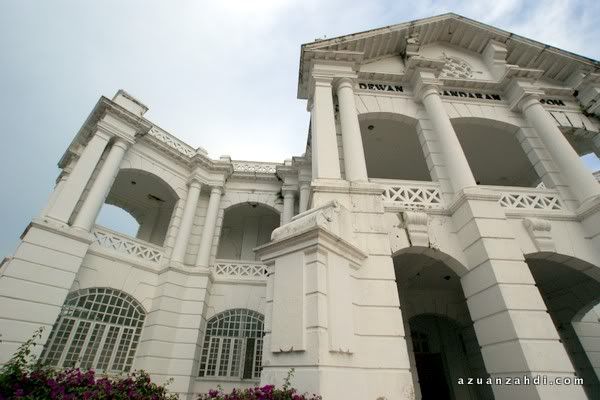 Now the hall is being used for various functions and makes a great backdrop for events like weddings 🙂
Classic looking bus in front of the town hall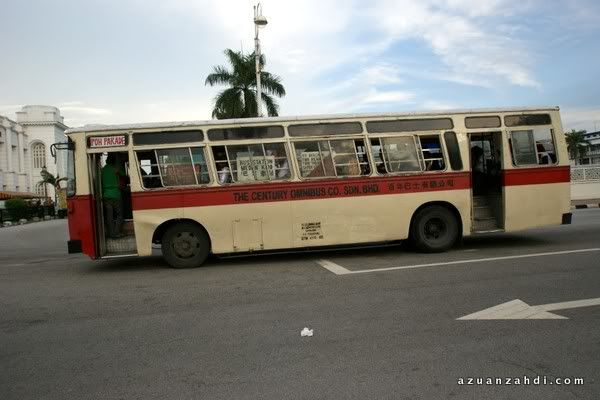 No visit to Ipoh is complete without a taste of the famous Mee Rebus Ramli.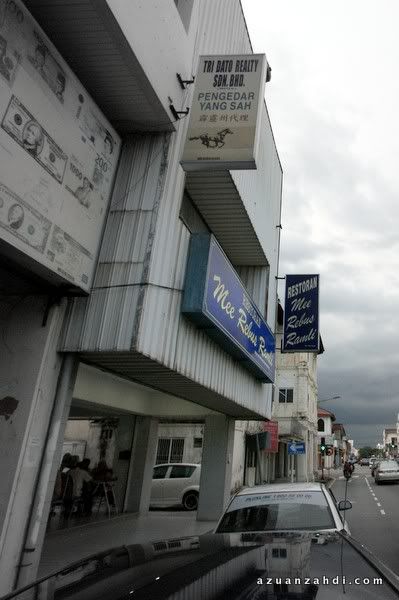 We went to one of the few branches located within Ipoh. Many have told me prior to the trip that the mee rebus is one of the best not only in Ipoh but also in Malaysia!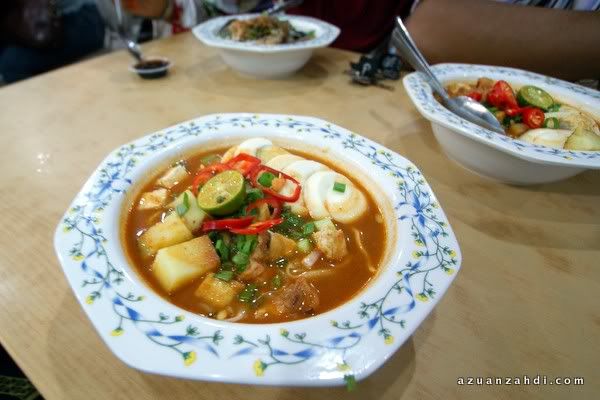 Good stuff. We were still full from the earlier Nasi Kandar and didn't get to really enjoy the meal but it is worth the long wait. The place is so famous that I actually met my friend from KL enjoying the same good taste of Mee Rebus Ramli.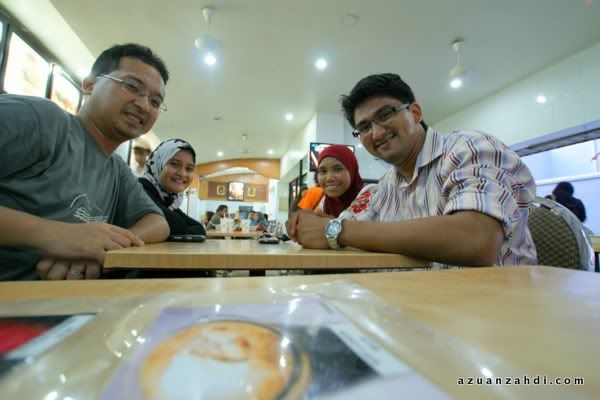 Before the ride back to the airport, our taxi driver brought us to the scene of the 2009 Perak constitutional crisis. Not wanting to get too politics oriented, i changed topic immediately by jokingly asking about the famous Pokok Demokrasi or Democracy Tree.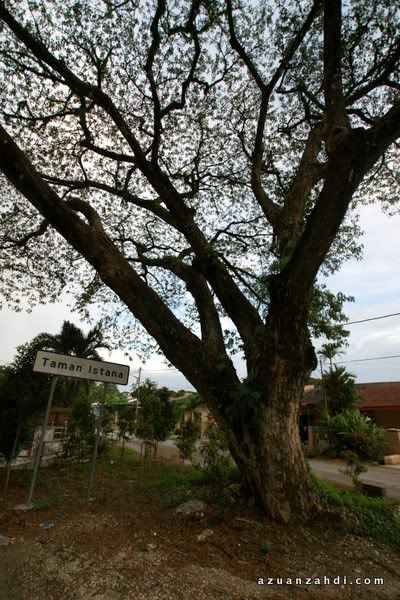 He actually showed us the tree but there was no way for me to confirm that that was the actual tree as all the plaques have been destroyed.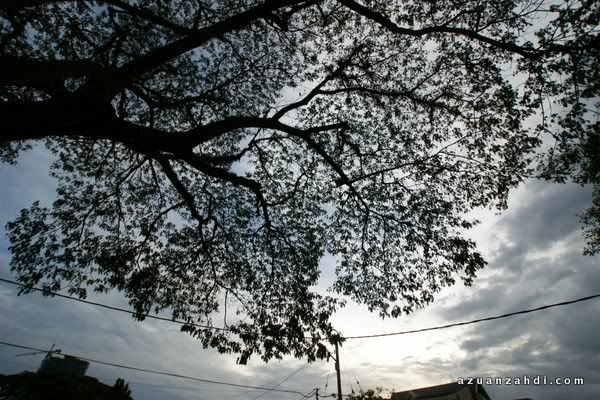 A quick 10 minutes drive tour around the city and another 10-minutes ride and we were back at the airport. A satisfying food hunt and short tour trip to Ipoh. 🙂 For the future trip to Ipoh, I'll definitely explore the Lost World of Tambun, caves and temples.
Planning for a trip to Ipoh? Not sure where to stay? Check out AGODA's website (click the banner below) for a one-stop comparison of all hotels in Ipoh and other places in Malaysia from budget to 5-star. I am personally an AGODA fan and have saved a lot on my accommodation cost for my travels.

Saved: :: All Posts ::, Featured Articles, FOOD, TRAVEL
Tagged: 30 minutes, bus station, dishes, indian muslim, indian style, ipoh, kopitiam, landmark, limpa, nasi ganja ipoh, nasi kandar