"To most people, the sky is the limit. To those who love aviation, the sky is home".
This interesting anonymous quote I found on the net perfectly describes how I feel about aviation. Despite having taken hundreds of flights over the last few years on business and personal travel, I never get the cure to my 'itchiness' to fly!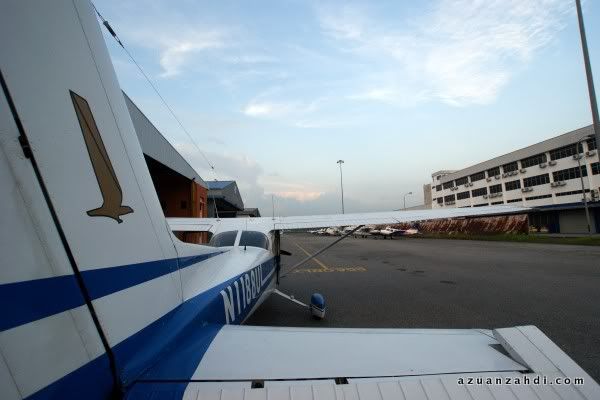 For the same reason, when I got to know that the famous JFK, Johan Farid Khairuddin is providing joyride over KL on his little Cessna, I know that I have to try it! For those of you that don't know who JFK is, click here for a profile of him.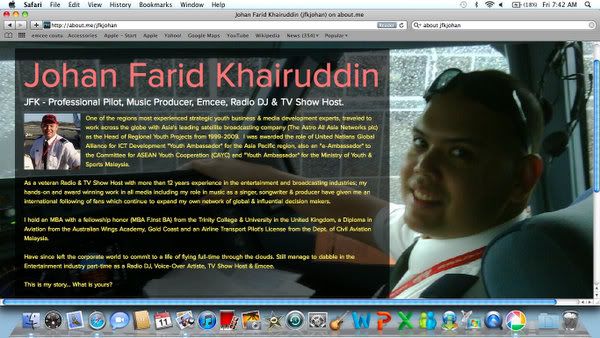 In short he is a Professional Pilot, Music Producer, Emcee, Radio DJ & TV Show Host. Yeah some people just have EVERYTHING! (*envy*) hehe
I took the opportunity to surprise my other half as she had never experience flying on a light plane and KL Sky Tour is surely a romantic experience even for a non-jiwang dude like me! haha
The day finally arrived, on a fine Sunday morning we were at Subang SkyPark as early as 715am to catch the first departure slot at 7:45am.
JFK arrived on-time and living up to his true all-star personality, he greeted us as if we have known each other for years although in reality i've met him only once during a Youth conference some time back. It is true that those that have passion in aviation have something in common 🙂 Anyway, Jiji was excited that not only she's flying around KL but also meeting a celebrity!
Weather check on iPad! Good visibility translates into a smooth flight with great sights. I swear I didn't throw any of my used underwear on top of my roof to get this good weather!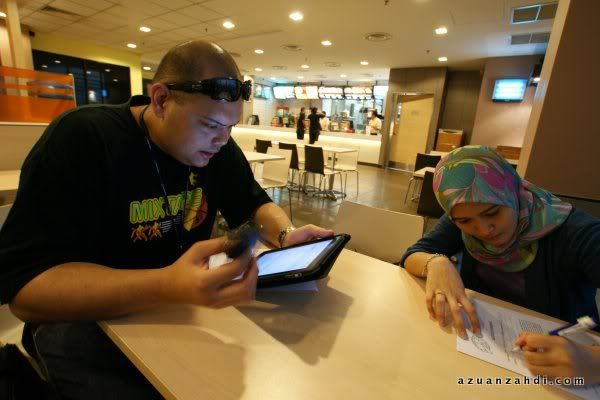 JFK went on explaining the basics of flight to Jiji.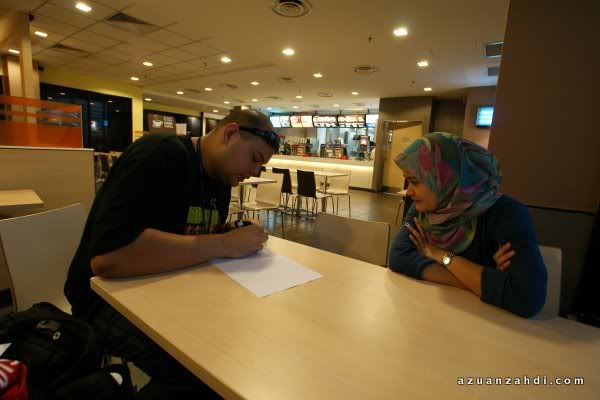 Including the 'VFR Flight Plan' hahaha nice drawing man!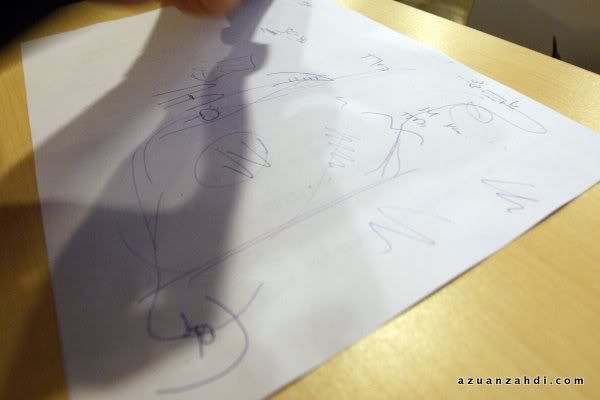 The normal procedure of "if I die, please call.." form and other forms that need to be filled before a flight.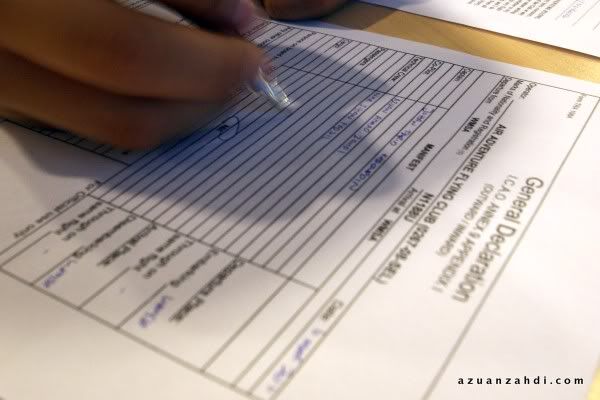 It was then time to fly. Capt Andreas of Air Adventure Flying Club welcomed us with his cool safari truck!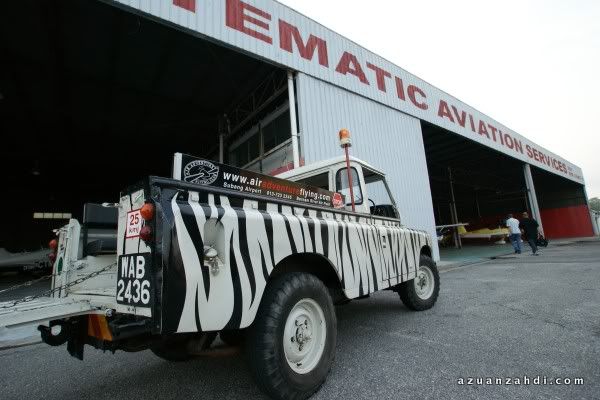 A short ride to the Hangar. It was fun but I got a bit emotional seeing some of the old planes waiting for new owners to take over or ends up being slaughtered. I remember seeing Fokker-50 ex-MASWings and Firefly, Transmile MD-11 and a couple of 737-200. Planes are made to be flown not to sit idle on the ground!
Arrived at the hangar, the beautiful Cessna 172M Skyhawk ready for the joyride!
No such thing as Pushback truck hence Jiji had the honour of pushing the plane. The same routine that celebrities like Ning Baizura went through as part of the "Fly with JFK experience!" 😛
Capt Andreas complaining that Jiji was not pushing strong enough! Funny moments.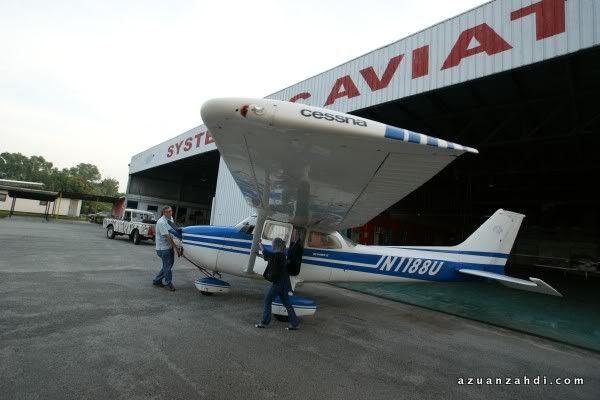 Very similar to the panel in my PC Flight Sim.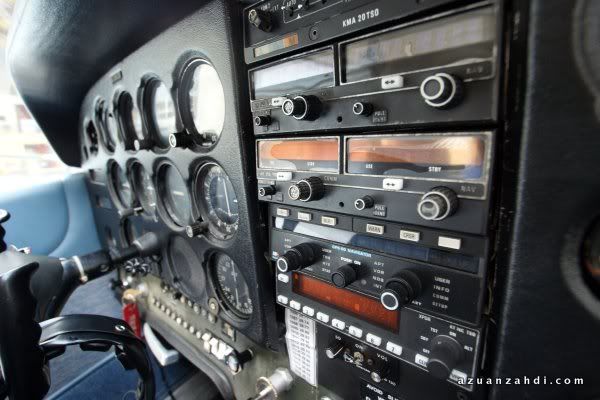 After all the checks were done, it was time to fly. Clearance was given and JFK taxied the plane to RWY15.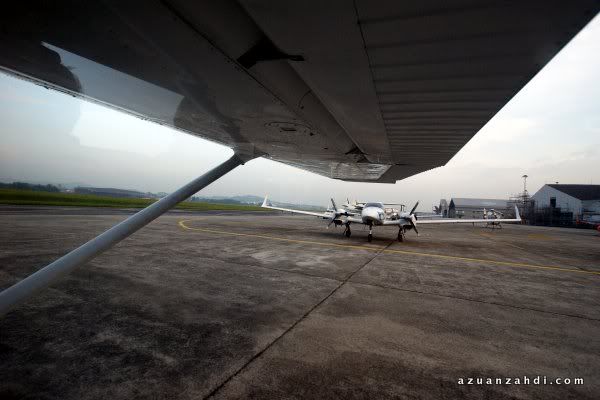 Taking off! JFK with his game face on. Hehe
Jiji enjoying the effect of flying!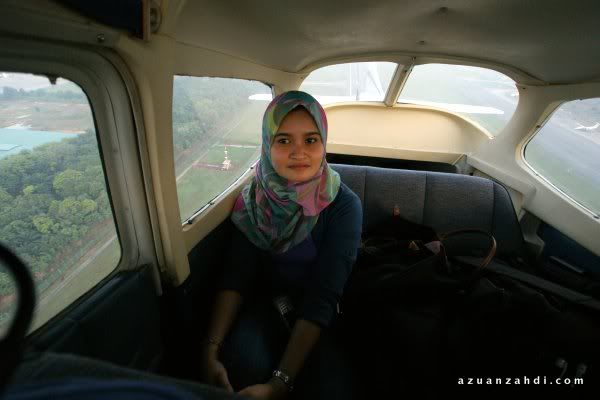 Love is in the air.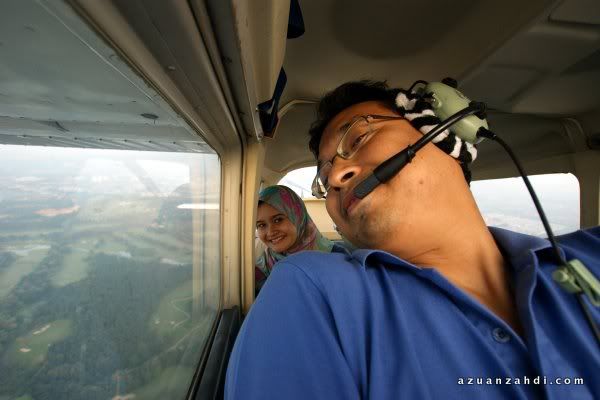 Glenmarie area.
At 1,500 ft and passing Menara TM on the right side, JFK gave me the chance to have some control of the plane. It was a nice feeling! Beyond words!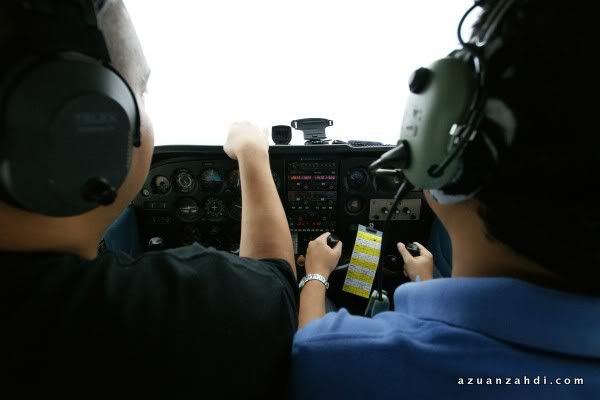 Menara TM from air.
In between communication with ATC, JFK shared a lot of stories while I was playing around with the controls for corrective actions to retain 1,500 ft at desired speed.
The best way to start a Sunday…. amazing views!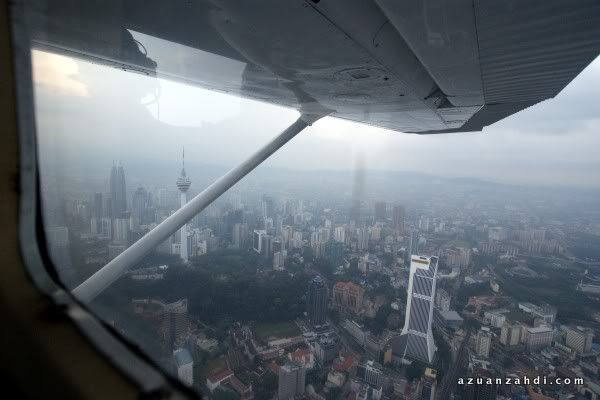 One for the album (thanks JFK for this photo)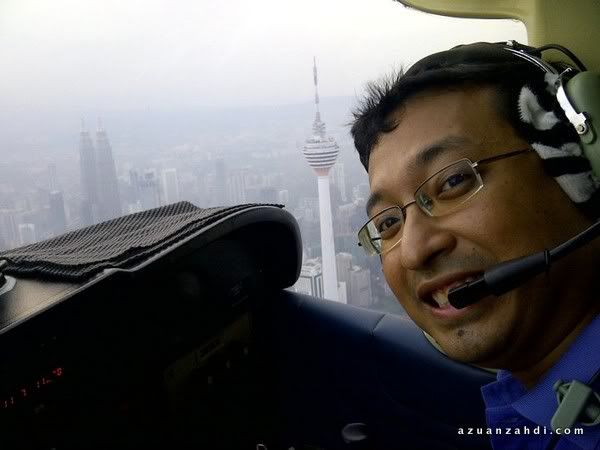 Next stop…. Batu Caves!
Jiji enjoying the views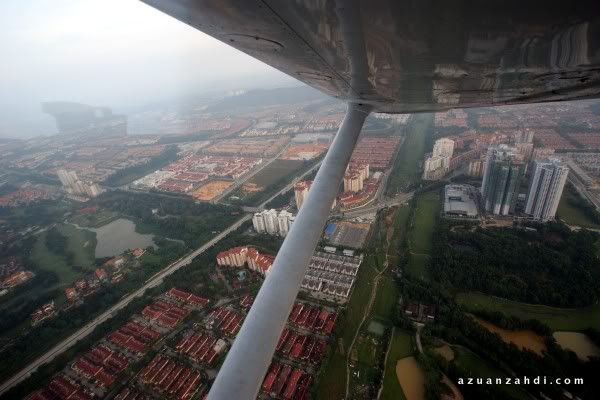 Thumbs up. Is that an approval for 2012 PPL Plans? 😛 Only time (and wallet) will tell!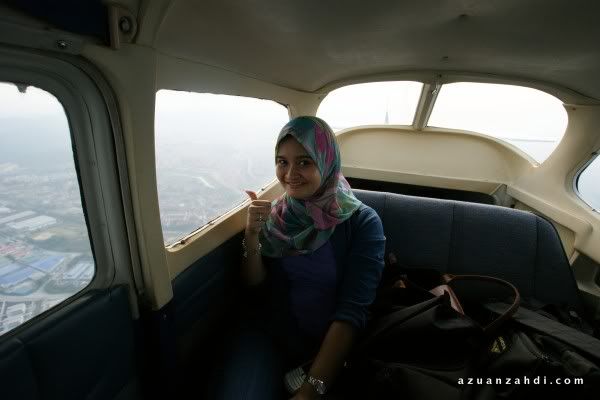 The curvy shaped e@Curve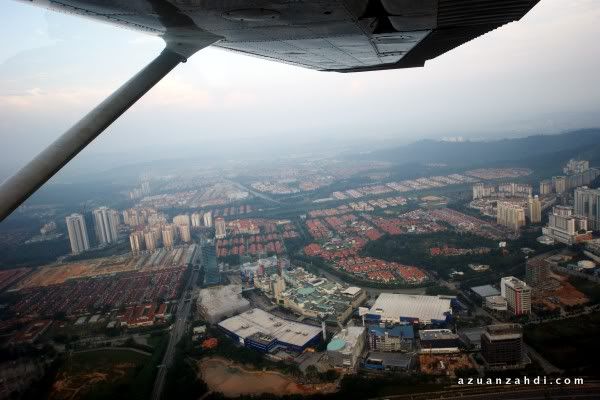 JFK took over controls and brought the Cessna back to SZB with a smooth touchdown.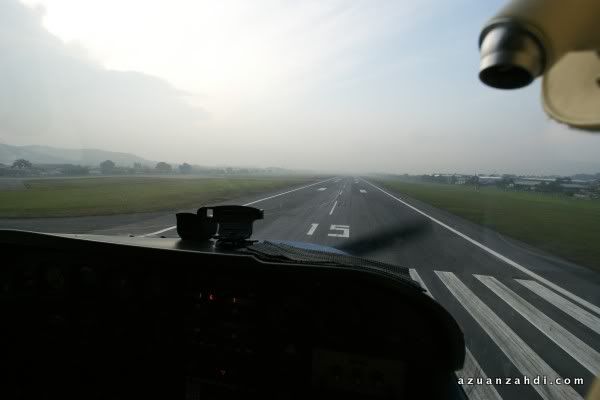 Happy Pax!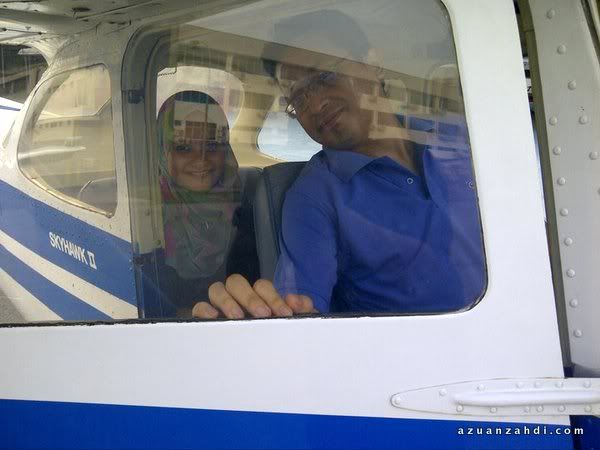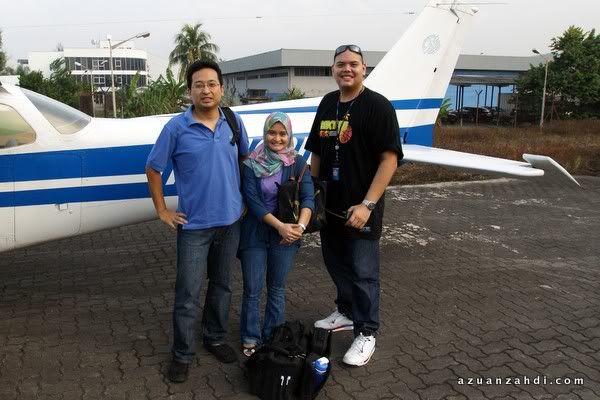 It was an amazing experience and quality time with my other half. Lots of oooohhhh and ahhhhhh, smiles and laughter throughout the flight. If you are interested to fly with JFK, do tweet him or e-mail him for arrangements. 🙂