Laser tag is probably the coolest indoor game fun I ever experienced! And the good news is that laser tag game is back in Malaysia! It was here quite some time ago with one playing arena in the Mines but it was closed down after a while. Now the game is back in Malaysia through Galactic Laser based in Mid Valley Megamall and judging from the crowd, I am quite sure that Galactic Laser will be around for a long time!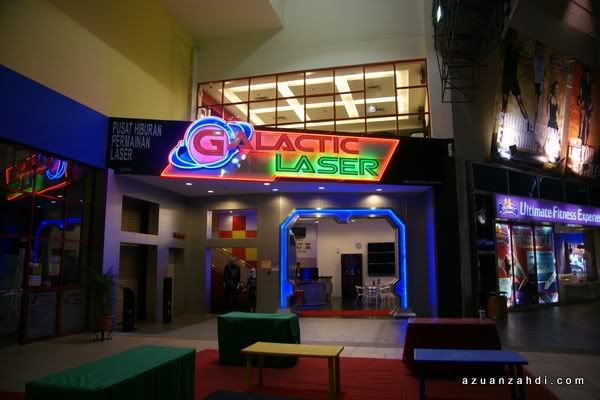 So what on earth is laser tag?
Wikipedia defines it this way: Laser tag is a team or individual activity where players attempt to score points by tagging targets, typically with a hand-held infrared-emitting targeting device. Infrared-sensitive targets are commonly worn by each player and are sometimes integrated within the arena in which the game is played. … laser tag has evolved into both indoor and outdoor styles of play, and may include simulations of combat, role play-style games, or competitive sporting events including tactical configurations and precise game goals.
I prefer to define laser tag as Paintball without the pain. If you love paintball, you would love laser tag better as it doesn't involve physical contact and running making it suitable for both male and female! This game was also made famous through the famous "How I Met Your Mother" tv show: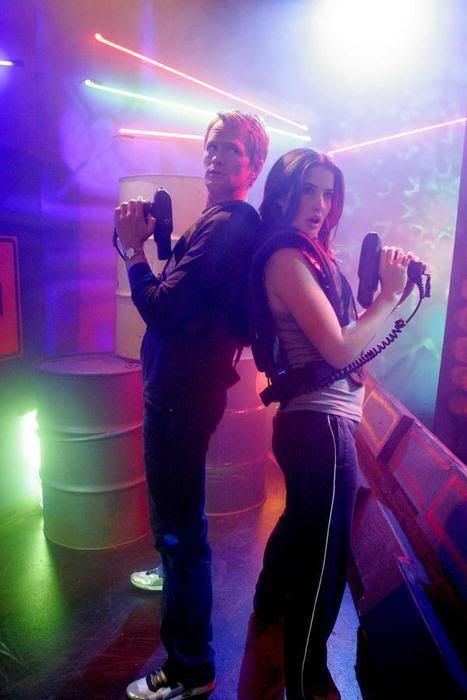 Picture from fanpop.com
Last weekend I was invited to try out Galactic Laser with a group of bloggers and friends. Unlike some high-profile blogging events, this is an unofficial event organised by my friend who thought that Galactic Laser could use some good publicity. Despite being a low-profile event, we were offered VVIP treatment by the people behind Galactic Laser.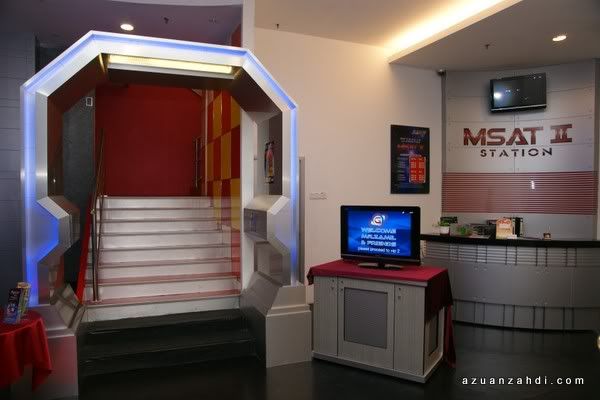 We were ushered to a special function room. Besides the playing arena, customers can organise birthday parties, family gatherings, company retreats at Galactic Laser as it offers not only the laser tag game, but also karaoke facilities, function rooms and good food. The spaceship theme can be seen not only in the playing arena but also throughout the venue.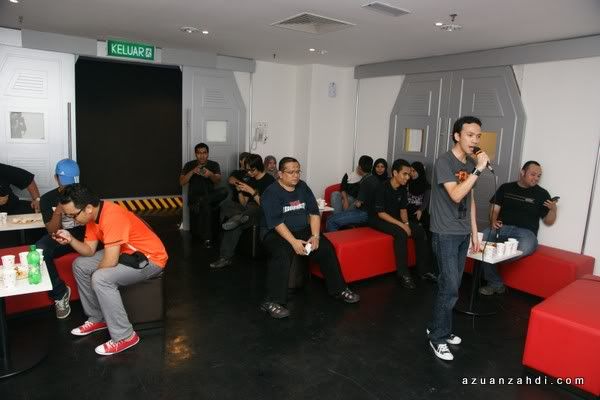 Joining us was the famous blogger behind Beautiful Nara and friends.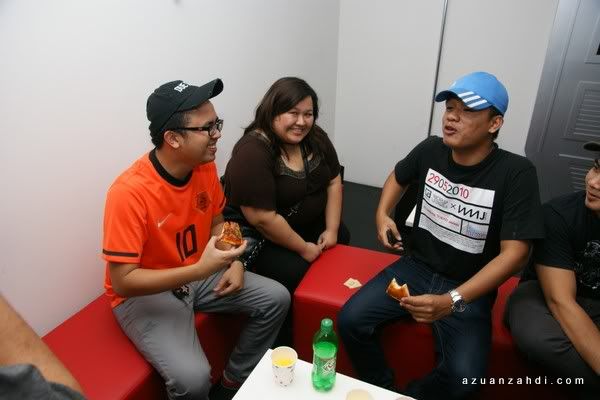 Friends from Utusan Malaysia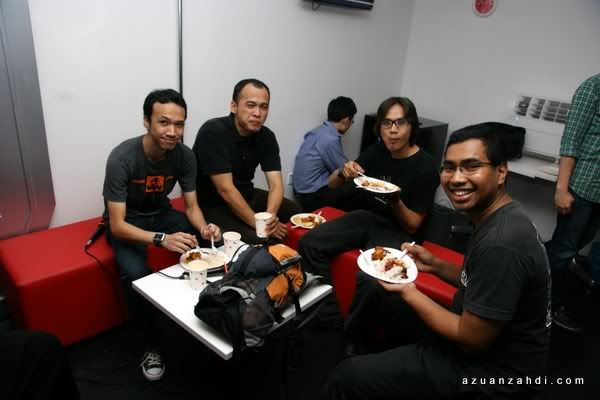 The key people behind Galactic Laser explaining the fast, furious and fun aspects of the game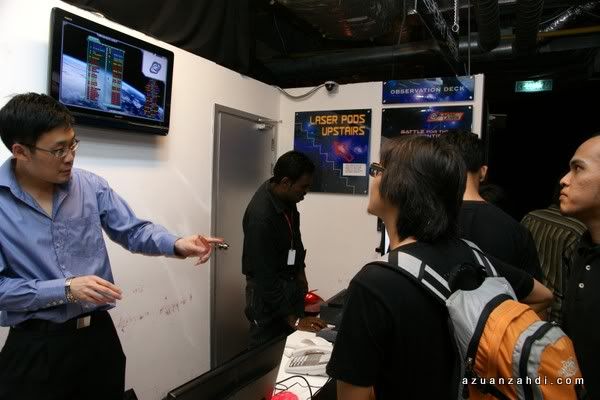 It was then time to report for some laser action!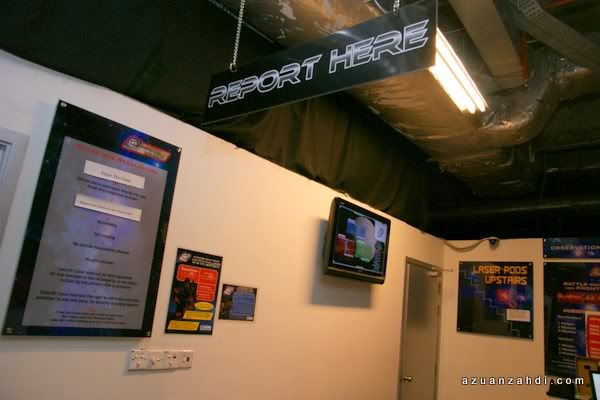 For those with membership cards, you can earn extra discounts on every game and each game score will be recorded in the database as you move up the ranks.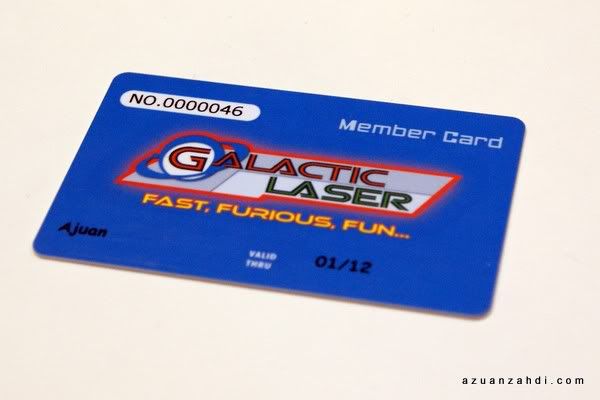 Upon registration, each player would be given a number that represent your game session. Despite the big crowd, the queue system is unique that it would give each group a rest session to ensure you are not too tired playing consecutive sessions.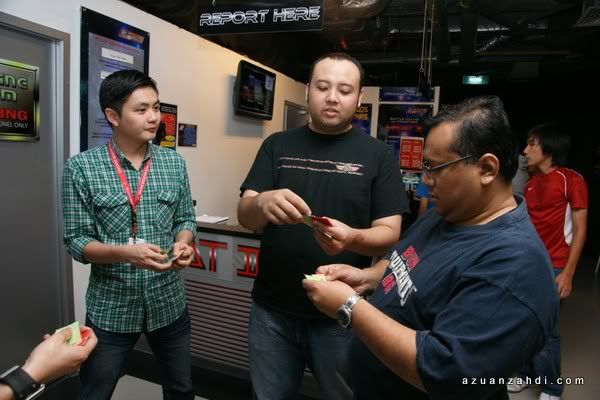 After our number is being called and before the action begins, Galactic Laser crew provided a detailed game briefing to explain the game mechanics.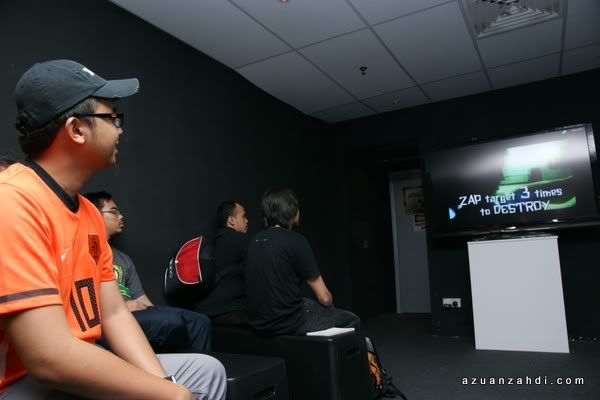 There are different game modes namely free-for-all, team based on different colours, flag game, space marine, etc.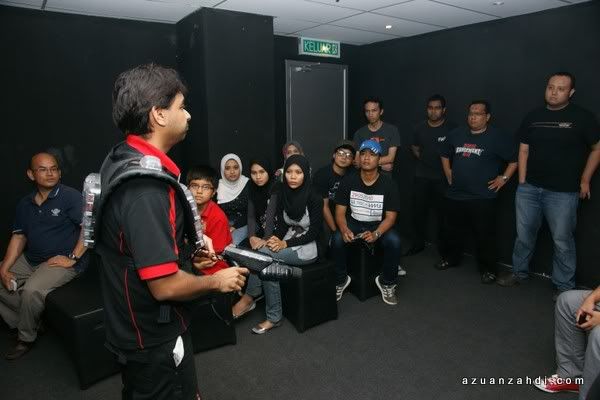 Different game modes would provide different rush but i can ensure that it's all FUN!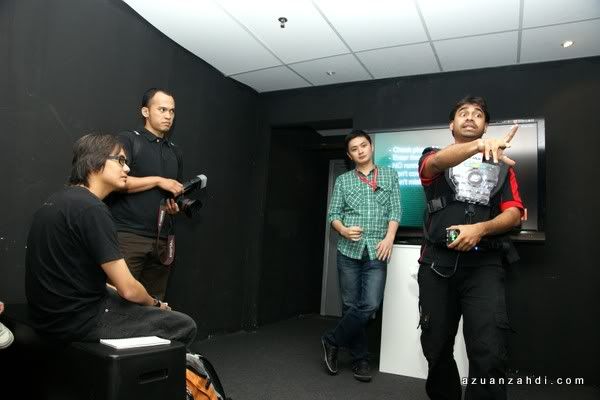 After briefing, it's suit up time. This 'game pack' is the secret behind the game with the 'gun' and your 'life' connected to it. Although the name implies the use of lasers, real lasers are generally not used except as aiming devices. The actual transmitting element of almost all laser tag gear is an infra-red Light Emitting Diode similar to those used in household remote controls. Laser tag is similar to paintball, airsoft and other simulation-shooting or targeting sports, but diverges in its reliance on a computerized control system. The computer system provides score tracking as well as enforcing some rules of engagement – such as an enforced period when a player is unable to shoot after being hit by another player, or discounting all friendly fire.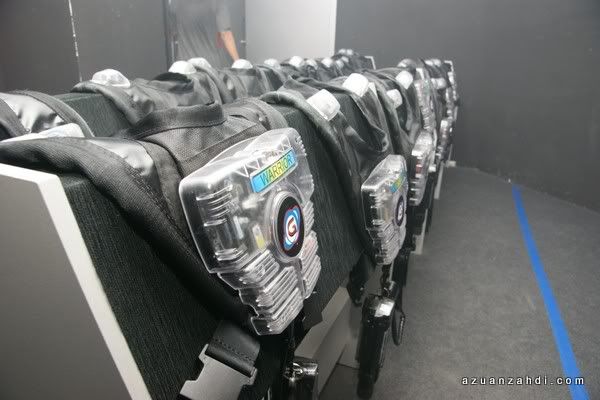 One for the album. I was Agent Wolf for that night!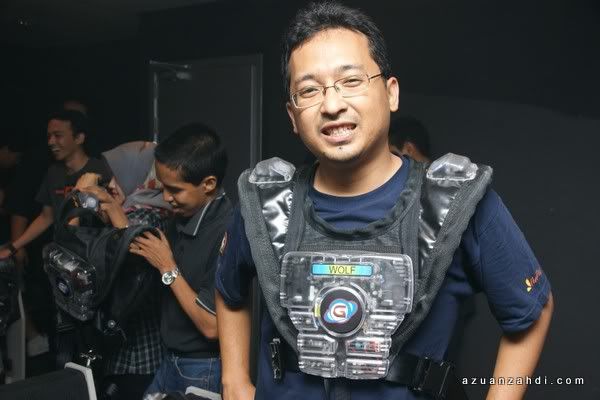 The beauty of the game is that it's suitable for kids as young as 7 years old! What better way to spend a good family time other than zapping each other at Galactic Laser!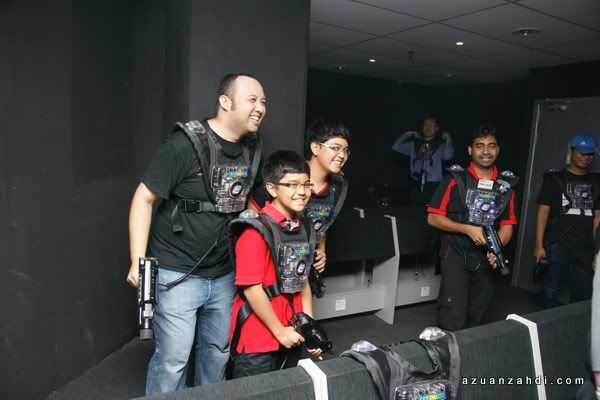 Lights off, ready to play!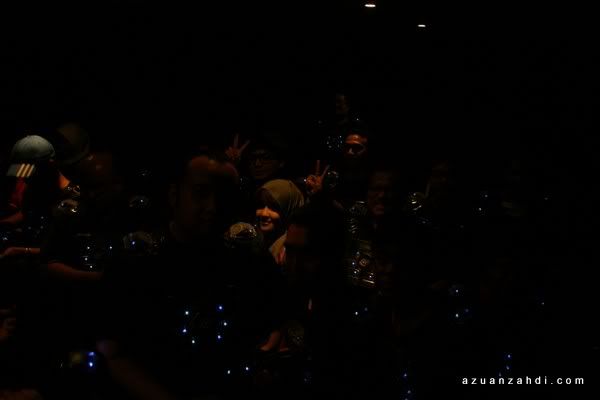 The arena is big enough for 30 people to chase, hide and shoot each other. But it's all about strategy, those with a good strategy always wins!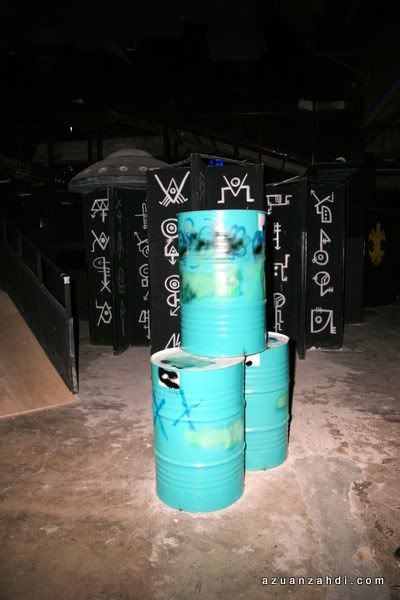 Faces after the game, satisfied and all sweaty despite the venue being fully air-conditioned! That's how intense the game is.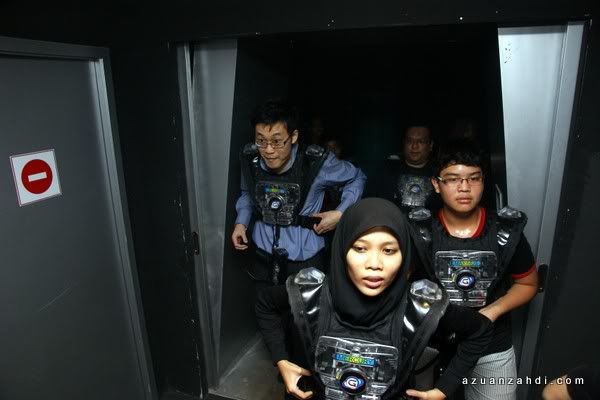 After each game, we had fun laughing at each other's scores.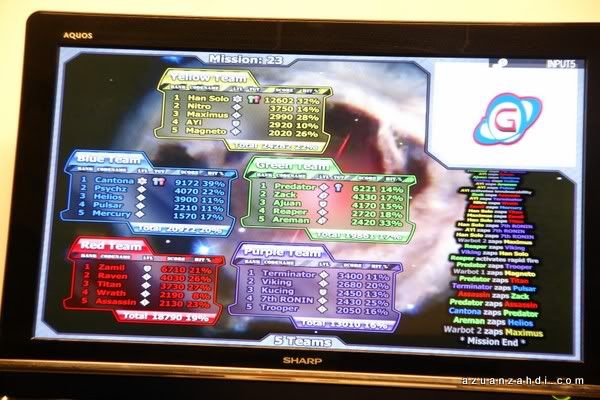 As a member, all my game scores were recorded and my "slow" progress can be seen at one swipe of the card.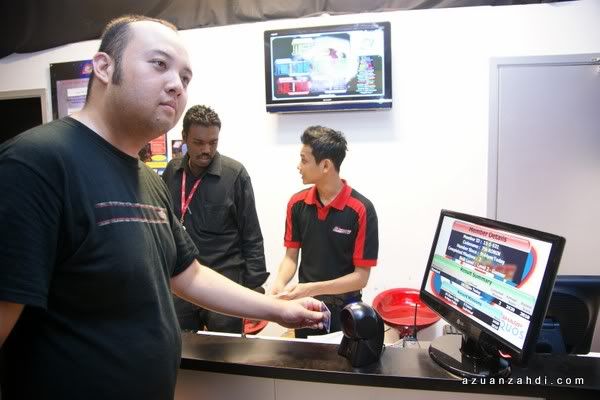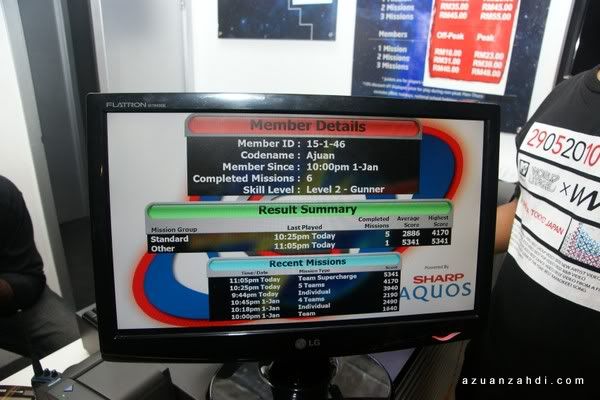 We had one heck of a fun time with three rounds of game with one round lasting as long as 10 minutes. It was tiring but with lots of laughter and adrenaline rush, it's time well spent.
One last group photo with the Galactic Laser guys. Thank you so much for the experience, VVIP treatment and fun games. We wish you all the best and one thing for sure is that i'll be coming back and introduce this game to as many people as possible! Let's spread the words 🙂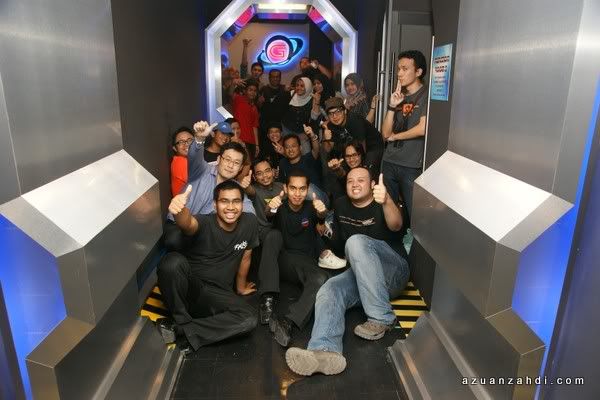 Galactic Laser can be found here:
T-012A, 3rd Floor, North Court, Mid Valley Megamall
Mid Valley City, Lingkaran Syed Putra
59200 Kuala Lumpur
Malaysia
E-mail: enquiry@galacticlaser.com
Telephone: 03-2283 2999
http://www.galacticlaser.com
or Facebook at: