My alarm clock went off at 04:00am on 15th January 2011, a couple of hours earlier than my normal wake-up time. While most people would still be in bed enjoying their weekend sleep, I was up and ready for a long and memorable day. To be honest, I was too excited that I kept getting up and looking at my watch so that I did not sleep through the alarm clock.
The time has finally come! After months of planning and anticipating, the day has come for another 'tick' in my aviation resolution which is to be part of an inaugural flight. 15th January 2011 was a special day for Firefly Airline, Malaysia's community airlines for many reasons:
a) First Firefly commercial flight to be operated from KLIA
b) First Firefly commercial flight to be operated by their new Boeing 737-800
c) First Firefly flight to showcase their new uniform for crew operating on board Firefly jets
d) First Firefly flight to have male flight attendants!
With so many 'firsts' in the list, it is an interesting milestone for Firefly Airlines just after few years of operating. Being a fan of the airline since the era of Fokker-50, I wouldn't miss a chance to be part of this memorable milestone. Without any hesitation and under the cover of 'bringing my family for holiday in KK', I managed to secure the first few seats on the first flight to Kota Kinabalu. Including Seat 01A for myself!
A few days before the flight, I was told that the OFFICIAL inaugural flights were scheduled to be on 15th Jan for Kuching and Kota Kinabalu on 24th Jan. I was a bit disappointed that I got the right date but wrong destination. Nevertheless arrangements have been made in KK for my holiday and I was ready to be part of the first flight, minus all the welcoming events, water cannon, medias and VIPs as what I enjoyed last time in Singapore.
15th Jan 2011
After a routine 40-minutes drive from Shah Alam, my family and I were already at KLIA. At 5:45a.m. there were already signs of activities happenings with medias, VIPs and Firefly crew getting busy for the official inaugural flight to KCH. After shaking hands with some familiar faces from Firefly, I made my way to Check In counter A4 for check-in.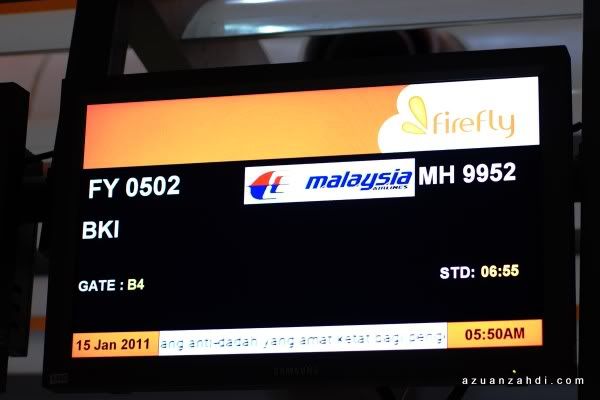 A friendly ground staff (sorry I forgot to take your name!) greeted us with small talks while processing our boarding passes and luggage tags. A pleasant personality despite having to be at work very early in the morning and the pressure of first day jitters.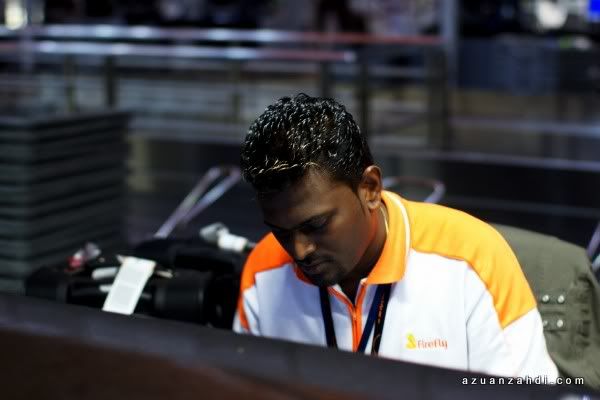 Luggage tags were placed on each checked-in bag and we were informed that our bags will have priority handling as I took the premium package.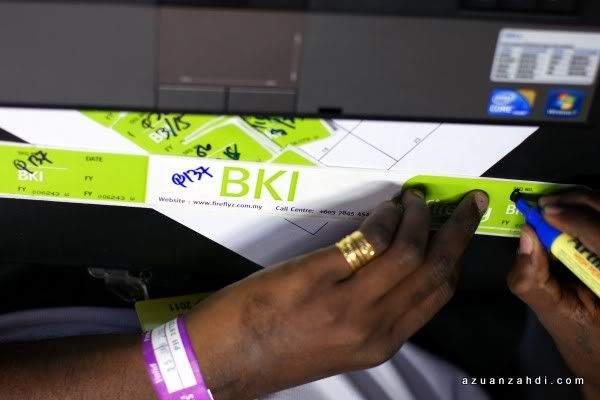 Being the first day of operations in KLIA, passengers were welcomed with free refreshments.
After clearing security and a short walk, we passed trough Gate B2 assigned for the Kuching flight with all the VIPs and media band wagon. Photographers and reporters were busy at work as I continued my walk to Gate B4. At one point, I was glad to be on the Kota Kinabalu flight instead of Kuching with less competition for better angles for photos.
Things were much calmer at Gate B4 for Kota Kinabalu. Something that many appreciate at 6:30am!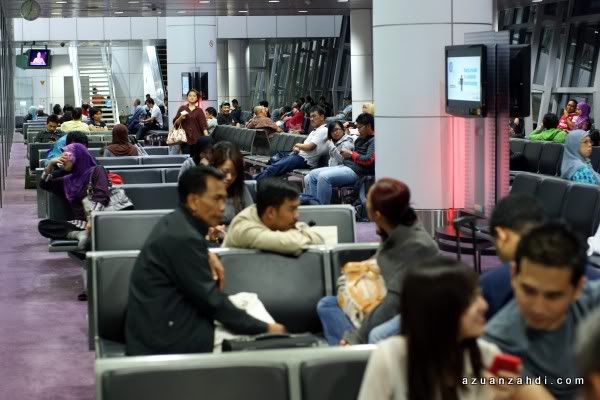 It was a bit too calm that we have passed the scheduled departure time and there were no signs of boarding procedures to be carried out anytime soon. A re-timed first flight?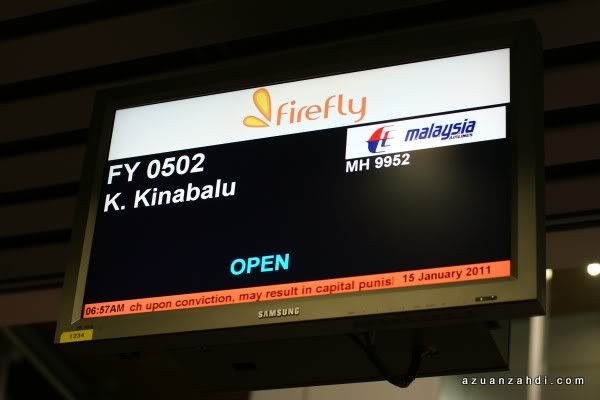 I hate it when my instinct about the flight being retimed became a reality! Our flight that was supposed to depart at 6:55am as the FIRST Firefly commercial flight from KLIA was re-timed to 7:25am due to airspace issues as explained by the Captain. Due to this, the flight to KCH departed 10 minutes ahead of us and became the first! 😛
Boarding was done by rows with priority given to the elderly and those traveling with kids. By the way many still don't get it and jumped queue the moment the doors were opened.
FY502 was operated on the first day by 9M-FFA, a 4.7 years old Boeing 737-8Q8(WL) that previously worn the colors of Excel, XL and MAS before entering service with Firefly.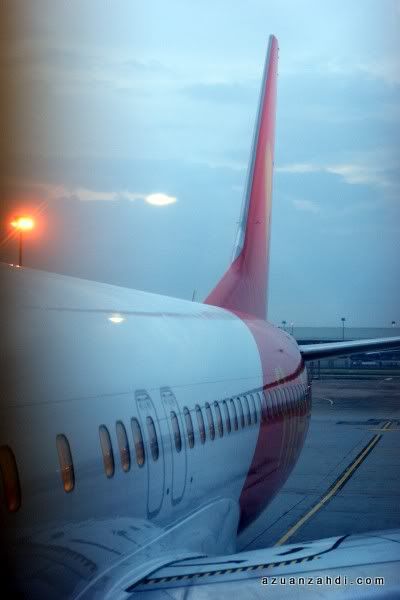 Greeting me at the door is a familiar face 🙂 Glad to know that some of the crew from ATR operations are now operating from KLIA. A team of three Captains were at the flight deck and the Captain (one of them) personally apologize over the PA System over the delay in pushback.
The Firefly crew waving as the doors being closed and cross-checked for departure.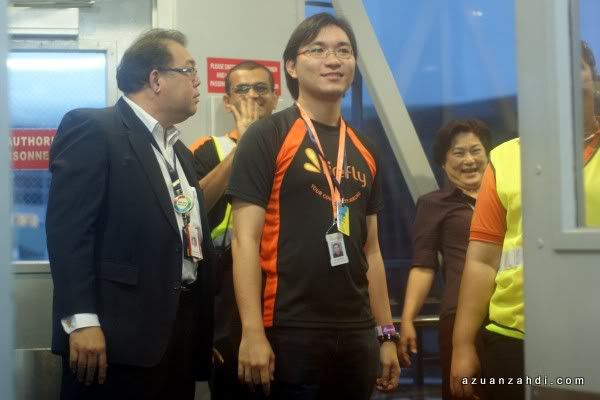 We eventually pushed back at 7:40am. When was the last time you have this many people sending off a plane?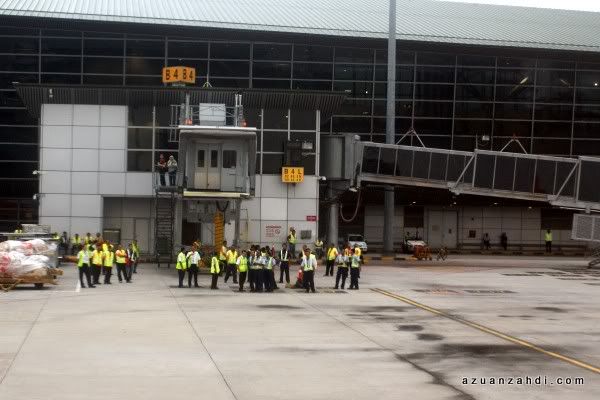 Cabin crew conducted the safety briefing and within minutes the plane took off from RWY32R.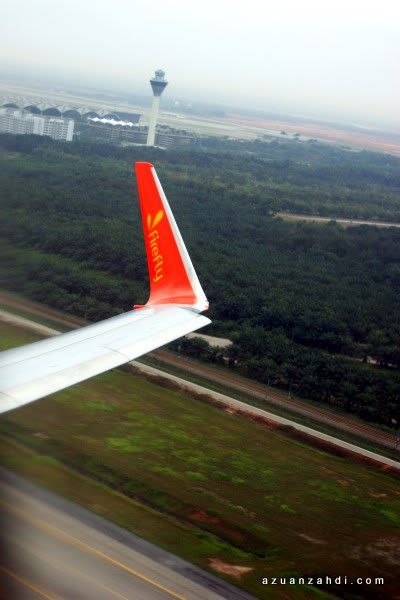 In-flight service started the moment the seat belt signs were switched off. Boarding pass was used as reference for meals that was pre-ordered through standard and premium packages. Note my seat number!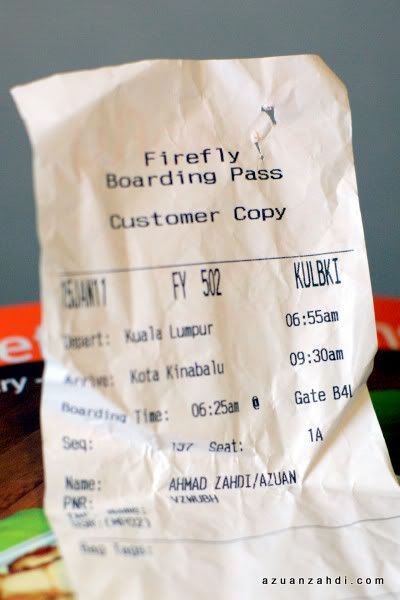 Being on the first row allows ample legroom (the best being seat 2D, 2E, 2F).
Quite a good range of food is available on-board where passengers can either pre-book or buy on-the-spot. KLAS
Tray table being prepared. I like how a piece of paper is used as table-cloth. Simple things that make a difference.
Set Meal with a 350ml of Mineral Water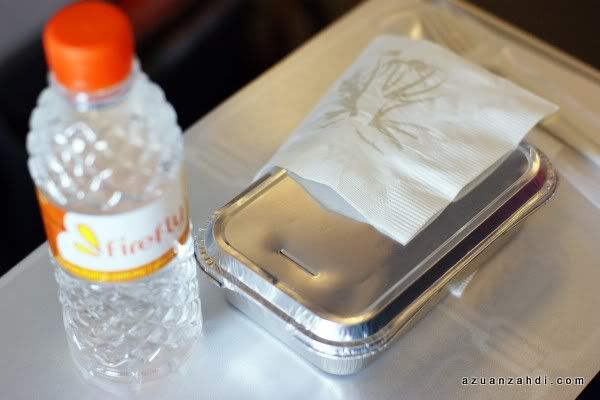 Nasi Lemak. A good choice! Yummy and nicely prepared.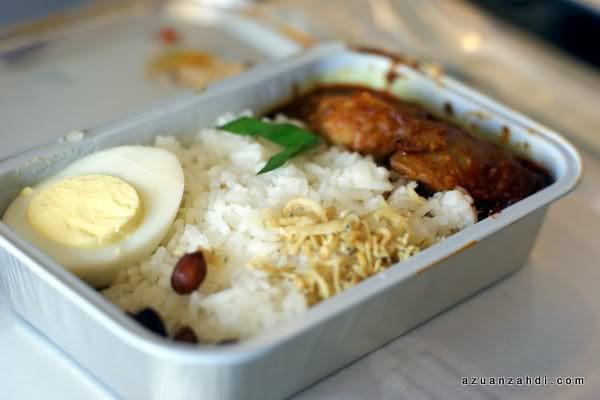 Chicken Briyani Bukhara is a so-so with the rice being a bit dry and overcooked.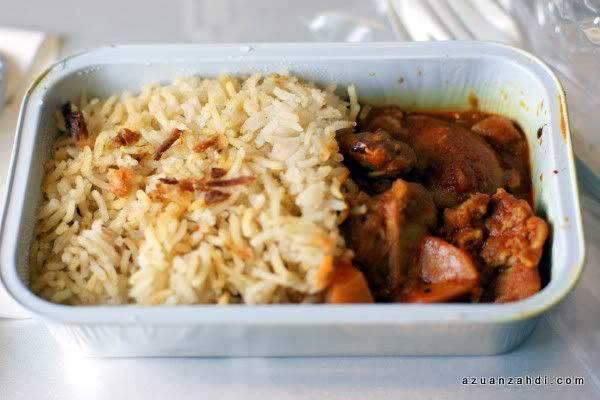 33 Rows of seats. All leather.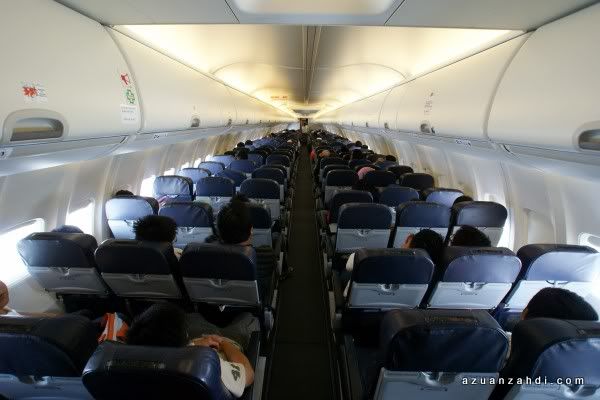 FireMen! Male cabin crew is something new for Firefly! Outfit nicely designed by Jendela KL.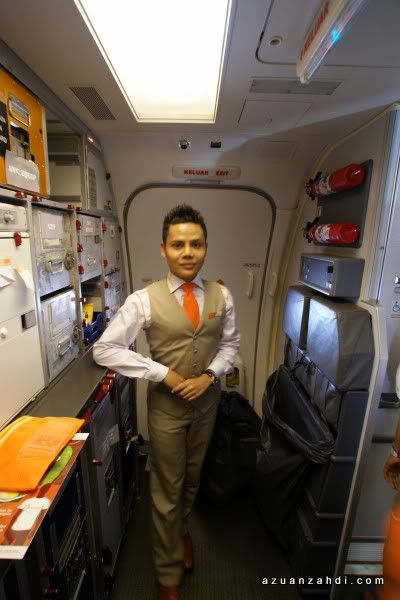 Cabin crew was quite occupied throughout the flight and made 2 rounds of service with the second one selling merchandise. I was tempted to buy something but the 737-800 plane model is not yet available.
Approaching Kota Kinabalu.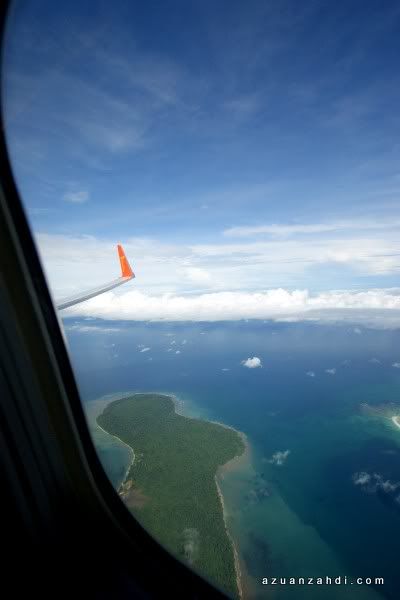 Safely landed on a sunny day!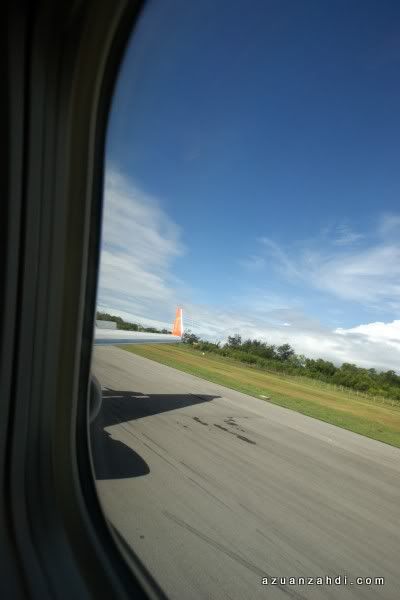 No water cannon as the flight was not the 'official' inaugural flight to Kota Kinabalu. Nevertheless my fellow aviation enthusiasts Mr. Meor and Mr. Samuel were at the passenger bridge waiting to take photos.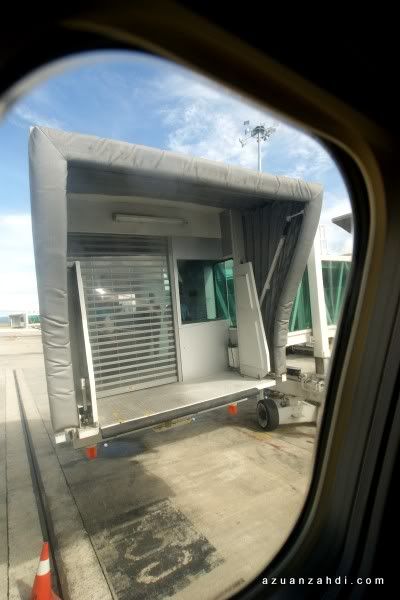 With 3 flights between Kuala Lumpur and Kota Kinabalu, Firefly is ready to seriously compete on this hot route with offerings that in my opinion is as good as premium airlines and the flexibility of 'you get what you pay for'. Just like any other airlines, promo fares can be super cheap. I love the fact that Firefly flies from Main Terminal Building that allow easier access to ERL and other connecting airlines.
I wish all the best to Firefly and blue skies ahead! Visit www.fireflyz.com.my for latest deals.
Read more of my fun adventures exploring Kota Kinabalu by clicking the links below:
A) Firefly flight from KL To KK {click here to read}
B) Jambatan Tamparuli, Pekan Nabalu, Kinabalu Park & Kundasang {click here to read}
C) Manukan and Mamutik Islands { click here to read}
D) Kota Kinabalu Seafood Galore { click here to read}
E) Shop till you Drop @ Kota Kinabalu { click here to read}
F) Flying home from KK with Firefly { click here to read}