In the spirit of Hari Raya, Firefly had its annual Hari Raya Open House for members of the media. Being a blogger that occasionally writes on Firefly, I was again invited to join the celebration held at Rebung Restaurant in Bangsar. For one night, it was cool to attend a Firefly function without having the need to write a review on it. Just an evening of fun times with good food and cool bunch of Firefly-ians.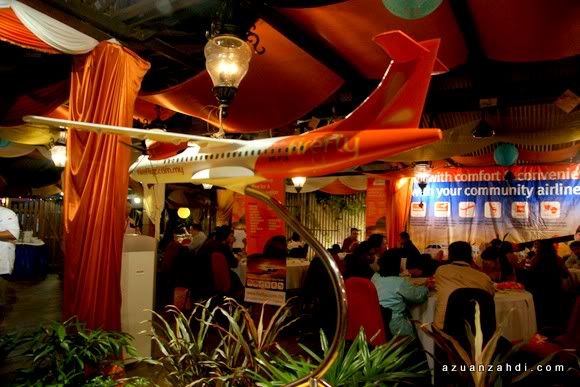 Thanks to the crazy KL traffic I was fashionably late by an hour. Still a warm welcome by familiar faces of Firefly MarCom boys and girls elegantly dressed in traditional Malay costume. It was funny that I suddenly heard someone saying "Oit, you survived Sabak Bernam ke?" It was none other than James, who was referring to My Selangor Story experience 🙂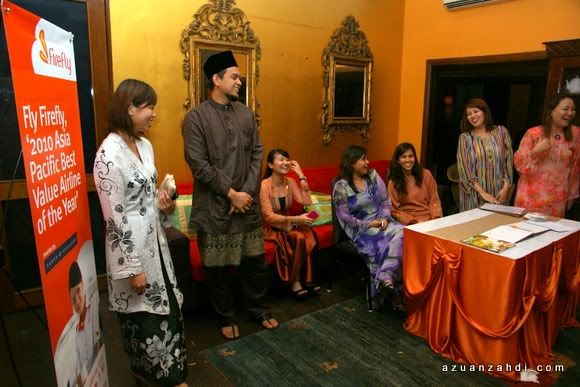 Datuk Eddy Leong welcoming the guests. I was anticipating Datuk Eddy's speech for any new announcement in terms of new route/destinations and new 'modus-operandi' of Firefly out of KUL but nothing was mentioned. Not yet 😛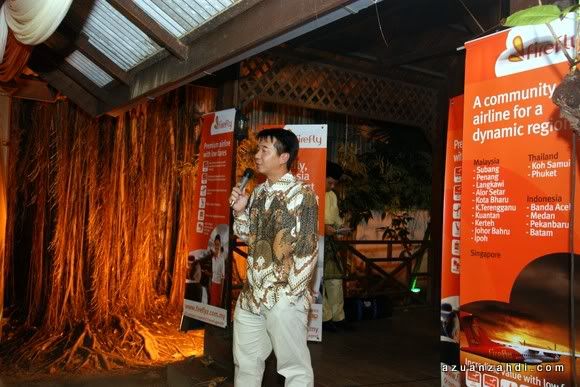 Food!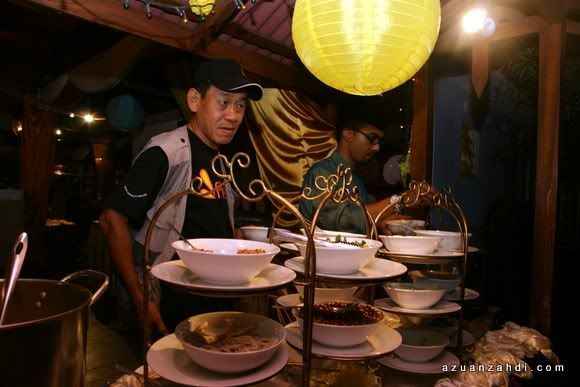 Can I have this gigantic ATR model for my upcoming birthday? LOL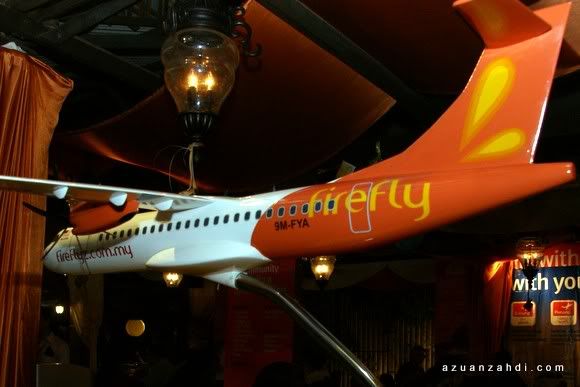 Or these as birthday presents? 😛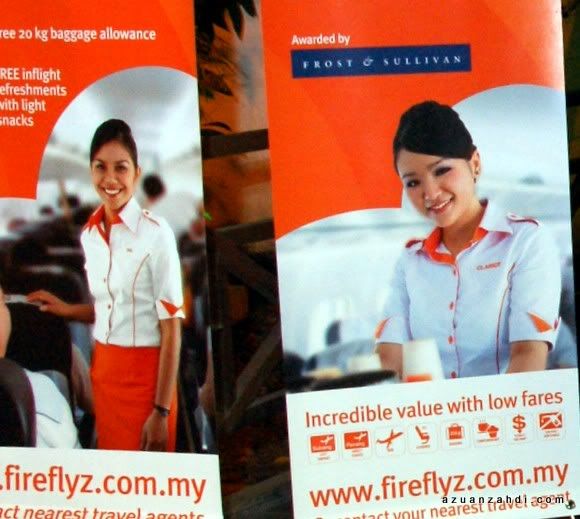 Lucky draw session.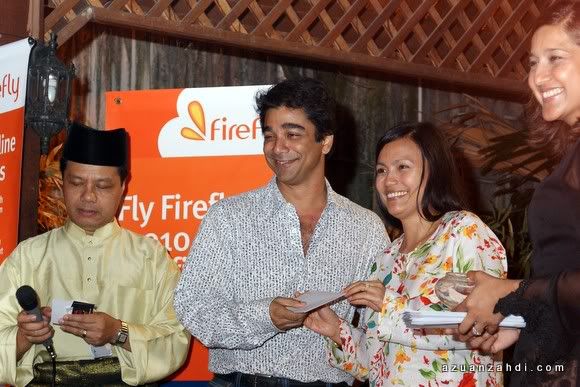 Bro Shahrin who I got to know through our trip covering the inaugural Firefly flight to Singapore last year. He was lucky enough to win an ATR72 model despite wanting the Batam tickets badly.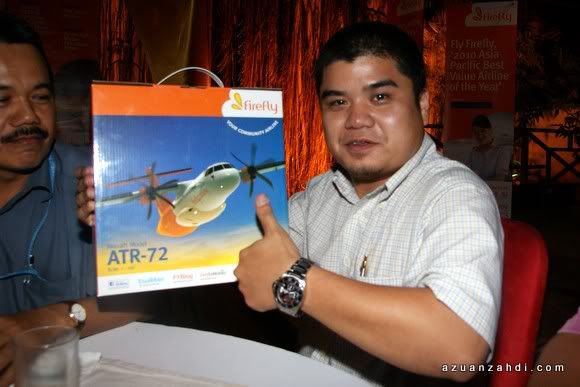 My personal card got picked as one of the last lucky cards.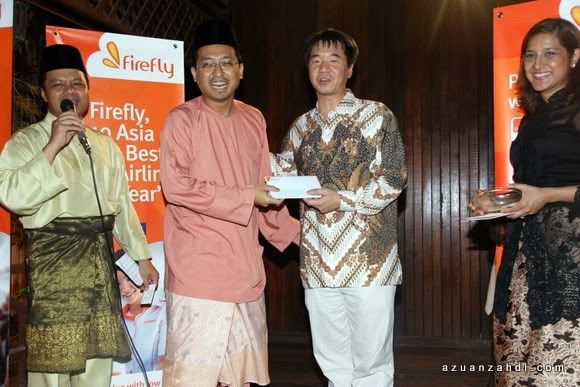 Thank you Datuk.
SZB-SIN-SZB excluding tax. Seen ehre with another free jersey. This time my wife's size so we got a matching pair of this orange jersey 🙂 Not too bad 🙂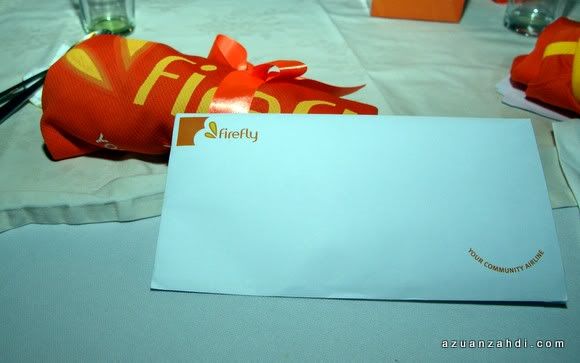 For the album. Thanks James for these great photos.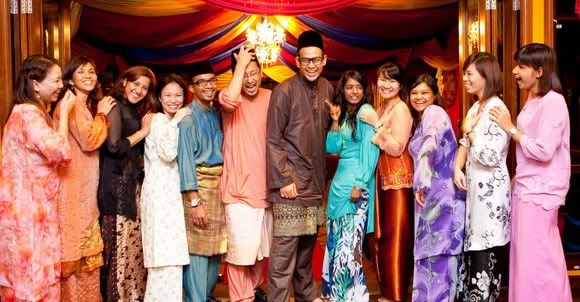 With the friendly Natalya.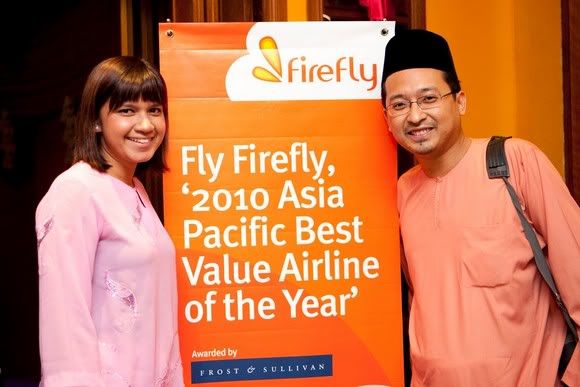 Thank you Firefly for not only the invitation but also many great opportunities for me to write about throughout the year 2009 and 2010. From the 300 average visitors that I have on my blog every day, around 100 visitors are usually someone that came through search engines looking for terms like "Firefly Airlines review", "firefly airlines deals", "firefly stewardess" and "Firefly Airlines opinions". I hope that I can continue writing reviews on the airlines and help to increase the awareness of the brand at the same time enjoy continuous flow of traffic on my blog.
One last 'wrong camera settings' effect by James.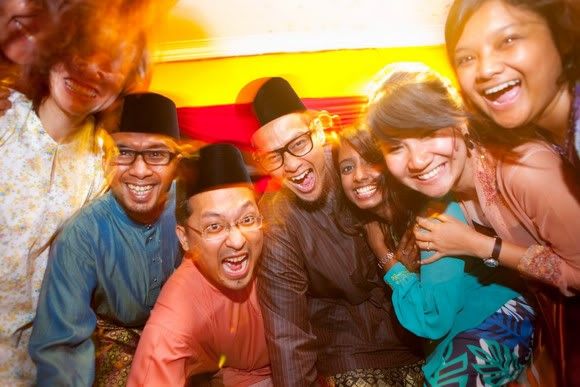 Terima kasih and Selamat Hari Raya.