Closing time – time for you to go back to the places you will be from…
So gather up your jackets, and move it to the exits – I hope you have found A friend.
Closing time – every new beginning comes from some other beginning's end.
– Semisonic's Closing Time
All good things must come to an end. Day 6 (28-09-2010) was the last day of My Selangor Story 2010. A traveling day for the bloggers to return to their respective hometowns as far as Indonesia, Singapore and Penang.
I anticipated the 6 days trip to be tiring, fun and exciting and I was right. However to be honest, one thing that I totally did not expect is the opportunity to make new friends and learned lots of new knowledge about blogging, travel and 1,001 other things.
In this last post of My Selangor Story 6-parts submission, I would just summarize my first 5 posts/days and share some behind the scenes and best moments from each of the days of the tour from the perspective of my lenses.
Day 1 – Subang SkyPark – Carlton Holiday – i-City and Uptown Shah Alam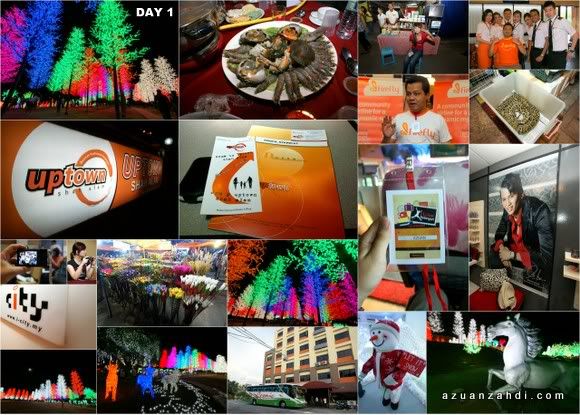 Behind the scene, I actually 'volunteered' to sing one song on stage at Uptown Shah Alam at 1 a.m. in the morning! What happened was, the famous Mr. Ambassador of Upton Shah Alam, En. Irwah Shah had a pair of microphone and was asking one of the bloggers to go up to stage after Amelia's performance. No one responded despite the few offers and I thought it was not so nice to treat the host that way. So in the spirit of 'no such thing as NO THANKS' I went up and lip-sync the whole song of Cari Jodoh.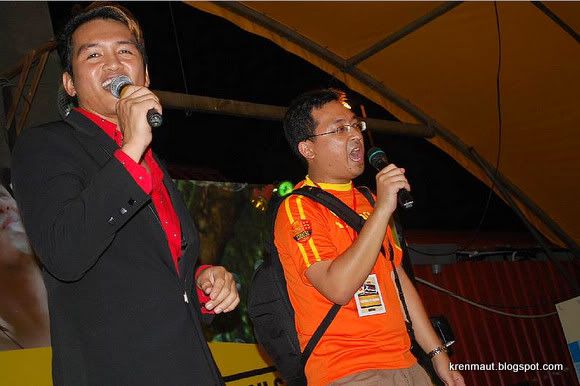 No it's not on YouTube 😛 (photo above from Abang Ben). Click here to read my Day 1 Story
******
Day 2 – Royal Selangor Visitor Centre – Lunch with YB Elizabeth Wong – Genting Highland Resort – Dazzle Show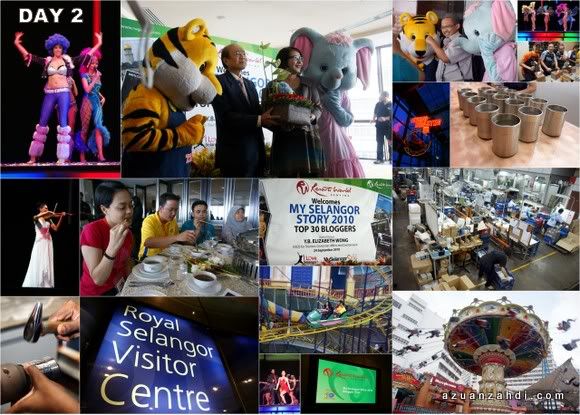 Behind the scene, one KISAH TERLAMPAU almost happened in Genting. While walking at the indoor theme park with Mr. RunWitMe, one neatly-dressed guy approached me and said "Bro…". I thought he was lost and wanted to ask directions so I attended to him. Then he came out with the magic question "You mau amoi ka?!! Local ada, China mari ada" I was stunned and confused. I was walking with RunWithMe but he only stopped and spoke to me. Do I have that 'hamsap' look ka? Well better Hamsap look than a Nerdy look? Hehehe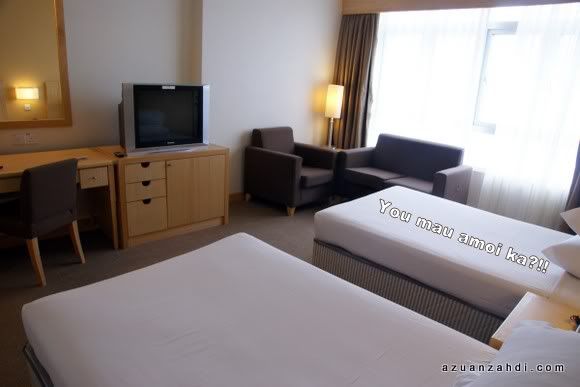 Click here to read my Day 2 Story and Click Here to Vote 5 HEARTS for My Day 2 Post.
******
Day 3 – Chin Swee Temple – Kanching Waterfalls – Haji Dorani Homestay – Fireflies – Satay Hut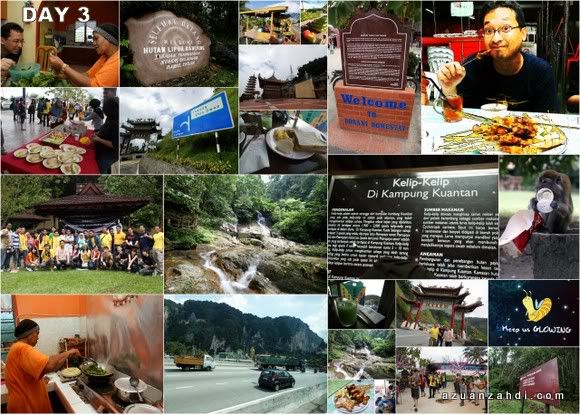 Behind the scene, it was Sylistic's first time being outside Singapore alone and first time in Kampong. After knowing that fact, our foster parents prepared a special dish of Fried Chicken (which was not part of the original menu!) just for Sylistic and me. They were really concerned about Sylistic's taste bud and they told me that they were happy seeing him finishing two full plates of White Rice + kangkong + Fried Chicken + Chili Sauce! Well done bro. You've survived Kampung (with some modern-style fried chicken!) 🙂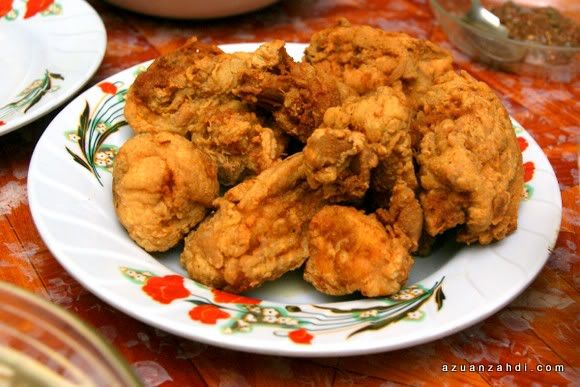 Sylistic enjoying the green….One thing many people didn't know is that he also brought back 'souvenir' on his head after bumping his forehead to the low-ceiling of the kampong house.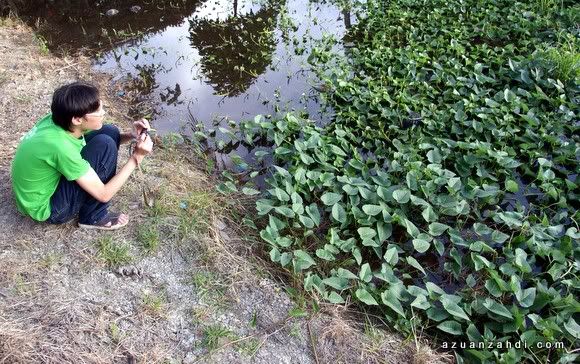 Click here to read my Day 3 Story and Click Here to Vote 5 HEARTS for My Day 3 Post.
******
Day 4 – Haji Dorani Homestay – Sunway Pyramid Tower Hotel – Sunway Pyramid – Sun & Surf Café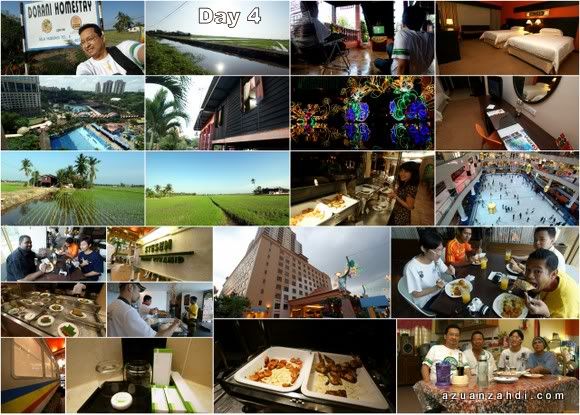 Behind the scene, MsXeroz and Wen Yi, two of the many lengluis of MYSelangorStory decided to snap some last minute photos with the beautiful backgrounds of Kampung Haji Dorani. What many did not realize, a few kampong folks on motobikes and cars were actually slowing down with all their eyes glued to the two girls. If the girls continued to take photos longer than what they did, surely one car or bike would end up in the paddy field! Hahaha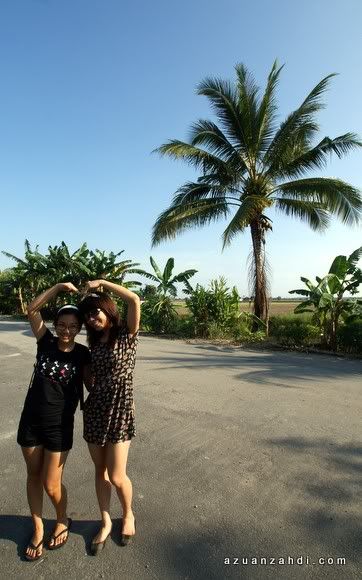 Click here to read my Day 4 Story and Click Here to Vote 5 HEARTS for My Day 4 Post.
******
Day 5 – Tropicana Medical Centre – Frames – Sunway Lagoon – Haven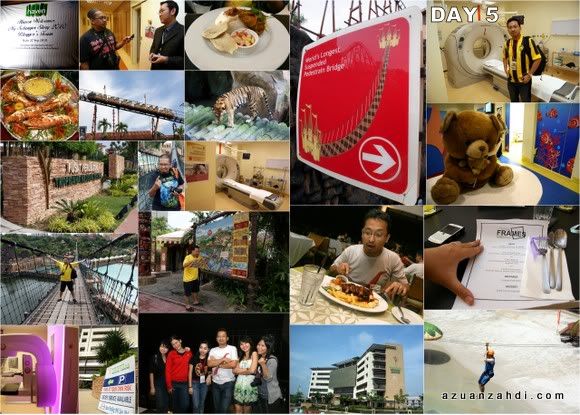 Behind the scene, I find it funny that there was one time during the tour at Tropicana Medical Centre, while bloggers were busy snapping photos, a pair of serious hospital officers in uniform were seen pushing am empty and funny-looking trolley with a log book on top of it. I remember looking at Amelia and she gave me the curious look as well. In the end it was nothing alarming besides just little tricks from our own creative minds 🙂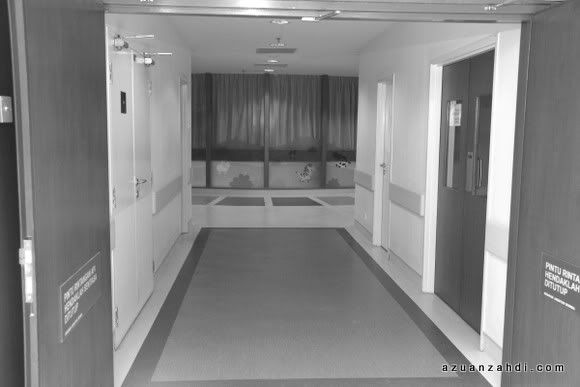 Also who could not forget the Day 5 incident of being stuck in Ampang traffic jam! It was quite a tense moments with everyone being quite and hoping for the bus to move more than 1 inch per minute! The only person that was calm was Sylistic which turned on his notebook and start surfing using the wi-fi signal from a McDonalds 10 metres away.
Click here to read my Day 5 Story and Click Here to Vote 5 HEARTS for My Day 4 Post.
******
Day 6 – Pyramid Tower Hotel – Home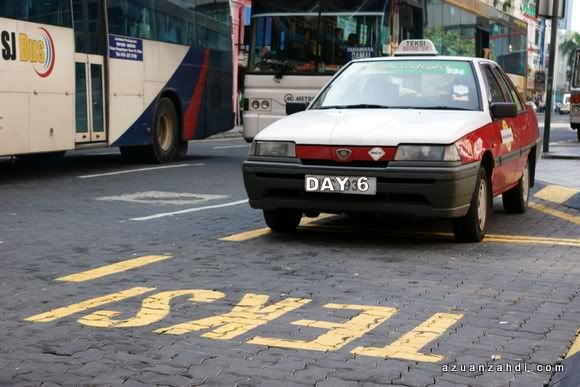 I left around noon after saying a quick good-bye to the other bloggers. In a way it was quite sad to leave but on a positive side, it is a great start to a great friendship with each other! As what Abang Ben said, Chicks, Nerds and Monkeys…. We are all the same 🙂
Something interesting happened when I took a taxi back to Shah Alam from Sunway Pyramid. Co-incidentally the taxi driver has just started blogging! When I told him about MSS, he asked me to guide him on how to write travel blog posts. Instead I told him that I want to tag along with him and start writing about his experience as taxi driver. If this happens, it would be interesting to come back to AzuanZahdi.com and check out these articles in the future!
******
Final Words
Before I end the official submission of the six-day posts, allow me to thank the following:
Amelia, our 'Mummy' for 6 days and also Horizon Communications. The genius behind the whole My Selangor Story concept. Thank you for choosing me as one of the top30 bloggers and having high level of tolerance! Thank you.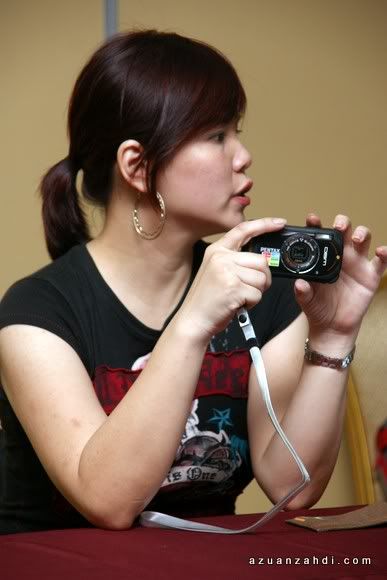 En Fazly Razally from Tourism Selangor. Thank you for having this kind of program and trust in the power of blogging and social media.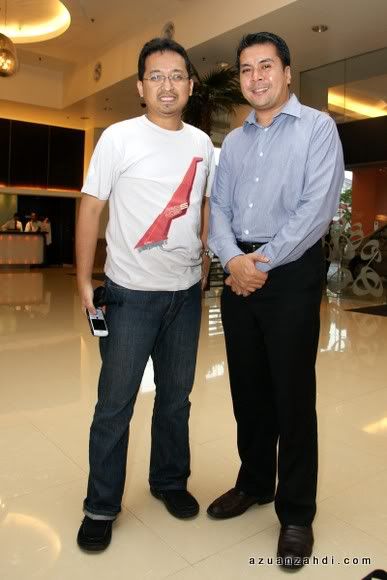 En Hafeez and the rest of Tourism Selangor gang. Jangan serik!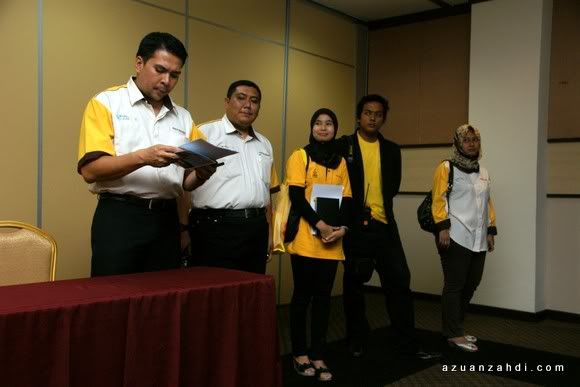 Kak Ning, the knowledgeable tourist guide. Terima kasih.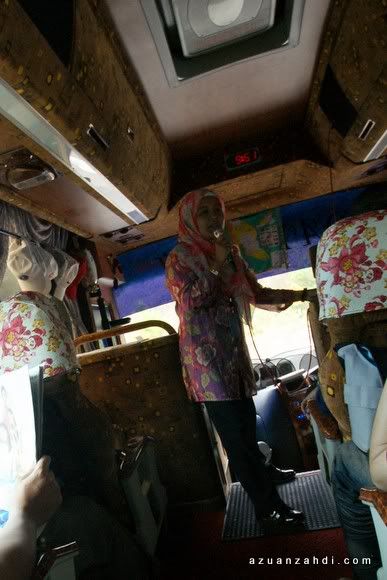 The brothers from TV Selangor. You guys rock!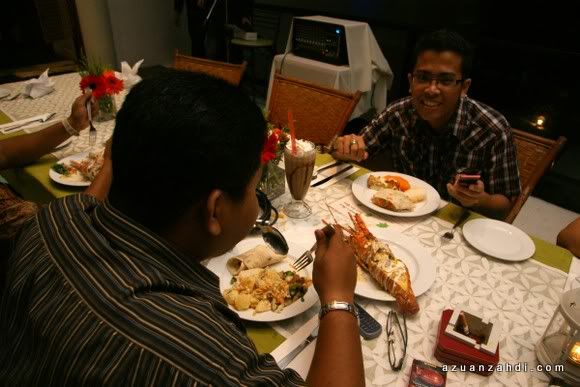 Not to forget, Gilbert. The 'ganas' looking pilot of our bus.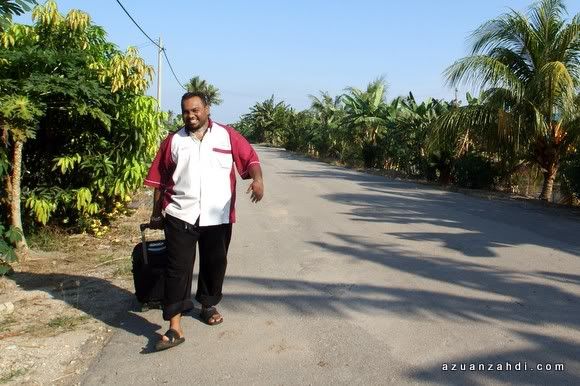 Ganas looking but with Winnie The Pooh accessories! Conflicting wei!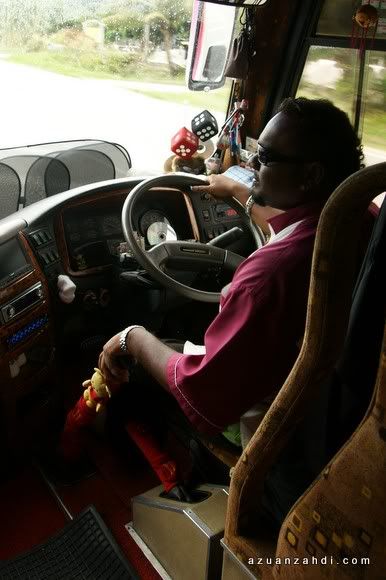 And of course, the bloggers, friends, buddies, roomies, bujang lapuk, lengluis. Thank you for the fun 6 days.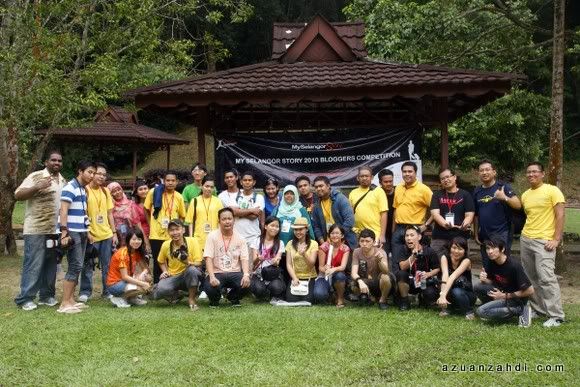 Planning for a trip to Selangor? Not sure where to stay? Check out AGODA's website (click the banner below) for a one-stop comparison of all hotels in Selangor and other places in Malaysia from budget to 5-star. I am personally an AGODA fan and have saved a lot on my accommodation cost for my travels.

Last but definitely least, the sponsors.
• Firefly (Official Airline) – http://www.fireflyz.com.myy
• Pentax (Official Camera) – http://www.dscworld.com.my
• Tropicana Medical Centre (Official Medical Centre) –http://www.tropicanamedicalcentre.com
• Resort World Genting (Offical Resort) – http://www.rwgenting.com
• Sunway City Berhad (Official Integrated Resort)-http://www.sunway.com.my/lagoon/
• P1 (Official Broadband Provider) http://www.p1.com.my
• TV Selangor (Official Online TV) – http://www.tvselangor.com
• Royal Selangor (Official Souvenir Shop) –http://visitorcentre.royalselangor.com/vc/
• Haven Restaurant (Official Restaurant) –http://www.havenrestaurant.com.my
Thank you. Azuan signing out.