Closer to home, Sunway, Damansara and Ampang were our destinations for day 5 of My Selangor Story 2010. Since Day 6 was just a traveling day, day 5 was actually the grand finale of "Season 1" of My Selangor Story bloggers competition/tour. The best way to summarize the destinations and activities of Day 5 would be "Saving the Best for Last!"
If you have not read my previous posts, click here for day 1, here for day 2 here for day 3 and here for day 4.
Sharing a room at Sunway's Pyramid Tower Hotel with "Joe" was quite cool. He was quiet and non-existence for the whole night that gave me the feeling that I was all alone in the room. A good night sleep and a delicious breakfast buffet at the hotel's Atrium Café prepared me for a busy yet fun Day 5.
Day 5 – First Stop: Tropicana Medical Centre, "where it's all better!"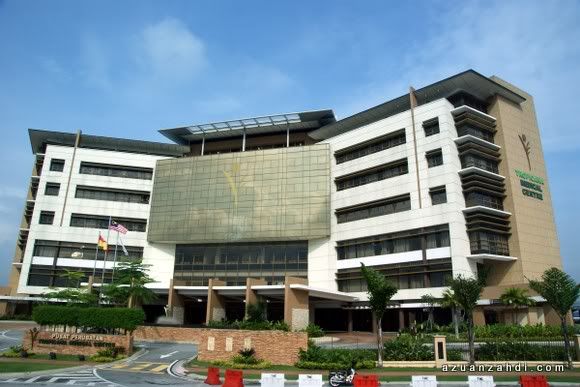 One might ask "What does a Tourism Program has to do with a Medical Centre?" Well in case you don't know, Medical Tourism is the in-thing and a growing sub-sector of tourism worldwide! I remember when I did a paper on Medical Tourism during my MBA years a while back; many of my classmates did not see the potential of it in Malaysia.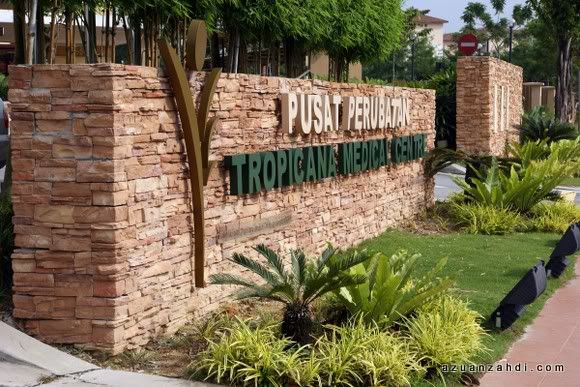 I am glad that few years later, the industry starts to pick-up and as part of My Selangor Story 2010, we were given the chance to showcase one of the 'tourist spot' of Selangor in terms of medical tourism, the Tropicana Medical Centre.
Bloggers were greeted by the friendly and knowledge-able Mr. Alan Chin (Marketing Manager) and Puan Hayati Abdul Rahman (Account Manager) representing Tropocana Medical Centre. Seen here being interviewed by Abang Ben.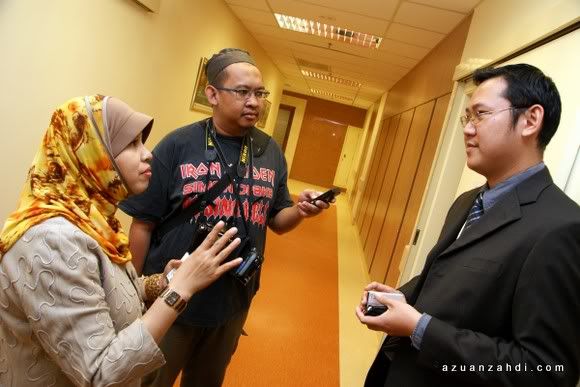 Personally, there are 2 ways for me to judge a medical centre. The doctors and the facilities. The others are just secondary.
Quoting from it's website, Tropicana Medical Center is empowered by a panel of over 50 commendable consultants from various specialties and sub-specialties, positioning TMC as a premium healthcare provider with the following Centres of Excellence :
Fertility Centre
Women & Children Centre
Heart Centre
Diabetes & Kidney Centre
Imaging & Image Guided Surgery Centre
Aesthetic & Cosmetic Centre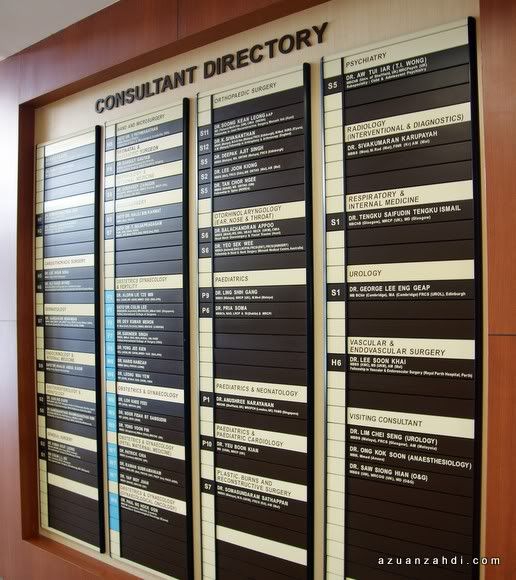 In terms of facilities, the tour given to us has proven that TMC has a range of facilities that you would usually find in a private hospital in Malaysia plus additional equipments to cater the requirements of its Centres of Excellence.
Take this Digital Mammogram with Computer Aided Detection software equipment as an example. It has one of the most advanced features that not only provide accurate information but also provide a pleasant experience to the patient. It was so cool to see the Mammomat Inspiration's panel changes color to match the patient's personal preferences giving a very calming feeling. Note: AzuanZahdi.com supports early detection!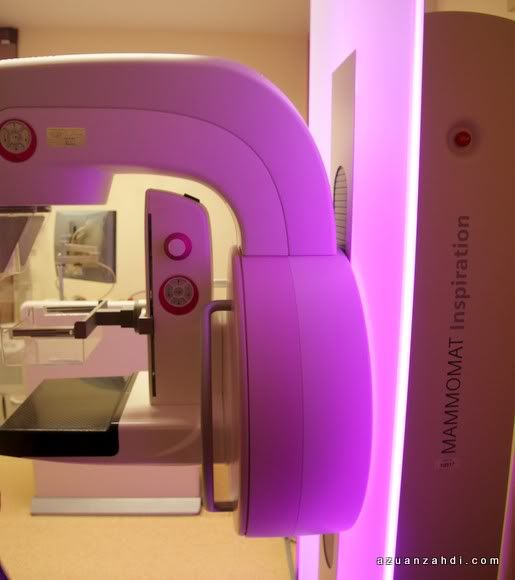 Some other modern equipment at TMC.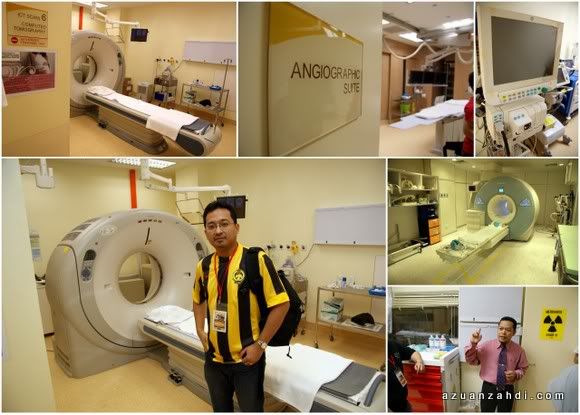 For a Medical Centre to be an international medical tourism destination, the facilities must be way above par. These features can be seen throughout Tropicana Medical Centre.
Waiting Room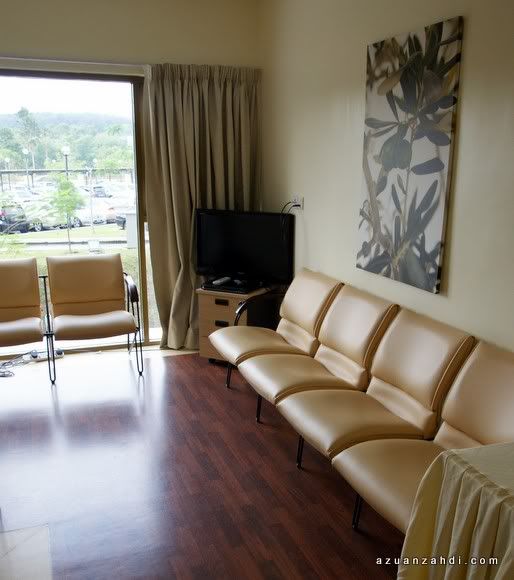 Rehabilitation Centre
TMC Children Centre – well-designed with Underwater theme. Rest assured, the doctors are not cute cartoon characters with Green glasses frame. LOL!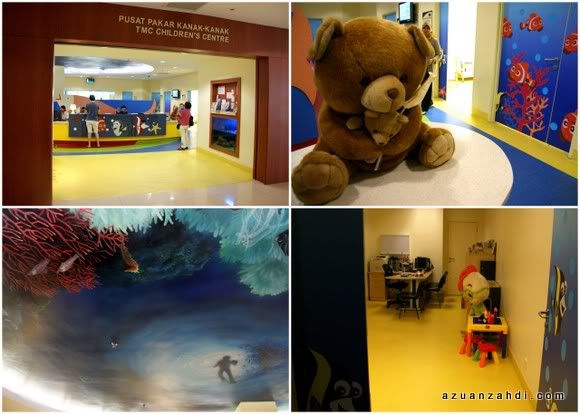 But personally I would say the highlight of the visit to TMC was the Fertility Centre.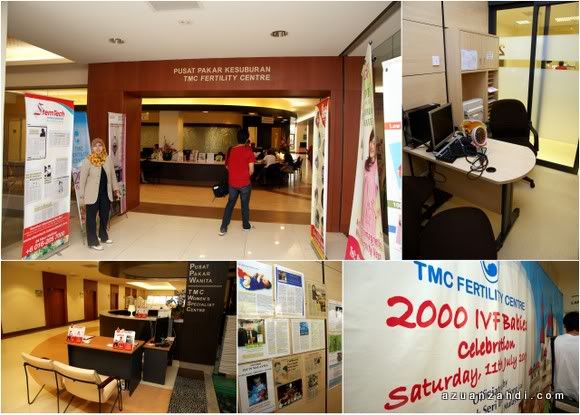 Personalize, discreet, respect, friendly are some of the features that I can seen being portrait by the staff at TMC's Fertility Centre. It has an excellent track record and success stories with an experience team of Obstetrics and Gynaecology led by Dato Dr. Colin Lee the founder and Director of Damansara Women's Specialist Centre which is now known as Tropicana Medical Centre.
Bloggers had a good laugh when we toured the Semen Collection room.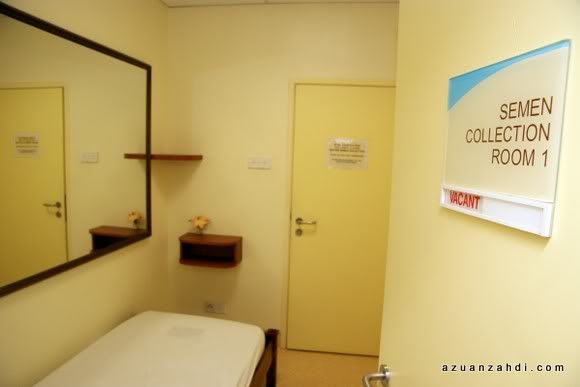 But believe me there is nothing funny when there is a private hospital in a Klang Valley that actually make the patients to do semen collection in normal public toilets in the hospital! Therefore, to see TMC's having all these expertise and facilities was really an eye opener on both blogging and personal perspective 🙂
Thank you Tropicana Medical Centre.
After the visit to TMC, we were bussed away back to Sunway for lunch at Frames, another classy F&B outlet in Sunway Pyramid. Great settings (lots of frames!) and quite delicious food.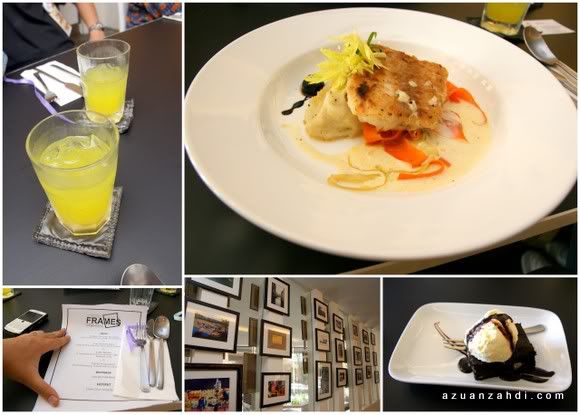 Followed by some chill out time at Sunway Lagoon! My first trip to the theme park despite staying 20 minutes away! LOL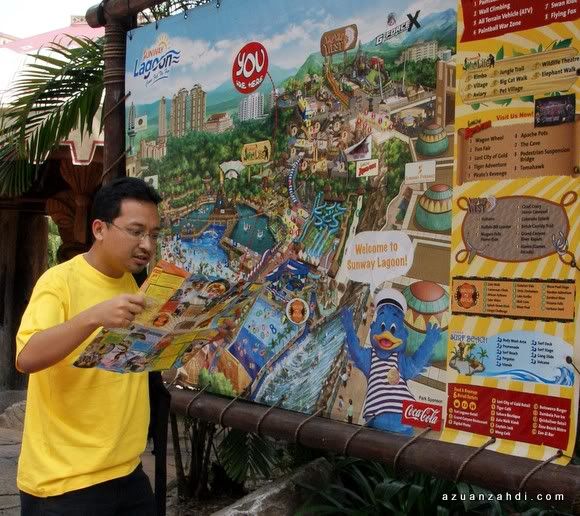 That explains why I got lost for the first 15 minutes! I tagged along with Abang Ben and his buddy Joe to first explored the Extreme Park. Bungee Jumping (RM100 – 50% off for Malaysians now!), paintball, ATV, Archery, Flying Fox, Cart and many more.
We ended up on the least extreme of walking on the World's Longest Suspended Pedestrian Bridge.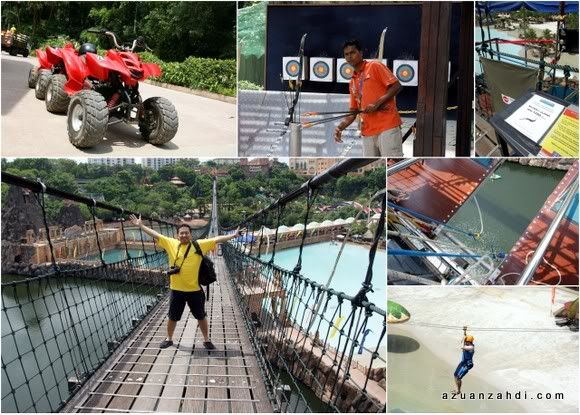 Something not right with the sign below?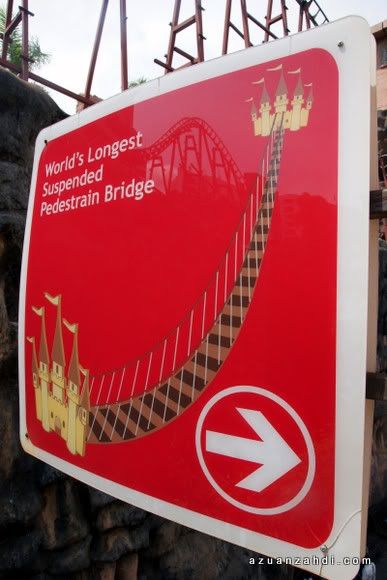 I love the scream park especially the 3D Rumah Hantu walk!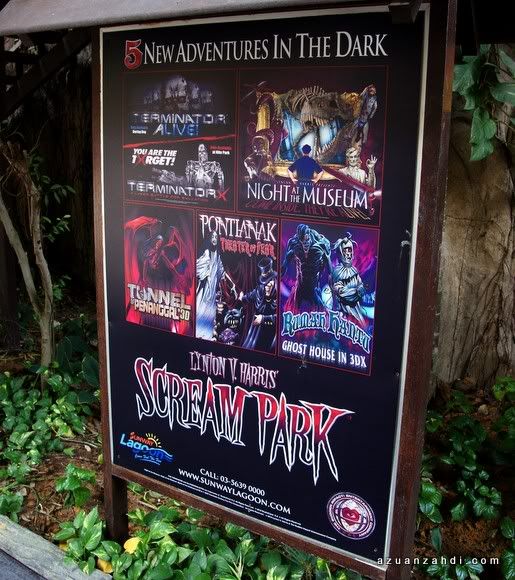 Tiger Show~!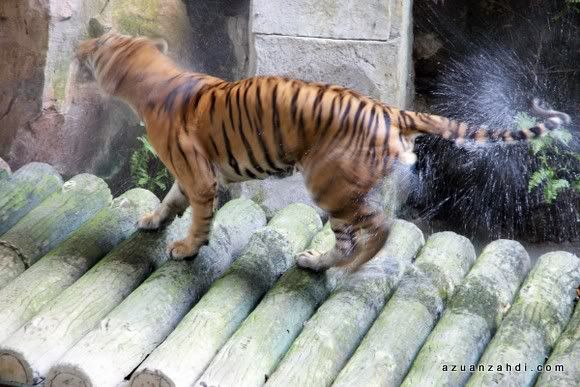 We went to almost all the thrilling Roller Coasters. Since it was Monday, the crowd was manageable and we did not have to queue more than 5 minutes at each ride. So go on weekdays if you can!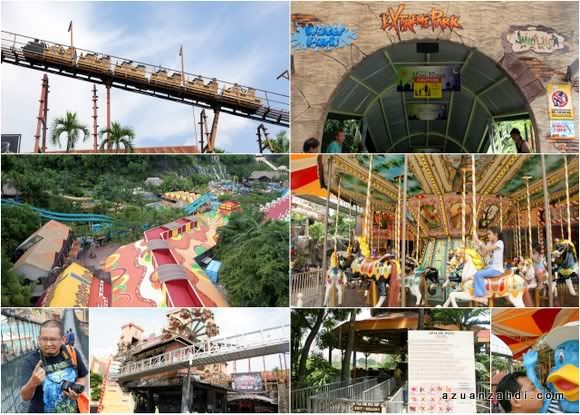 Four hours in the park are long enough to build up our appetite. As I said earlier, My Selangor Story 2010 ends with a bang! The exclusive grand finale dinner at the Haven Restaurant in Ampang's Lookout Point, the official restaurant of MSS.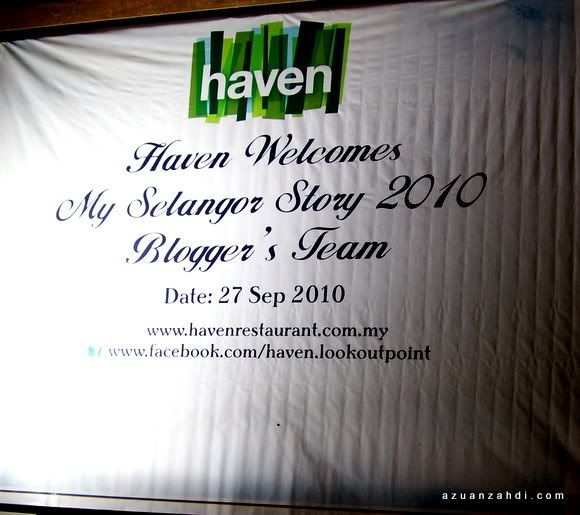 "WOW!"
That was my first impression when I was greeted by Mr. Anantharaj Appanan of Haven.
Nice view of KL (despite the rain)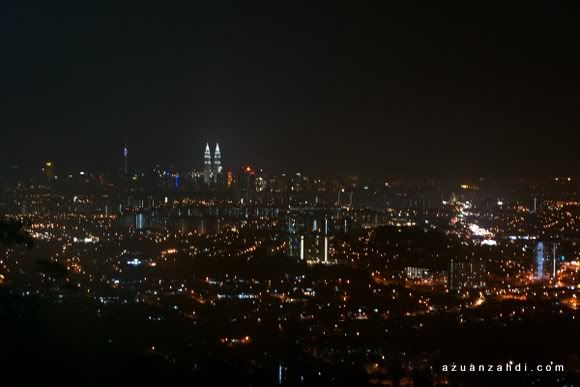 The interior décor of Haven is something that attracted my attention the most. The restaurant has this 'feel good' ambience providing a balance of relaxing, calm and romantic feelings.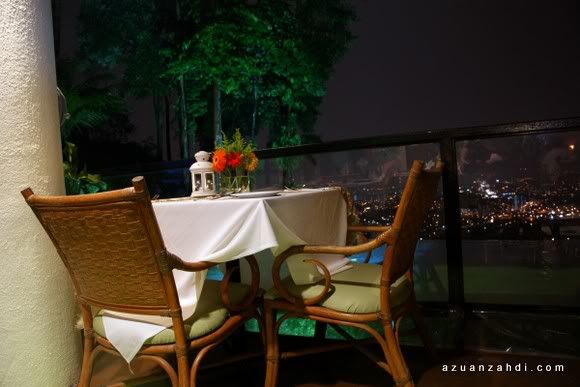 Live.Love.Laugh. Describes both Haven and My Selangor Story. Make sense to end the great trip here!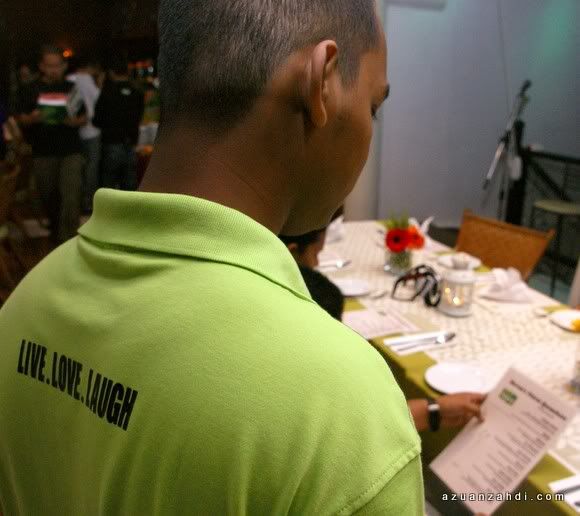 My appetizer. Lobster, salad,etc…. LOBSTER for appetizer! "Please don't wake me up from this beautiful dream!"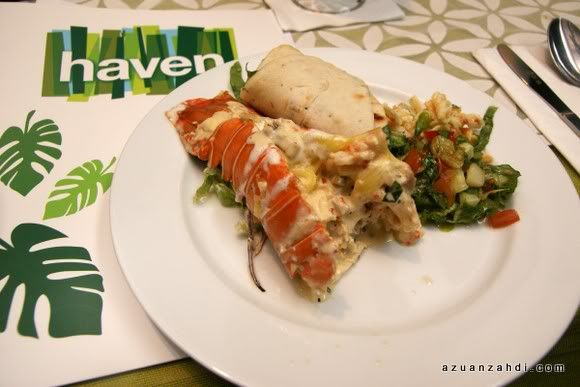 Where it came from!
Good food = Happy Blogger 😛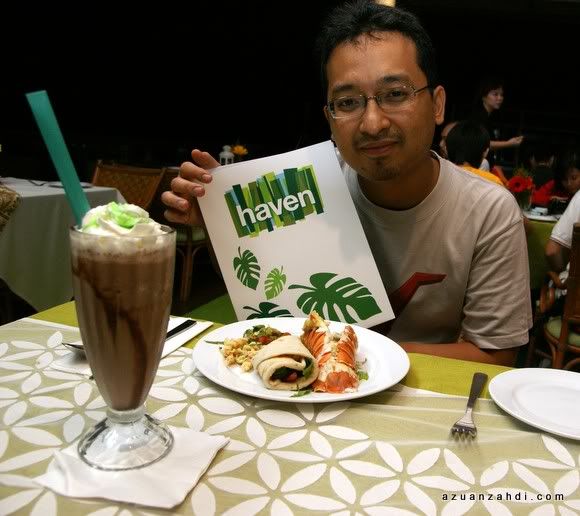 My main course – Haven's Special BBQ Beef Black Ribs. Succulent and juicy beef ribs cooked to perfection and coated with Haven's special BBQ sauce.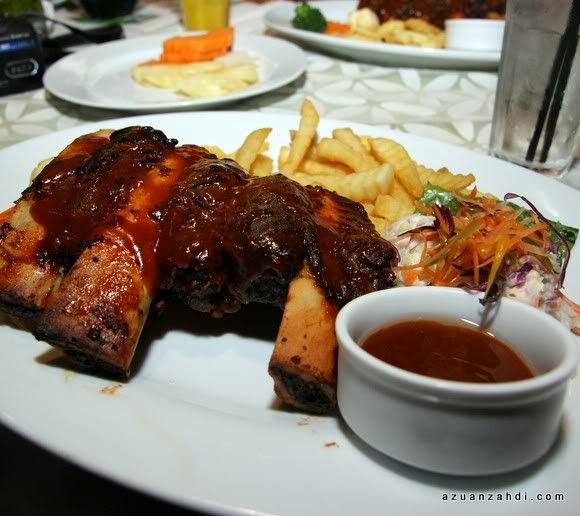 Size does matters! It's one huge portion!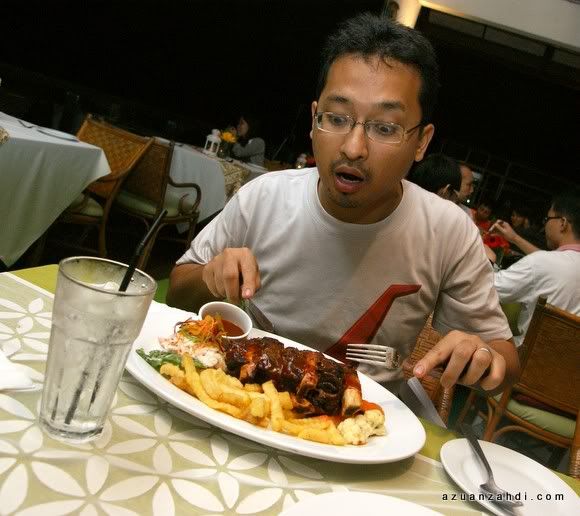 Haven also provided live acoustic entertainment by One Night Service. Bro Eyriqazz loves the performance and was seen singing all the way!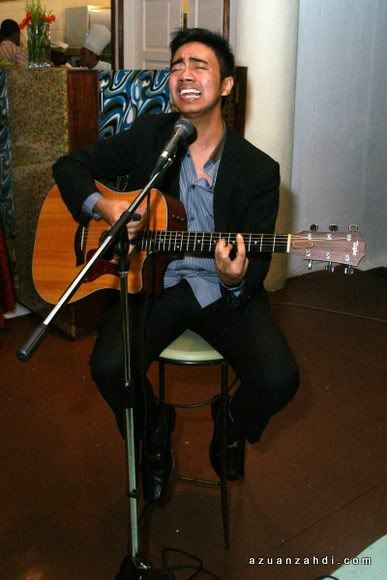 The night ended with lots of laughter, smiles, stories and friendship thanks to MY Selangor Story. 28 strangers ended up as 28 friends after 5 days!
The Bujang Lapok.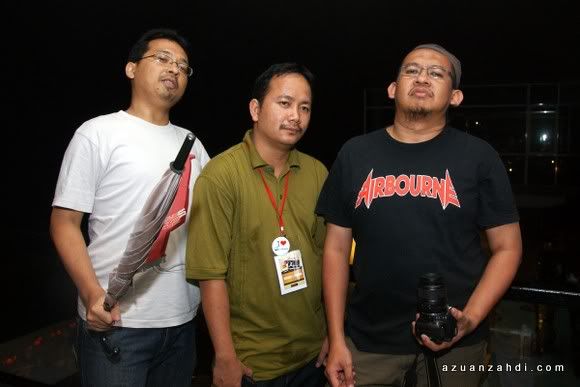 Some of the leng-luis….. good food, romantic haven, pretty girls… I miss my other half! Hahaha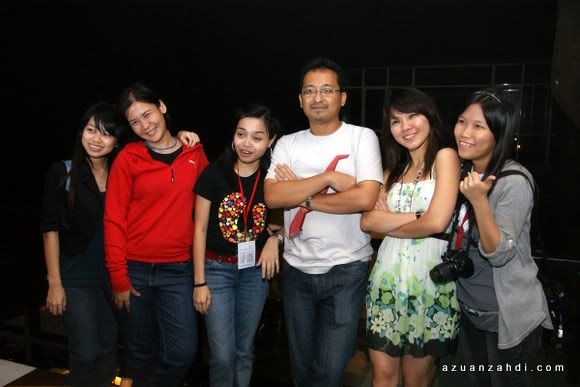 Thank you Haven for a great 'final night' venue with superb food!
Planning for a trip to Selangor? Not sure where to stay? Check out AGODA's website (click the banner below) for a one-stop comparison of all hotels in Selangor and other places in Malaysia from budget to 5-star. I am personally an AGODA fan and have saved a lot on my accommodation cost for my travels.

MY SELANGOR STORY 2010 Blogger's Competition spearheaded by Tourism Selangor to promote Selangor's cultural diversity and rich tourism resource to travelers around the world. Check out Tourism Selangor website at http://www.tourismselangor.org for more details on tourism in Selangor. For flights and holiday packages to Selangor, check out Firefly Airlines at http://www.fireflyz.com.my
Sponsors of MySelangorStory 2010
• Firefly (Official Airline) – http://www.fireflyz.com.myy
• Pentax (Official Camera) – http://www.dscworld.com.my
• Tropicana Medical Centre (Official Medical Centre) –http://www.tropicanamedicalcentre.com
• Resort World Genting (Offical Resort) – http://www.rwgenting.com
• Sunway City Berhad (Official Integrated Resort)-http://www.sunway.com.my/lagoon/
• P1 (Official Broadband Provider) http://www.p1.com.my
• TV Selangor (Official Online TV) – http://www.tvselangor.com
• Royal Selangor (Official Souvenir Shop) –http://visitorcentre.royalselangor.com/vc/
• Haven Restaurant (Official Restaurant) –http://www.havenrestaurant.com.my