"You can check-out any time you like, but you can never leave!"
The line from Eagles' Hotel California best described my feeling of having to leave Genting Highlands. As the City of Entertainment, Genting Highlands is a city that 'never sleeps'. It is also a place that you can enjoy for days but unfortunately for me and 28 other bloggers, it was time for our next destination.
One last VIP treatment offered by Resort World Genting, an exclusive breakfast at the World Club Lounge, the highest floor of First World Hotel.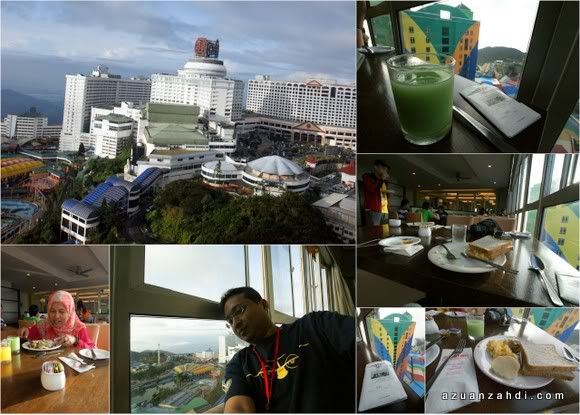 What a perfect combination to start a day. Beautiful view, delicious food and cool friends.
As we made our way down from Genting Highlands, the bloggers made a quick stop at Chin Swee Temple.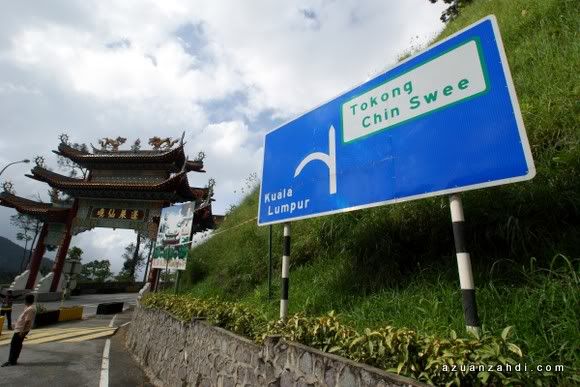 Kak Ning, our friendly tourist guide explained that this is the best spot for photo as the temple is located on the most scenic spot of Genting Highlands. It took me a good 5 minutes to walk up to the temple. I blame it on the heavy breakfast rather than accepting the fact that I'm older than most of the other bloggers. At least I'm not in the NERD age-group. LOL!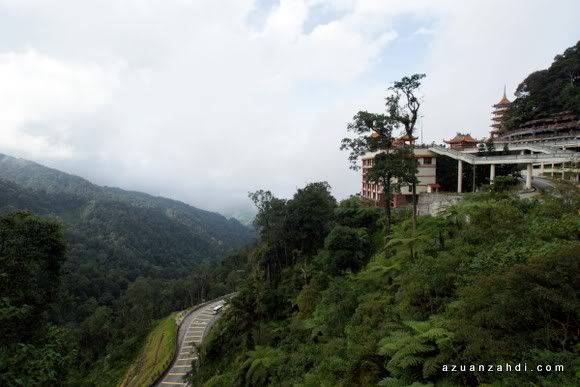 Kak Ning was right. It was quite a view despite the heavy fog making photography quite tricky.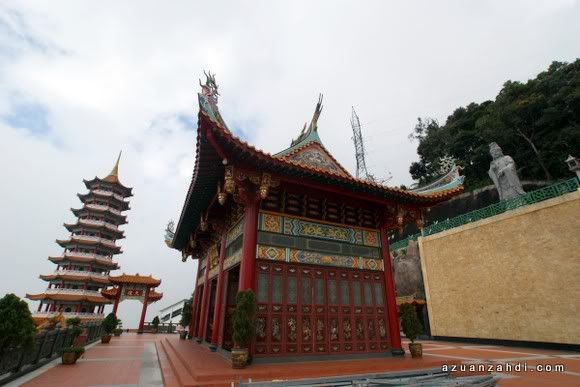 Located at an elevation of 5,800 feet from sea level, the mountain air gives a calm and cooling ambience to the visitors of the temple. This is the temple that took 18 years to build. Construction of the Temple was tough and dangerous due to the rocky terrain and inaccessibility of modern equipments. After all these tedious and time consuming work, the temple was eventually officially opened on 29 March 1994 by Tun Dr. Ling Liong Sik
"Bujang Lapok" trio at the Chin Swee Temple's entrance. Abang Ben and Eyriqazz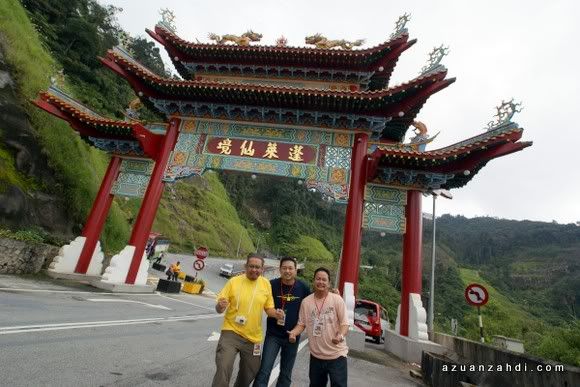 Our next stop was The Kanching Waterfalls. Located between Selayang and Rawang, this is a hidden gem for nature lovers visiting Selangor. It has 7 layers of waterfalls with the lowest 3 levels being easily accessed by families with kids. The higher levels are a bit challenging and require a bit of hiking skills and good pair of shoes.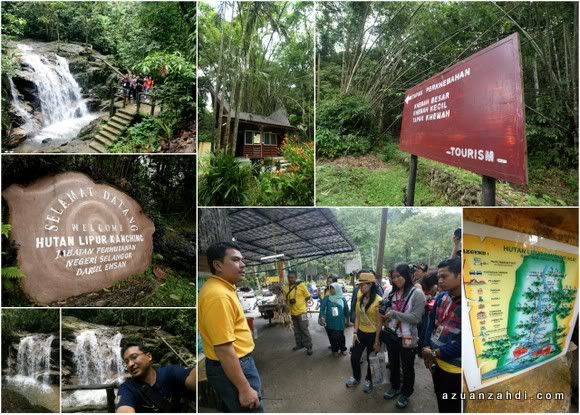 We ended up at the third tier and had some time enjoying the nature.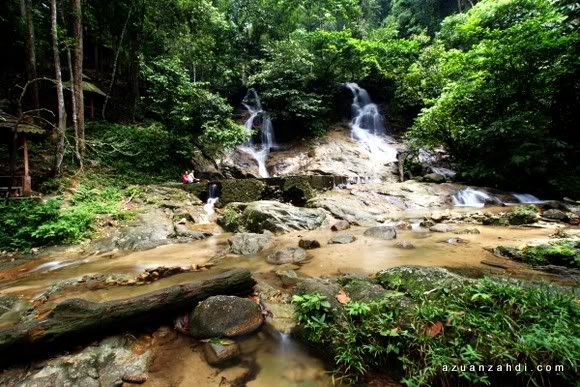 One little suggestion for Tourism Selangor is to employ a lifeguard cum security guard at each tier of the falls for two reasons. One is obviously for the safety of the visitors and another reason is to deter the visitors from simply polluting the beautiful waterfalls.It's so sad that we are at the stage where "Jangan Menbuang Sampah" signs mean nothing and people still leave their picnic leftovers behind. By having someone monitoring (or even issuing on-the-spot summonses, hopefully we can keep the beauty of Kanching for our next generation to enjoy)
Beautiful sights.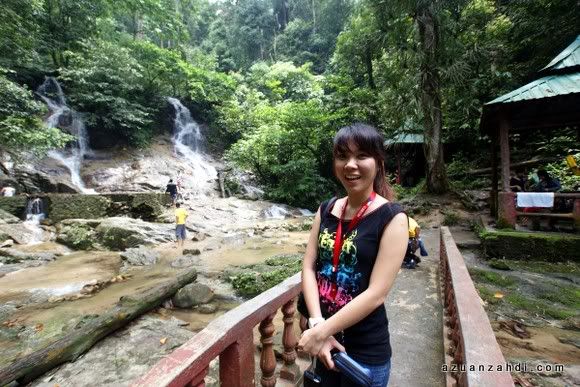 We had packed lunch in Kanching with some un-invited guest. Another reason to take your leftovers with you.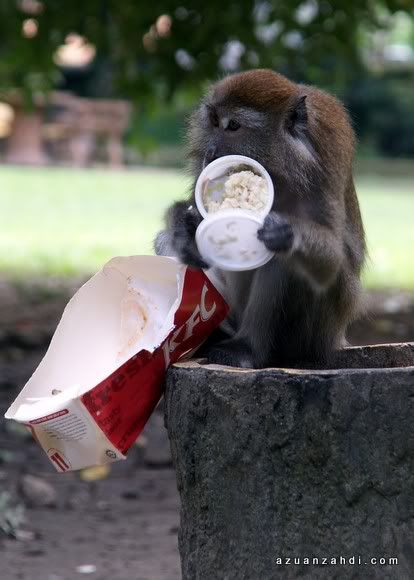 Someone didn't finish his/her coleslaw and threw it away. The monkey discovered the unopened coleslaw, opened it, and threw it back. A double insult to some Colonel in the US. 😛 hehehe
Group Photo!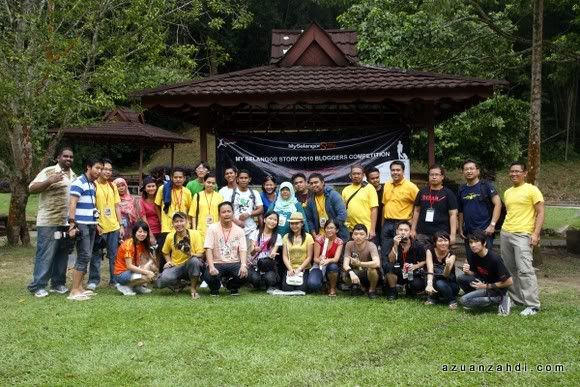 After Kanching waterfalls, a 3-hour bus ride brought us to the most northern part of Selangor, Sabak Bernam. As we drove passed Kuala Selangor and Tanjong Karang, the change of scenery was noticeable. From busy scenes of a city to relaxing sights of green paddy fields and coconut trees.
We finally reached the most famous homestay in Sabak Bernam, the Kampung Sungai Haji Dorani Homestay.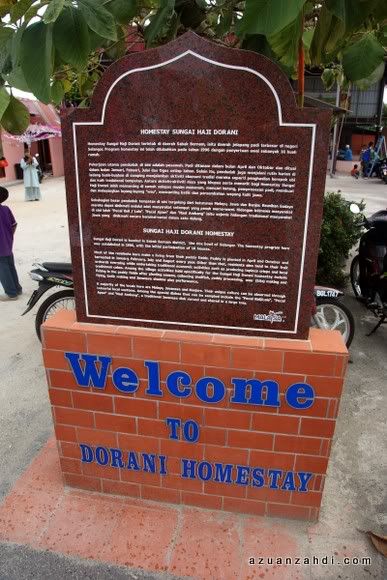 Despite being a kampung (village), we were still welcomed like VIPs complete with Bunga Manggar and Kompang.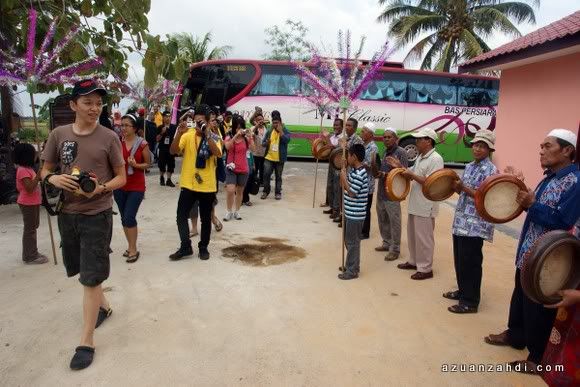 Followed by a full demonstration of Kuda Kepang and Barongan. Some of us tried and performed quite differently 😛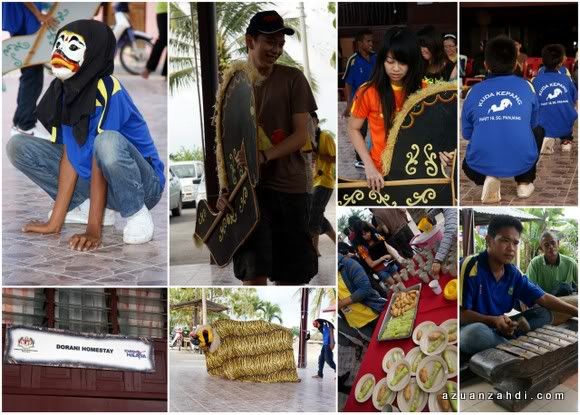 A short video of Kuda Kepang show. Taken with the Pentax Model Optio H90.
[youtubecekoi]o9wDRHGLm60[/youtubecekoi]
I was disappointed that Abang Ben did not try it out because I would love to take video of him on Kuda Kepang and put it on Youtube! Hahaha
In pairs, the bloggers were assigned foster parents and homestay for the night. I was paired with Sylistic, a young but experience chap from Singapore. He is only 18 years old and first time being in a kampong so I hope I did an OK job in making things fun for him to accommodate the stay.
A star jump to show how happy I was to be back at a Kampung with no air-cond, hot shower, internet 😛 hehehe
A tour around the house.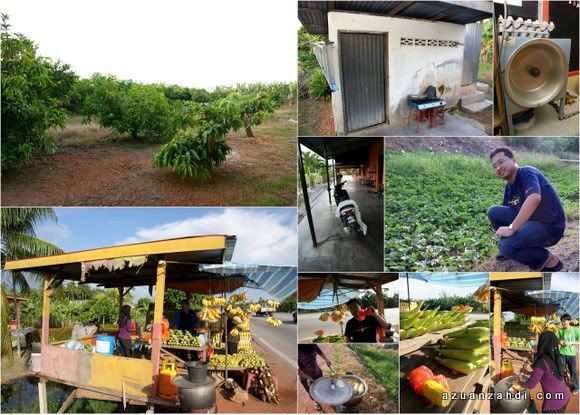 We helped out 'makcik' to prepare dinner which turned out to actually slowing things down and delaying dinner for that evening! 😛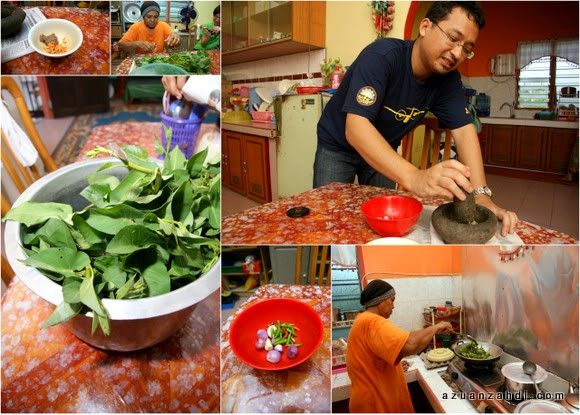 Delicious Dinner! Ketam Masak Cili Api, Kangkung Goreng, Sambal Blacan, Ayam Goreng Tepung and Sambal Belacan. Syslistic had two rounds of White Rice + Fried Chicken + Chili Sauce (Glad that you love the food bro!)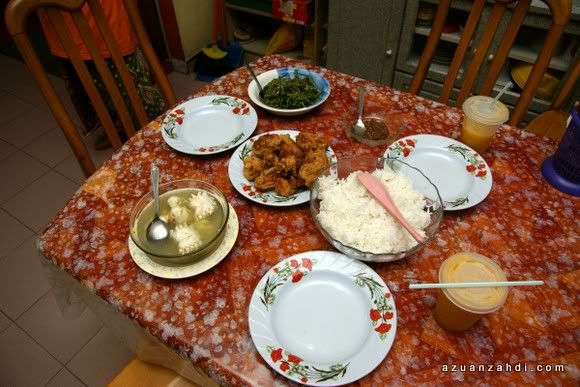 On the same evening, we went to check out the Fireflies in Kampung Kuantan, Kuala Selangor. Despite the small number of fireflies on that night (maybe due to weather and timing), it was quite refreshing to see actual fireflies after months of looking at Fireflies in Skirts! LOL! 😛
Photo from Sylistic….. Those who went to see fireflies wearing Firefly's shirt 😛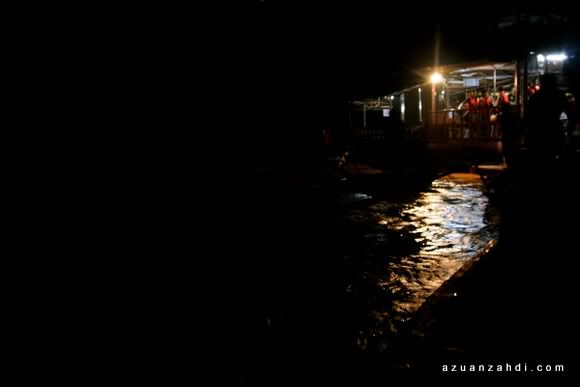 The beauty of Firefly is that you cannot capture it on camera. You have to be there to see it for yourself 🙂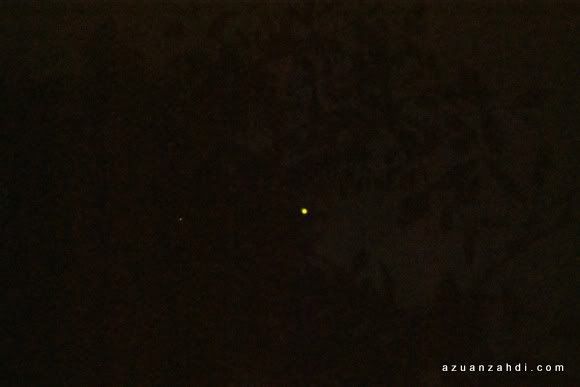 The food-trail blogging adventures of day 3 made the last stop at Tanjung Karang's famous Satay Hut before going back to Sabak Bernam. Satay Hut is less-commercialized and offers good satay at an affordable price. 5-stars and highly recommended!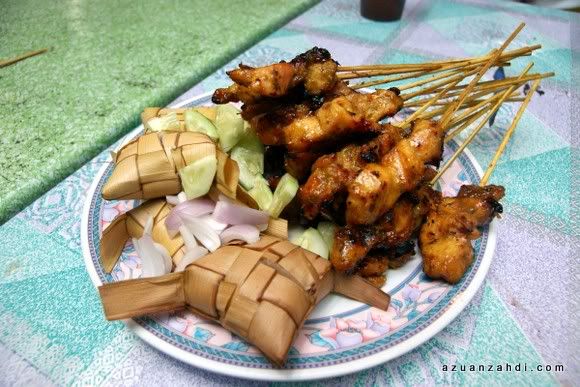 Eyriqazz: "That's Mine, I don't want to share!!!!"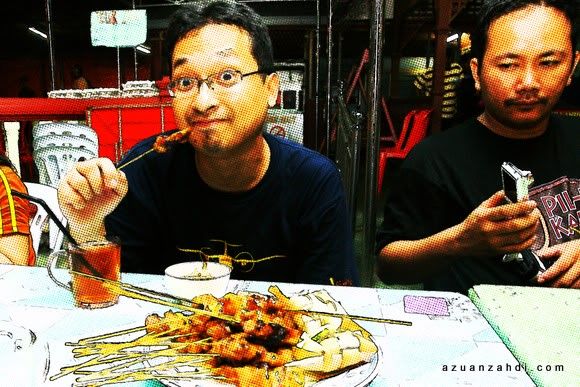 From Chin Swee Temple in Genting to Kanching Waterfalls to Kuala Selangor's Fireflies to Tanjung Karang's Satay Huy and Sabak Bernam's Homestay. What a looooong and exciting Day 3 of MySelangorStory tour.
Planning for a trip to Selangor? Not sure where to stay? Check out AGODA's website (click the banner below) for a one-stop comparison of all hotels in Selangor and other places in Malaysia from budget to 5-star. I am personally an AGODA fan and have saved a lot on my accommodation cost for my travels.

Here's a slideshow of Day 3 photos.
[youtubecekoi]SUOgbCwMLU8[/youtubecekoi]
Love my story? Click here to vote 5 Hearts / Stars!
MY SELANGOR STORY 2010 Blogger's Competition spearheaded by Tourism Selangor to promote Selangor's cultural diversity and rich tourism resource to travelers around the world. Check out Tourism Selangor website at http://www.tourismselangor.org for more details on tourism in Selangor. For flights and holiday packages to Selangor, check out Firefly Airlines at http://www.fireflyz.com.my
Sponsors of MySelangorStory 2010
• Firefly (Official Airline) – http://www.fireflyz.com.myy
• Pentax (Official Camera) – http://www.dscworld.com.my
• Tropicana Medical Centre (Official Medical Centre) –http://www.tropicanamedicalcentre.com
• Resort World Genting (Offical Resort) – http://www.rwgenting.com
• Sunway City Berhad (Official Integrated Resort)-http://www.sunway.com.my/lagoon/
• P1 (Official Broadband Provider) http://www.p1.com.my
• TV Selangor (Official Online TV) – http://www.tvselangor.com
• Royal Selangor (Official Souvenir Shop) –http://visitorcentre.royalselangor.com/vc/
• Haven Restaurant (Official Restaurant) –http://www.havenrestaurant.com.my