After the crazy shopping spree on the first day (click here), day 2 was supposedly to be a sightseeing day. We had it all planned out with at least 4-5 places to visit within the final 24 hours in Shenzhen. So an early morning wake-up call to gear up for day 2!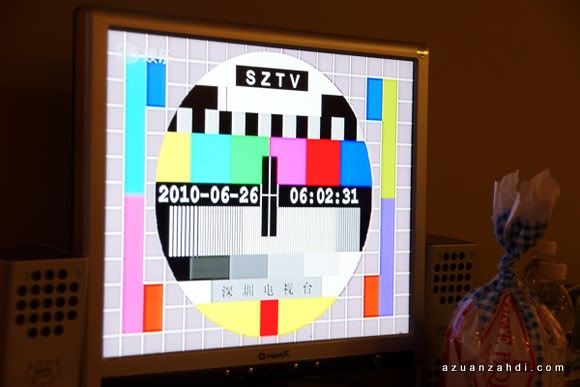 However, Mother Nature had the final say. It was raining non-stop from 6 a.m. in the morning all the way till late night.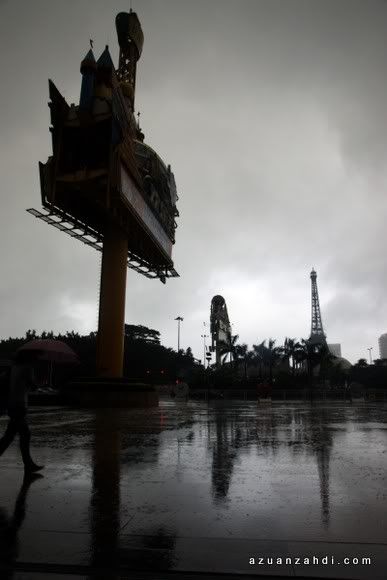 Most tourists would just stay in the comfort of their hotel room.
But not us! As we only had 24 hours left, we decided to give it a go. Sightseeing in heavy rain!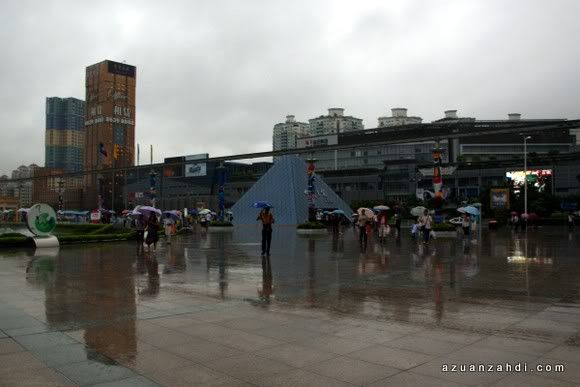 We managed to get ourselves a pair of cheap umbrellas at the Shijiezhichuang Metro Station.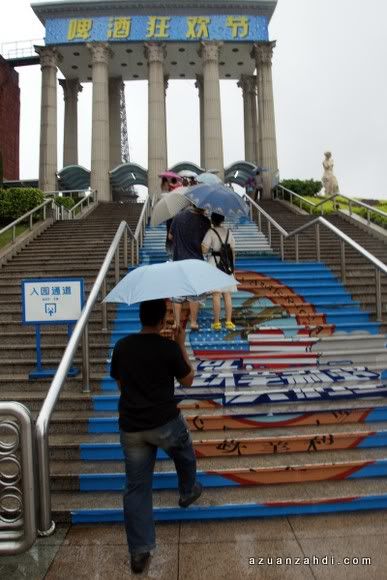 Shenzhen is famed as the "capital of theme parks." Window of the World, Splendid China, China Folk Culture Villages, Happy Valley and CITIC Minsk World theme parks are the epitome of a mixture of Chinese culture and world culture.
Our first stop was The Window of the World! This is a cool theme park where you can actually explore the whole world within few hours.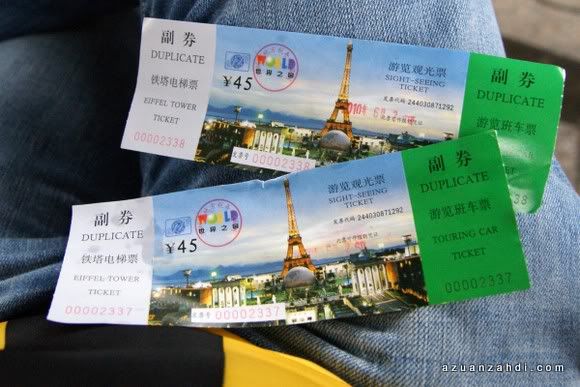 China is well known for 'original copy' and reproduction. The end products are often as good as the original items. From branded handbags to shoes to sportswear and DVDs, I thought I have seen it all but the moment I stepped into the Window of The World, I was amazed!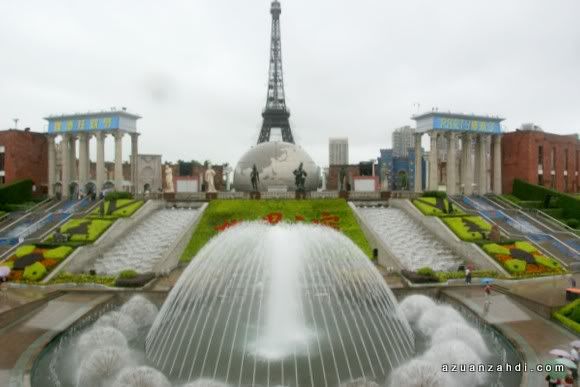 48 hectares of space with 130 reproductions of some of the most famous tourist attractions from all parts of the world.
They can actually reproduce world's famous landmarks to look and feel exactly the same as the original landmarks!
As we got into the park, the rain got heavier and we opted for a monorail ride around the park. Here are some shots of some famous landmarks from the monorail ride.
Followed by a tram ride to get a closer look at the attractions.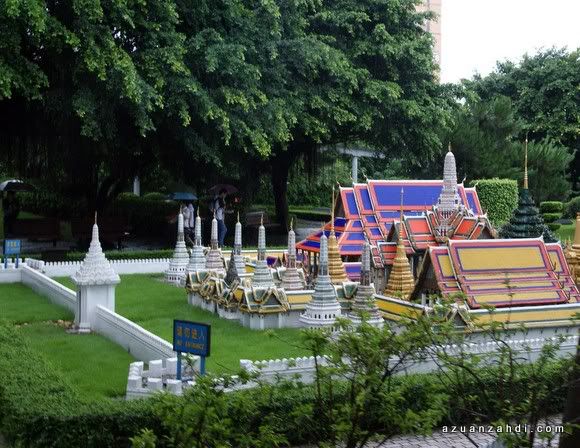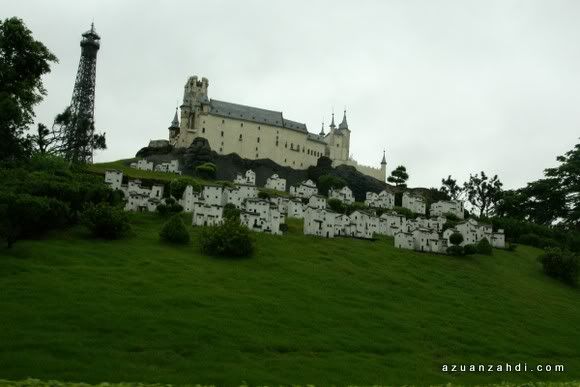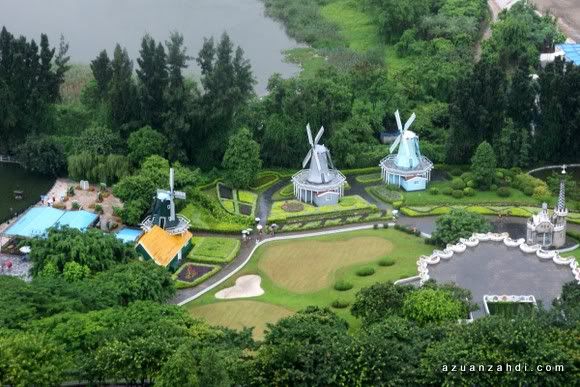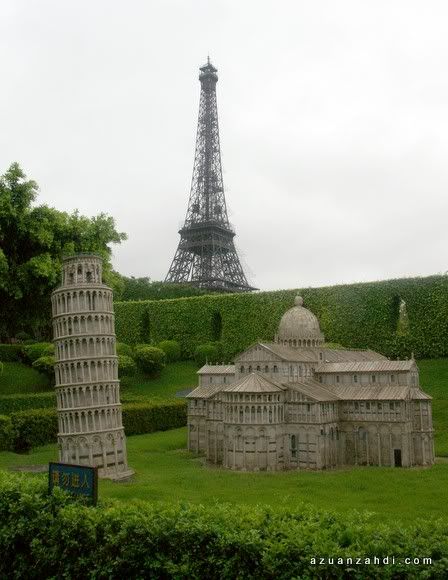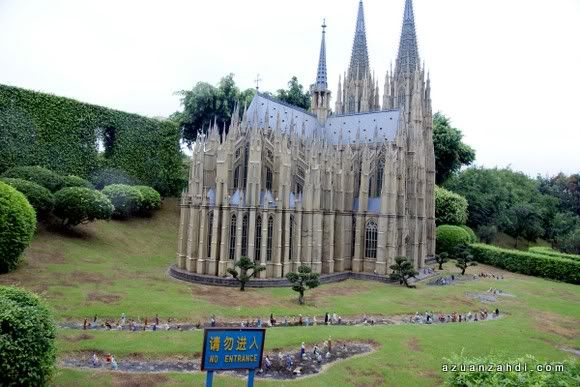 The most amazing attraction must be this 108m tall replica of Eiffel Tower. Visitors are even allowed to go all the way up and enjoy the view of Shenzhen.
It looks real, It feels real. That's what "Made in China" products all about!
From the Wonders of the World, we went on to our next destination which was Splendid China Folk Culture Village!
Unfortunately we went out at the wrong Metro station and a 3km walk in heavy rain was not a pretty experience. With wet shoes and tired body, we called it a day and decided to take the monorail around the park just for the sake of seeing it first hand.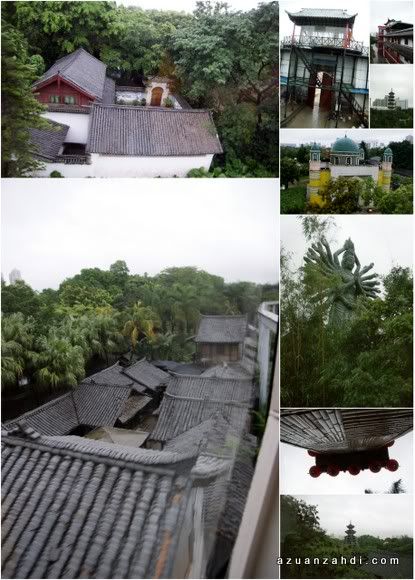 All wet!
Although I was very disappointed for not be able to visit an old Chinese village and some other theme parks, I look it from the positive side. A reason to come back to Shenzhen in the future 🙂
A trip to a foreign land is not complete without tasting its local dishes. We ended up the day with a nice Chinese Muslim meal next to our hotel.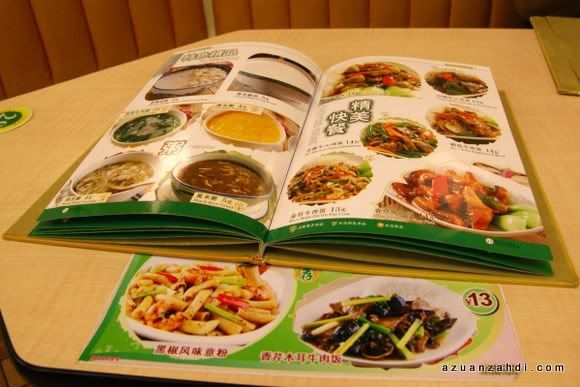 Ok, it might not be authentic Chinese food, but we were starving after a long rainy day! French FIRES and Toothpick Lambs sound interesting isn't it?!
I had Mushroom Chicken with Rice.
Delicious! The other stuffs we had!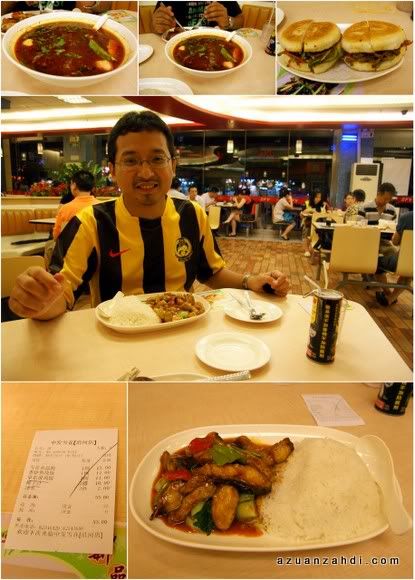 It beats having my usual travel meal of Tuna Ayam Brand from home!
It was a memorable 48 hours in Shenzhen. What started as an unplanned trip turned out to be a fun one. It is true that I missed out most of the attractions this time but the fun in shopping, massage and being lost in translation made up for it! I considered myself lucky for having a travel kaki that is brave enough to go to this kind of adventure. Will I return to Shenzhen? Of course!
Planning for a trip to Shenzhen or China? I love how AGODA has helped me finding the best deals at an attractive price and everything is prepaid so no need to bring lots of cash when you travel!
Click on the AGODA banner below or above for GREAT deals that i personally have used over and over again 🙂