"Your success is an obligation and a responsibility to your society and it is only when you give back to society that you are truly successful" – Tun Daim Zainuddin
Following up from my previous birthday celebration with kids from an Orphanage last November (click here to recap) , my wife and I wanted to bring more joy to the kids and decided to take them out on a half-day outing and adventure in Bukit Cerakah or now known as Taman Pertanian Malaysia.
Supported by our friends, we organised the trip with no fancy donation, no hiddenagenda, no big mock cheque, no TV reporters, no speeches, no politician VIPs…. just pure FUN Time for the kids.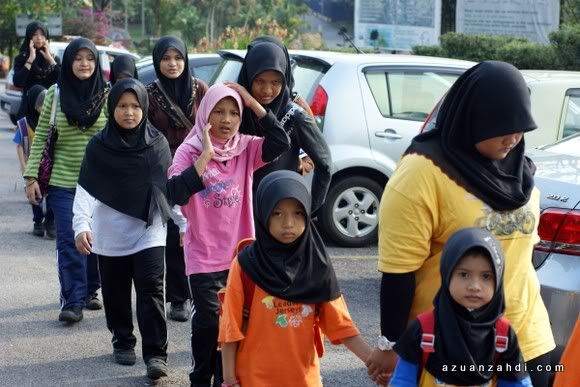 The VIP was the kids from a Rumah Anak Yatim (Orphanage) in KL. We pooled our money together and brought the kids to an all-expenses paid for trip to Bukit Cerakah and a Little Adventure @ SkyTrex. We also noticed that the kids were quiet and reserved when we first met them 6 months ago so we were hoping that some outdoor adventure will boost their confidence level.
Breakfast was served at the entrance of the park.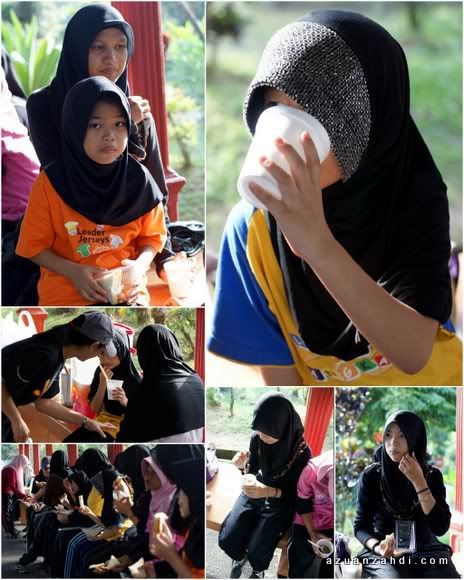 The 16 kids were broken into group of 4 with a couple of our friends assigned to each of the groups. It was really convenient to move around the park using the busses even in a big group as there were frequent trips throughout the day.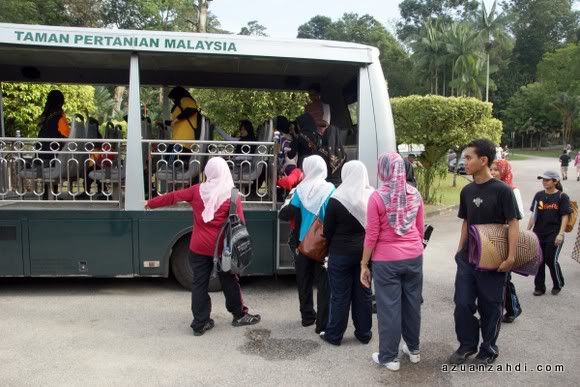 First Stop – Empangan Sungai Baru. We were greeted by monkeys, an exciting discovery for the kids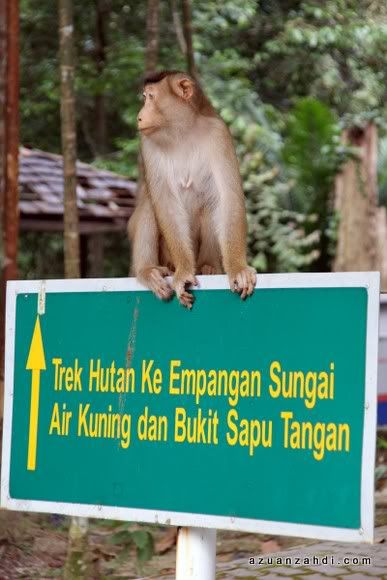 Empangan Sungai Baru, a dam with fish rearing facilities is the home to thousands of fish from different species.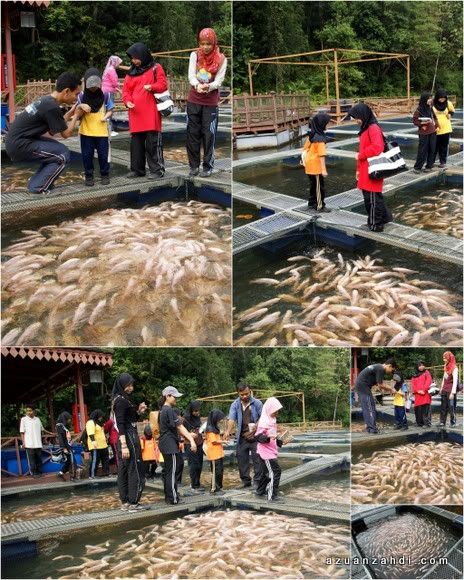 At this stage the kids were already excited to experience feeding the fish.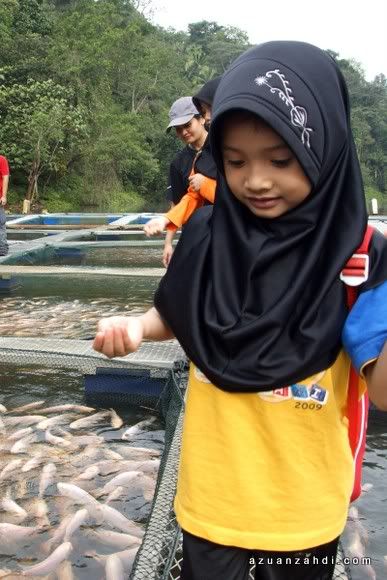 The kids spent about 20-minutes enjoying the fish-feeding activity.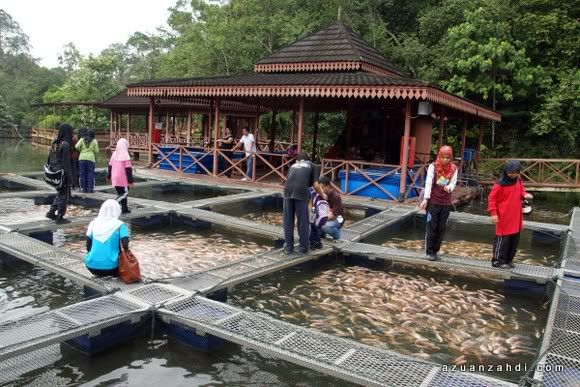 We then had a short introductory session where everyone got the chance to know each other better. It has been a while since I last did an ice-breaking and I am getting a bit rusty doing it!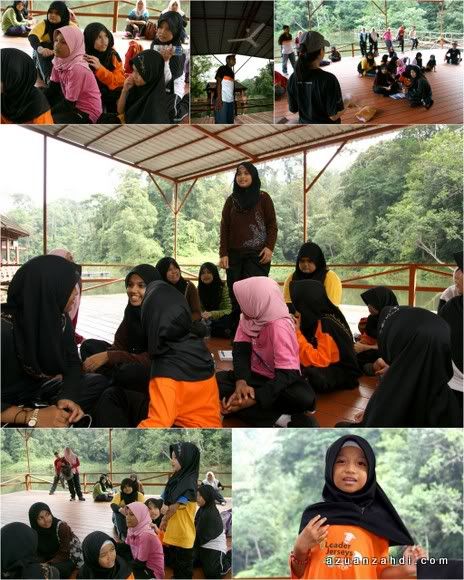 Nevertheless, the kids start to get more comfortable with us.
An opportunity to do a group photo while waiting for the shuttle bus.
Our next stop was Taman Cendawan and Menara Pandang Jauh.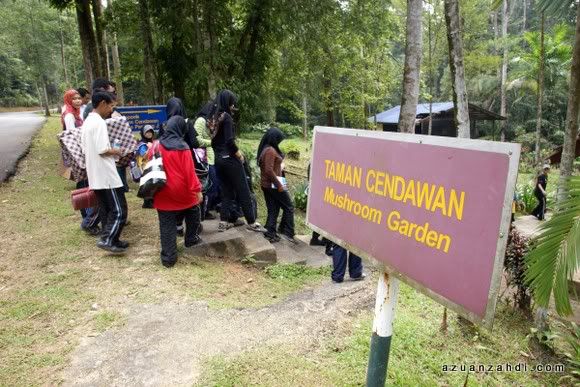 Taman Cendawan was a big letdown as this was the only Cendawan there: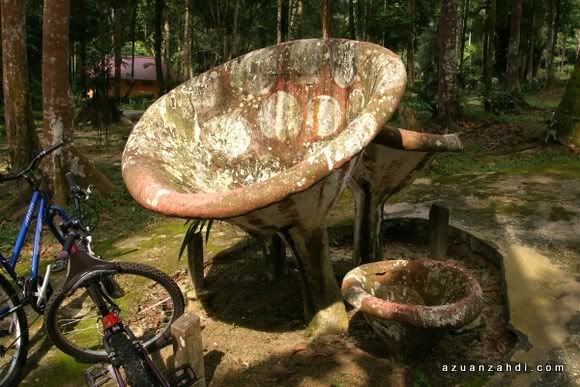 Luckily the Menara Pandang Jauh is something interesting for the kids as they excitedly climbed all the way to the top to enjoy the view.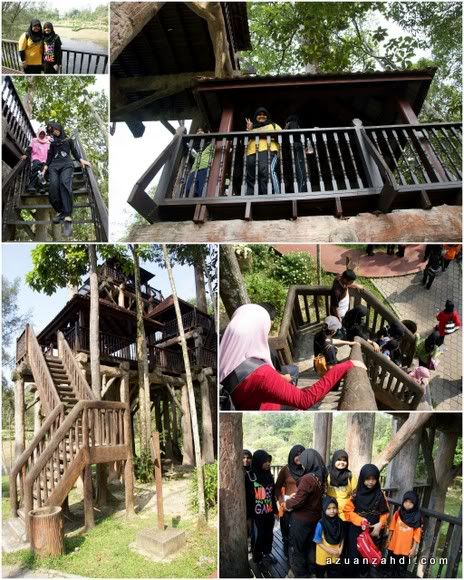 We then made another hop to Taman Haiwan. Knowing that the animal farm is nowhere close to an actual zoo standard, we decided to focus more on the suspension bridge also located at Taman Haiwan.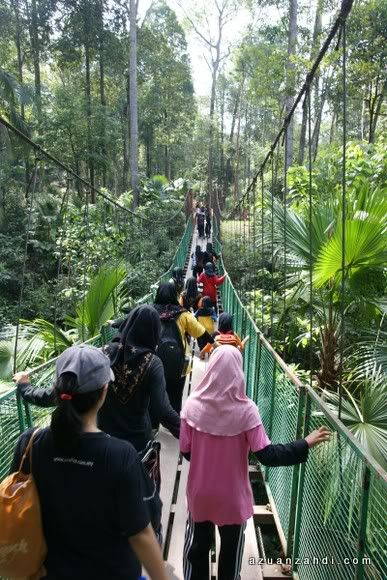 Some of the kids were frightened going through the bridge, little that they knew that the much challenging and scary SkyTrex Adventure awaits them.
After a couple hours of tour, we had a mini-picnic with packed food. Everyone seems to enjoy the meal after a long and tiring walk.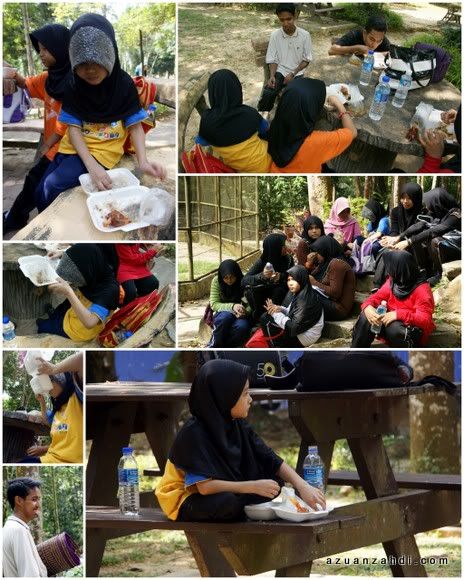 It was then the highlight of the day, SkyTrex Adventure.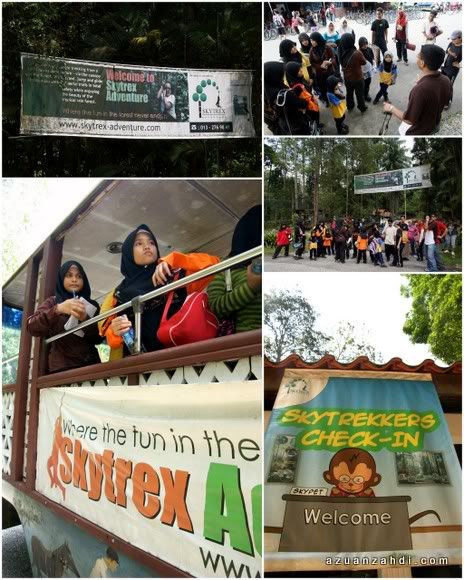 Little Adventure @ SKYTREX provides an organized outdoor 'eco-recreational cum educational' activity which will take the participants from tree to tree via series of aerial obstacles suspended at 3 meters in the air.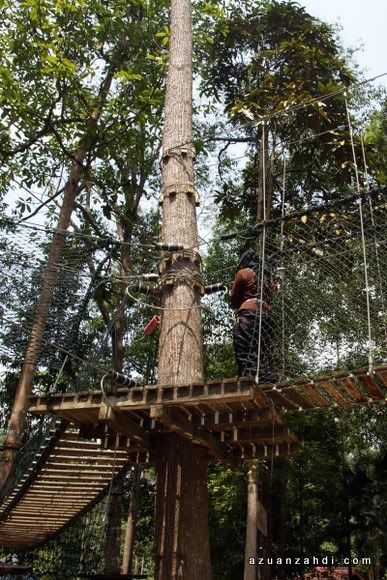 Gearing up. The safety of the kids was the highest priority throughout the trip. Not only we took a separate insurance coverage for each of them, we went through the safety devices thrice to ensure it was all safe.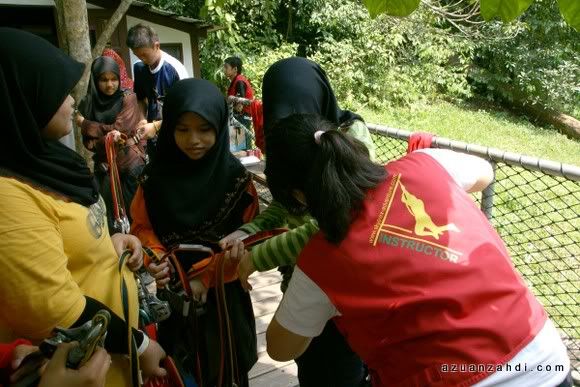 All geared up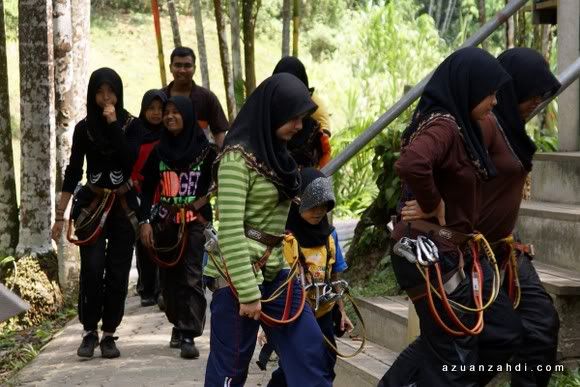 Briefing and demonstration session.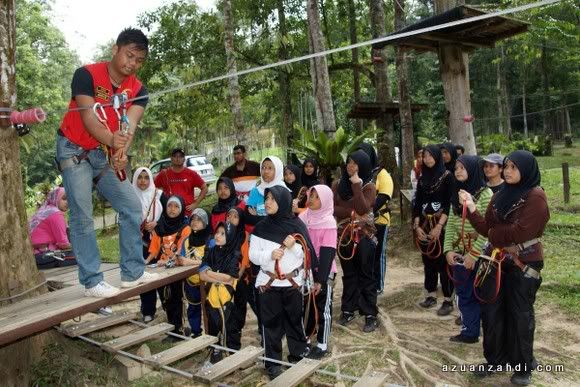 Surprisingly, the smallest ones were the most adventurous!
Climb, climb, climb….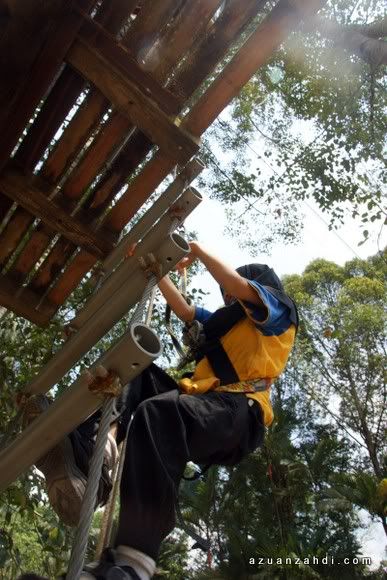 Some of the obstacles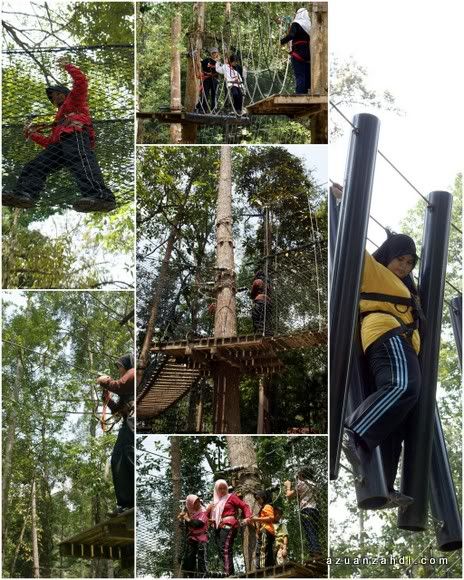 Flying Fox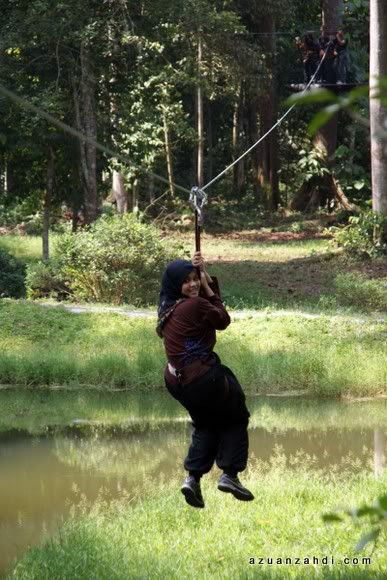 I was relieved to see that everyone were confident enough to finish the little adventure 30-minutes course. The real challenge was to ask them to stop and ready to go back!
One last group photo before we left SkyTrex and Bukit Cherakah.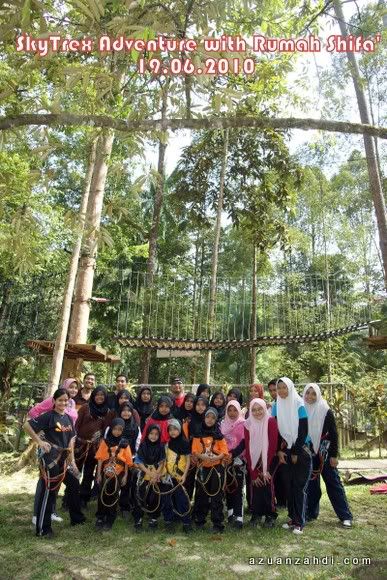 Since it was school holiday, we wanted the kids to have an exciting time that they can proudly share with their school mates once they are back in school. I am glad that based on the smiles and laughters (plus additional screams during flying fox!) I can safely assume that they had a time of their life.
A special thank you to Zamil, Hanis, Izreen, Kak Ju and the rest for spending their valuable Saturday volunteering for this trip. Till next time!