LIMA 2009: My First LIMA Experience
December is always an interesting month. The month where school is out, exams are over, annual leaves to be cleared and families come together for vacations. It's a norm to see morning traffic getting less chaotic during this month and life is easier with less pressure on meeting work targets.
For whatever unknown reasons, I always travel a lot in December since the last few years. After Terengganu and Singapore Trip, I made my way to Langkawi Island for my 3rd travel destinations within 3 weeks. This time I was joined by my normal travel buddy who has travelled with me to Aceh, Jakarta and Singapore in the past.
After securing a crazily reasonable deal with Firefly Holidays, we were on our way to Langkawi with two things in mind, LIMA 2009 and sightseeing around the island. I'll save my experience with Firefly Holidays for my next post and will just go straight to the LIMA experience.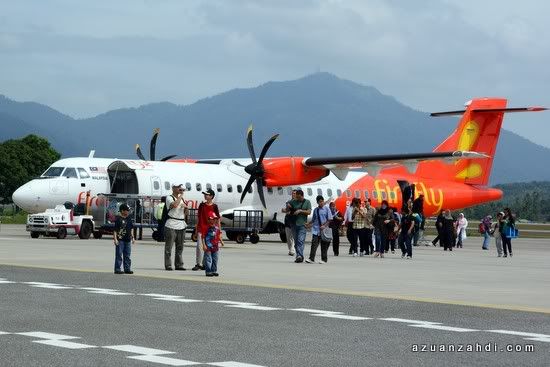 Arriving at Langkawi during lunchtime, we skipped our lunch and made our way straight to the Mahsuri Exhibition hall just next to the airport for LIMA 2009.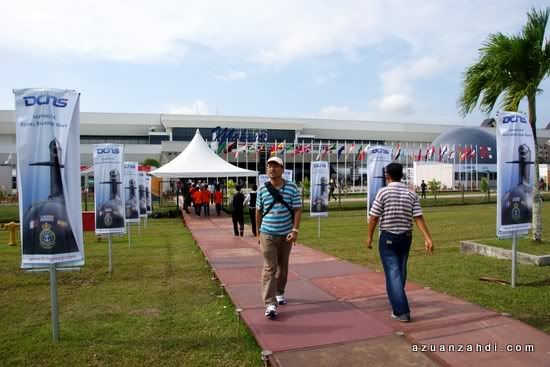 Being my first LIMA experience, I tried emailing the organizer a couple of months before the event requesting passes that we can pay for to enter the exhibition during trade days as a capacity of an aviation blogger. Despite quoting my own aviation related blog posts that I had in the past, I received a rather cold response! Another indication that bloggers are often looked down in Malaysia! (Its not that I'm asking for FREE passes!)
When there's a will there's a way. My travel buddy slow talked the officers at the counter and they bought the idea of me and my buddy are consultants for a 'new media' business and wanted to get trade passes. We paid RM50 each and got our trade passes. Technically it's not a lie as we are actual business partners venturing corporate blogging opportunities although none of it involves aviation industry so far.
Too bad they mispelled our company's name, but a pass is a pass and we did managed to talk to some potential clients.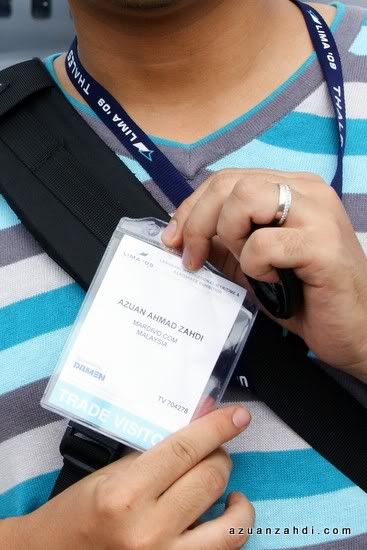 Having the trade passes allowed us to escape the public day crowd and we were able to enjoy the exhibition at our own pace.
The Air Show. My personal favorite air show was the show by Singapore Air Force. Interesting choice of aircrafts and reasonably good moves.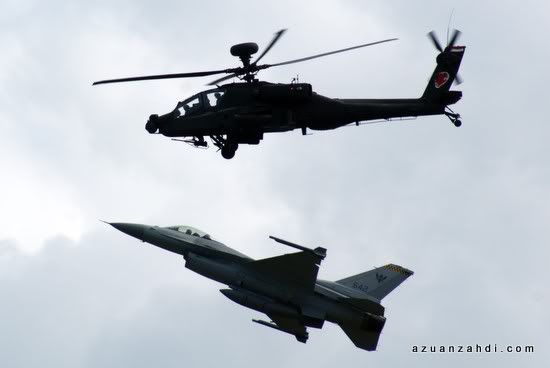 Not to forget, my favorite plane for LIMA 2009, the Bombardier 415MP Amphibious Aircraft. Some say it's cute, some say it's an ugly-looking bird. In my opinion it's a beauty especially when it's doing the tight maneuvers at low speed and altitude.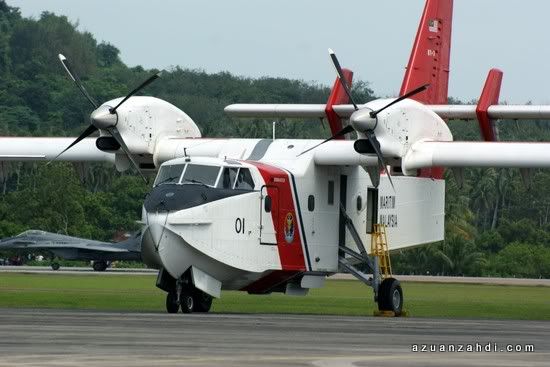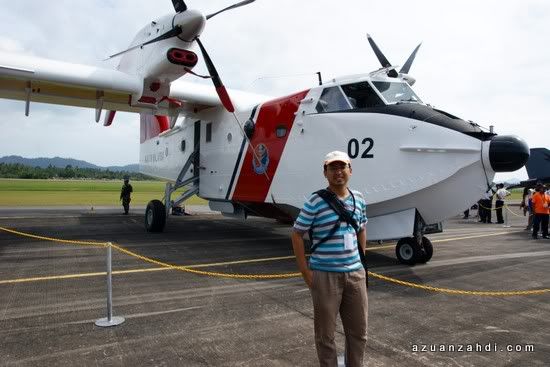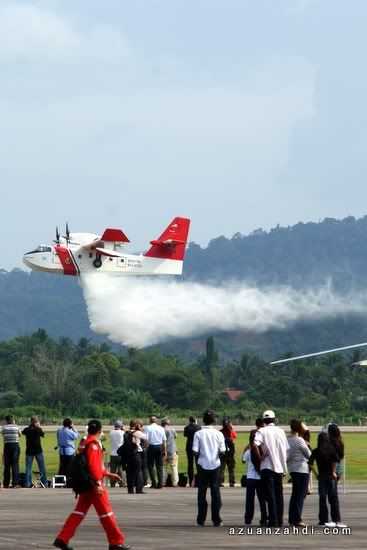 The rest of the show was rather dull. Static displays are quite 'dry' and nothing to shout about.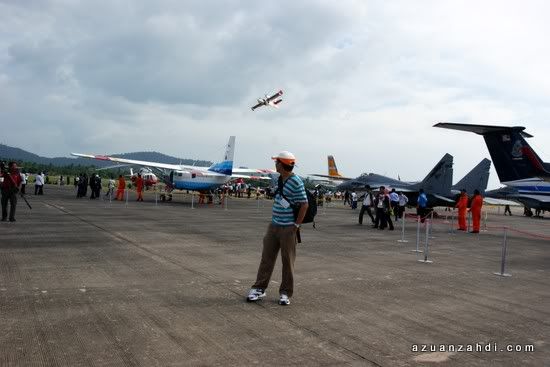 Blue skies = shiny day = tanned skin.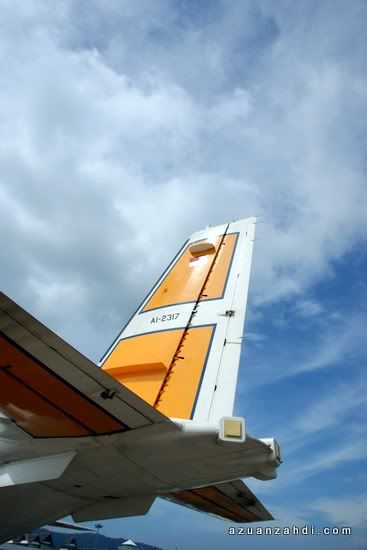 Pinocchio?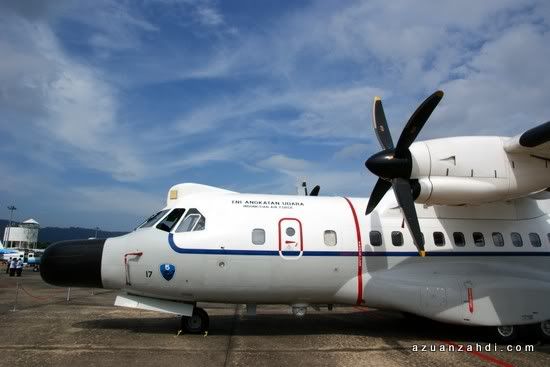 Front view of the nose.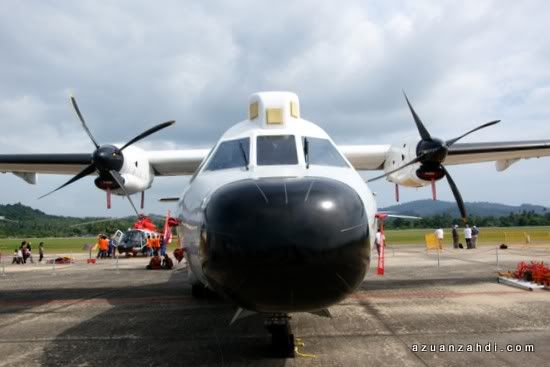 Some other nose shots.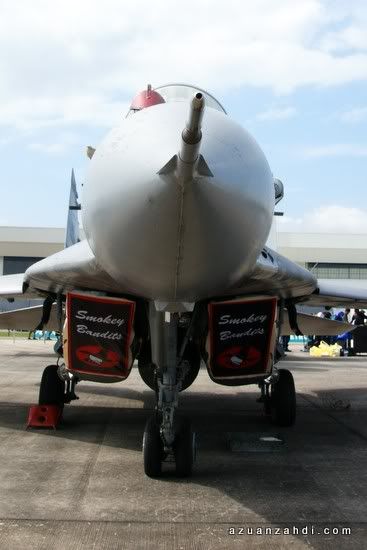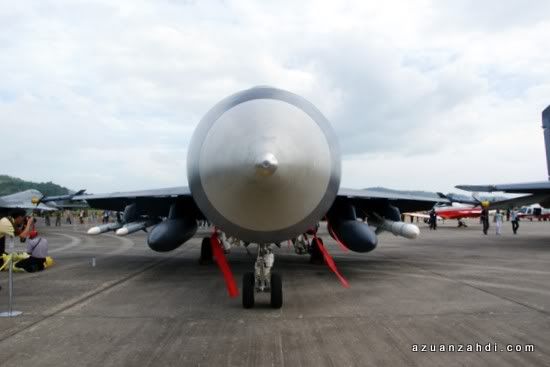 A very friendly Australian, answers every question and willing to shake hands and take photos.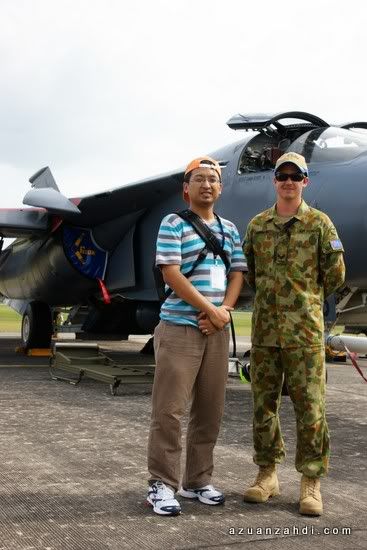 Kebangaan Malaysia! Our Sukhois!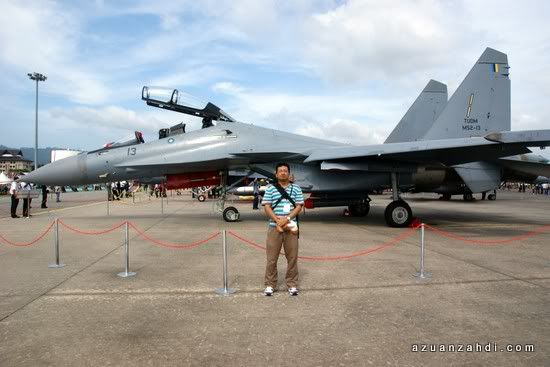 I just love Russian made metal birds. So rough and macho!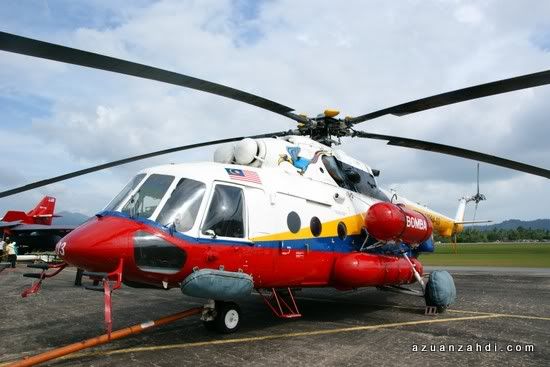 The new ATR72-500 for MASwings. I just can;t get enough of ATR72. MASwings need a blogger fan? Hehehe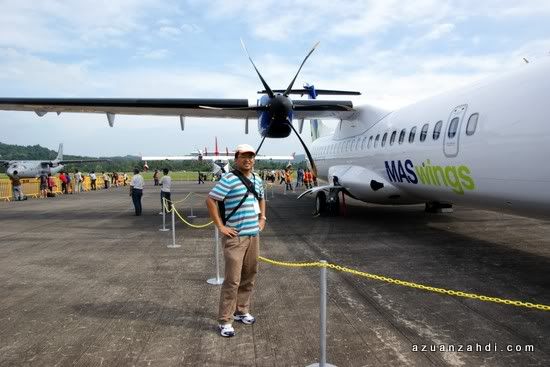 We were lucky to also given a chance to visit one of Vistajet's business jet. A luxurious jet that can easily replace any hotel suites that I've seen.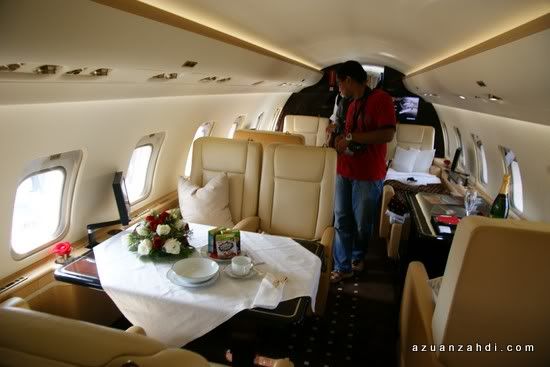 Inside the exhibition hall, there's nothing interesting to shout about. A typical business oriented exhibition with not many major deals being signed. Why waste so much money in organizing LIMA 2009 when no major deals are being secured and announced? Why are announcements of airlines purchasing aircrafts (e.g.: MAS buying 15 new A330's) are not announced during the so called international event and instead was announced 3 weeks later in a press conference? Is LIMA 2009 really an international event that is at par as other international aviation events? In my opinion the money should instead be spent on ground-level aviation activities that will bring more impact to our Malaysian communities. Just my 2 sen.
Firefly Booth is a must visit wherever i go~! 🙂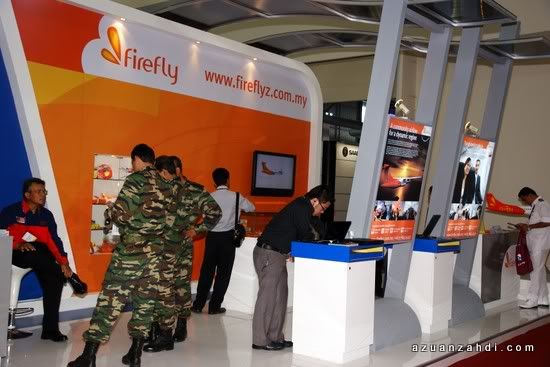 One day I'll have an aircraft model this big in my house! Haha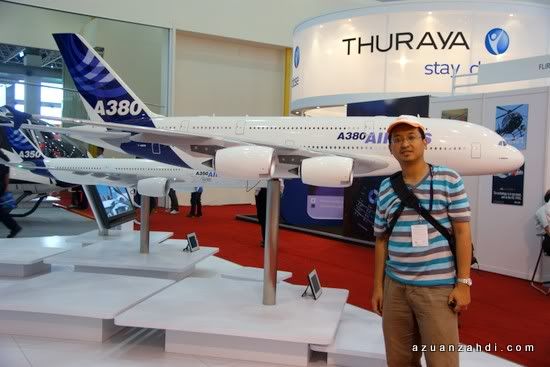 On the maritime side, there are really nothing excited to see. The only attraction is our first submarine. While I'm super proud that Malaysia owns this submarine, it's really heartbreaking to only be able to see it from quite a distance. I understand the security concerns but at least have more of other ships and attractions that appeal to the public and not just staring at a submarine far far away!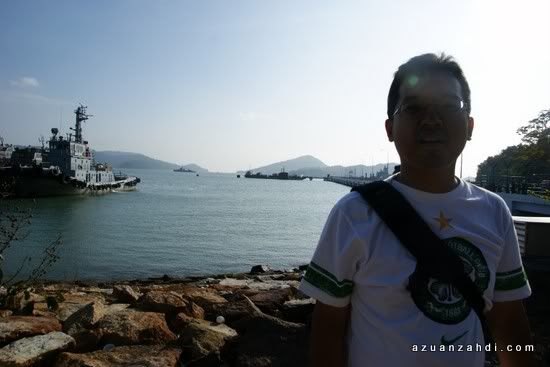 To be honest, LIMA 2009 is really a letdown. I expected at least a full acrobatic performance, more commercial aircrafts being displayed and more public awareness kind of aviation activities. I felt disappointed seeing kids wanting more and were frustrated seeing display aircrafts that really look like a museum of old aircrafts.
….and yes I still hold the grudge of being turned down for a pass that I'm willing to pay for! Not that I miss anything anyway!
Coming up next, the fun part of the trip. Langkawi Sightseeing!