'Makan-makan' at Subang SkyPark!
If you're looking for an easily accessible wonderland of food and beverages outlets in the Subang area where you will find many choices packed into a relatively small area, then you will want to consider heading towards the Subang SkyPark terminal.
Subang SkyPark Terminal is the home to fifteen food and beverage outlets that provide a myriad of meals, snacks, pizzas, pastries, coffee, juices, and even ice cream. By the way it's also a life style destination city airport with top class offerings that discerning travelers and visitors ask for.
Thanks to GRA Communications Sdn Bhd and Subang SkyPark Sdn Bhd, I was recently invited under the capacity of an aviation blogger to join the SkyPark Test Kitchen Media Tour. Armed with my Sony Alpha camera and an empty stomach I had a 'delicious' experience touring all 15 food outlets in Subang SkyPark.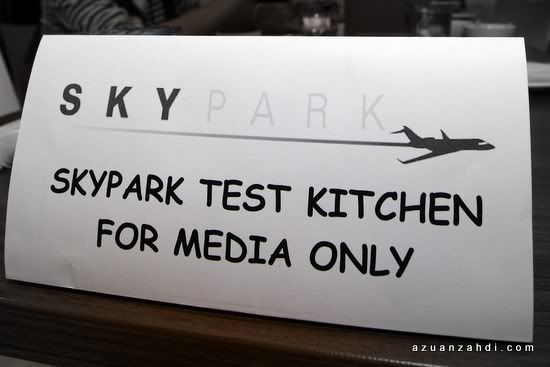 The outlets comprise Sakura Cafe & Cuisine, Big Apple Donuts & Coffee, Starbucks, 1901 Hotdogs, Kapitan Kopitiam, Nooodles, Butlers, Aero Cafe, Pines, Delicious Cafe & Cuisine, Suria, Warong Desa Paku, Palm Sports Bar, Mingo-Mingo and Juice Bar.
Join me in this exclusive AzuanZahdi.com virtual tour of all 15 F&B outlets.
***
1) BIG APPLE DONUTS AND COFFEE
Outlet Name: Big Apple Donuts & Coffee
Location: Ground Floor, next to information counter.
A familiar brand to donut lovers, Big Apple Donuts & Coffee offers a variety of donuts to tantatlise your senses. Here is an outlet that also opens as early as 7.00 am to catch the breakfast crowd and closes as late as 11.30 pm. The donut cafe seats 54 and is part of a fancy local franchise with operations in major malls.
My favourite is of course the signature Duren Duren Donut (I wonder if this 'Durian' is allowed on board a flight?!).
***
2) NOOODLES
Outlet Name: NOOODLES
Location: Ground Floor, next to Big Apple
If noodles are your choice, then check out Nooodles which serves a mix originating from Penang as well as from Hong Kong and Taiwan. Nooodles is a local brand with outlets in KLIA and suprisingly at the satellite terminal at the Melbourne International Airport and at the Sydney International Airport.
My favourite is the dried won ton noodle and the herbal soup noodle. Healthy and super-licious! I also have to mention that the serving portions are huge which is suitable for my big appetite. Since the kitchen tour, I've been frequenting Nooodles with my friends as it's not easy to find a delicious and halal noodles outlet that offers comfortable ambience.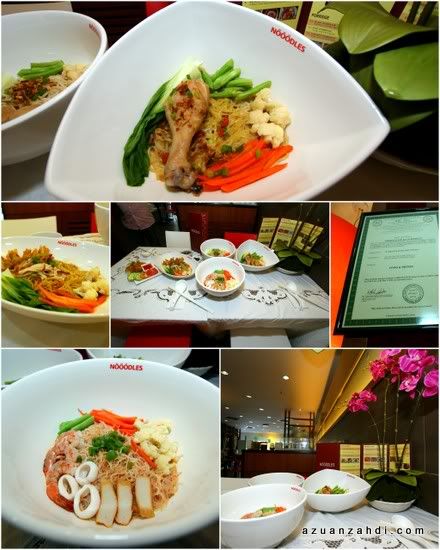 ***
3) KAPITAN KOPITIAM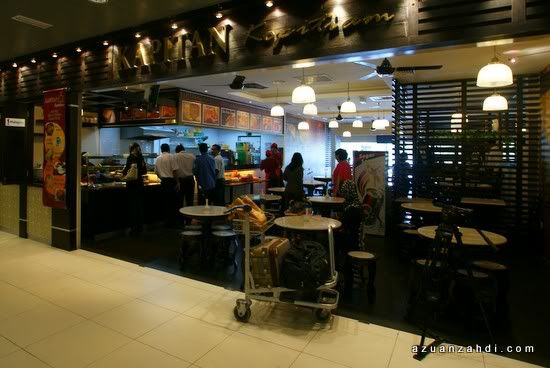 Outlet Name: Kapitan Kopitiam
Location: Ground Floor, next to NOOODLES.
If local breakfast, lunch or dinner be your picking, then look-up Kapitan Kopitiam where you can start your day as early as 5.30 am with variety in nasi lemak, mee goreng, mee rebus, half-boiled eggs and butter¬kaya toast matched with excellent local coffee to complete. The ambiance here is so kopitiam with marble table tops and wooden stools to complement. Throughout the day, Kapitan Kopitiam will pamper to your every local desire.
I personally love the concept of Kapitan Kopitiam. This Kopitiam not only offers the normal kopitiam range of food butthis is also the place to taste the flavours of Penang. Nasi Kandar, Nasi Briyani and Char Kuey Teow are highly recommended for this outlet!
***
4) SAKURA CAFÉ & CUISINE
Outlet Name: Sakura Café & Cuisine
Location: Ground Floor, next to Kapitan Kopitiam
The well-established Sakura Cafe & Cuisine from Imbi Road has found its way to the airport bringing with it their famed nasi lemak, Hainanese chicken rice and Nasi Bojari. Dim sum and pau offerings add to the Chinese flavour that emanates from their kitchen.
You cannot go wrong with an outlet that has been well established in Imbi Road for so long! The Nasi Lemak is simply in my opinion the best dish in Sakura Café & Cuisine followed closely by its Nasi Bojari and Chicken Rice. For those who prefer lighter option, the Dim Sum is a good choice!
***
5) PALM SPORTS GRILL & RESTAURANT
Outlet Name: Palm Sports Grill & Restaurant
Location: Ground Floor, next to Sakura Café & Cuisine.
If you are looking for a 'western meal', check out Palm Sports Grill & Restaurant. This is the only Western restaurant at SkyPark Subang Terminal with succulent steaks. Other Chef specialities include the Hainanese chicken chop, black pepper lamb cutlets, Shepherd's pie and Chef's salad.
I love the setting of this outlet. It's a good place to ease out with friends after a long day at work and have a great meal with some music and screens showing sports actions. The black pepper lamb cutlets is my favorite choice of food in this outlet. It also offers some privacy being located in one end of the terminal.
***
6) WARUNG PAK DESA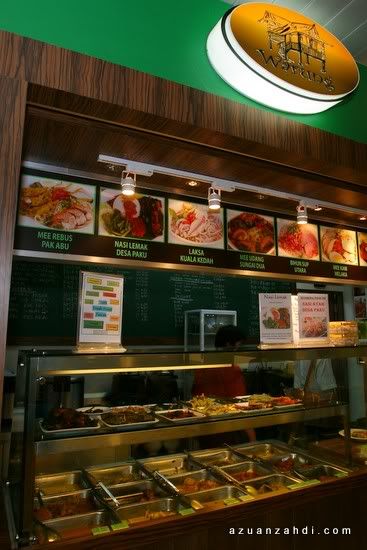 Outlet Name: Warung Pak Desa
Location: Ground Floor, Last Stall at the Food Court' area.
Located at the far end corner of the terminal on the ground floor, Warung Desa Paku dishes out local Malay favourites such as tenggiri masak lemak, pari masak asam and daging salai masak lemak. Served with rice, the outlet caters to those who just want local fare. Surrounding residents will be familiar with such servings as they also operate a branch in the Ara residential area.
This is the place you should go for the delicious Ikan Patin tempoyak. Available on certain days of the week, the Ikan Patin Tempoyak is enough reason for me to drive all the way to Subang SkyPark to have lunch. It's so good that it reminds me of the famous ikan patin tempoyak in Temerloh, Pahang. Also highly recommended is the Pari masak asam!
***
7) SURIA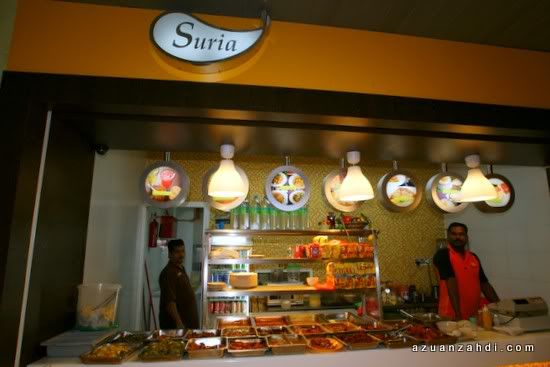 Outlet Name: Suria
Location: Ground Floor, Second Last Stall at the Food Court' area.
Care for Roti Canai (and 101 other Roti(s)), Nasi Briyani, Mee Goreng, Maggie Goreng and The Tarik? Then Suria is the place for you. Offering a typical Indian muslim-style food, you can be surprised of the menu range offered by this small outlet. I cannot recall the last time I saw a Fish Head Curry served at an airport!
***
8) DELICIOUS CUISINE & SAVOURY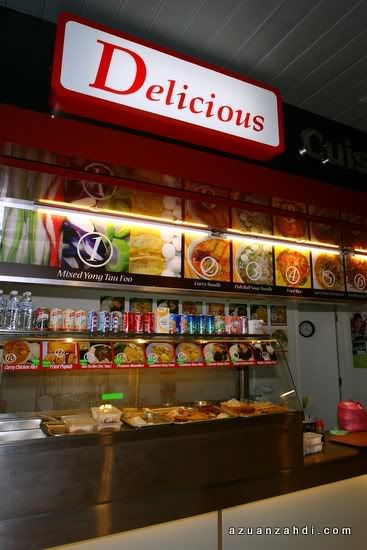 Outlet Name: Delicious Cuisine & Savoury
Location: Ground Floor, Second Stall at the Food Court' area.
Thinking Oriental, then think of Delicious Cuisine & Savoury. This is where you can enjoy Chinese meals that come served as noodles or dishes with rice. Curry noodles are a hot item here at this outlet. There is also the famed yong tau foo for those with a desire for a fishy bean curd experience.
I personally love the Yong Tau Foo which not only tastes good, offers a healthy option for those who are health-conscious.
***
9) BUTLERS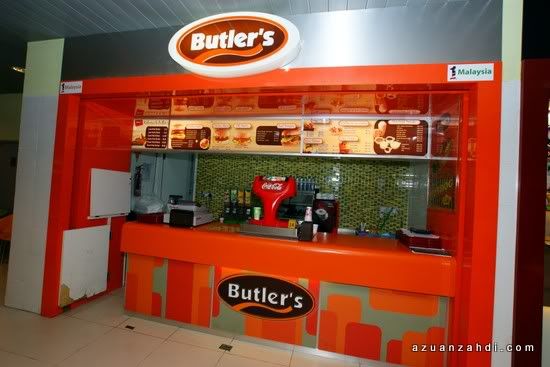 Outlet Name: Butlers
Location: Ground Floor, First Stall at the Food Court' area.
If you are a fast food fan, Butlers offers a great choice of burgers, fried chicken, fries, rice platters and soft drinks. Although it is more popular amongst youngsters, Butlers have something for everyone.
My personal favorite in Butlers is their Cheese Burger! The cheese is abundant and the beef patty is well cooked to go with the meting cheese and two soft burger buns. Simply Yummy! It is something that I look forward to review in my next Burger Review series.
***
10) PINOS
Outlet Name: PINOS
Location: Ground Floor, Near to Mingo-Mingo and Food court area.
If Italian is on your mind, then head on straight to Pinos where you will find a selection of pizzas, pastas and paninis. Panini is Italian for sandwich. Typically "gussied up grilled cheese", they are nearly always grilled or toasted and invariably contain cheese. Pines prides in bringing simple and authentic fare from Rome to Subang.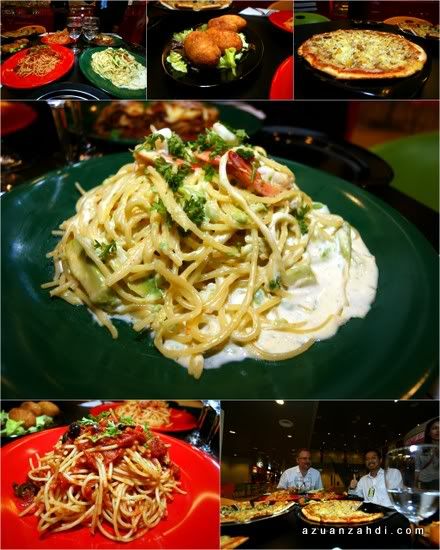 The best part about Pinos is the creativity of its owner and chefs in coming out with dishes that have the authentic flavor of Italian food with a bit of twist to match Malaysian taste buds. I particularly love the Pastas and Pizza and highly recommend this outlet the next time you are thinking of going for the real Italian pizza and pasta!
***
11) 1901 HOT DOGS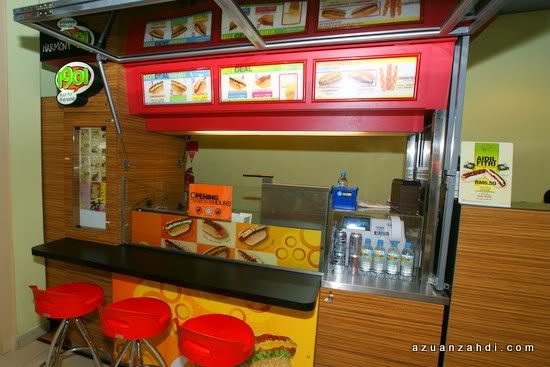 Outlet Name: 1901 Hot Dogs
Location: Ground Floor, Near Mingo-Mingo
A familiar brand amongst Malaysians, 1901 Hot Dogs is a "Made in Malaysia" brand that offers a great taste of hot dogs ala hot dog stalls in the United States. 1901 Hot Dogs are fast, easy and delectable. Hot favourites New York Chicken and Chicago Beef are popular with those for a quick bite. 1901 Hot Dogs is one of the outlets that opens up as early as 7.00 am. Many will recognise the delicious offerings here as the chain has 80 successful outlets nationwide.
My personal favorite for 1901 is the delicious Midwest Oval! I like the idea of having 1901 kiosk in Subang SkyPark as it allows fast moving travelers like me to quickly grab a bite!
***
12) MINGO MINGO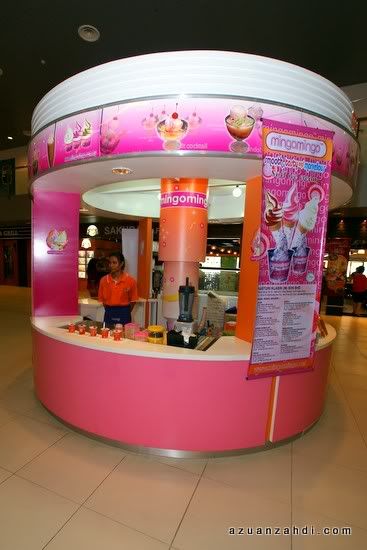 Outlet Name: MingoMingo
Location: Ground Floor, next to Juice World
MingoMingo is a local ice cream franchise offering delicious soft ice cream. This relatively new brand began as an outlet in a supermarket in Jalan Masjid India before it proliferated at 50 other outlets and 500 kiosks throughout the country – the latest being at the airport. Both children and adults will enjoy slurping a cone or two under our tropical weather.
***
13) JUICE WORLD
Outlet Name: Juice World
Location: Ground Floor, next to Information Counter
Juice World is an excellent healthy joint for fresh juices. The island station serves fresh fruit juices such as apple, orange, kiwi, mango, guava, and dragon fruit. You can also enjoy smoothies such as strawberry Xtreme, exotic blast and tropical rage. I love the Strawberry Xtreme smoothies the most!
***
14) STARBUCKS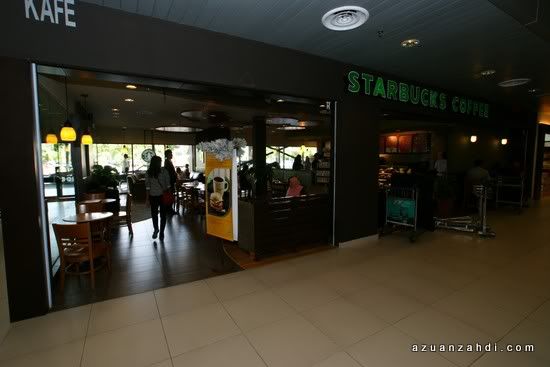 Outlet Name: Starbucks Coffee
Location: Ground Floor, next to Information Counter
The world's best coffee needs no introduction. It's here at Starbucks at SkyPark Terminal. A Starbucks coffee shop is a special place. But most of all, it's your place. Some people come here to drink the world's best coffee. Some come here to be alone with their thoughts or together with a best friend. Some come here to listen to the incredible music. Some come here to take part in a neighborhood event. Some come here for all of those reasons and a thousand more.
Starbucks @ SkyPark Terminal offers a wide range of coffee and non-coffee drinks coupled with variety of pastries, muffins, sandwiches and more.
***
15) AERO CAFE
Outlet Name: Aero Café
Location: Ground Floor, Airside: Departure Hall
Crossing over to the passenger departure hall, the Aero Cafe has Delifrance items such as chicken feuillete, beef feuillete, chicken curry feuillete, sausage croissant, and croissant bread. Pies from Mr Pie Man are also served. If you must rush, you can always pick up a range of sandwiches such as chicken, beef, tuna and chicken sausage. In the mornings, toast bread, mee goreng and meehoon goreng add variety to their selection. Aero Cafe's hours are from 6.00 am – 10.00 pm daily.
My personal favorite here is the Matcha Green Tea Ice Blended. A very refreshing drink at a reasonable price!
****
It was an interesting experience touring all 15 outlets and sampling the food and drinks selection within the time span of 4 hours. In Subang SkyPark Terminal, "Variety" is the keyword. This is the place where you can find food from all major races in Malaysia as well as western flavors. Many different cuisines and price ranges are available to visitors. And, all restaurants in this area are surrounded by ample reasonably priced parking.
The next time you feel hungry, give Subang SkyPark a try!
****
For more of my reviews on Subang SkyPark, click here. More photos from the Test Kitchen session can be seen here on my Facebook Album.
p/s: To the F&B outlets owners/managers, if you would like to be featured fully on AzuanZahdi.com, send me an email at Azuan_az@hotmail.com, and I am more than happy to revisit your outlet to give a one page/post coverage specifically highlighting on your outlet.