The Thunderbirds in Malaysia
The Thunderbirds, an elite air demonstration squadron of the U.S. Air Force (USAF) was in town for a few days. The squadron, well-known for its aerobatic formation and solo flying in specially-marked USAF jet aircraft was here as part of their Fareast tour. After performances in Hawaii and Townsville, Australia, the Thunderbirds performed a spectacular aerobatic display over Subang, Malaysia.
Waking up as early as 630am on a Saturday morning, I left my Shah Alam house around 830am and managed to get to Subang Airport by 9am. By that time traffic was already crawling and the roadside at the end of RWY15 are all occupied.
After a 20-minutes clueless driving, I accidentally found a nice little spot at Kampung Melayu Subang. This is the spot I'm looking for. High enough to avoid the fence at the same time not crowded. I was the only 'outsider' at that spot as the rest were local folks who came out with their family to enjoy the show.
Greeting me to the Airport, while I was still setting up my camera. A Royal Malaysian Air Force bird.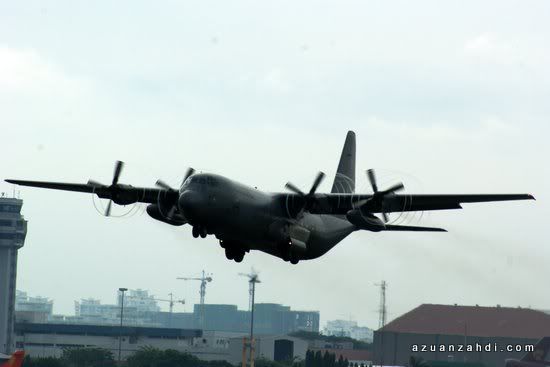 While waiting for the Thunderbirds, a little warming up with other traffic.
9M-FYA, Firefly Airlines first ATR72-500.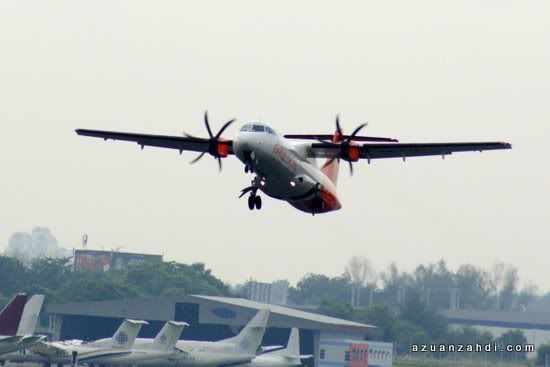 Some light aircraft traffic.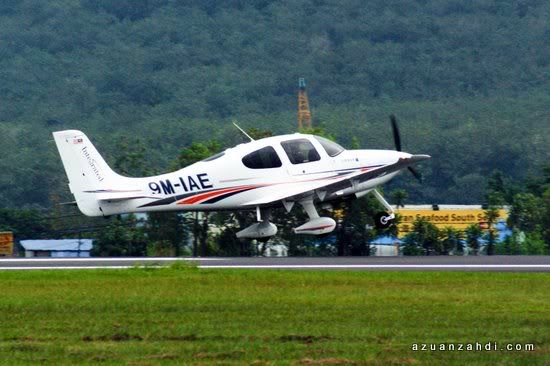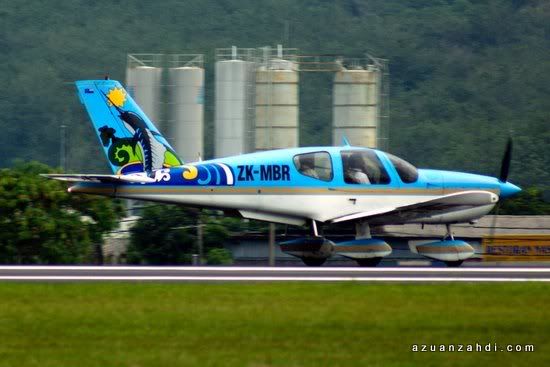 9M-FYD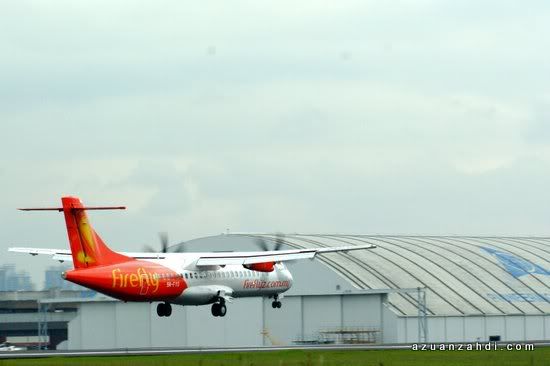 9M-FYC
9M-FYB
It was a windy day. Gusting wind makes landing challenging even for the seasoned pilots.
9M-FYE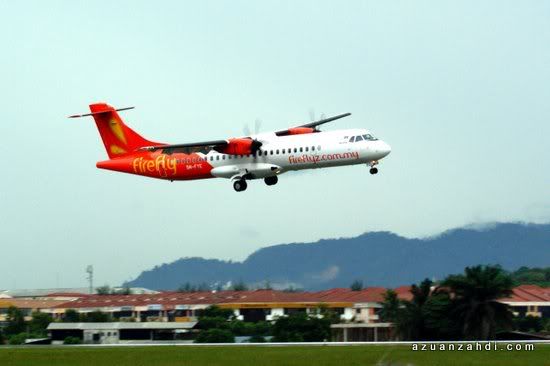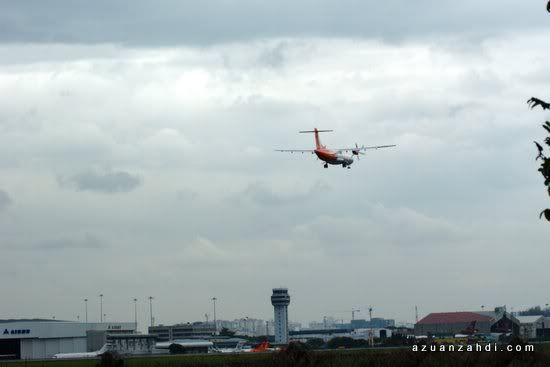 One of the Malaysian Air Force VIP Planes
After a 1.5 hours of waiting, the crowd starts to build up. Families are having a nice day out bringing food, picnic mat and cameras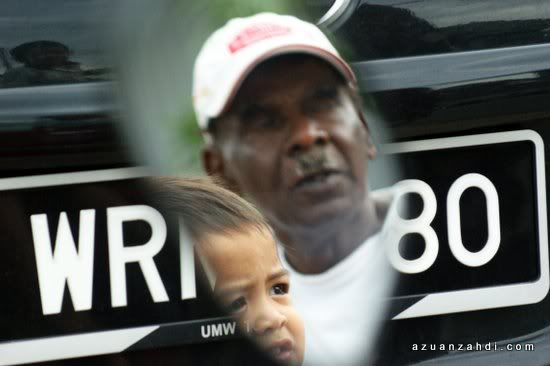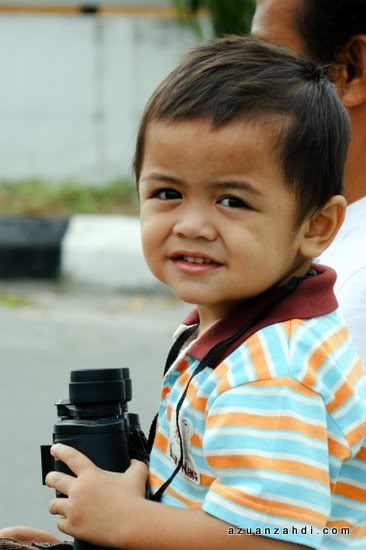 Finally it's the fighter's turn to steal the show. Starting with our own Sukhoi SU-30MKM
It was a sensational feeling to be standing few hundred meters away and getting amazed by the sound of the plane taking off. Awesome adrenaline rush man!
The Sukhoi did a quick show before returning to base. I'm proud that Malaysia has its own pilots who are able to perform as good as the international top-guns.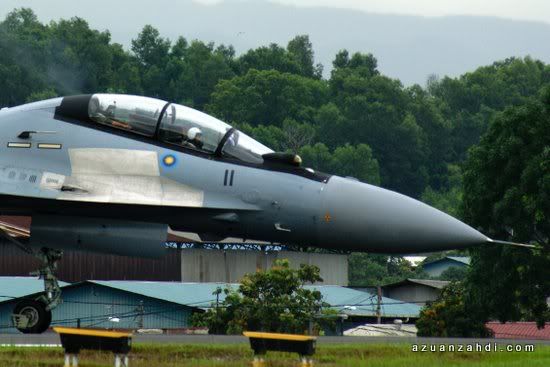 Around 11am, it was the highlight of the day, the Thunderbirds.
Only in Malaysia you would be able to see an F-16 Thunderbird and Nasi Kandar in one photo.
Notice that every pilot/plane has its own number, as seen here '2'.
Major Sean Gustafson waving tot he crowd~!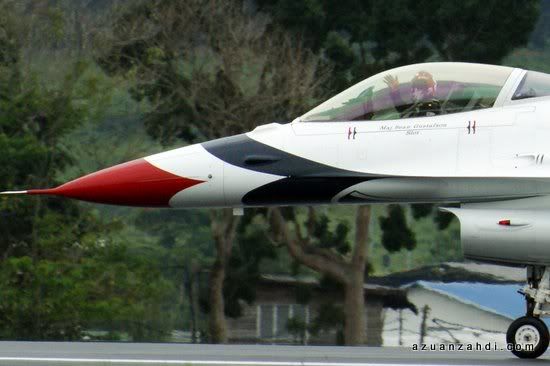 Taking-off. Being 100% discipline must be the key to all the precision moves.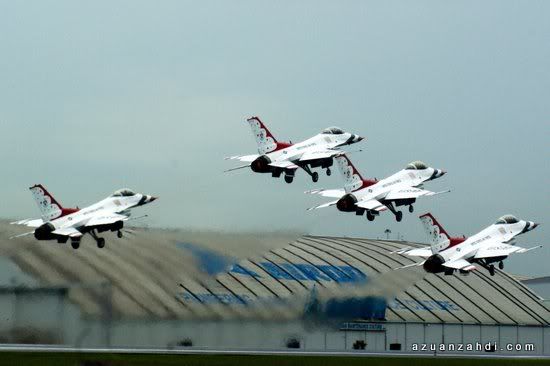 Some of their maneuvers. I need a better lens!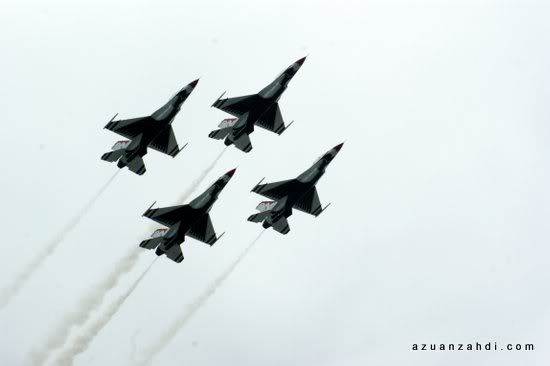 Just to show how low they were.
The end to a spectacular show.

It was a great experience to just stand at the airport fence and watch these planes in action. What makes it even more fun was the hospitality of the locals who had their own set of stories on experience living next to the airport. There was one time that I heard someone complaining about a small tree blocking the airport view. A local guy immediately went into his car and said "No problem".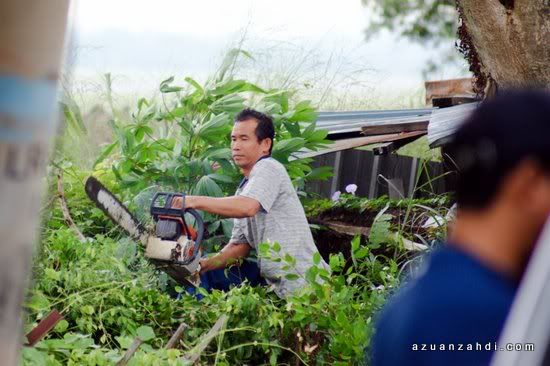 Problem solved. That's what I called a friendly and creative Malaysian!