Firefly Review – Episode 10: ORANGE is the new GREEN
Global warming and climate change are a few environmental issues that have frequently made the headlines in the local and international media. Malaysians are beginning to realize that something must be done to help stop the ill effects of pollution and environmental irresponsibility.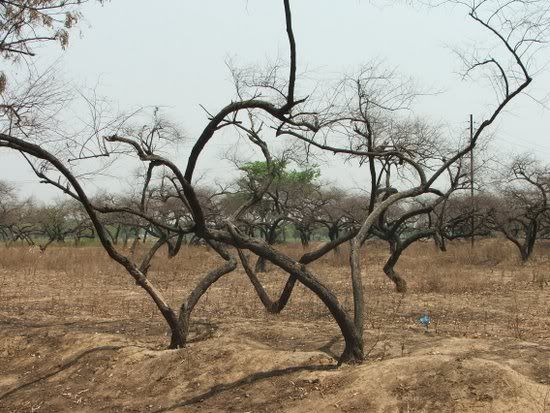 (royalty free image from www.sxc.hu)
Air travel is now recognized as one of the world's fastest growing source of greenhouse gases like carbon dioxide, which is a main contributor to climate change.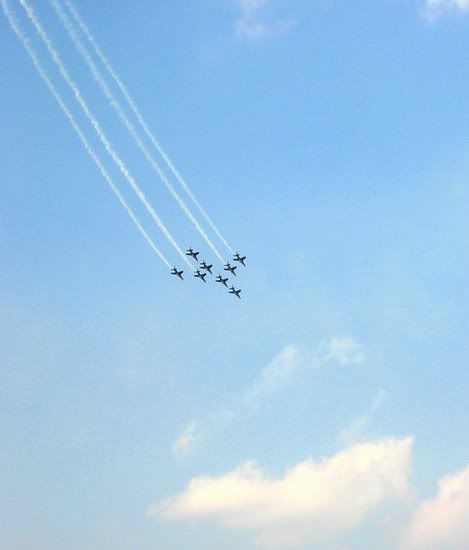 (royalty free image from www.sxc.hu)
Being a frequent flyer, I have been feeling a fair bit of guilt. Not only I've been flying a lot, I've also been promoting people to fly. In this episode of my Firefly Airlines Review, I am taking a closer look at what Firefly has done to minimize the impact of its operations towards mature nature.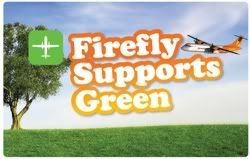 For a start, Firefly stands together with the International Air Transport Association (IATA) in reducing carbon emissions in the environment by upholding their Carbon Policy. The policy is relevant and in-line with Firefly's business model.

a) Point-to-Point & Direct Flights.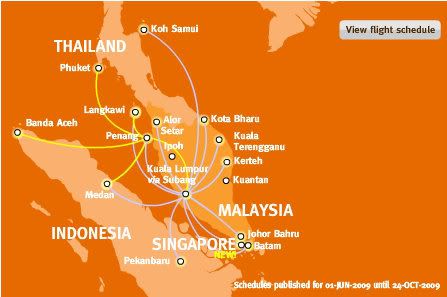 As a passenger, if you are going to fly, then try fly direct non-stop flights. Study has shown that the most concentrated emissions occur during take-off and landing hence the easiest way is to fly direct from point A to point B. Direct non-stop flights on secondary routes mean less flights hence less emission to the environment. This is consistent with Firefly's model of serving secondary route directly. For example, one can now fly straight on Firefly Airlines from Singapore to Kuantan instead of taking 2 flights via Kuala Lumpur previously.
b) The ATR72-500 Aircraft
Firefly used to utilize the classic yet reliable Fokker-50 aircraft. Being and old aircraft, it is not known to be environmental family despite being a turbo-prop aircraft.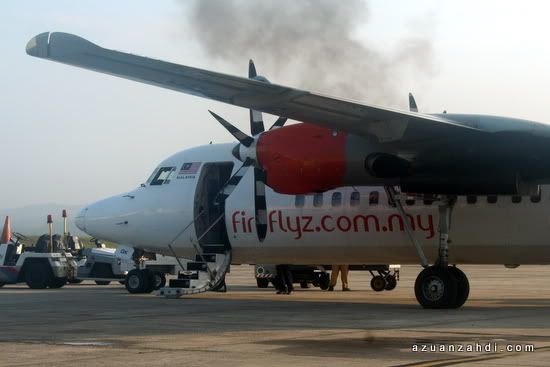 As Firefly continues to grow, it now operates seven brand new ATR 72-500 aircraft and has phased out the Fokker-50 aircrafts.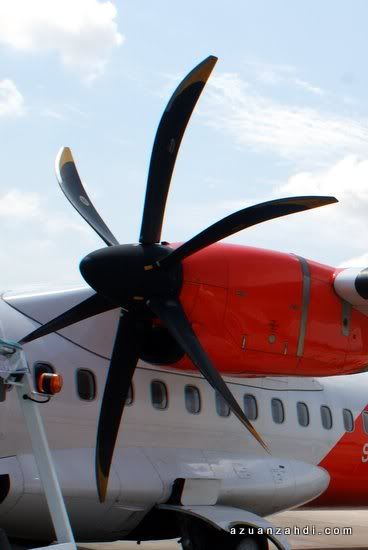 ATR claims that its aircraft has always made optimal use of advanced technologies to ensure a sustainable future for the aviation industry while minimizing environmental impact.
According to its website, the ATR 72-500 is more efficient than regional jet aircraft on short-haul routes. On a 200-Nm sector, the ATR 72 fuel consumption per passenger is 16% lower than a typical European car and 60% better than a typical 70-seater jet. ATR 72-500 emits about 50% less CO2 per passenger-km than new-generation jets and up to three times less CO2 than older ones. Compared to a car, the ATR 72-500′s carbone dioxyde (CO2) emissions per seat/km on a 200-Nm (370 km) sector are 15% lower.
Regional aircraft such as the ATR also operates at relatively low altitude, leaving the ozone layer unaffected and barely contributing to pollution of the upper atmosphere.
In a nutshell, the moment that you choose Firefly over other airlines that fly older jet planes, you are already making a wise and environment-friendly choice. Choose Environment, Choose Firefly.
c) Quiet please.
ATR 72-500 is a product of combined technology that not only is fuel efficient, but also "noise friendly". Being a turboprop plane, all ATR models are compliant with the standard noise regulations. Firefly aims to emit as little noise as possible when flying to the neighborhood of its destinations. Being a community airline, Firefly flies into city airports like Subang, Ipoh and Kerteh that are located near to housing areas. Therefore the capability of ATR to comply with new potential noise regulations or airport restrictions makes them a pleasant visitor at these smaller city airports.
d) No Fancy In-flight Meals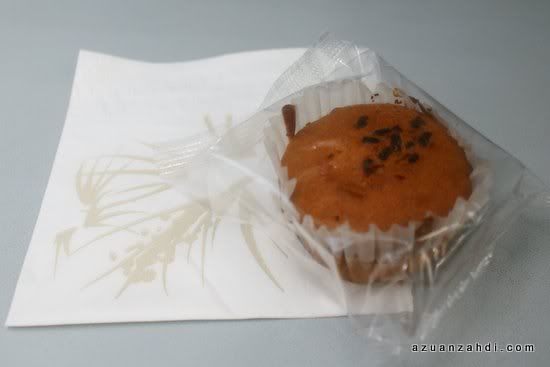 Keep it simple. Firefly serves basic in-flight refreshments with minimal usage of plastics. No plastic containers, no fancy wrapper, no plastic cutleries. Just a simple paper cup and a small piece of plastic for muffin wrap to ensure hygiene and freshness. Hopefully one day, passengers have the option to bring their own mug and have the muffin served hot from the oven without any wrap.
e) Dedicated section on Firefly's website.
There is a dedicated section on Firefly's website talking about their support on green initiatives. Point your browser to http://www.fireflyz.com.my/about/environment and learn more about their environment target and achievements. The section also features a Carbon Offset Calculator as part of the Carbon Offset Scheme in collaboration with Forest Research Institute of Malaysia (FRIM) on behalf of the Ministry of Natural Resources and Environment (NRE). Through this program, passengers wishing to participate are invited to opt in by using cash to offset the carbon dioxide emissions of their flight or making an one-off contribution.
****
Now that we know what Firefly has done to save planet earth, how can we passengers help? For a start, whenever you need to fly, choose the right airline. Consider having 'environment factor' as one of your decision making factors besides price when deciding which airline to choose.
Also if you have some extra money to spare, why not participate in the Carbon Offset Scheme?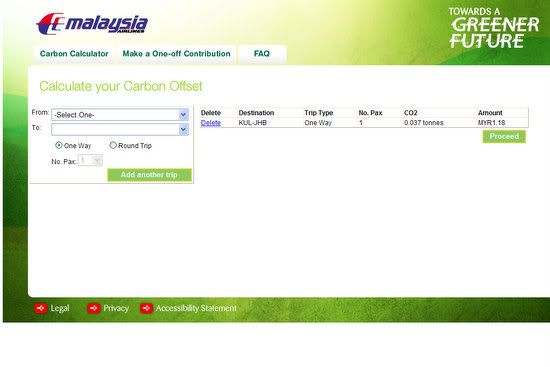 I've tried using the carbon calculator in MAS's website and a rough calculation showed that one round trip from KL to Johor Bahru has a carbon offset amounting RM1.18. I've flown this route roughly about 60 times this year and that means that I 'owe' the environment RM70.80
Instead of contributing RM70 to the MAS/Firefly Carbon Offset Scheme, I decided to do something a bit different that adds a bit of fun to my blog
I took the RM70 and decided to 'adopt' seven small plants around my house. I've managed to convince my mom to let go 7 of her plants at the cost of RM70 for me to take care for as long as I fly.
Introducing my seven plants, code-named FYA, FYB, FYC, FYD, FYE, FYF and FYG.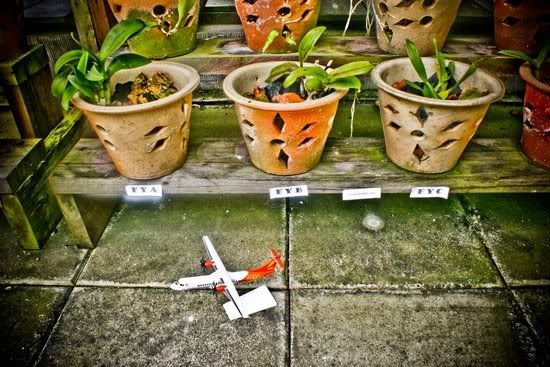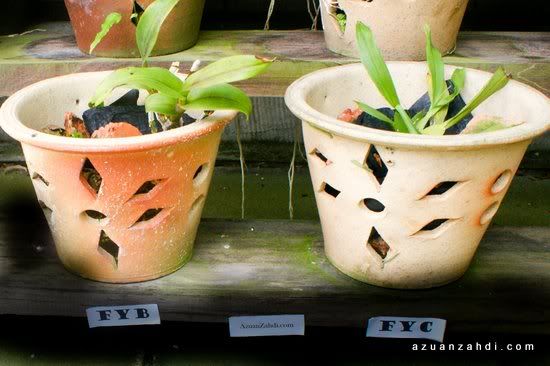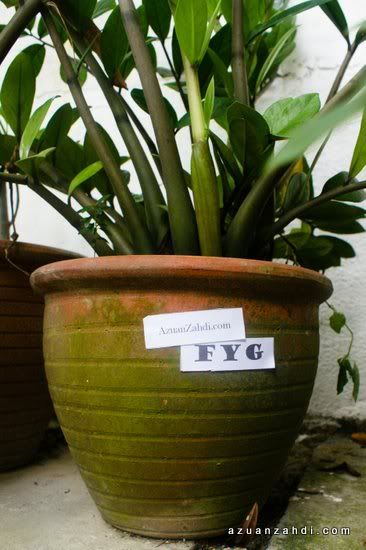 The names may sound a bit 'corny' but at least the next time I fly with Firefly, I can start a conversation with the stewardess with "Do you know I have a plant that has the same name as this plane? You have to come to my place to check them out."
Talk about a cheap pick-up line
LOL.
Let's see how long I can keep the plants flying high.
***
Global warming is everyone's problem. Firefly Airline through its initiatives has embarked into becoming a responsible corporate entity as far as environmental issues are concerned. As a passenger I feel much better flying with an airline that cares about the environment and really walk-the-talk. In the end, the choice is in our hands.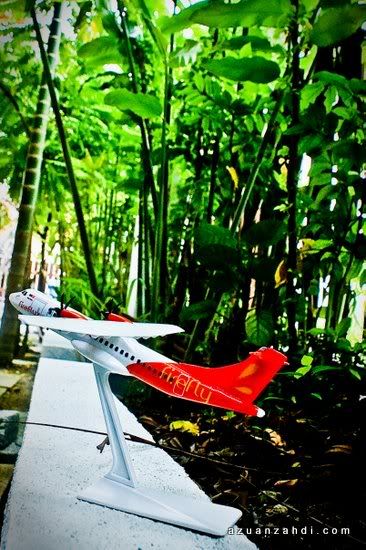 If you still think despite all the above initiatives, flying is still bad for the environment, there is not much i can say but to recommend: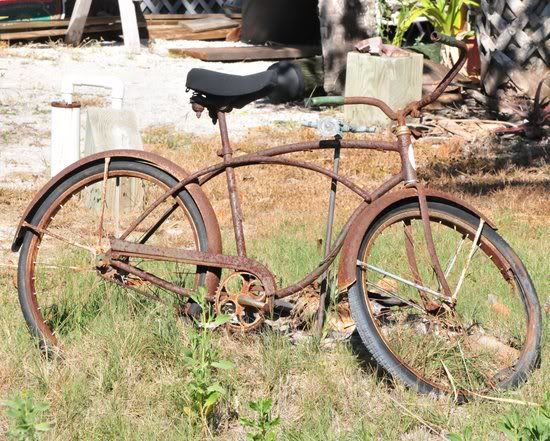 (royalty free image from www.sxc.hu)
Just make sure for the next Hari Raya, you travel one month in advance.
____
The article above represents my personal view and has nothing to do with Firefly Airline's official view. Please do not hesitate to contact me at azuan_az@hotmail.com. For more information on Firefly Airline, visit their official website at http://fireflyz.com.my or my series of Firefly Reviews.
____