Firefly Review – Episode 9: The Wing Commanderz 2009!
A flight simulator is a computer system that tries to simulate the experience of flying an airplane as closely and realistically as possible. There are different types of flight simulator ranging from video game software up to full-size cockpit replicas mounted on hydraulic, controlled by state of the art computer technology. While full motion simulators are widely used to teach pilots how to properly operate various aircraft systems under different scenarios, lower-end flight simulators are also used as entertainment, marketing and public awareness tools.
In this week's review on Firefly Airlines, I am taking a closer look at Firefly's own mobile flight simulator, the Wing Commanderz 2009. During the recent Matta Fair held in PWTC, I had the chance to experience the excitement of Wing Commanderz 2009.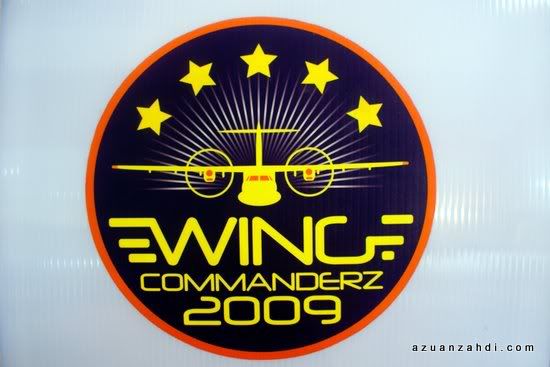 Based on Microsoft Flight Simulator 2004 platform, Wing Commanderz 2009 enables the public to experience 'flying' a Firefly Airlines ATR72-500 with real-life conditions such as night and during rainy and windy situations. Equipped with a flight simulator yoke, great sound system, large printout posters of ATR cockpit layout and realistic cockpit seats, Wing Commanderz is nicely designed to give the 'pilot' a feel of flying in a real modern aircraft cockpit.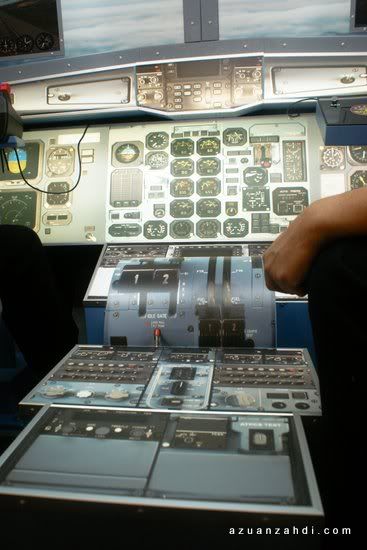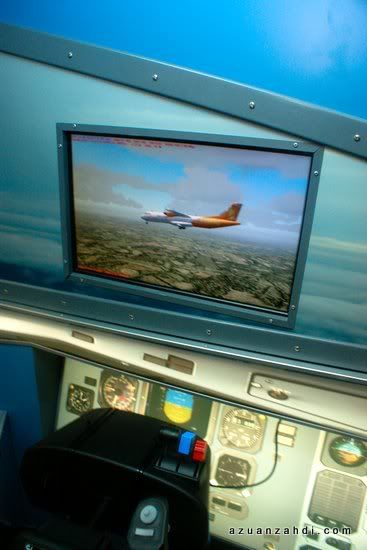 For only RM15, visitors to Firefly's booth were given the chance to enjoy a 10-minutes simulator experience, a free cap and a chance to win free tickets through a lucky draw.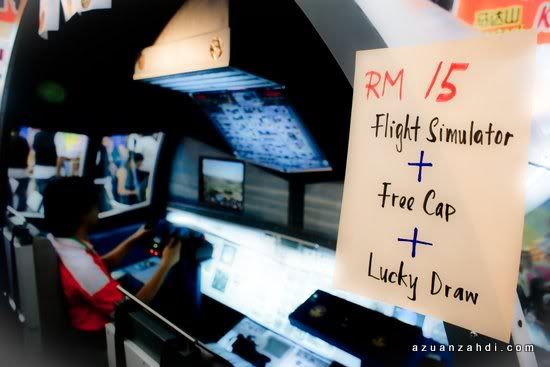 Visitors who bought Firefly's cool merchandize at the booth were also entitled to fly on Wing Commanderz 2009.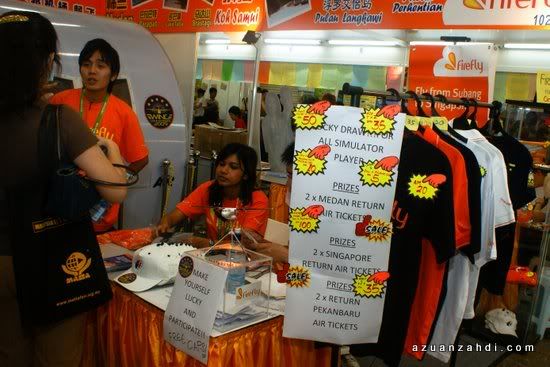 My first attempt at Wing Commanderz 2009 simulator, with the assistance of experienced 'pilot', Mr. Calvin.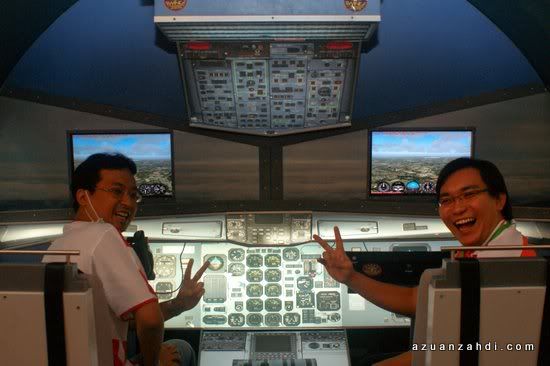 The flight started at the height of 2,500 feet and few miles away from Subang Airport.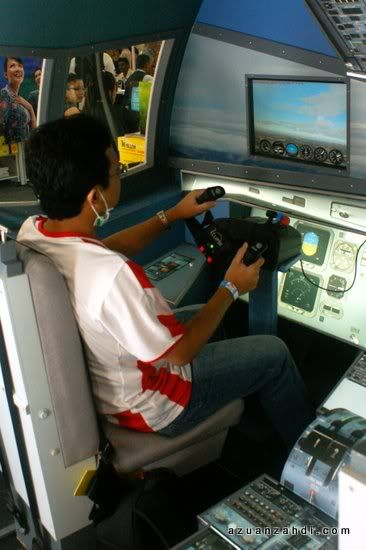 It's all about getting the right balance between airspeed and altitude as I descent towards RWY 15 of WMSA.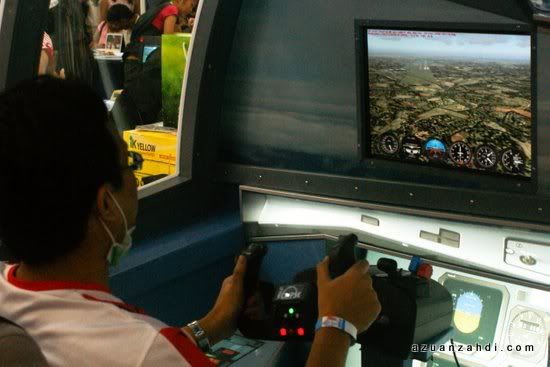 It was only my first time using a flight simulator yoke and I had difficulties in coordinating and came in a bit too low. 3 Red and 1 White lights indicating that I was too low.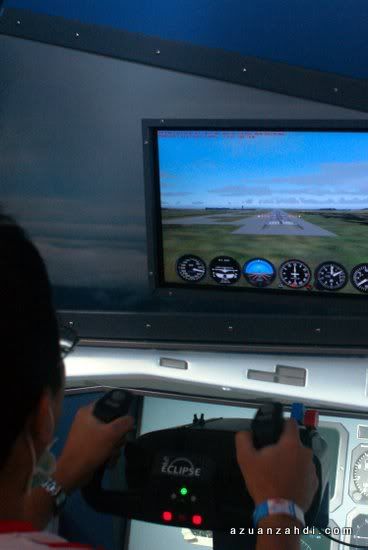 Last minute adjustment and I managed to safely land the plane on my very first try. To be fair, I'm actually very familiar with the airport and I've been flying Microsoft Flight Simulator for the last 10-years so it was not really something totally new for me.
For some of the guests, especially first-timers, this is how their flights ended.
Oops!
I even attempted the night land scenario but could not make it as I could not read the instrument well and there was no Instrument Landing System (ILS) setup for this simulator. For the seasoned and experienced flyers, the night landing is a piece-of-cake.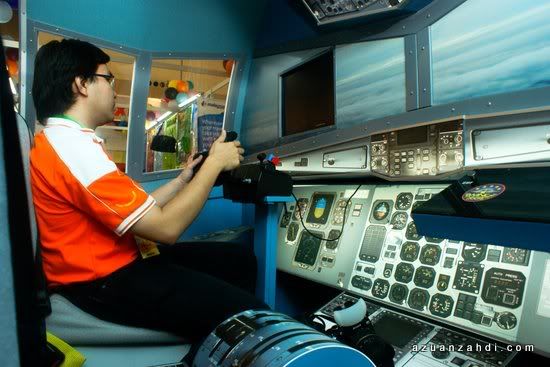 I had a great time experiencing the Wing Commanderz 2009. Although it is more of a game rather than a real simulator, it is a refreshing new concept that brings uniqueness and creative touch to an exhibition booth. A few of the visitors that I met expressed their excitement for being able to try the simulator and some even went on the simulator a few times to satisfy their adrenaline rush.
Wing Commanderz 2009 is a cool platform to promote public awareness on aviation at the same time promoting the existence of Firefly Airlines. For me it is just another reason to love this great little airline! Make sure you catch the opportunity to try Wing Commanderz 2009 at the next exhibition venue. Check out Firefly's Facebook for up-to-date information on the next venue.
For those who cannot wait to experience the Wing Commanderz 2009, why not try the pc-based Microsoft Flight Simulator 2004 software. There are great add-ons to the basic software that can be downloaded from websites such as Avsim.com and Malaysian Simmers that will allow you to experience the same excitement of virtual flying with Firefly. Below are some screenshots of my virtual flight FY3402 from Penang Internaional Airport (PEN/WMKP) to Polonia International Airport Medan (MES/WIMM).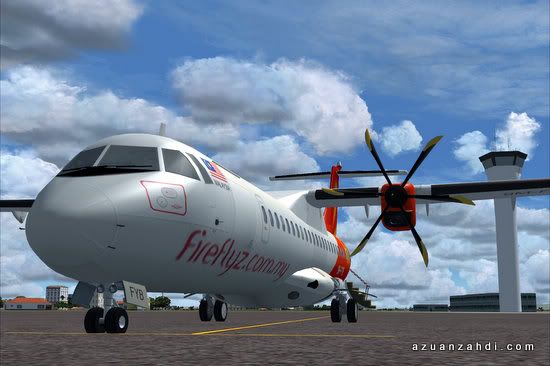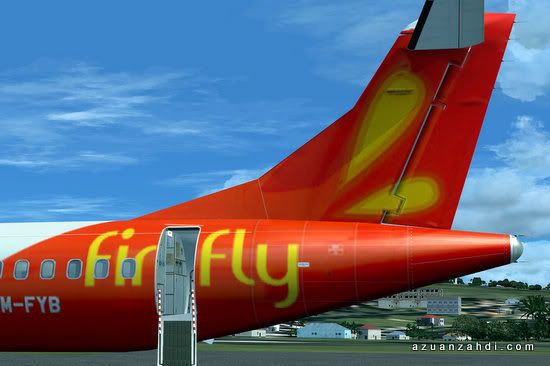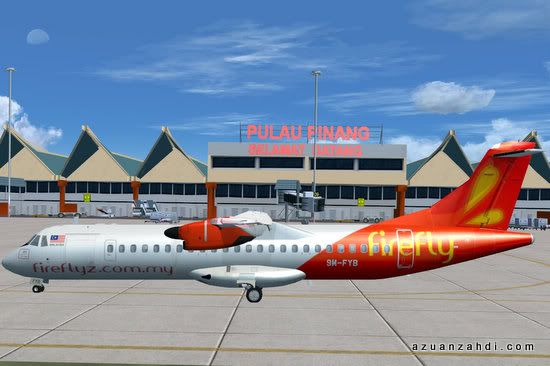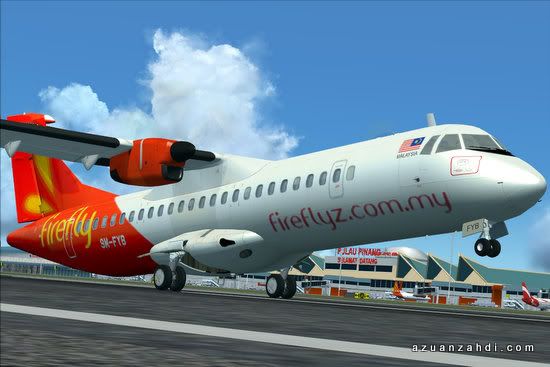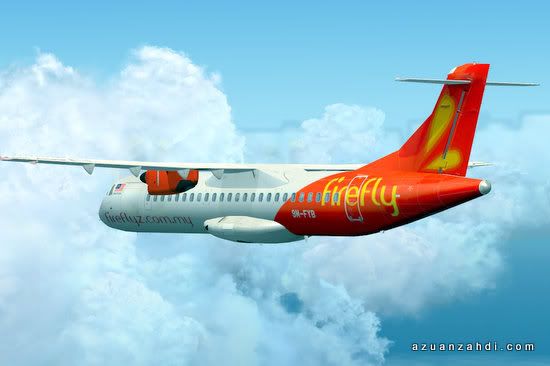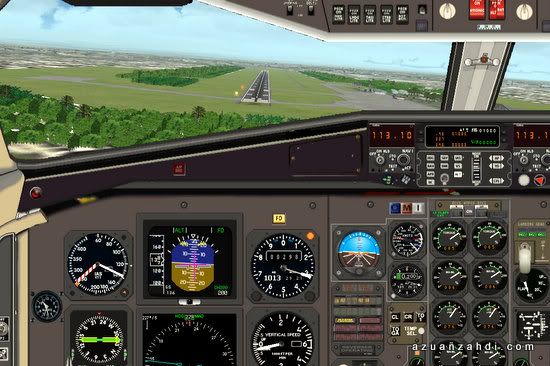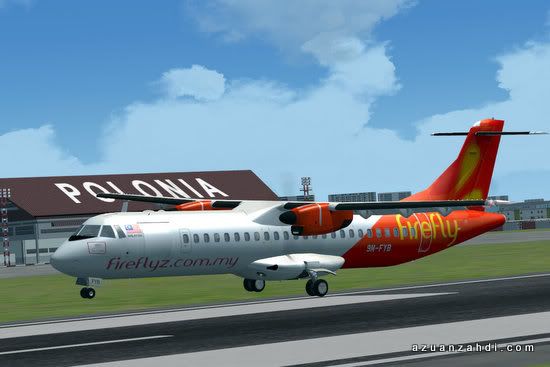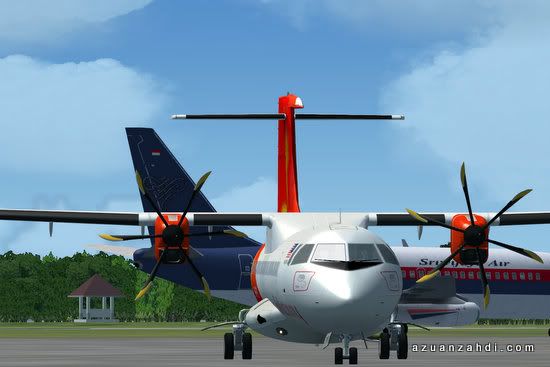 _______
Airports and Aircraft livery for FS2004 can be downloaded at www.avsim.com. Credit goes to Mr. Joe Tan for the beautiful Firefly livery and Mr. Hafiz Nizam for helping me to re-build my FS2004 from scratch.
There you go, plenty of options for Firefly fans to enjoy enjoy their favourite airline in the virtual-reality world. Get back to me through the comments function below or my email azuan_az@hotmail.com if you have any comments or suggestions. For more information on Firefly Airline, visit their official website at http://fireflyz.com.my or my series of Firefly Reviews.
See you next week!