Ho Chi Minh City Business Trip
Ho Chi Minh City, Vietnam is experiencing a resurgence of business opportunities. Like many other developing countries, there are plenty of opportunities for basic infrastructure development projects with funds coming from all four corners of the world. With the objective of tapping into these opportunities, I was in Ho Chi Minh City for 2 days 1 night.
As much as I love traveling to a country that I've never been to, a business trip is always just a business trip. After 2 days 1 night, most of the time I was either at an airport or inside a plane or in a meeting room. Nevertheless here are some photos from the trip. As always I never blog about my work so most of these photos are under the category of 'in between meetings'.
One thing that I never get tired off, flying. Even on the 'now-getting-old' Boeing 737-400 of Malaysia Airlines. The Malaysian Hospitality of the crew as always is the savior point.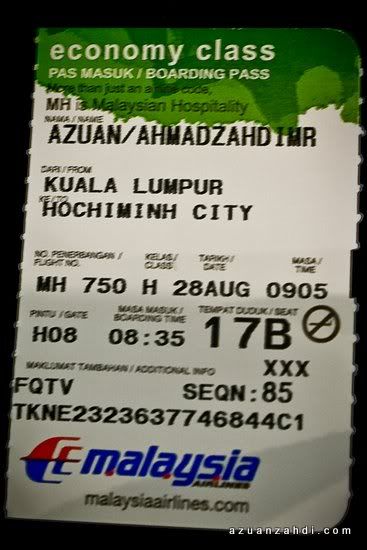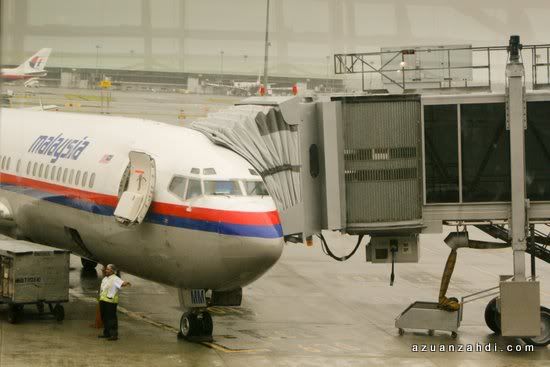 An hour and 50 minutes later, the aircraft landed at Tan Son Nhat International Airport, one of the modern infrastructures that have made way into Vietnam.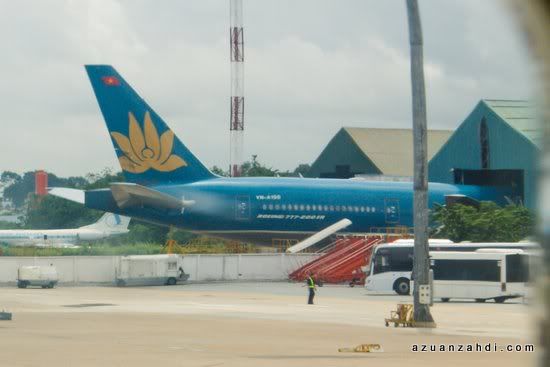 Checked in into an affordable hotel 10-minute from the airport, the First Hotel. The hotel is around 30-minutes drive to the city centre, a fact that kills off any intention to go sightseeing in the city. Nevertheless it's a comfortable hotel.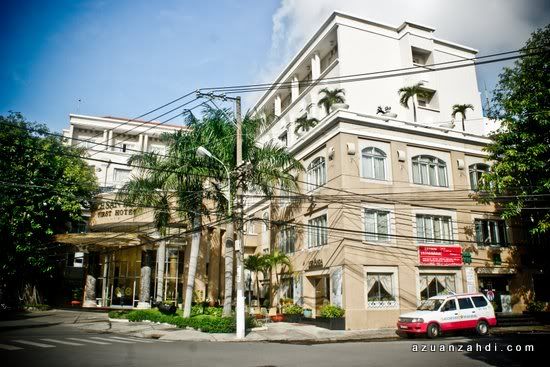 My room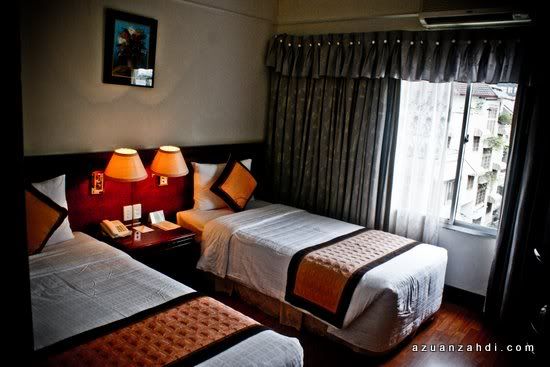 View from my room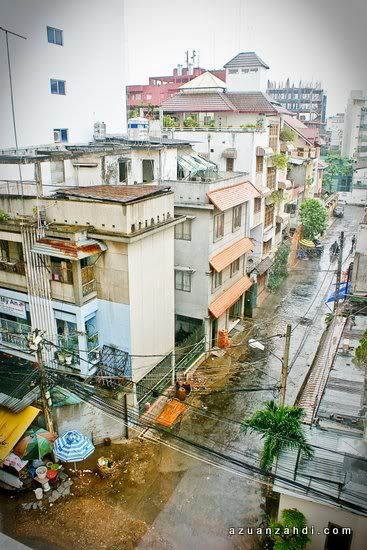 Right after check-in we went straight for a 70km drive to My Tho City where meetings were scheduled with some local counterparts. It was raining heavily throughout the journey which means taking photo is next to impossible from inside a car travelling fast.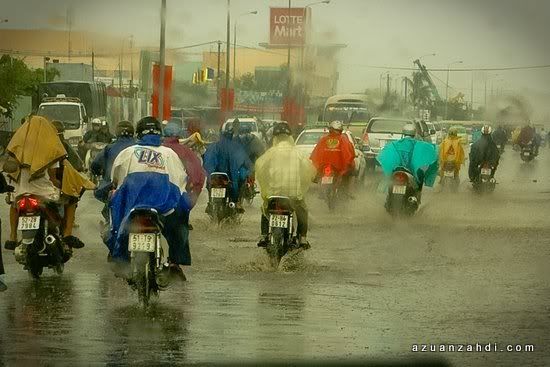 What I find interesting is the hat. Cool huh?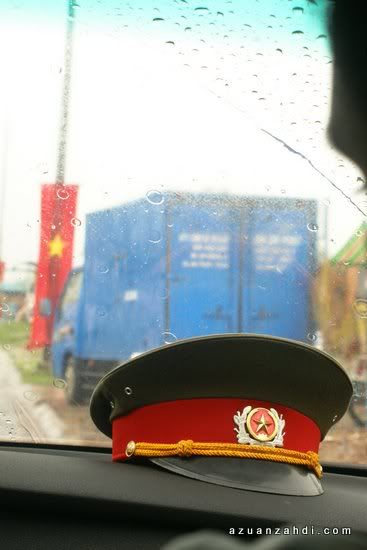 Our ride, a BMW X5.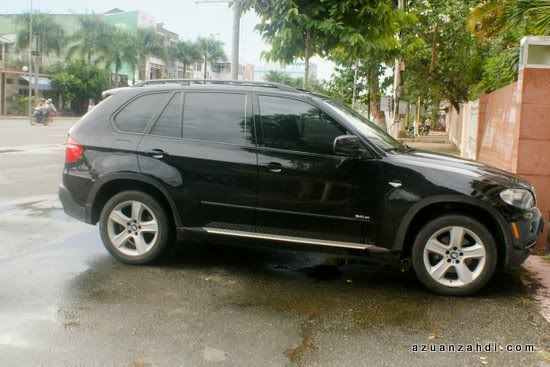 A typical setup of sellers by the road-side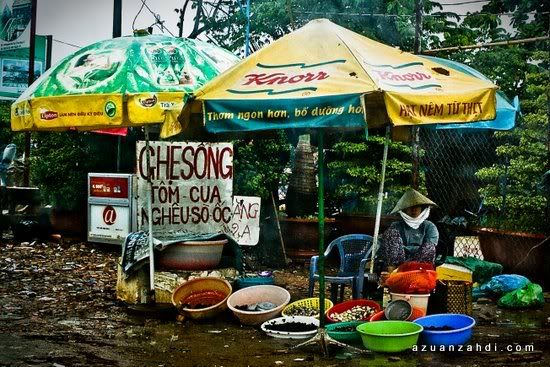 Simple road, Simple toll booth, Simple Bridges.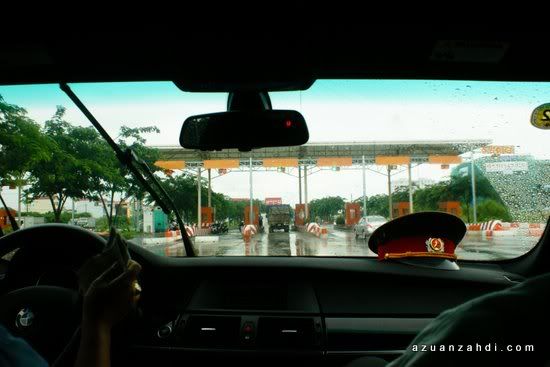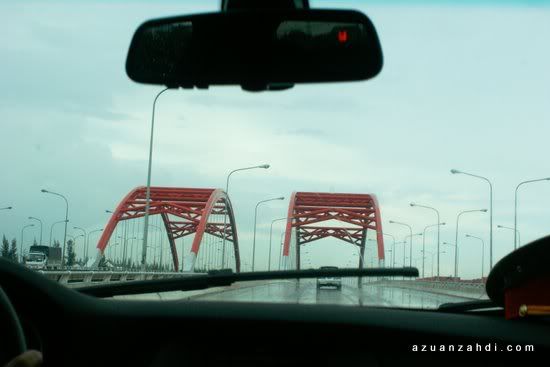 The only entertainment for the 2.5 hours journey, a long play list of Vietnamese songs! Good stuff although I did not understand a word.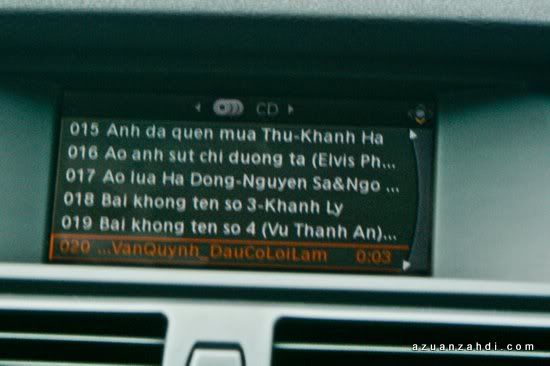 On the way, we stopped by for lunch. I was fasting but insisted to join them to capture some photos of the traditional noodle.
The menu, the sauce and the Noodle.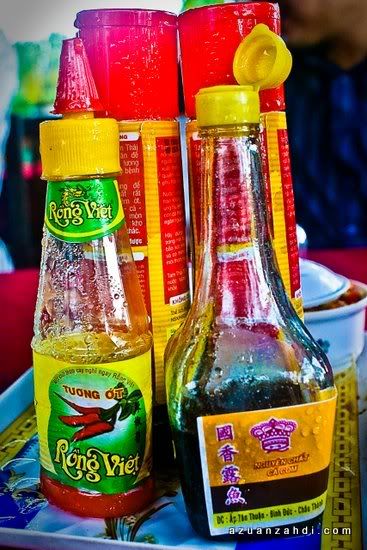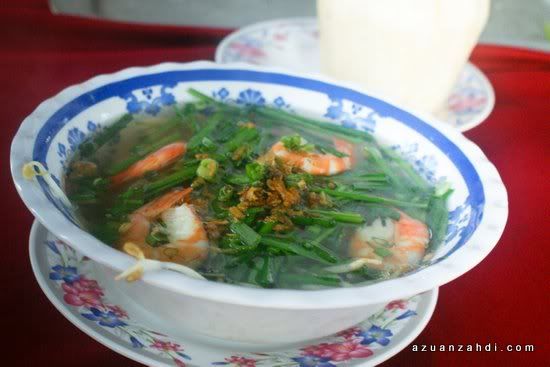 Finally we reached My Tho City, just like Ho Chi Minh City the roads are big but congested with hundreds and even thousands of motorcycles.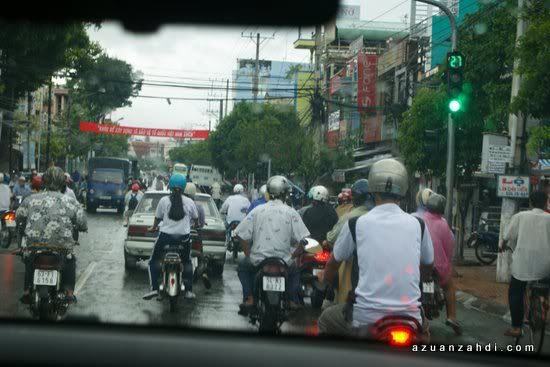 After a very good meeting that went on for about 3 hours, we were invited for a feast with the local client. My Tho City is famous for being the tourist access point to Mekong River. However no river cruise is scheduled, only a river-side dinner which eventually turned out to be at a place 3-km away from the river.
It was only 5pm so I was still fasting. It saved me from the need of giving 1001 excuses not to drink alcohol at the same time being polite to the clients.
The food:
a) Fresh Fried Fish wrapped with vegetable ala Spring roll (I have no idea of the real name)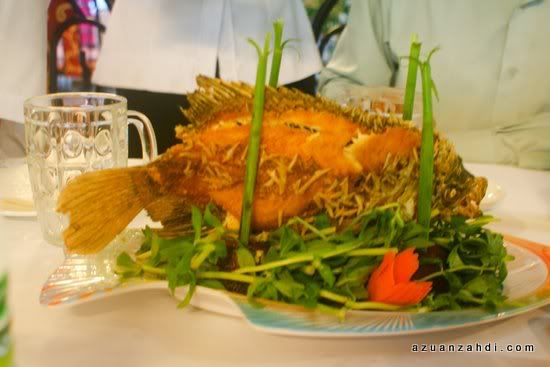 b) This mysterious food that taste like Tosai with glutinous rice filling. Alongside fresh Cili Padi.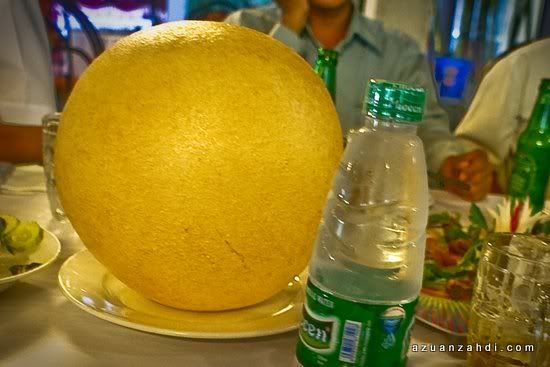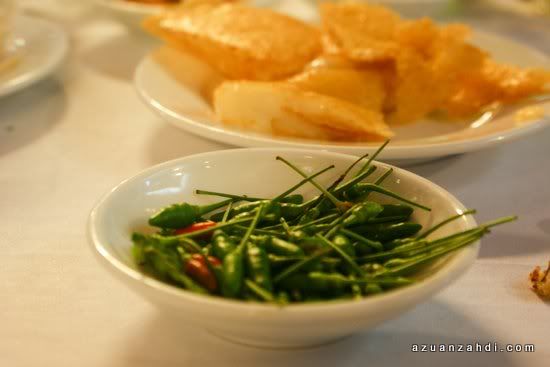 c) Salmon with vege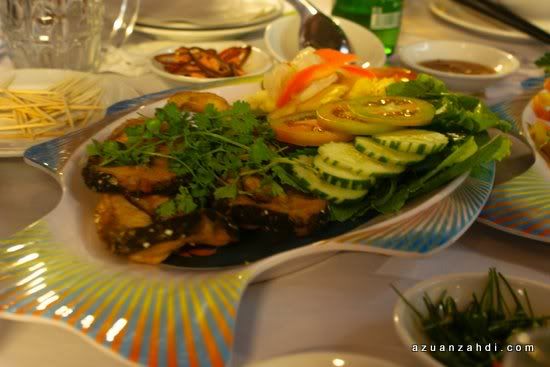 d) and Chicken and Fried Rice and lots of Heineken.
I had to be careful with the food and decided to stick to the seafood and vege and water. My buka-puasa for the day. Nevertheless it taste good (any food after 12 hours of not eating surely taste good).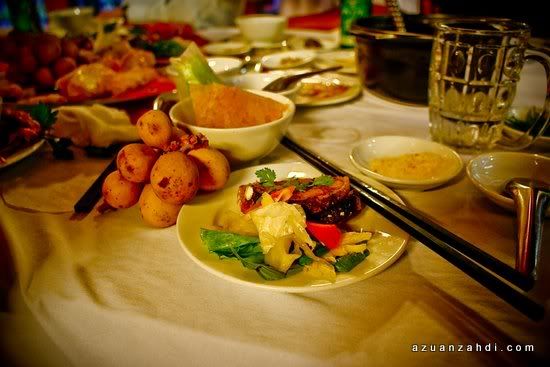 Followed by another 2-hour drive (and in-car discussions) in the evening back to Ho Chi Minh City. By the time we reached Ho Chi Minh City, our local partner took us for a quick tour to the city.
1st stop was Le Loi – Tran Hung Dao Roundabout. Standing in the middle is the Statue of General Tran Nguyen Han on his horse. General Tran Nguyen Han was a 15th-century warrior served under King Le Loi.
And next to it, the famous Ben Thanh Market. Too bad I was not in the mood for shopping so just a quick photo of the place.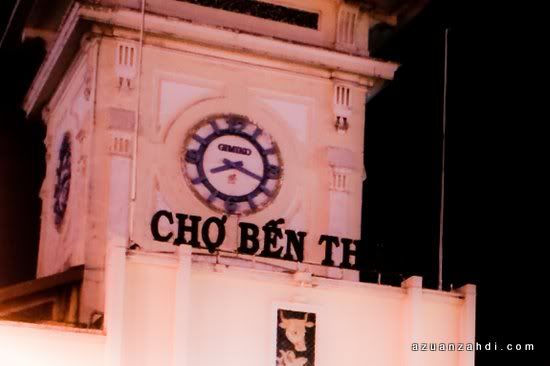 It is here where i experienced one of the 'must do' in Vietnam. Crossing a busy street. There is a zebra crossing but no motorcycles nor cars will stop for you to cross. It was one scary experience but I managed to convince myself to be brave and simply walk across a busy street for 20m and have the traffic avoiding me. What a cool feeling!
Next was the famous Notre Dame Cathedral. It was too dark to get a nice photo of the Cathedral but nevertheless it's worth taking a look at this lovely red-bricked church that was built using bricks from Marseilles and stained glass windows from Chartres. It's French influence throughout the building.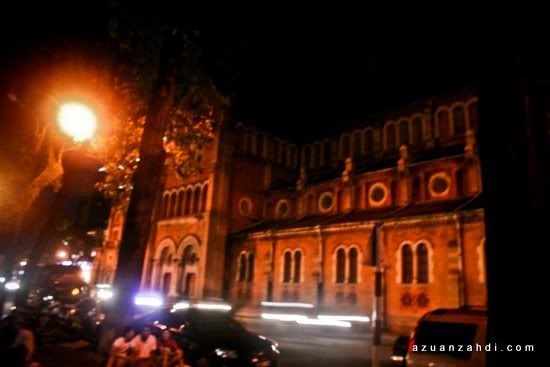 We then went for a drink to have more business discussion. While walking, saw these cute little traffic lights.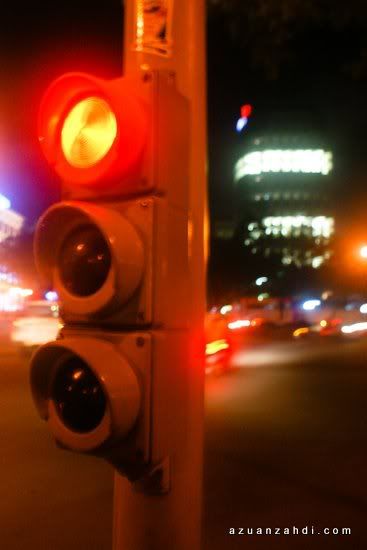 Typical flags that can be seen on the streets of Ho Chi Minh City.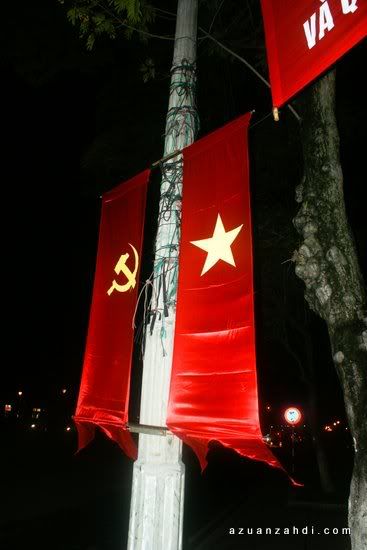 My drink. Good stuff!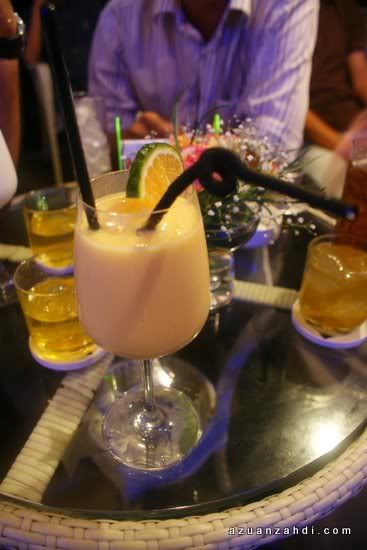 Right after that I went back to the hotel, tired after a long day.
My next post will cover Day 2 journey traveling from Ho Chi Minh City all the way to Johor Bahru.