Malaysian Open 2009 – A day with Nicol David!
It's squash time once again. The annual Malaysian Open 2009 Squash tournament was held last weekend at its usual venue of National Squash Center Bukit Jalil and the final rounds at The Curve Damansara. Every year I always make an attempt to attend the two tournaments held in KL which are the KL Open and the Malaysian Open. These are the few times that I can witness live the 'magic' of Nicol David winning game after game to retain her World Number #1 for quite some time now.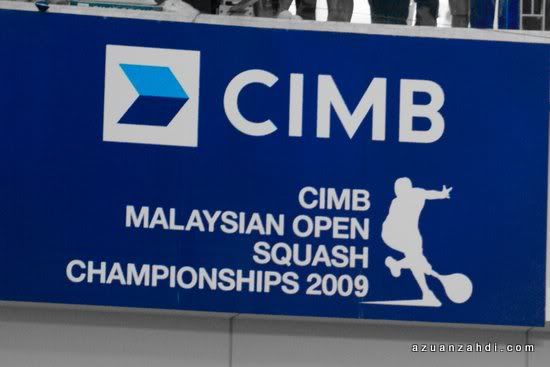 Last year I attended the Malaysian Open and I blogged about it here. It wasn't a great experience last year as I could not get good seats despite arriving early to The Curve. I wasn't that excited to attend this year's competition and was actually thinking of just watching it live on TV. However it all changed when Lorraine Siew gave me good news few days before the tournament. Her exact words were "We are getting a media pass for you and we are having dinner with (Dato') Nicol herself after the game". That's one of the best news I had for quite some time 🙂
Thanks to Elaine of SquashStars.com and of course Lorraine Siew (my right hand person in running Nicol David Online for the last few years), I was treated to a wonderful weekend@ The Curve. In case you do not know, SquashStars.com is founded by Nicol David herself to champion the game that she loves. The website is currently represented in Malaysia, Mexico, Netherlands, New Zealand, USA, Ireland, Canada, Italy and Denmark by a group of professional women Squash players. On the other hand, Nicol David Online is the 'fan-page' of Nicol David that I started in 1998 nd after 10-years is still running strong in the cyber-world.
Pictures do tell a thousand words, so enjoy these photos of my great squash weekend!
1) The crowd. As always it's full-house crowd. Sometimes I question myself, is it really necessary to have the finals in a shopping mall? Publicity, yes. Capacity, no! I had more comfortable time as a spectator during KL Open 2009 at NSC.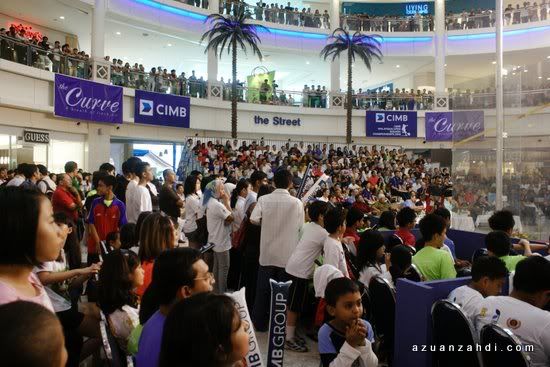 2) My pass courtesy of SquashStars.com. Thank you! Note that I was the only 'media/press guy' with a small/basic DSLR. I learned something. You need a good professional DSLR camera/lens to cover fast sports actions like Squash but you need even a more superb high end camera/lens to cover Nicol David in action!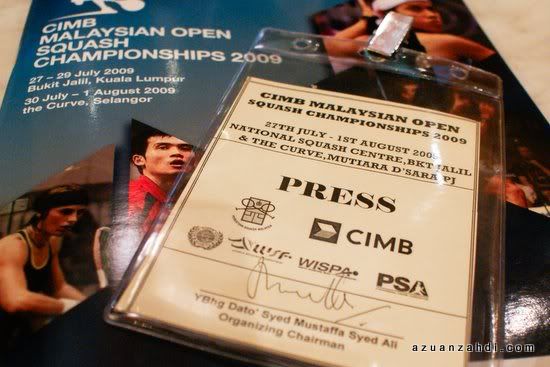 3) Some of the crowd.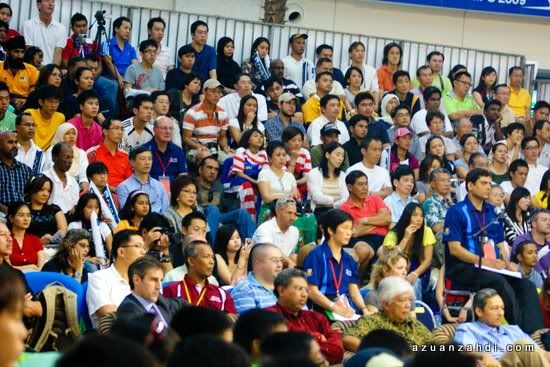 4) The Cheerleaders
5) The famous #1 Malaysian Sports Fan with his team of loyal Malaysian Supporters, FAMEMAS!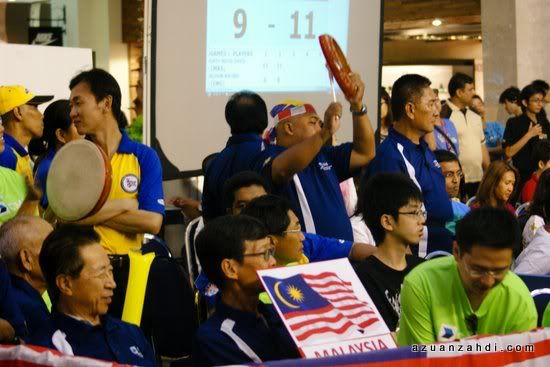 6) I had to squeeze at the back of the court to get into a tiny window for photo opportunities. There were at least 10 other photographers/videographers and they are all seasoned experts, so it wasn;t easy to get a good shot.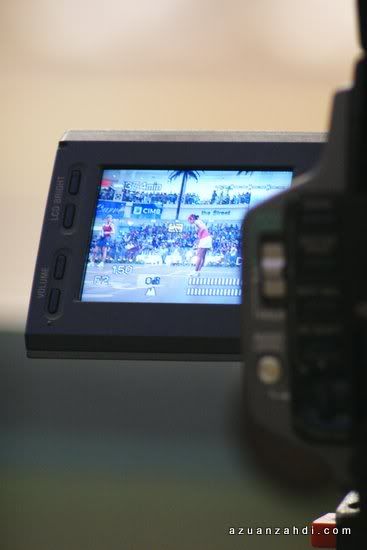 7) Nicol in action on the 2nd set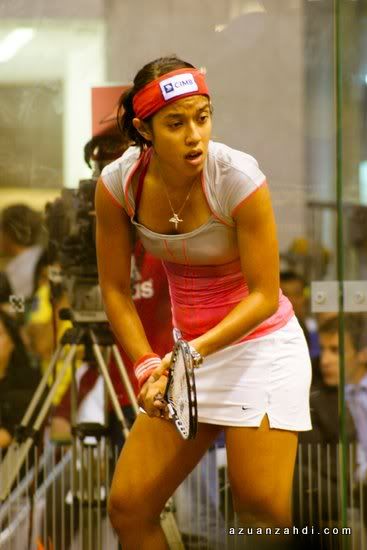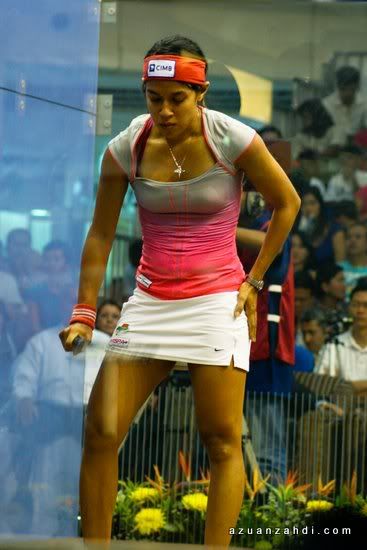 8) Scoreboard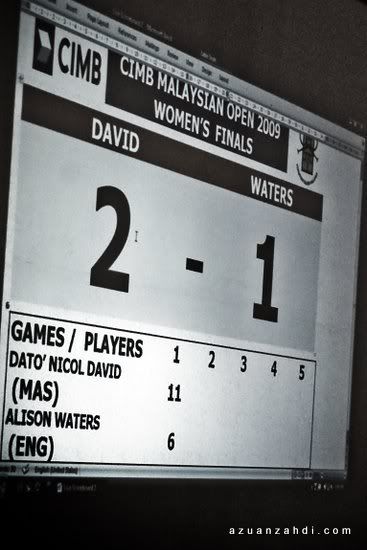 9) Nicol won the first 2 set but it wasn't an easy cruise as Alison Waters of England played a good game not only in the finals but throughout the Malaysian Open tournament.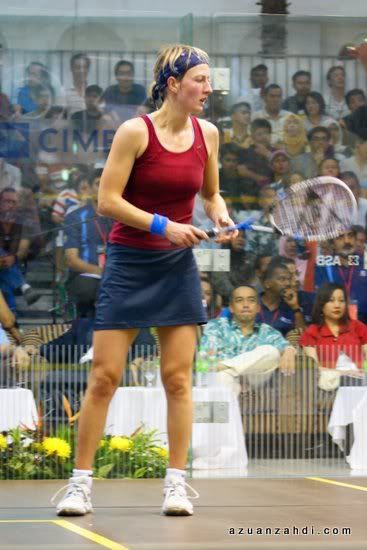 10) Nicol lost the third set.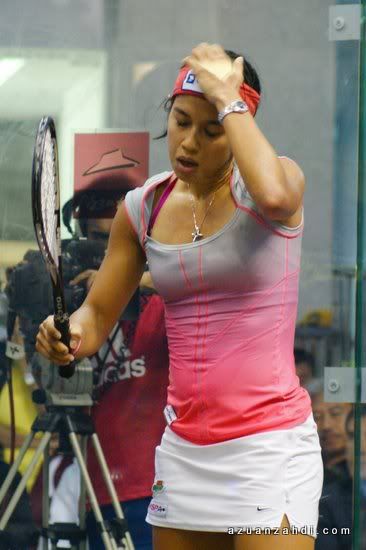 11) The game gets more interesting in the fourth set.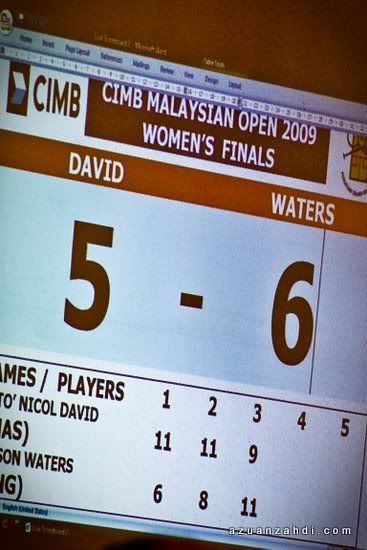 12) But Nicol bounced back with some great shots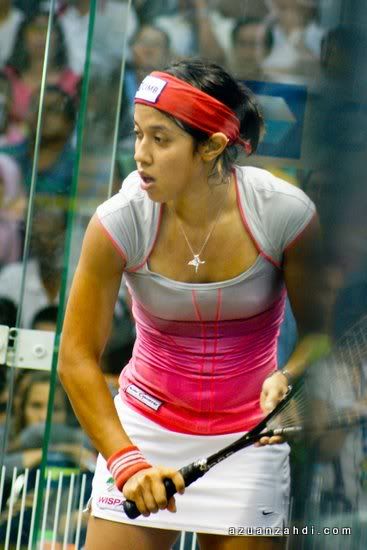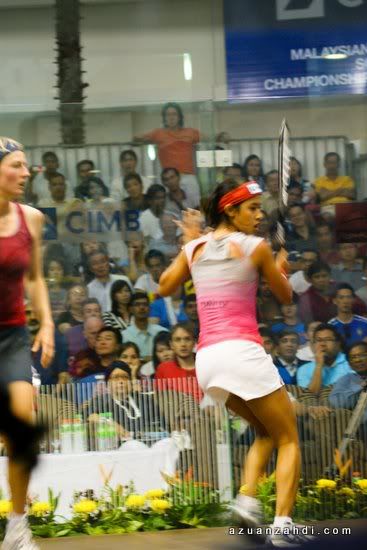 13) and wrapped the game in 4-sets. Another title for Nicol. The fifth Malaysian Open title in a row.
14) Nicol giving her victory speech!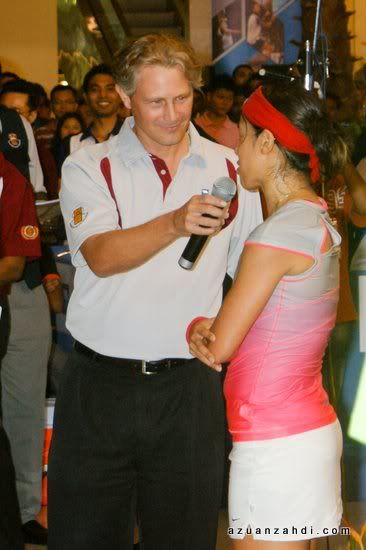 15) Malaysia Boleh!
17) She was surrounded by her fans while waiting for the awards ceremony. Nicol being Nicol handles her fans in a very polite and friendly manner.
18) Nicol during the award presentation. A heavy trophy on one hand and a bulky bouquet of flowers on the other. Good balance indeed! 🙂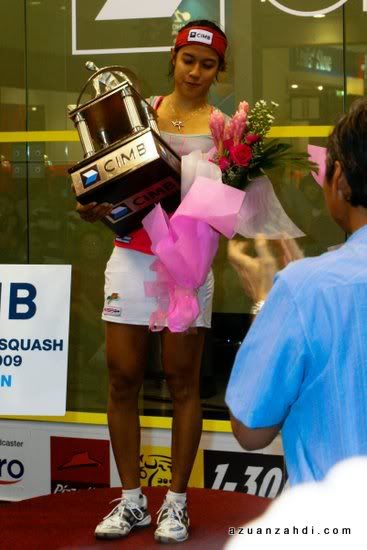 19) The women champion and 1st runner-up. Congratulations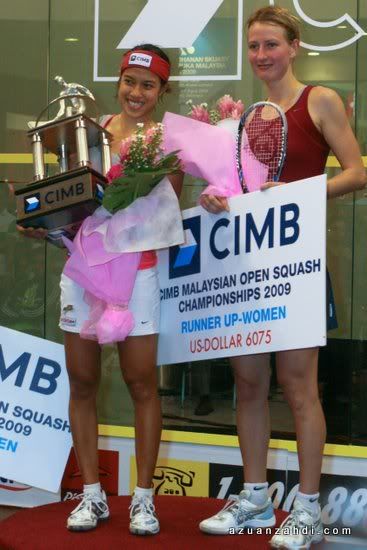 20) Nicol showing her excellent PR-skills!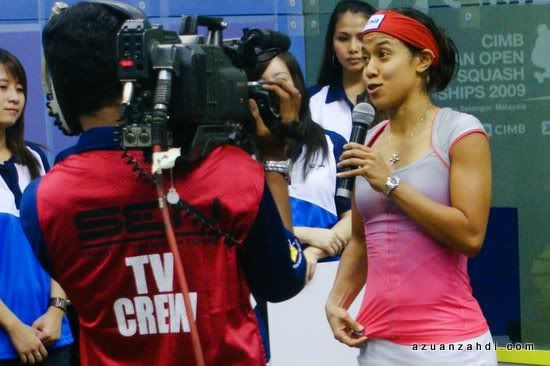 21) Congratulations Nicol! This particular photo was taken with me one-on-one as the other photographers were already leaving.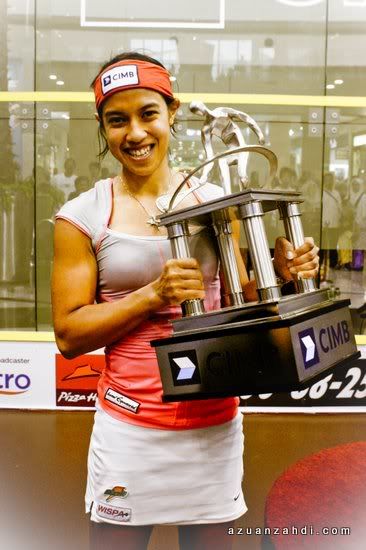 22) I didn't get the opportunity to have a photo taken with Nicol after the game but I did get to catch this guy, the famous Malaysian supporter!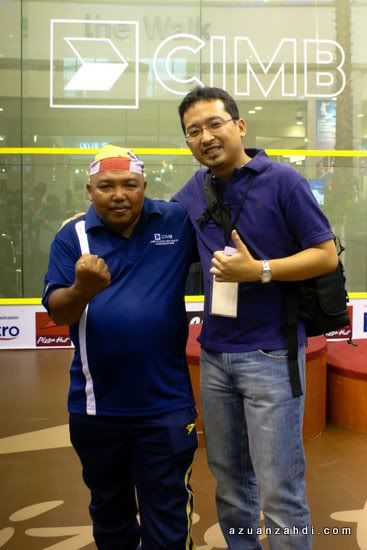 23) A couple of hours after the game, I had the opportunity to wind-down and have dinner with Nicol and friends at TGI-Fridays. I felt bad that she took the bill and paid off dinner but she did just win USD8550, hehehe….One for the album. Last time I took photo with Nicol was during the KL98 Commonwealth games. 11-years down the road; she's still the same great down-to-earth person. The only different now is she's a world champion!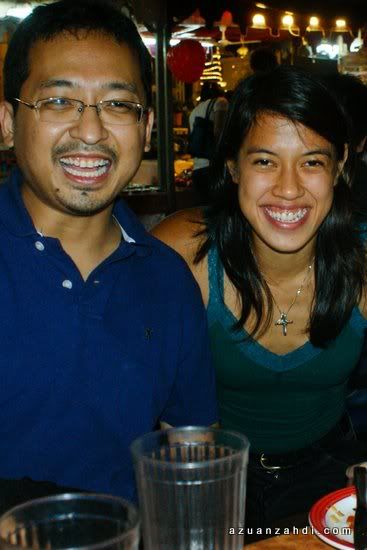 I had fun with my camera throughout the game. I had fun watching Nicol winning. I had fun meeting Nicol and her friends for dinner after the game. It is indeed a memorable and fun evening! I look forward for the next tournament and wish Nicol all her best for her next tourney in Singapore!