Firefly Review – Episode 6: Getting the Best Deals!
In this week's post, I would like to share my own experience, 'tips-and-tricks' in getting the best deals out of Firefly Airline. Please note that these tips are from my personal experience and just like my other Firefly Reviews, it does not reflect the official view of the Airline. Have fun in trying out these tips and all the best in getting the best deals for your next air travel 🙂
Tip #1 – Book Early!
This is the mother of all tricks. Book your flight as early as possible. For each flight, there are seats that are set to be at the lowest price. Generally speaking, under the dynamic fare structure or bucket fare system, passengers who book first will pay only a fraction of what passengers who book last will pay. Fares are based on the daily market demand.
A quick search on early January flights to Penang still gives me quite a good fare.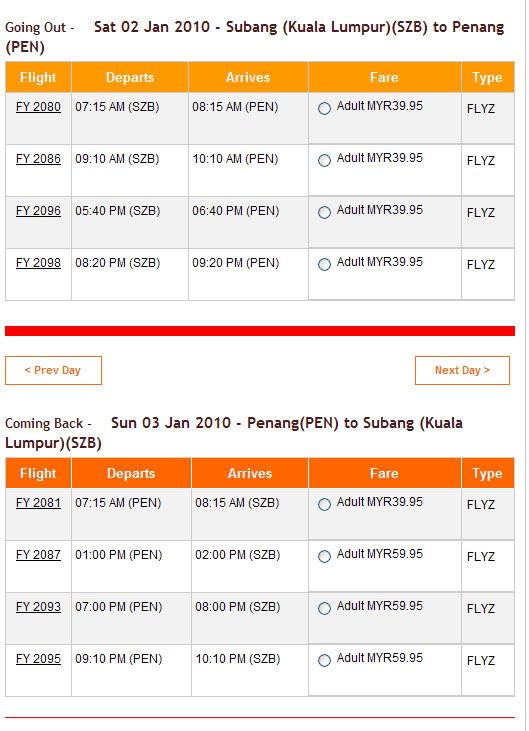 For important events such as Hari Raya, Chinese New Year, School Holidays, the only way to get a best value ticket is to book in advance. For example, Hari Raya is a fixed date that you know 1 year in advance, so be smart and book early!
At the end of each year, go through the next year's list of public holidays and plan your important journeys based on these dates. In the past I have successfully bought tickets 1-year in advance at the same normal rate even during 'blackout periods'/holiday peak seasons. When I tried booking for the same flight 2 months before the flight date, the price has doubled from the normal price.
Tip #2 – Get those Promotional Tickets!!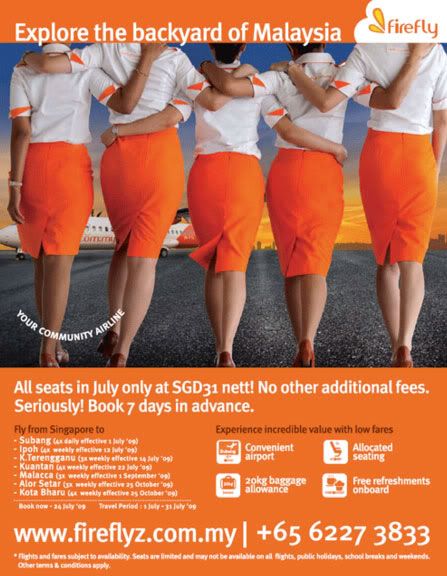 Nowadays, almost everyday you can see airlines promotions on newspapers, websites and magazines. Look for limited-time promotional fares from Firefly. Occasionally they would have seasonal discounts on most destinations serve by Firefly. Also make full use of "new-destination" offers such as what the airline had for their Singapore flights when they launched it in July.
When they have promotions, there will be a higher chance for you to get those cheap tickets as more seats will be allocated with the lower fares. So if you can't grab those tickets early, get them during promotions!
Tip #3 – Book Directly from Fireflyz.com.my!

In this modern era, it is very convenient to buy tickets online. All you need is access to the Internet and a credit card. When you buy straight from the airline's website, you avoid any unnecessary hidden charges that might be charged by a third party who acts as an 'agent'. There is one time when I went to a travel fair in KL where there was one travel agent that quoted me a more expensive ticket thanks to their own so called "service fee" bundled into their travel packages. If you need travel packages with your flights, check out Firefly Holidays packages on Fireflyz.com.my.
Tip #4 – Be Early and Beat the Crowd
Subscribe to Firefly Fly Mail updates and you'll be notified about upcoming offers.
During promo times, there will be many people accessing the website at the same time. Most of them will be searching continuously for a great deal. Beat the crowd by being online at odd hours on the first day of the promo. In the past, during promo times, I've successfully secured tickets by waking up at 2am in the morning. I know it sounds crazy but it helped me saves a couple hundred ringgit.
Tip # 5 – Go against the flow~!
If you book on days that nobody wants to fly on, you can usually get a good deal.
If you are a leisure traveler, try to avoid peak period such as morning flights on a working day. Leave the early flights for those business travelers and try to get on those mid-day or weekend flights. Based on my experience, by avoiding flights that have tendency to be fully-booked, there is a higher chance to get those cheaper tickets.
Tip # 6 – Grab those online deals!
I find this trick as quite useful simply because not many people know more it. Do you know that Firefly has a very strong and active presence in the cyber-world? Yes, they have their own blog, twitter, Facebook page that lets you be connected with the airline.
Last few weeks, someone won a FREE ticket to any destination of Firefly by simply answering simple questions on a Facebook quiz for 7 consecutive days. That's how easy you can win something by being online with Firefly.
If you're not the lucky type, do not worry as you can still benefit by being connected through Firefly at Facebook. Make full use of their great Firefly Face Savers, available through this website. Not many people know about it (yet!) so go get those cheap tickets now!
Tip # 7 – Do not hesitate!
This is really based on my own personal experience. When you find the cheapest flight that suits your needs, go ahead and buy it. You don't want to go through my experience of "oops, that RM70 flight is now RM200?" Sometimes you can get cheaper ticket if you wait but do not hesitate once you think you found a great deal.
Tip # 8 – One way vs Return Trip
Every time you are planning for a return trip, try to find out which sector/flight is contributing the most to the total ticket price. Sometimes you can have a flight that is cheap on one way and expensive on the return flight. If that's the case, try to mix and match the flights by using the "one-way only" features. It's not a problem to buy two "one-way" tickets (example: SZB – JHB and JHB-SZB instead of SZB-JHB-SZB) as Firefly is a point-to-point airline. This will also allow you to mix and match with other airlines for the best deal.
Tip # 9 – Best Deal = Total "All-inclusive" Price!
I am a person who goes for "best value for money" over "best price" when it comes to choosing my air travel. Factors like convenience, cost and time to travel to airport, flight timing and additional charges are always factors that I considered along with the ticket price.
Remember that the best deal is the lowest overall cost after considering these factors
Ticket Price + Taxes + Admin Fee + Luggage Check-in Fee + Transport to the airport/parking fee
Many times after considering all these factors, I would choose Firefly Airline over other available options. Maybe this is because I live in Shah Alam and transportation (taxi) to LCCT/KLIA can be as expensive as the flight ticket itself but I guess that's the beauty of competition in our airline industry. In the end, you get to choose what best suits your needs and wants. In my case, most of the time it's Firefly Airline.
Tip # 10 – Get a husband/wife/boyfriend/girlfriend working with the airline!
Just kidding.
***
There you go my favorite 9 tips in getting the best deals out of Firefly Airline. All the best in your best fares hunting and do get back to me through the comments function or my email azuan_az@hotmail.com if you have any other suggestions.
See you next week!