Firefly Review – Episode 3: Firefly-ing to Singapore
Never in a million years that I would had imagine myself being introduced as "Azuan the Blogger" to a group of reporters, writers and photographers! My little personal blog I started few years ago solely to improve my English are now being noticed by more just my circle of friends, and I am happy with that. Last weekend I had my first glimpse of a media/reporter's assignment when I was invited to join a team of Malaysian media, to celebrate Firefly's inaugural flight into Singapore.
I've been twitter-ing about the event from my phone throughout the trip and the transcript can be viewed here.
A bit of background of what's the event all about.
Firefly (a wholly owned subsidiary of Malaysia Airlines) 2nd daily flight on July 3rd 2009 departed SkyPark Subang Terminal at 10.35am with a full load of passengers that includes the public, Malaysian media, officials from Tourism Malaysia and Tourism Selangor, and, Singapore Tourism Board, Singapore Deputy High Commissioner to Malaysia and the Managing Director of Firefly, with its Senior management team to celebrate Firefly's flight into Singapore. Firefly's inaugural flight took off as planned on the 1st of July with 3 daily flights.

The celebration took off in an upbeat mood as Firefly's entourage was dressed in a "mad hat" concept all ready to enjoy and party in Singapore. The Malaysian media were taken for a familiarization tour of Singapore by Singapore Tourism Board, and they also joined the Firefly's "mad hat" party celebration, where free flights and hotel stays at all FY routes were up for grabs.
I am very grateful to receive the invitation as a media to cover the event on my blog, thanks to many feedbacks that I've provided openly and privately to the airline based on numerous flights that I clocked in with Firefly since its Fokker-50 days up till now.
My Media pass… probably the best thing that has happened since I started blogging! Being recognized as a media! 🙂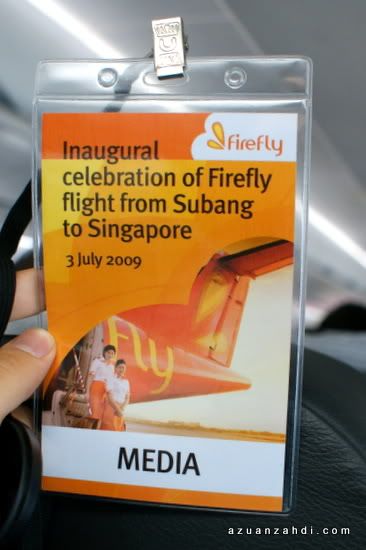 Being excited, I arrived at Subang SkyPark very early. Check-in was smooth and ground staffs were kind enough to create conversation even though my mind was all over the place feeling a bit nervous being on my first blogging 'assignment'.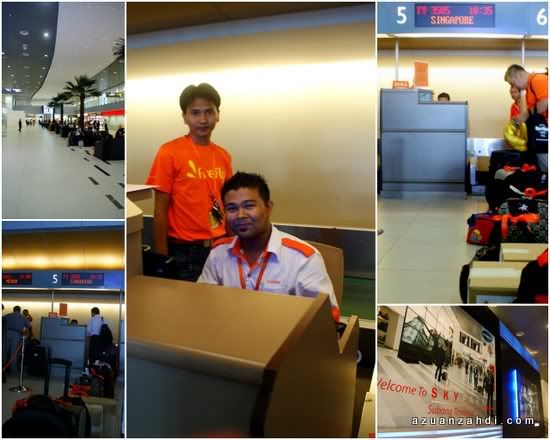 Received my boarding pass along with these documents to be filled. The normal entry form and a Health Declaration Card, a procedure introduced in the height of H1N1 cases in Singapore and Worldwide.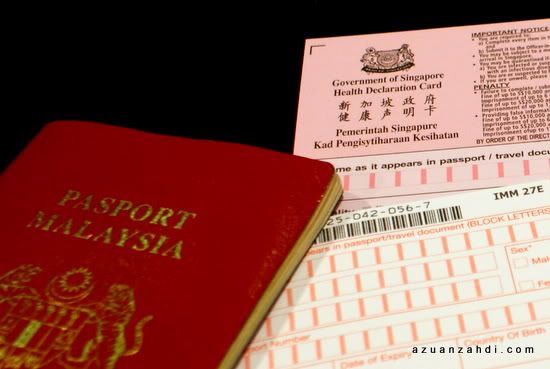 I then met up with Mr. Herman from Firefly along with the other media representatives. We had RTM, NTV7, TV3, NST Business Times, Malaysian Reserve, Sinar Harian, travel magazines and Azuan the unknown blogger! Hehe 🙂
Known or unknown, each of us had to have our face painted with Firefly logo. At that point i know that this trip would be a fun and crazy trip!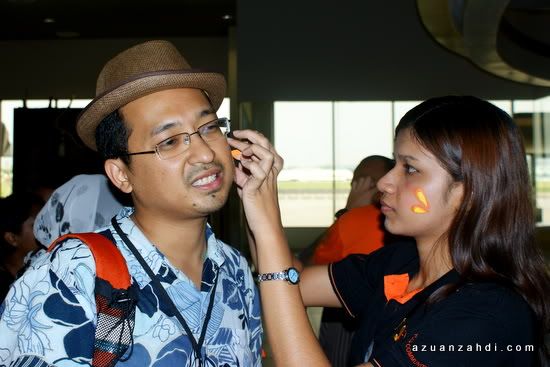 Boarding started on-time with passengers traveling with kids getting to board first free-of-charge. I purposely went in a bit late for me to have the space to take photos of the plane. Not everyday I have a Media pass that allow me to snap photos of the aircraft up-close and personal.
9M-FYA, the eldest brother of Firefly's ATR series. Being prepared for flight.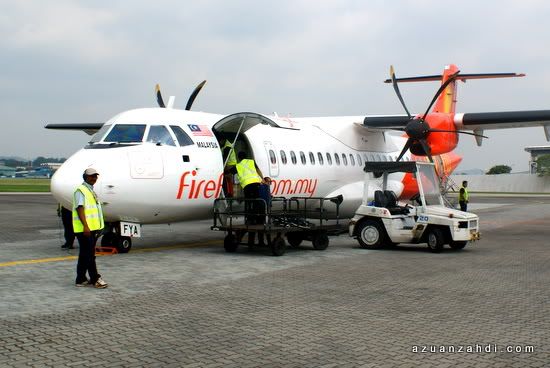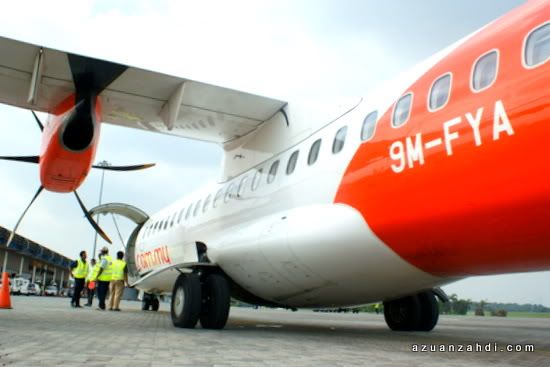 The flight load was quite good with at least 70% of seats being occupied. A good sign for the airline indeed.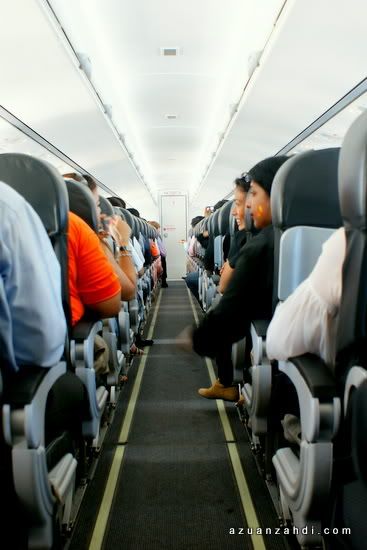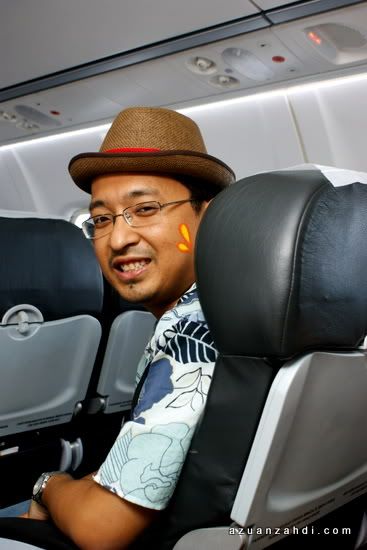 We took-off from Runway 15 about 10-minutes late due to delay in departing from the gate but other than that the flight was smooth with good cruising weather at 17,000 feet.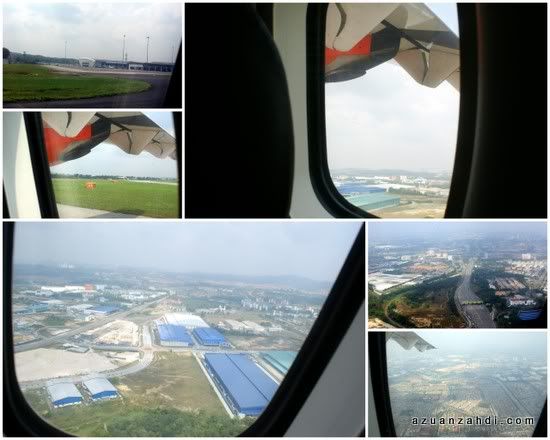 Great hospitality by Flight Stewardess Seha and Flight Stewardess Adlina. I have flown with them separately on my prior flights with Firefly and I am always impressed with their friendliness and professionalism. Refreshments were served F.O.C, A muffin and Root Beer!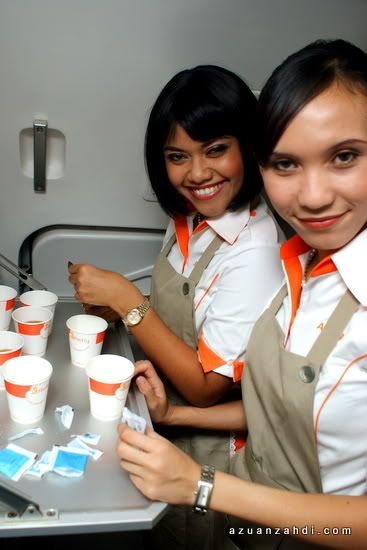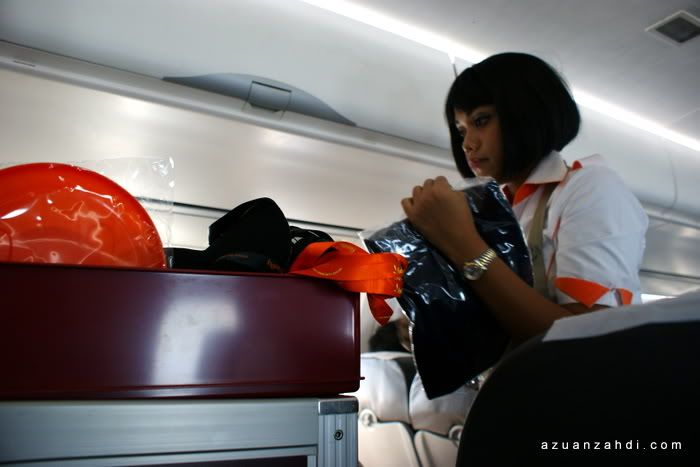 Views as we approached Singapore airspace.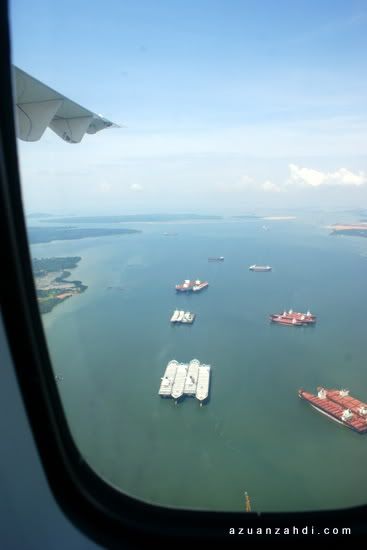 A bridge under construction.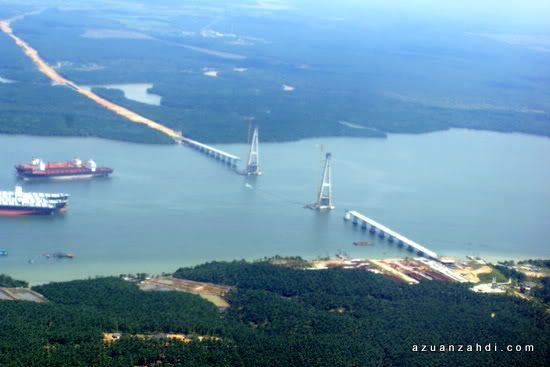 Landed safely at Changi slightly behind schedule and after a short taxi, we were at Budget Terminal greeted by our host from Singapore 🙂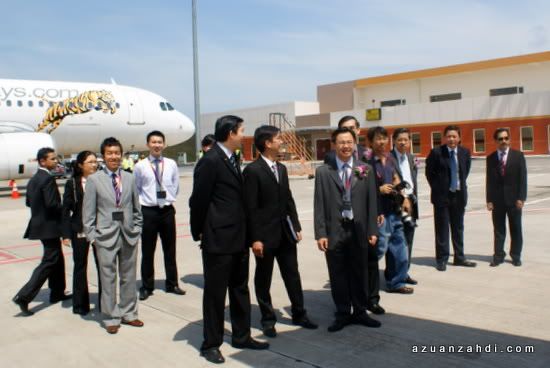 Not everyday you have Aladdin greeting you.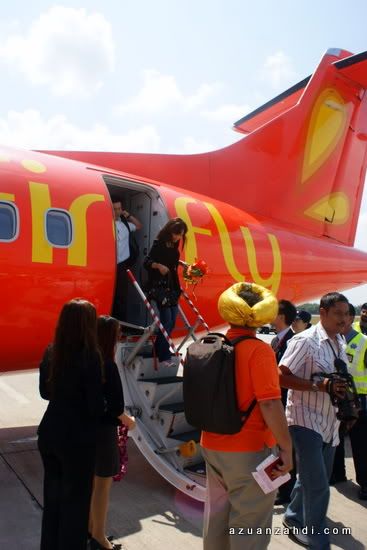 The leaders of two organizations.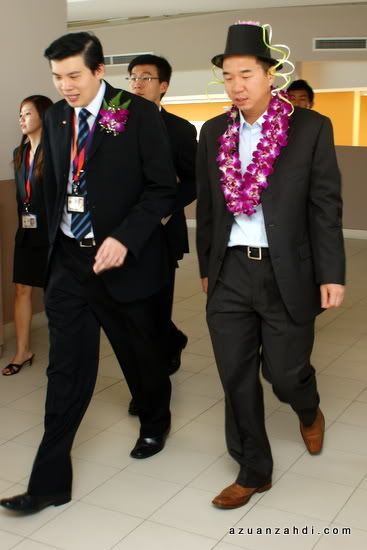 We were behind schedule so were ushered through health scans, immigration and customs quickly to allow us to be in the ceremony.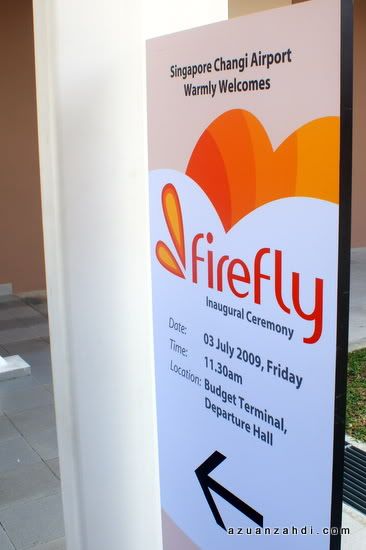 The simple ceremony started off with speeches from Mr Lee Seow Hiang, CEO of Civil Aviation Authority of Singapore, Dato' Amirrudin, Acting Director General of Tourism Malaysia and Mr. Eddy Leong, Managing Director of Firefly.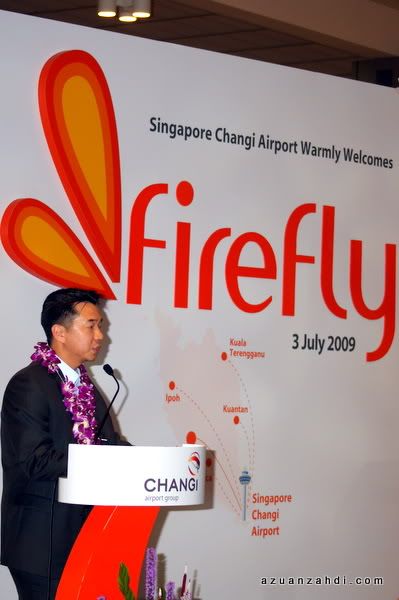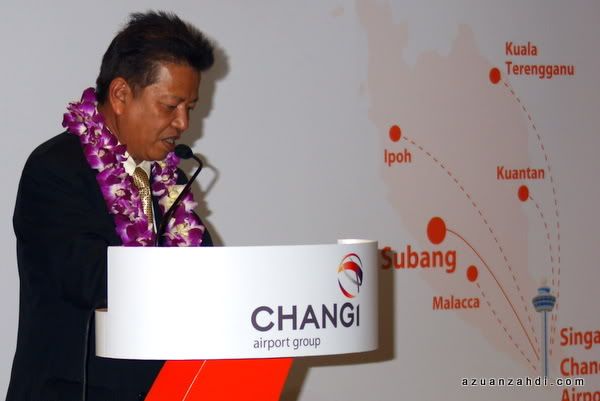 Welcome Firefly Airline to Singapore!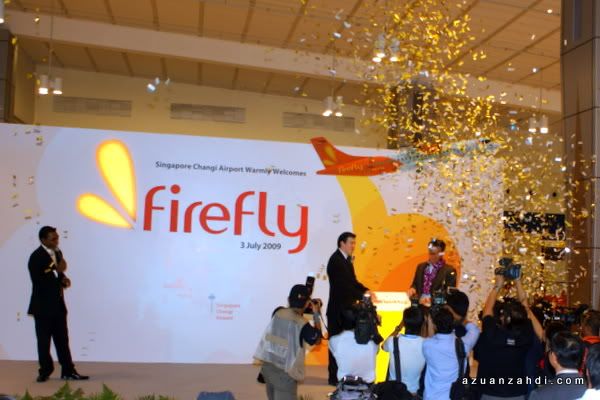 Exchange of mementos.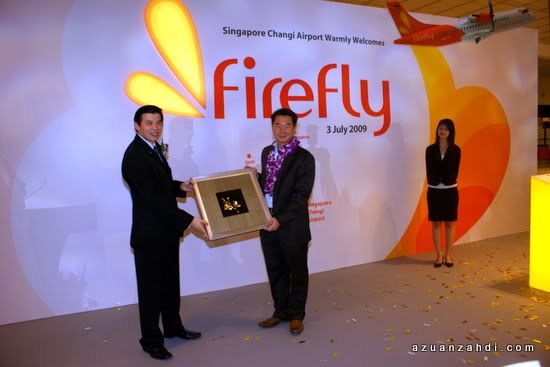 Followed by a very nice zapin performance by kids from JB.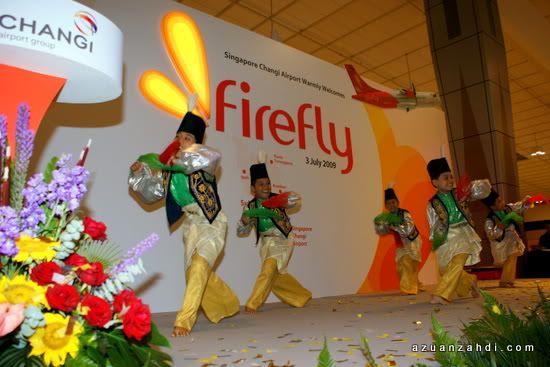 Souvenirs given away to passengers and media. Brochures, a cool Charles and Keith bag, a USB thumbdrive, a Firefly-Changi umbrella and many more.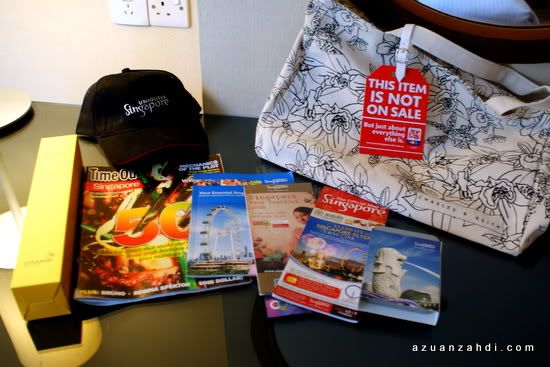 The next post will cover the 2D1N fun we had in Singapore!
****
Firefly is now having an introductory promotional all-inclusive one way fare at SGD 31 nett to any destination in Malaysia with no other additional hidden cost. Firefly's incredible value includes FREE baggage allowance of 20kg with NO charge on baggage handling fees and in-flight complimentary refreshment and snack. The fares are already available for booking for travel period from now till 24 October 2009. For booking details, please visit www.fireflyz.com.my
For more reviews on Firefly, visit my Firefly Airline reviews page by clicking here.
***