World Squash Day – Penang
The World Squash Day 2009 is a concerted effort by nine countries including Malaysia to raise the profile of squash worldwide to ensure the inclusion of the sport in the Olympics. In Malaysia World Squash Day was celebrated in various cities and squash centers nationwide indicating total support of Malaysians towards having Squash to be included in 2016 Olympiq games.
Being a fan of squash and the webmaster for Nicol David Online for the last 10-years, I was gratefully invited by the organizers to attend the World Squash Day celebration in Penang, the origin of the World Champion, Datuk Nicol David!
I have to begin by thanking SquashStars.com for co-organizing the event and extending the invitation to me.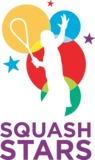 Thank you 🙂
Squash Racquets Association of Penang (SRAP), in collaboration with Squash Stars was glad to play host to the day long carnival filled with attractive activities and games for all ages in order to raise funds for the Squash for 2016 fund, set up by the World Squash Federation (WSF) for the International Olympic Council Bid Committee.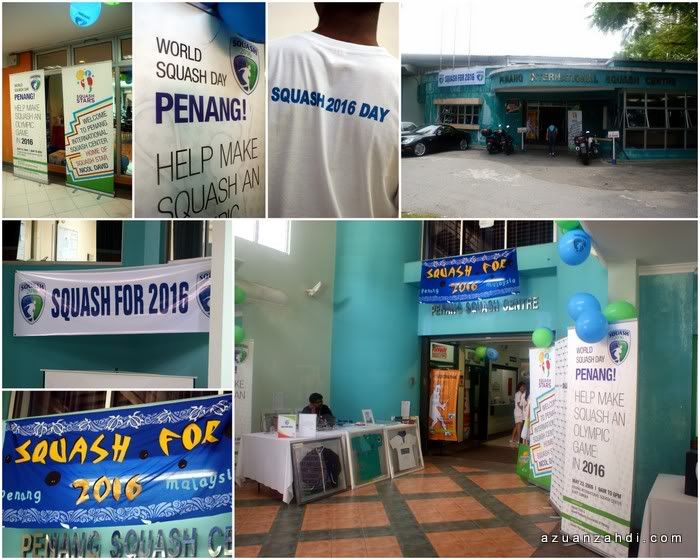 I was one of 500 squash fans mainly 'Penangites' enthusiastically celebrated World Squash Day at the Penang International Squash Centre, Bukit Dumbar to show support in efforts to make Squash part of the 2016 Olympic Games.
For the first time in 10-years of running Nicol David Online, I was invited as a media. I am very thankful for the hospitality of the host and I hope that the photos I've uploaded met their expectations.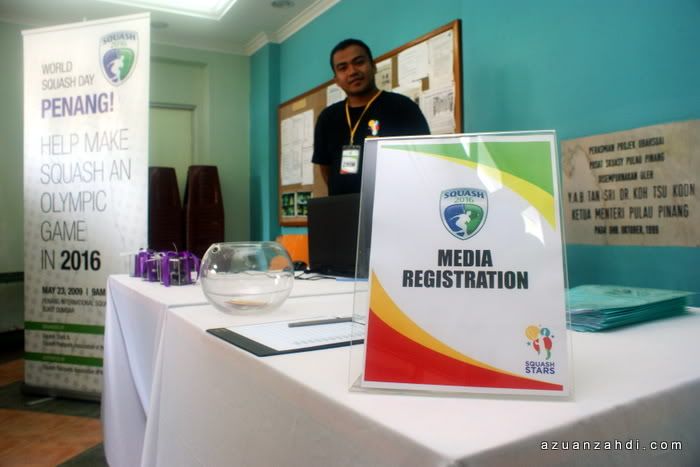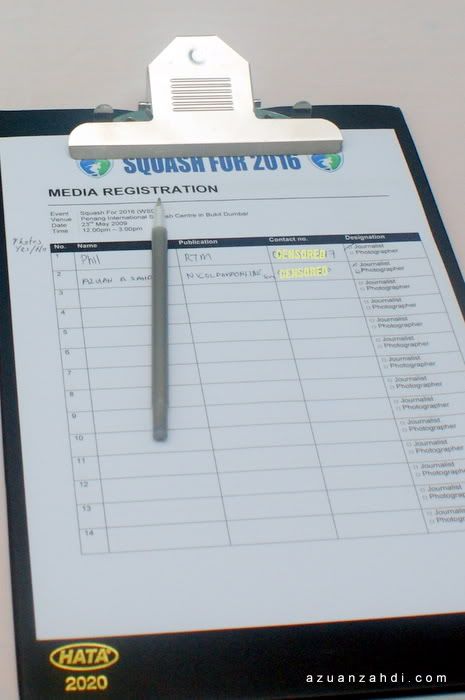 While setting up my camera gears and going through the event schedule, I saw something that attracts my immediate attention. "I have to win this" was my reaction when I saw this: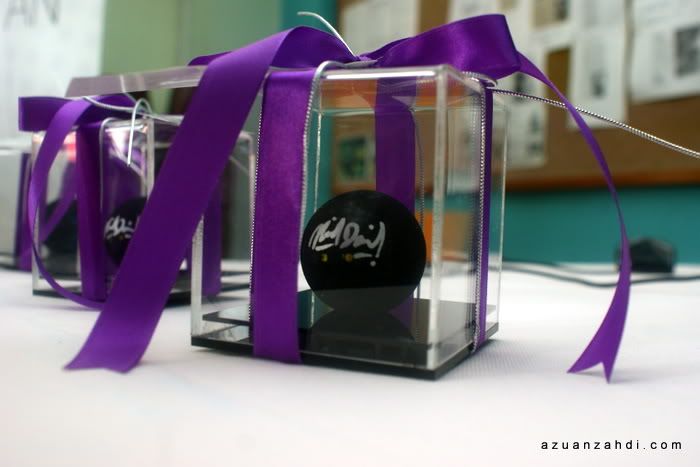 An exclusive squash ball signed by none other than World-Num-1, Nicol David!
Despite not being able to make the trip home due to training commitment, Nicol David was virtually all over the venue and in the mind of the squash enthusiasts especially kids in Penang. You can feel the "Nicol David Aura" with 10 out of 10 kids that interviewed wanting to be just like Nicol!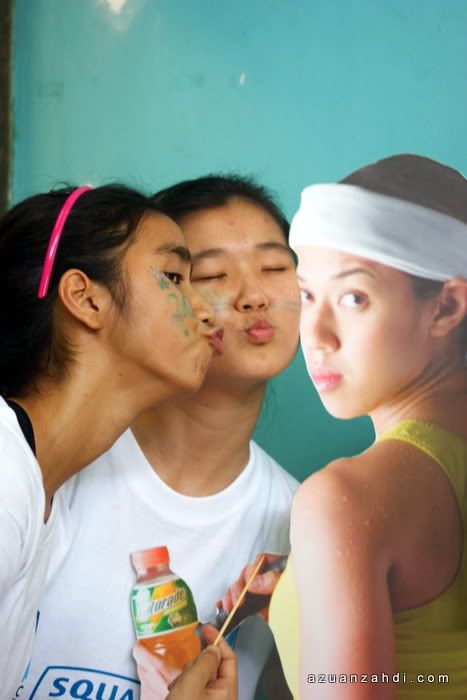 Overall, the event was a huge success. It was a fun full-day carnival for everyone from parents, players and little fans of squash. Some of the activities include:
'Challenge the Pros'saw actions from Low Wee Wern, British Junior Open Champion 2009 alongside, Kosuke Moukawa and Misaki Kobayashi—Japanese players who are currently training in Penang. Also there showing their support and talent were Aaron Soyza, Khoo Teng Hin against the event emcee, Non (Aanont Wathanasin)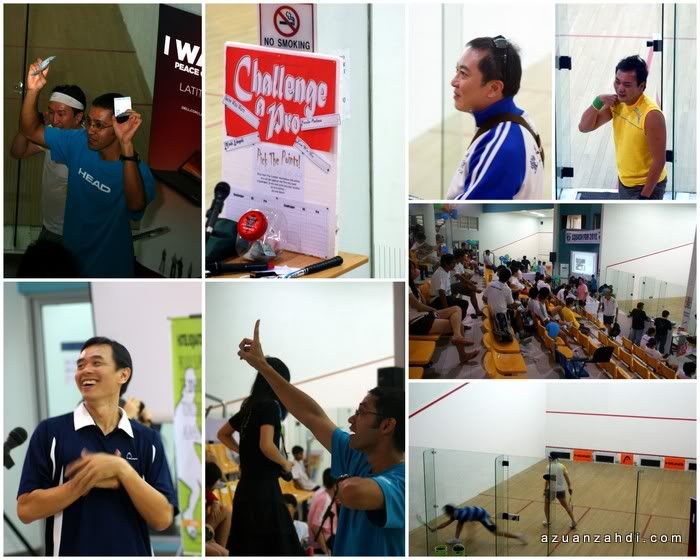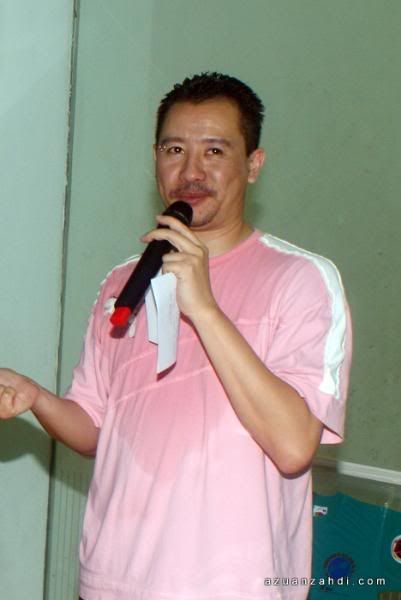 'Treasure Hunt' for the kids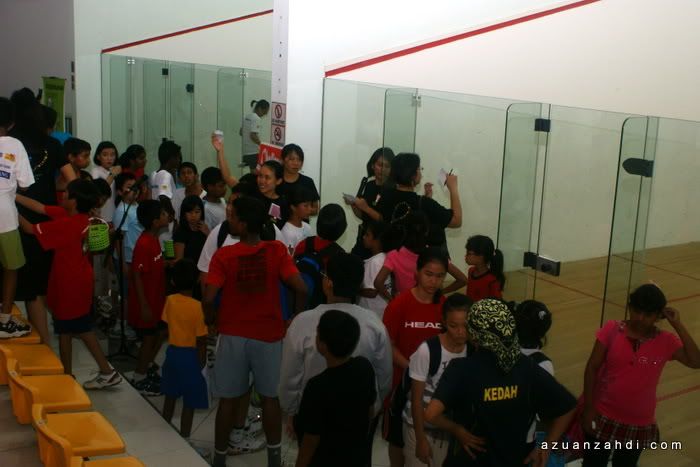 And other unique games, such as:
"Pot-a-Shot"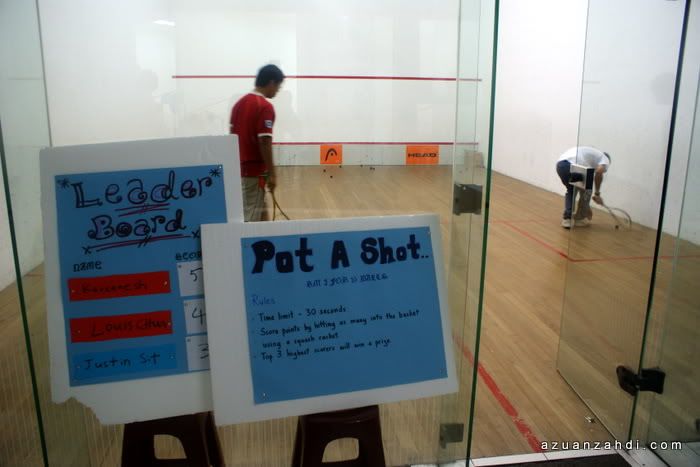 "Throw-and-Catch"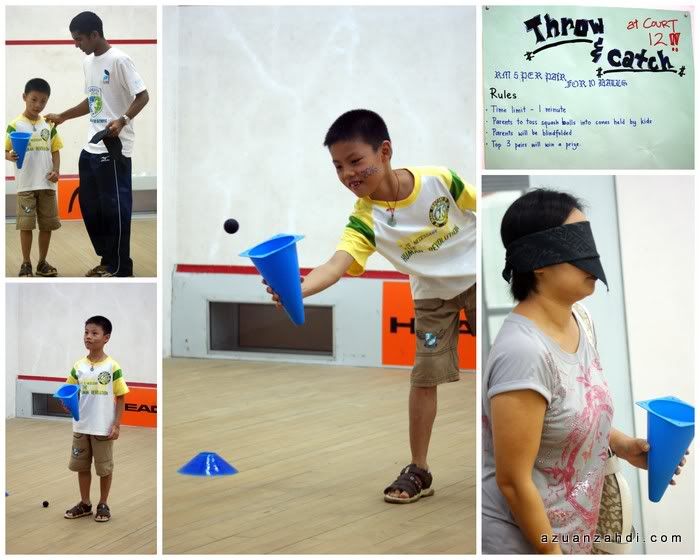 "Aim-the-Target"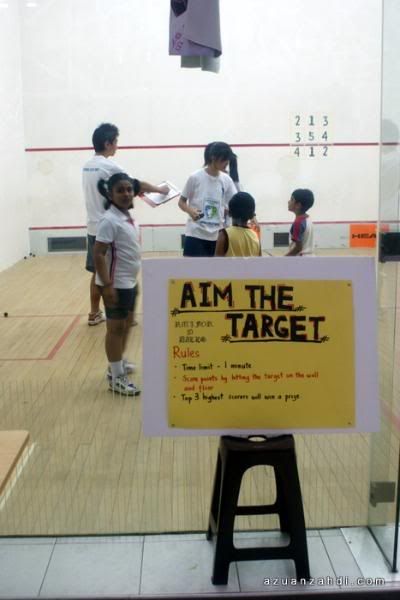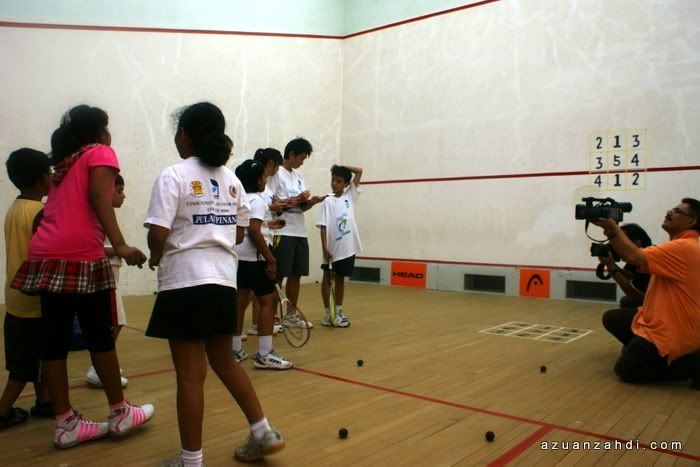 And a very fun 'face-painting' activity.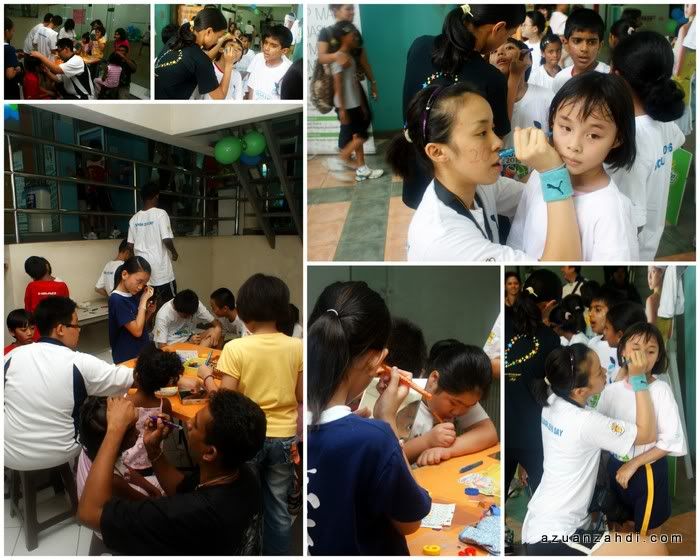 But the highlight of the event was the Nicol David Auction; an effort to raise funds for Squash for 2016 by auctioning memorabilia once belonged to Nicol David.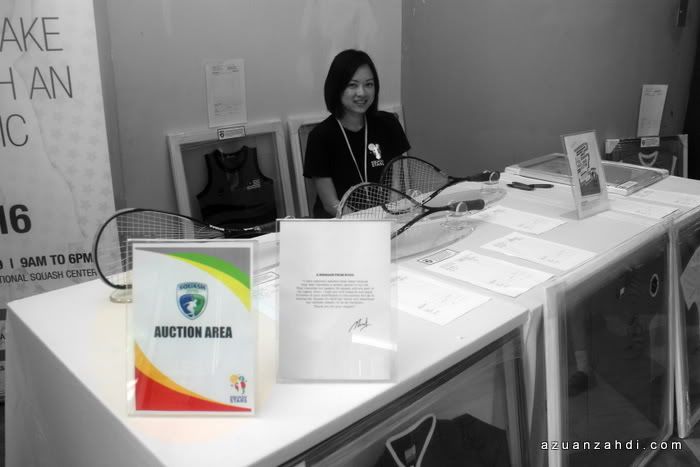 (No, the lovely girl was not for auction)
Through exclusive memorabilia such as outfits and racquets used by Nicol in her first British Open win in 2005, a convincing fund of RM10,000 were successfully collected only from Penang's event! Among the big winners are Datuk Lim Tiong Chin and his friend Thomas who will be sharing a 45-minute squash session and lunch date with Nicol for RM2,400 and Non who went home with Nicol's Malaysian Open Top.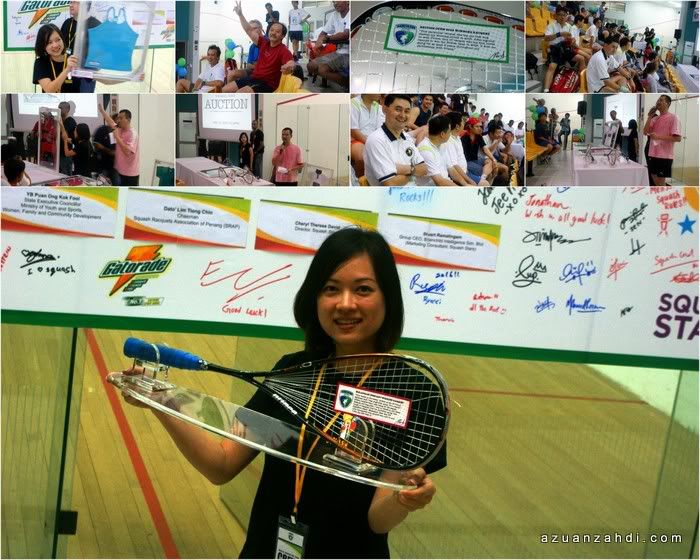 YB Puan Ong Kok Fooi, the State Exco for Youth and Sports, Women, Family and Community Development was the honorable guest for the day.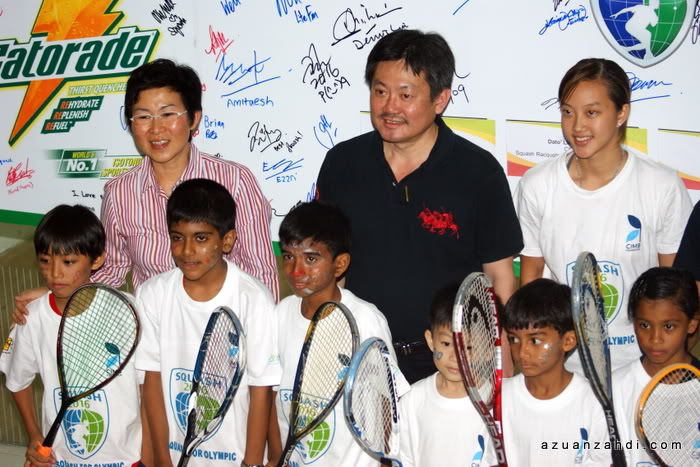 But the biggest VIP in Bukit Dumbar Squash Centre will always be Nicol David. Even when she's thousands of miles away, her 'virtual speech' made many of the kids inspired.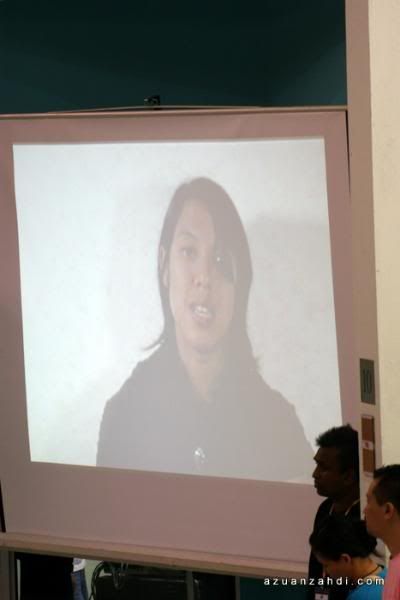 Go Squash for 2016!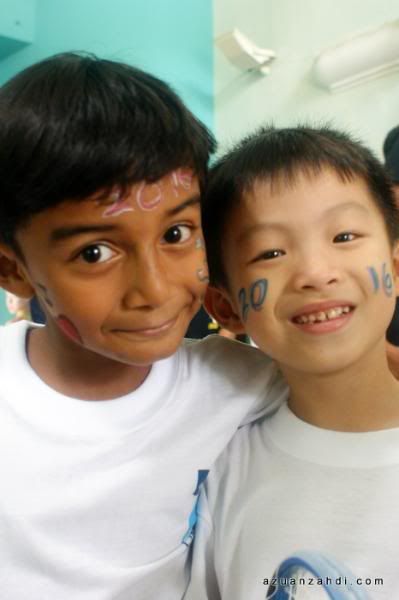 My signature is somewhere there. Thank you SquashStars for having me for this great event!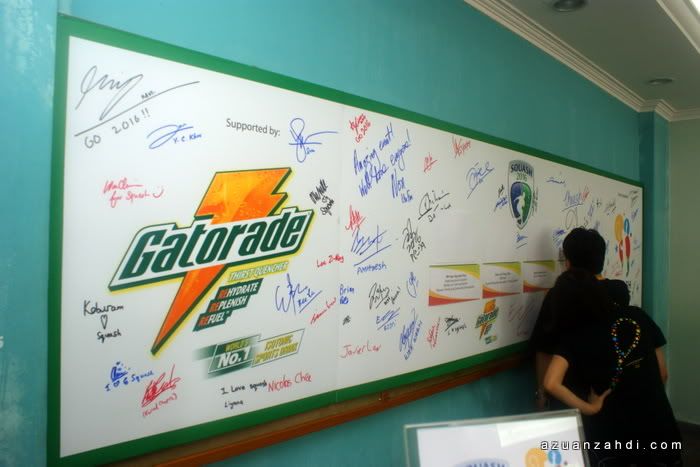 p/s: The event was captured in various newspapers and TV news including The Star Metro section that accidentally include my face in their news photo 🙂 Since I was too busy covering the event, I don't have a single photo of myself at the event so it's great to see this photo 🙂