Honeymoon in Greece >> Part 4
We arrived at our hotel/villa/suite whatever you call it and was amazed by how calm and quiet Santorini is during winter. It's super crowded during summer and busy during other seasons but winter is almost dead. Not good news for someone who are looking for adventure and things to do but perfect for honeymoon couple from Malaysia that just want to do simple sightseeing, relax and away from my normal busy routine.
This is part 4 of my Honeymoon Trip Report
Part 1 can be read here, Part 2 can be read here and Part 3 can be read here
Most bars, clubs and hotels are closed during winter months but for those few that opens they offer special winter price which is really a bargain.
So because of winter I could afford this Honeymoon Suite for Euro140 per night. (Normal price Euro220)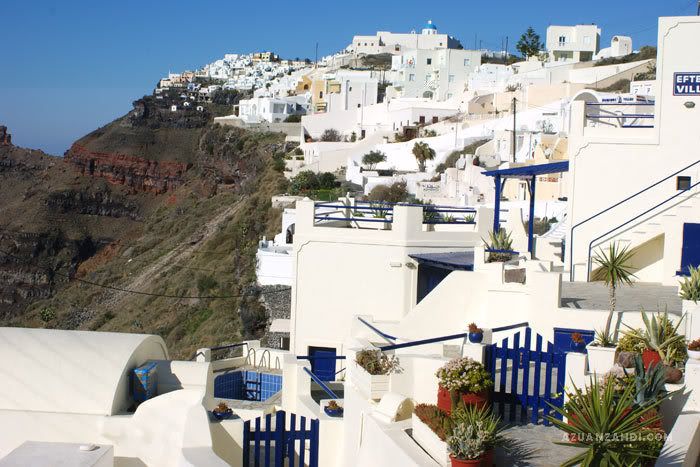 It's on a cliff so we had to go down almost 50 steps to reach our hotel. With 2 suitcase, it can be challenging. Lucky we have Mr Adreas to help us.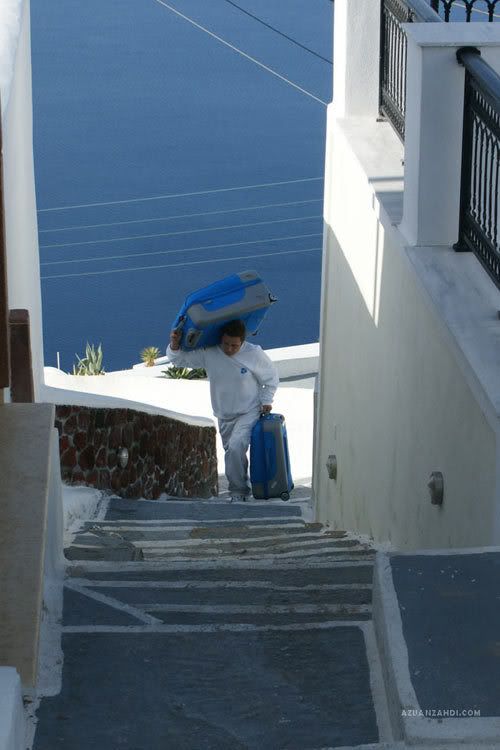 Our suite from outside…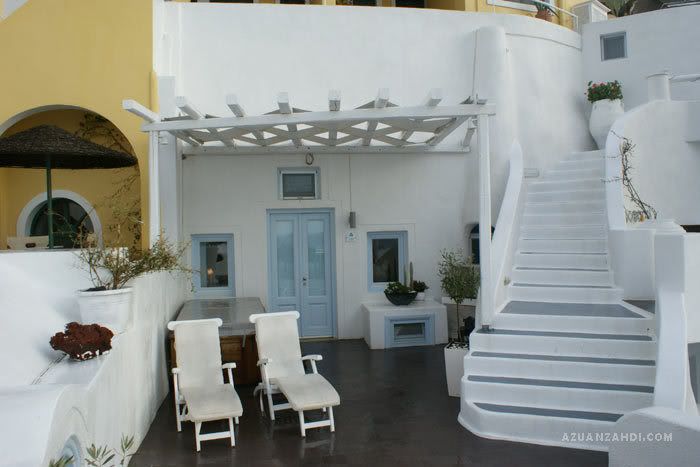 Worth the money….beautiful and spacious…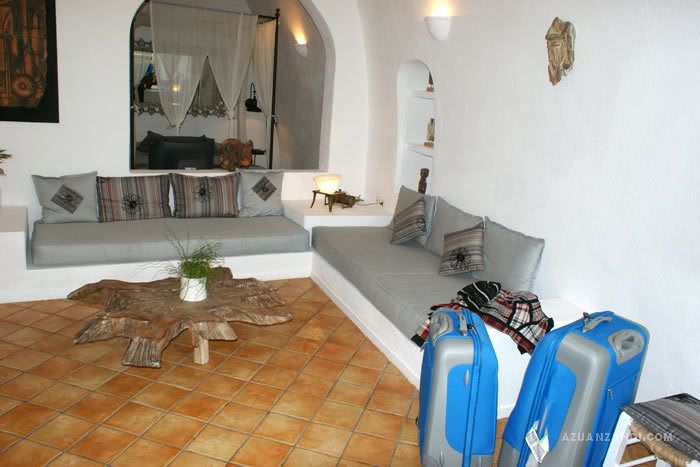 From the reverse angel..

Comes with a personal Hot Tub…NICE!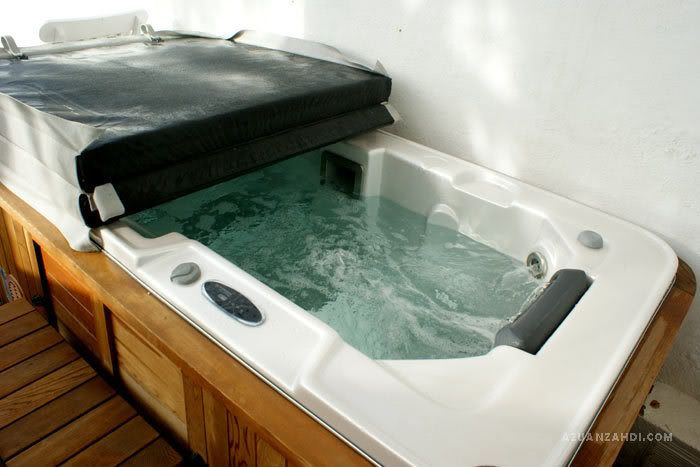 And a kitchen…don't laugh at my stocks…at least I didn't bring my 'periuk'! 😛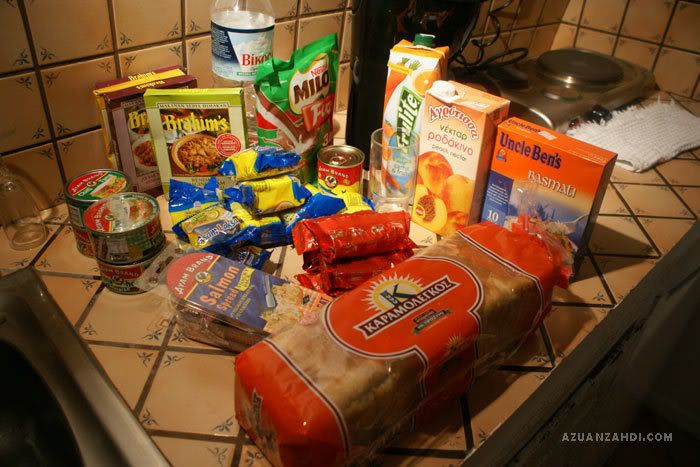 For the few days in Santorini, we woke up, open our room door and get this view straight away…now that's a good life!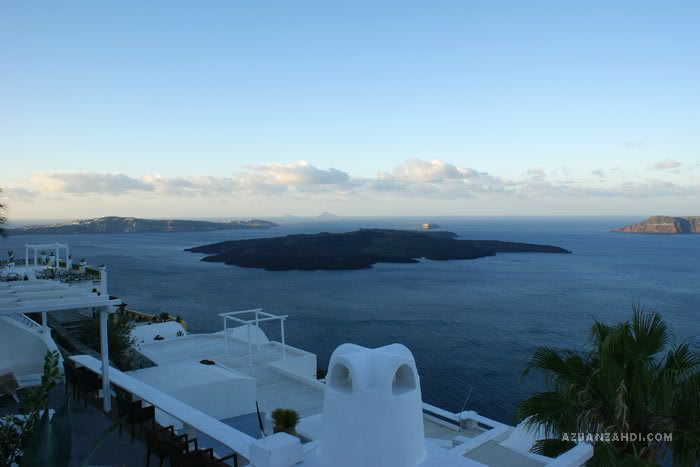 When I thought that's the best that could happen, I was wrong… Breakfast served at our own private terrace by again Mr Andre, who by the way is also the cook and handyman.
I just love the view. Breakfast could not be better…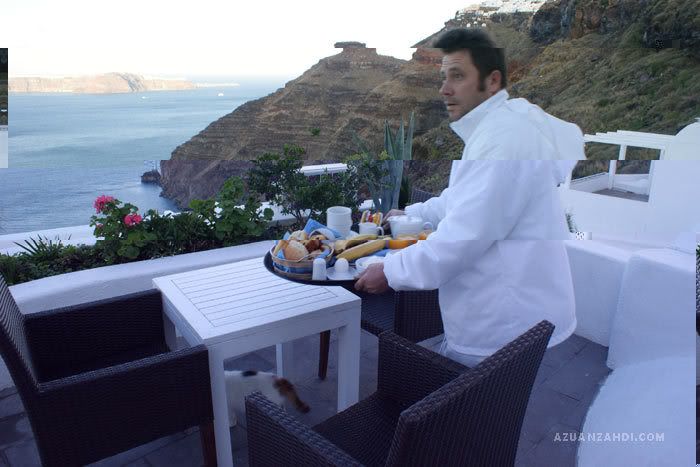 Our daily routine was to go sightseeing and to make things easy, we decided to rent a car. It's winter season so traffic is not too bad and it's a small island anyway. So we decided to take advantage of renting a car that I will never afford to drive in Malaysia….
A Smart for 2!!! For 35 Euro a day.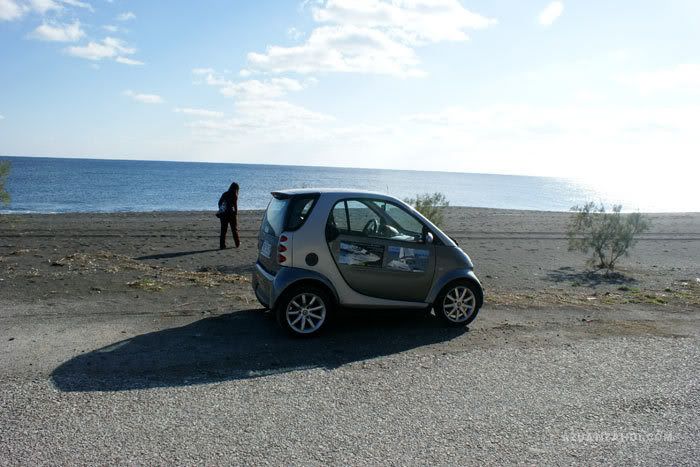 As you can see in the photo above, this cute baby is not only a pleasure to drive but also very easy to park. We literally parked at the Black Beach and hang out there….we got almost the whole 5-10 km stretch to ourselves…..
Driving the smart for 2 was fun bu can be tricky due to the "drive on the other side of the road" factor and tight curves around the island's coastal road.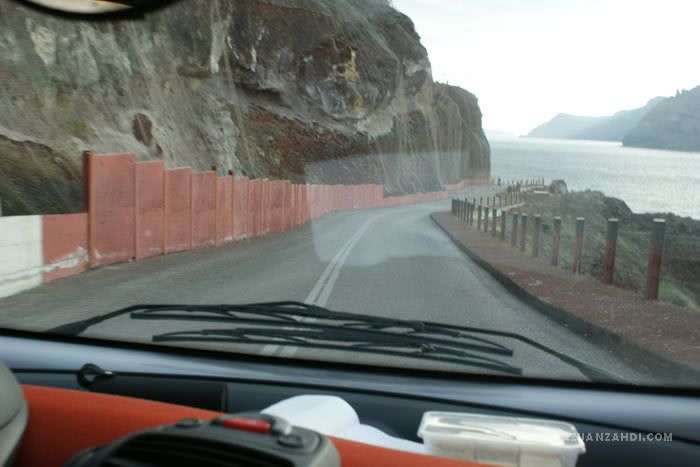 From the highest point of the island. awesome view.
We also visited the Red Beach. All these places can be seen on the movie "Sisterhood of the Traveling Pants"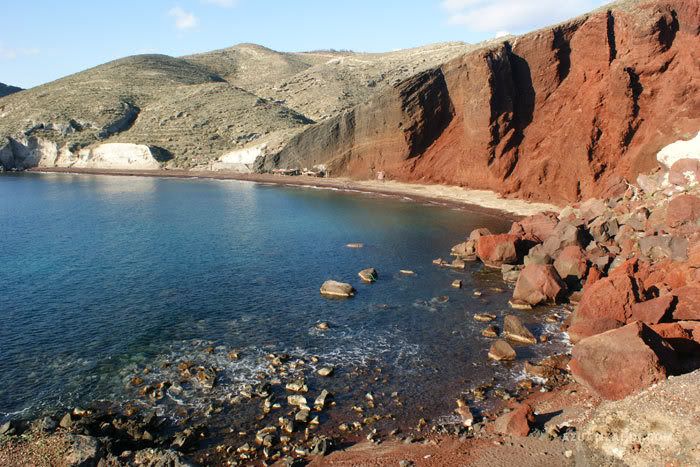 Santorini is also the place for those with much cooler and better cameras than mine 😛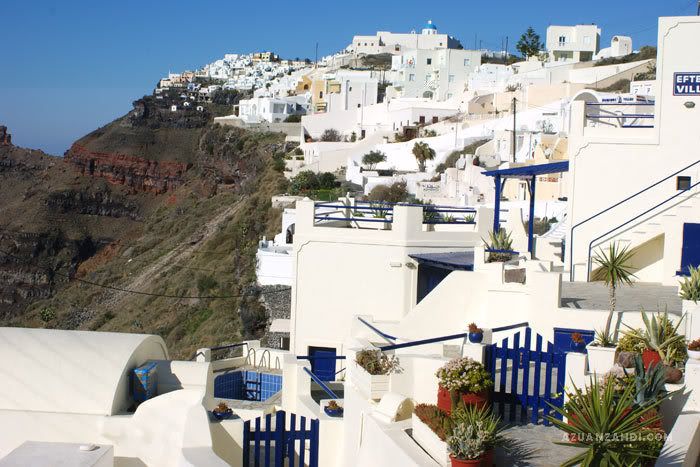 My current facebook photo…just love the scenery at the back..
Santorini, Oia in particular is famous for its sunset…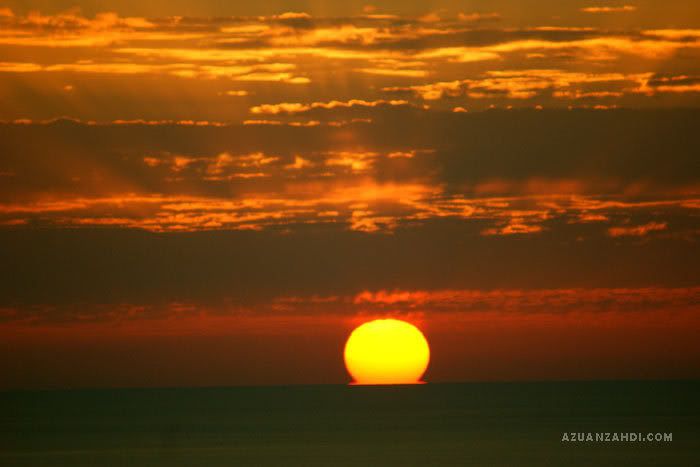 A nice truck…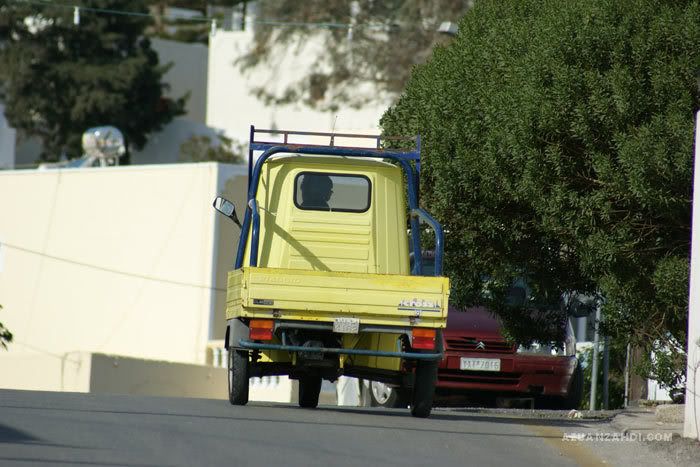 Christmas celebration still going on 🙂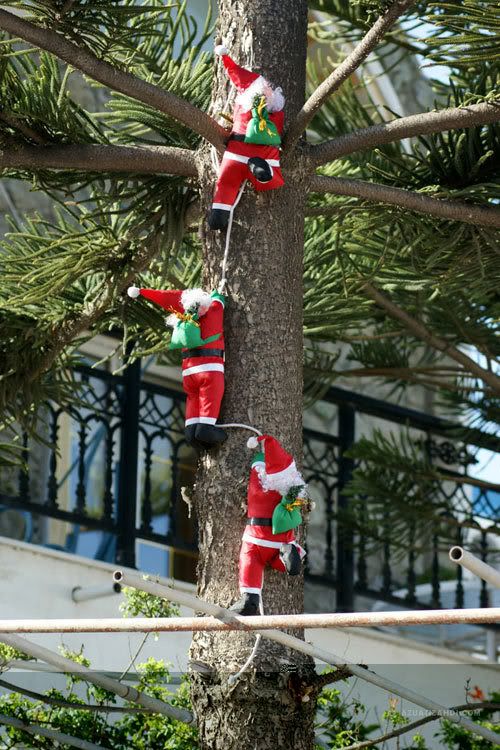 The fierce-looking cat of Santorini!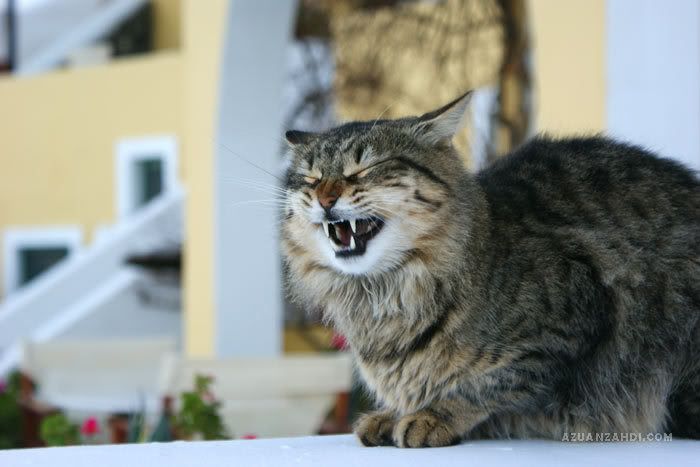 In general, Santorini is a good if not one of the best Honeymoon Destination that I can imagine. It's very romantic.
Even the fierce cat is also romantic….
[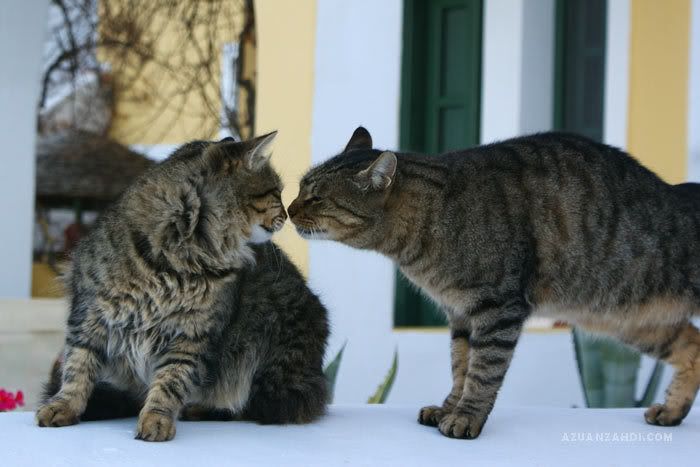 Coming up next, the last part,…..flight back home. I hope I'm not making you guys bored! hehe