This is a flashback post as i could not get internet access for the last 2 days.
After an energetic 1st day in London, it was crazy to wake up early to start my 2nd and last day in London. I only managed to get up at 7am which is considered late since sun rises very early on summer days. Nevertheless by 830am i was already on the road, catching the Tube with thousand other commuters going to work. I felt good. Never i imagined, being in London all alone with just a map in my hand going through the tricky lines of London Underground.
Morning start…

To cover London in one day is almost impossible without a local guide. I can go from one place to another but i need someone to explain what im seeing. Hence i ended up taking the famous Big Bus Tour, a double-decker bus that costs me 22 pounds (online price).
Ready to go..

One bad thing about traveling alone. No one to take photos of me. Ok it's a good pick up line to ask someone to take photos of me but i ended up alone in the bus most of the time. So it;s the mirror technique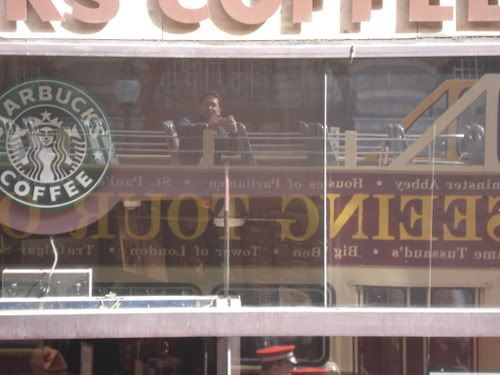 and the "Cam Whore" technique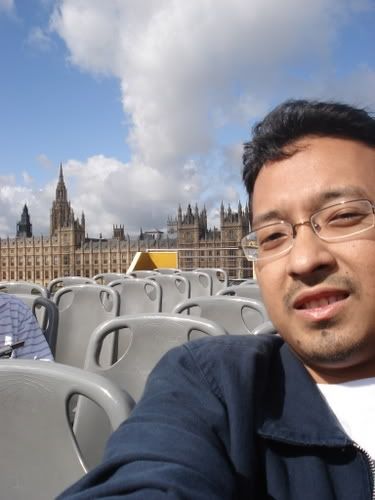 It's worth the ticket price as i can hop on and hop off at almost 80+ attractions/stops within 24 hours. IT was raining so i have to skipped the Cruise and Walking Tour. Nevertheless, i saw what i wanna see. London Tower Bridge, Buckingham Palace, Kondon Eye, Big BEn etc..
The Ben that is Big

I even went to one of the Museum. Awesome display i tell you. It;s free!

Then i went on 6-hour shopping spree in Oxford Street. Yeah i finally baught the Zara jacket since its cheaper here than in KL

and then i was off to Heathrow the very early morning of the next day. I'll post about Denmark soon.