London Trip August 2008 – Day 1 (Updated with Photos)
I've made it. Alone for the 1st time from KLIA, Malaysia to Central London. Not a big deal really. I'm blogging from my friend's place waiting for the shops to open before going out for brunch and probably shoppong. Hotel check in starts at 3pm so i'm lucky to be able to crash my friend's place for a few hours to freshen up after the long flight. And i thank her neighbour who did not password-protect the Internet conenction hence allowing me to blog.
The journey begins at 23:50 from KLIA Gate 22. I purposely asked for an aisle seat hoping to have a good seat partners and it turned out that i was seated next to a senior citizen who wrestled away the arm rest from the very first second. On the posittive side, she's very friendly 🙂 I slept for 7 hours of the 12-hour flight. Spent a couple of hours watching What Happened in Vegas and My Wife and Kids.
I've planned the trip well until the plane start spoiling the plan. Arriving an hour earlier from the scheduled time was not cool. It was 5am and for once all the immigration, baggage and customs were relatively empty hence i was ready to go by 530am. Didnt want to wake my friend so i ended up venturing on my own, reading signs and asking people. well, i survived.
Took the tube straight from the airport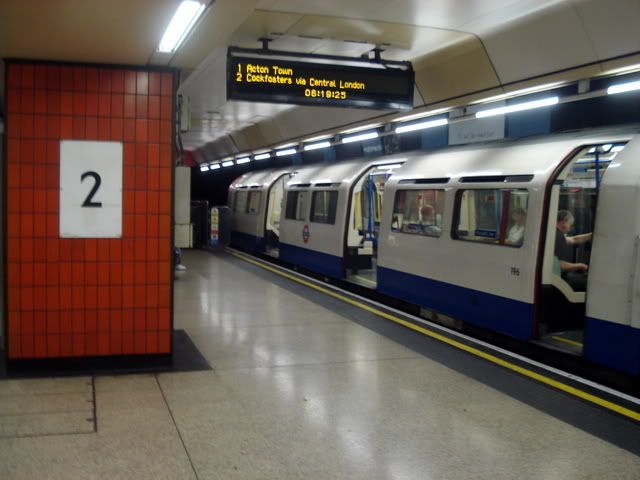 Thank God for this cool Oyster Card, special fare and very easy to use. Just like our Touch n Go.

The "after 12-hour plane ride" messy look….

Holloway Road Underground Stop on a very quiet Sunday Morning.

CAlled my friend and she guided me to get the bus. Luckily for the efficient bus and underground system. Really on time. My first time on London Double Decker Bus…alone!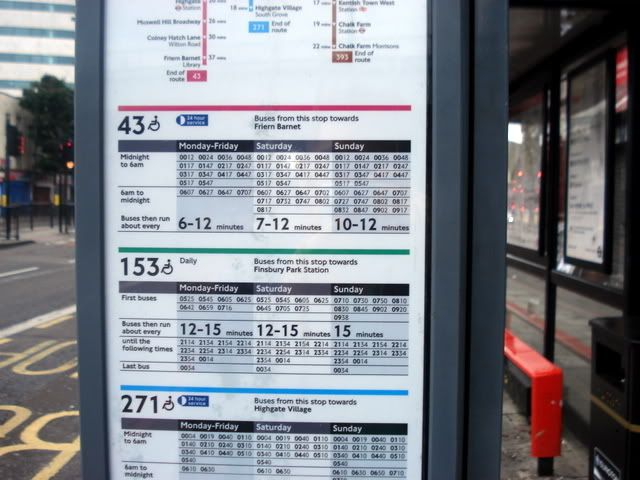 Not there yet…waiting for the bus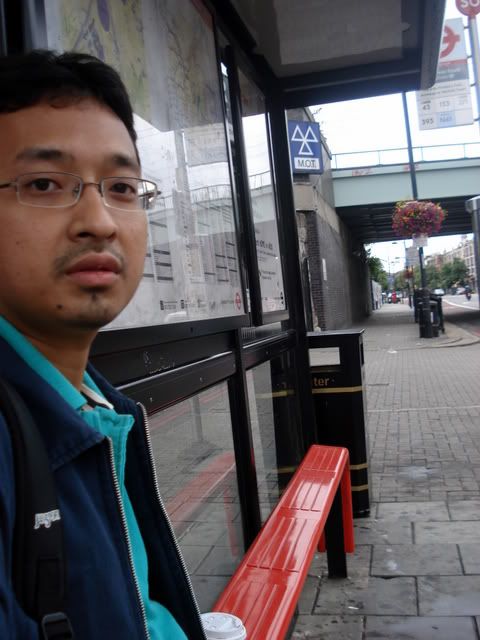 and finally…..enjoying a cup of Tea and lots of catching up and gossiping.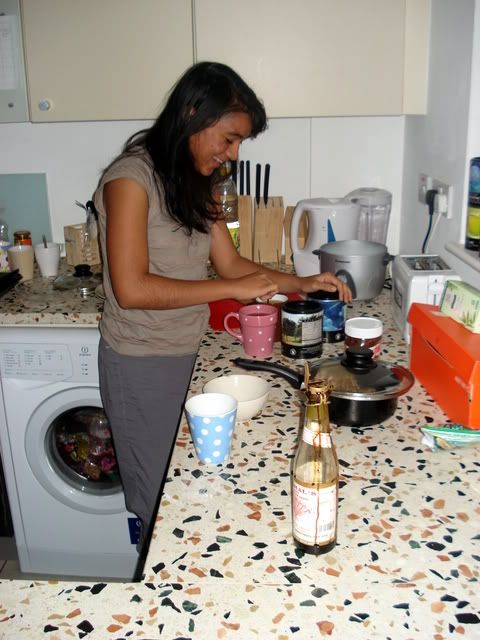 Thanks Beda.
Went around northern part of London, checking out Highbury stadium and its surrounding the gunners area. A large community of Turkish Muslims in northern part and halal food can easily be found.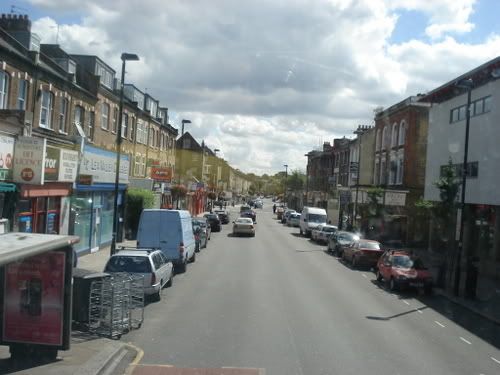 I was brought around by my friend beda, her friend Sam, and beda's other friend from Trinidad and Tobago. Moving around is really easy with efficient public transportation.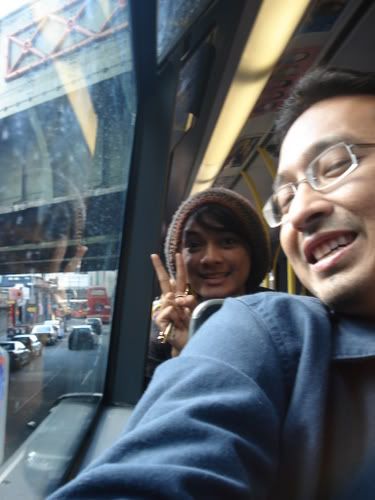 We had lunch at this lovely restaurant ala Planet Hollywood, only its Halal and cheaper.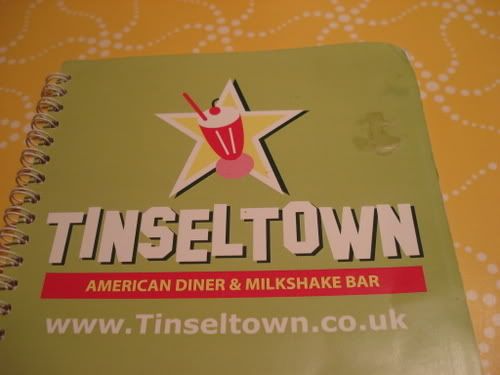 Specialty of Tinseltown is their 60 different Milkshakes. You'll even have Milkshake with Ferero Rocher in it. How awesome is that.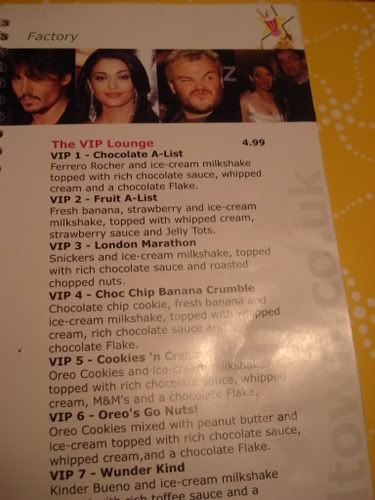 I opted for a safer choice of fruity milkshake.

We were walking around when I saw this interesting café. Is it me or this café sounds very 'strong and long-lasting'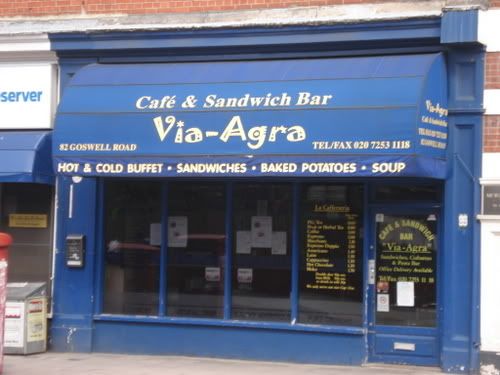 In the early evening, I went to South Kensington to check-into my pre-purchased hotel. I opted for the cheapest hotel easyHotel, the same company that gives easyJet. This is very similar with our Air Asia with its own hotel Tune Hotel. I've heard bad things about this hotel but it's cheap so it doest really matter.
Hotel looks nice and located around expensive hotels such as Marriott and Holiday Inn.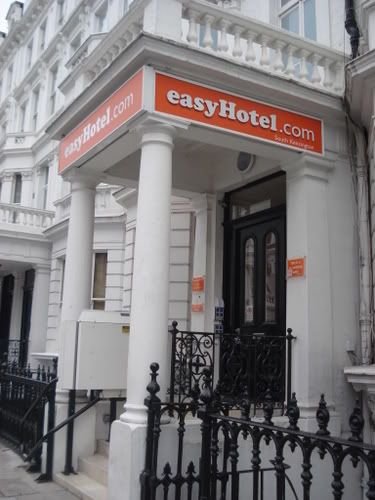 And surprise! My 'Jail' for 2 nights. It's super small room. I can't barely breath but after a while I tend t get used to it. Purchasing the TV for 5 pound managed to reduce my suffering.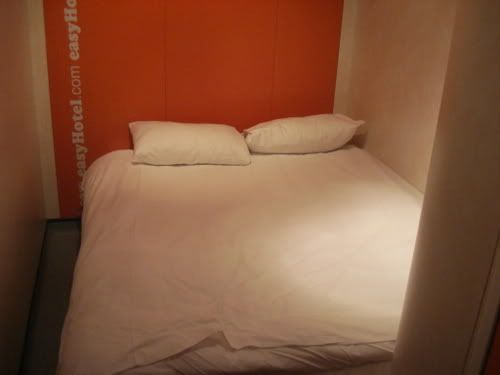 I can't even take a full shot of the room withour opening the door. It is that small. The good thing is it comes with a tiny toilet and shower so no sharing, which is why I don't go for hostels.

Tiny loo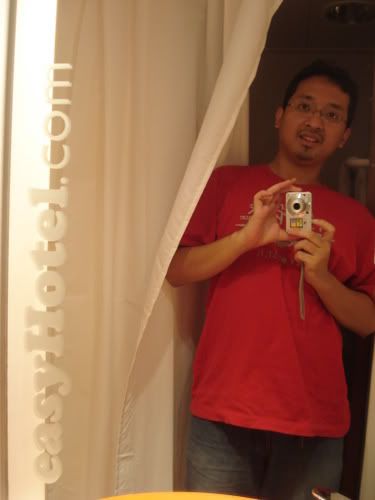 I then went out with Sam for a walk around the Thames river/London Eye/Big Ben area. Had a nice walk until the rain came. Here am I taking a shelter at the skate park which seems very familiar. Famous as it is always being featured on Skate Videos and maybe even Tony Hawk's game.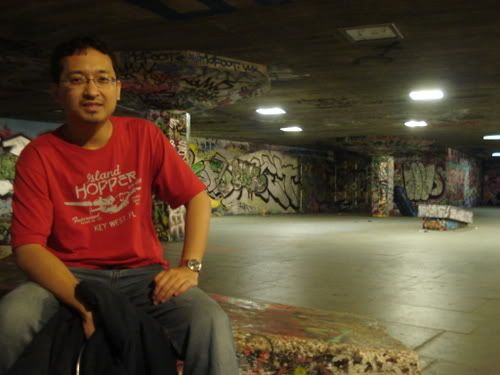 Thames River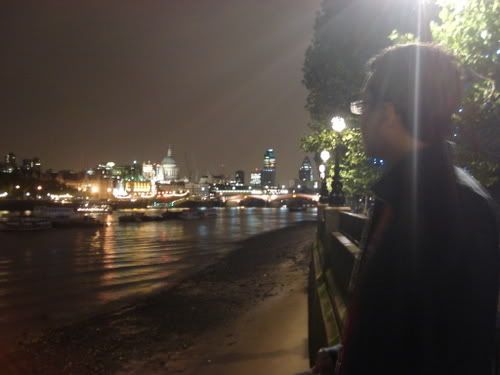 Bridges at night. Taken from Millennium Bridge.

Then I took the underground back to my 'Jail' easyHotel.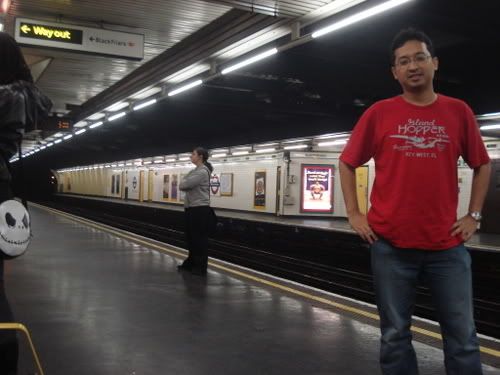 Time for me to hit the bed. Full day ahead tomorrow and need to get my mindset for the meetings in Copenhagen. Cheers!