Part 1 of Aceh Adventure: Reflection of the Great Tsunami
This is Part 1 of 4 of my Aceh Adventure Trip Report. Click here to see other parts (when available).
Nanggroe Aceh Darussalam or better known as Aceh is a special territory of Indonesia, located on the northern tip of the island of Sumatra. Banda Aceh is the provincial capital and largest city of Aceh. The city name first was named as Kutaraja, determined as the provincial capital in 1956. Later its name was changed into Banda Aceh.
I do have Aceh blood in me as my great grandparents are from Aceh and I can still understand and speak Aceh language. This is however my first time stepping my feet to Aceh land.
Aceh has been a center of fighting and guerilla war between the Indonesian Government and Gerakan Aceh Merdeka (GAM). 29 years of fighting and thousands of people brutally killed in this fight for power that in the end distort the life of Aceh people for almost three decades. Many peace talks went into the drain and failed until God gave the best 'message' to all in the form of Tsunami in the year 2004.

(Image from biocrawler.com)
On December 26th 2004, Aceh was the closest point of land to the epicenter of the massive Indian Ocean earthquake, which triggered Tsunamis that devastated much of the western coast of the region, including the capital city of Banda Aceh. Over 170,000 persons were listed as dead or missing, with a further 500,000 plus being made homeless.
With the great tragedy, comes a blessing in disguise. Finally peace was found in Aceh with GAM and the Gov't agreed to sign a Peace MoU.
The moment I stepped down from AK921, I realized that how I expected Banda Aceh to look like is the same as what I was seeing at that time. A very relaxed atmosphere and infrastructure that look and feel very 1970's. The same feeling hits me when I set my sight on Banda Aceh main town. Very laid back, a bit dusty kind of environment.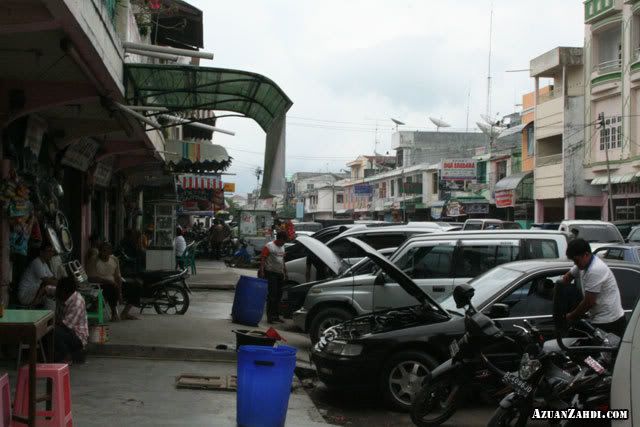 The objective of my trip to Banda Aceh is to experience the post-tsunami effect. I was wondering since tsunami happened more than 3 years ago, will the people still talk about it and will damages still be there?
I checked into this hotel. A twin bed room cost me Rp200,000 (RM72+-). Quite a good rate for a hotel that is in the middle of the town and equipped with basic necessities such as towels, bar soaps and free bottled water. This hotel was rebuilt after the great tsunami that brought a huge boat into its car park and thousands of dead bodies around it.
Right after tsunami: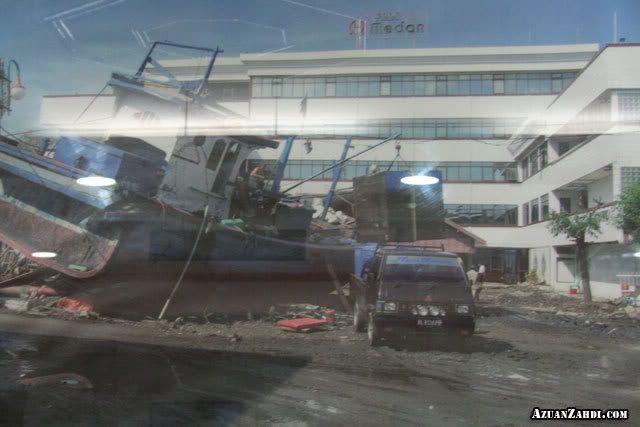 4th April 2008: Newly refurbished rooms…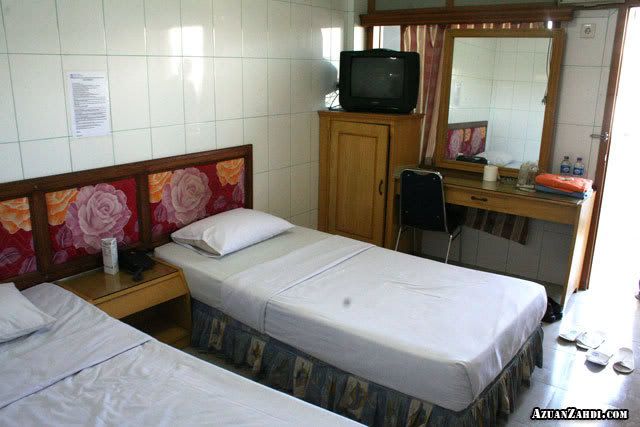 Tsunami is definitely the most frequent word in Aceh. People still talk about it and life does change after 26/12/04. Imagine having a 50 feet wave coming to you at a high speed carrying debris like cars, furniture, sand, woods and people. 170,000 people died and many more went missing and without a house.
I let these photos do the talking:
A now famous 'tourist spot' diesel power generation ship that was carried by the wave to the land. The sea is more than 2km away. Check out the size comparison with me. It's huge!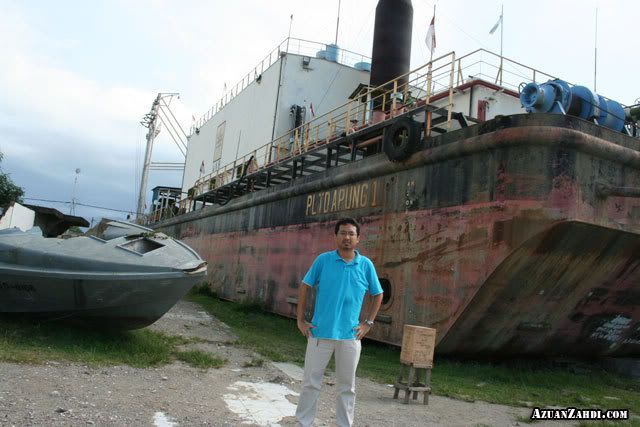 It is believed that there are dead bodies not be able to be brought out from underneath the ship. Hence photograph of below the ship is not encouraged.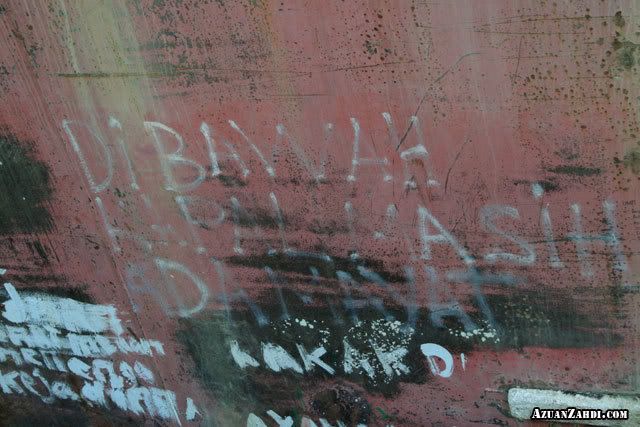 I also saw this touching sign.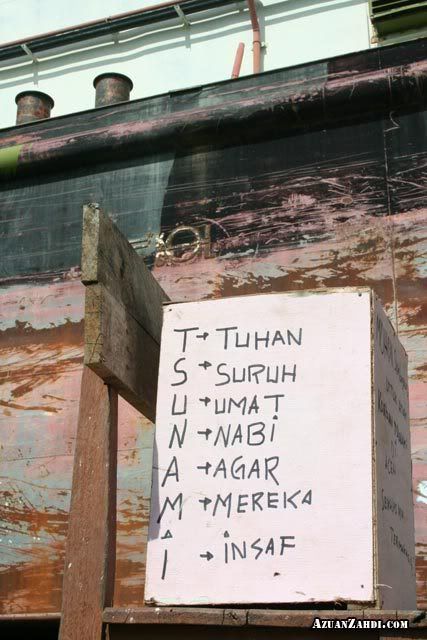 A few metres away. Signs of destruction can still be seen even after 3 years.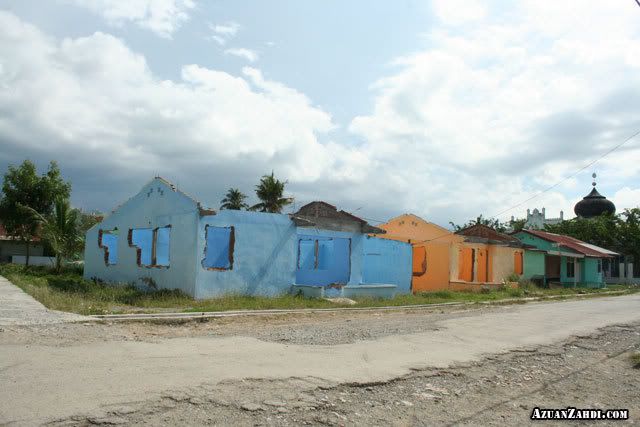 One out of many boats that ended up on people's house.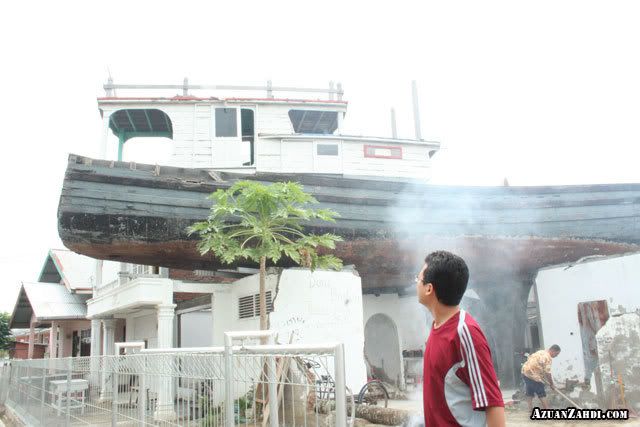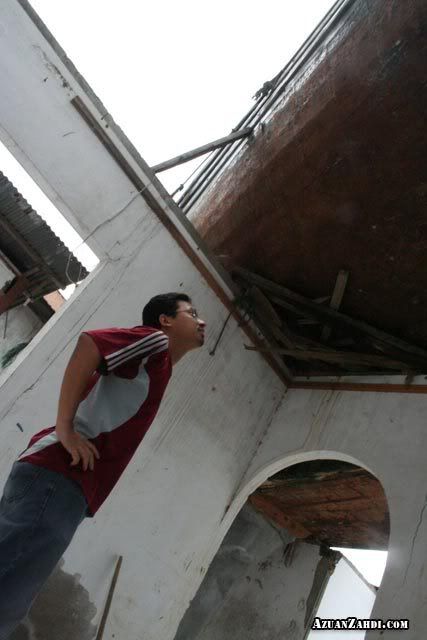 One of many memorials and mass grave of the victims. Some goes up till 7 layers of bodies. Al-Fatihah.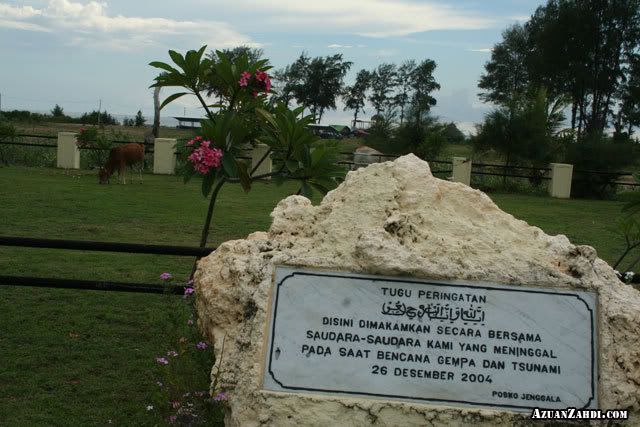 With this great disaster comes many great miraculous stories that you have to see it for yourself to believe it. I visited this mosque in Lhok Nga where the mosque stood still and suffers only minor damages when the rest of the surrounding buildings were flatted out. Photo Credit: www.ozone.or.id/tsun2004/lhok-nga.htm
After the tsunami: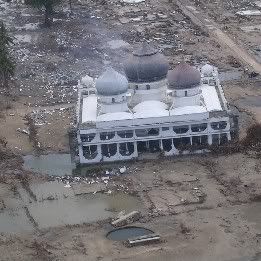 Now: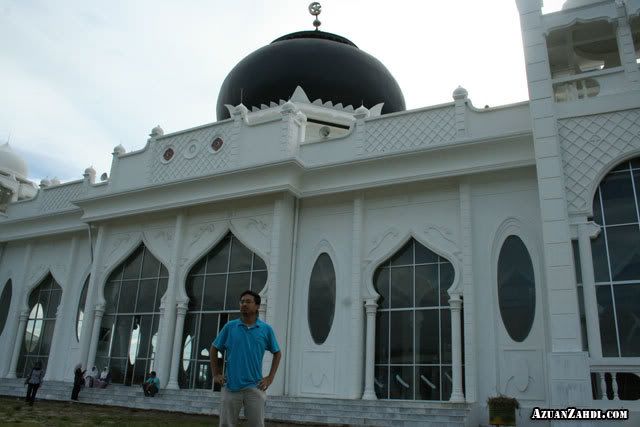 It is still visible that large numbers of people are still living in barrack-style temporary living centers (TLC) or tents. Reconstruction is visible everywhere, but due to the absolute scale of the disaster, logistical issues, and the lack of funding, progress is slow. I am happy though to see many NGOs still showing interest despite after 3 years.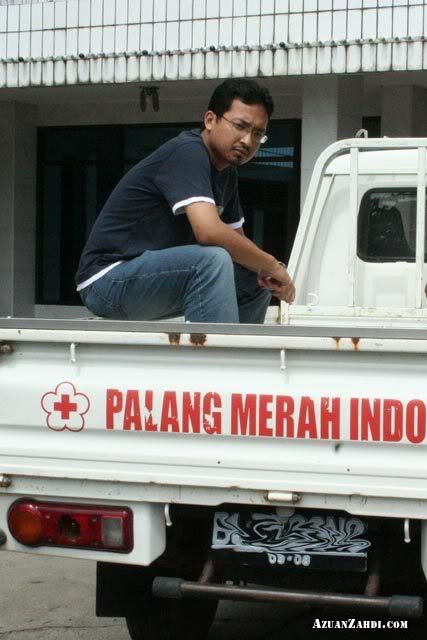 Tsunami might be 3 years ago but being there myself seeing all these devastating effects and talking to the locals makes me feel that it is still at the back of their mind. Aceh will be better each day but one thing for sure it will never ever be the same again and I pray for the best for its people.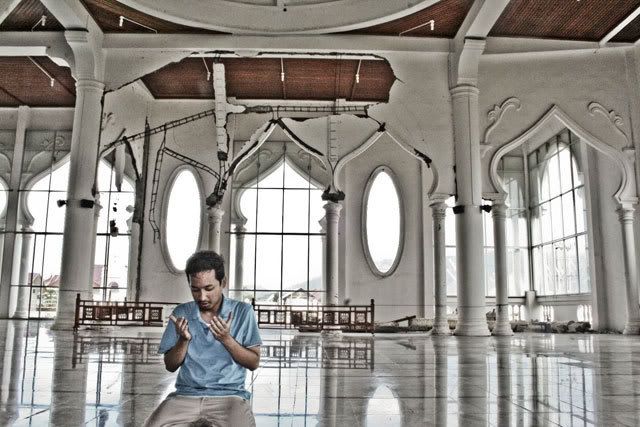 On Wednesday April 9th, 2008, I'll post the 2nd part….